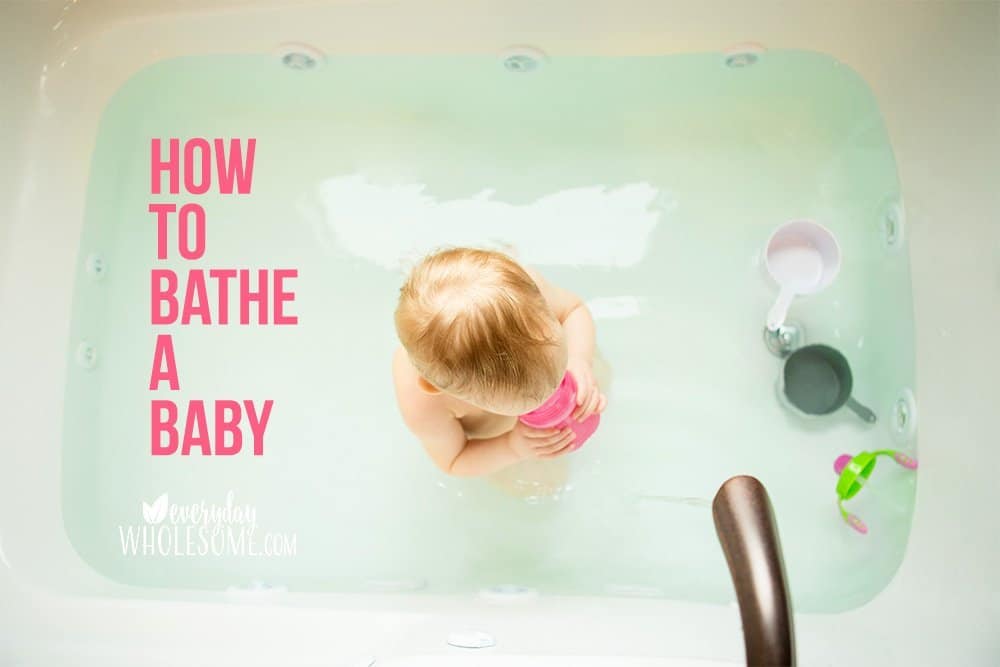 Here is my routine for how to bathe a newborn or infant baby. I will also answer the question… how often should you bathe a newborn baby? To keep things simple and to reduce brain fatigue, I do the same steps every time. I also pack all my supplies in the baby bathtub so I don't get baby in the bath and then realize I forgot something! Help!
HOW TO BATHE A NEWBORN BABY
I am a details girl. I like details. I like routines.
Habits and routines help me to keep brain space available for other things.
Even things as simple as how to bathe your newborn baby. It is helpful to have a routine.
Everyday chores should always have a system so that you can do them the same every day and relieve some the daily decisions.
If you do it the same every day you don't have to think as hard. You will do the same steps and have the right supplies you will need and you know which parts are being washed and nothing gets missed.
This post may contain affiliate links which means if you click on one of these links it might support my family and blog at no additional cost to you. Thank you for supporting my family and this blog. 
HOW TO BATHE A BABY. DO YOU REALLY NEED SOAP? TO SOAP OR NOT TO SOAP. AND WHICH SOAP TO USE ON BABY?
I have a crunchy mom confession. I don't use soap every time I bathe my baby. I don't think it's necessary all the time.  I actually didn't use soap at all until I found and started using the YL Seedlings Baby Wash. I tried an used another natural soap that I felt was unnecessary. I didn't like it. I didn't know why I was using it. He felt just as clean with water and a DIY washcloth. And then I tried another new, fancy natural baby wash and I wasn't sure but I think it broke out baby #3's skin so I used it twice and stopped using it.
Now I use the YL Seedlings Baby Wash every time because I love the smell and it makes his skin so soft. It is for partially selfish reasons. He doesn't truly need soap. But because I am utterly IN LOVE with the YL Seedlings Baby Lotion and I truly think it has controlled his eczema (long story I'll blog about later and feel free to message me now and I"ll send you the details!) I really believe the ingredients are beneficial to his skin. It really nourishes his skin with the essential oils and the calendula for added moisture. So, I use it every time now.
HOW TO SPONGE BATHE A NEWBORN BABY WITH UMBILICAL CORD
Before the umbilical cord stump falls off you'll be sponge bathing your newborn baby.
Use one of my DIY No Sew Bamboo Wipes or another natural baby washcloth you can find in that post or here. Burt's Bees is a favorite brand I use and trust often.
Wet the DIY bamboo washcloth or other 100% organic washcloth with warm water and ring out washcloth.
Wash baby's parts. Start at the head and work down.

Parts that get dirty and stinky on baby that I don't like to forget are: face, under arms, behind ears, under chin and sometimes around the inside of the ears.
You an also wash off all the other parts including hands, which sometimes get dirty.
You can wipe off the rest of his parts if you wish also.

You can add soap to your washcloth (my preference is the YL Seedlings baby wash)

I really love YL Seedlings line and use the Baby Wash, Baby Wipes and Baby Lotion all the time now. It's my new Baby Gift for all new baby moms. I like the other products too but don't find myself needing to use them as much as those three. I am completely in love with the YL Seedlings Baby Lotion. I just bought FIVE on my last order. I have one in my purse, one in my other chid's bedroom, one in the kitchen and of course one in the nursery and I use after every single diaper change to SERIOUSLY THE SOFTEST BABY SKIN I HAVE EVER FELT IN MY LIFE. NO COMPARISON. TRY IT YOU'LL SEE. 

You'll wash once with your washcloth with some soap on it. Then you'll go back over all those parts once or twice with just a warm damp washcloth to remove the soap.
AFTER UMBILICAL CORD STUMP FALLS OFF
After the umbilical cord stump falls off, baby can sit/lay in the baby bathtub and soak.
Babies don't really get "dirty" or "stinky" except a few places. Here's how I bathe my new babies.
I don't use soap all the time. They really don't need it.
I only bathe baby every 3 days or so unless they sleep better with a bath every night. or if they're cranky and need a good soothing bath to relax them. But if things are busy and we don't get the time for a bath, every 3 days is ok!
I add sponge baths in as needed (just like the HOW TO SPONGE BATH A NEWBORN BABY info above) with a warm washcloth. I clean the especially stinky places….behind the ears, under arms, around the inside of the ears, under the chin where cheese often grows (careful not to get too much water and never stick anything inside the ear)
Cranky babies sometimes just like baths. So, by all means, bathe that baby.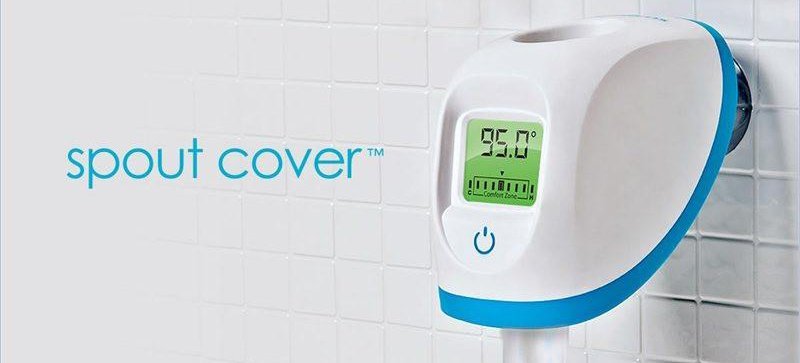 THE ONE BABY PRODUCT YOU MUST HAVE FOR BABY BATHTUB BATHS
Regardless of which bathtub you choose, this bathtub spout cover thermometer is a necessity. The 4Moms Spout cover has two functions. First it keeps baby from hitting his head. Second it tells you the temperature of the water. It turns red when it's too hot and blue when it's too cool. And an alarm goes off when it's too hot and red! It's awesome! I've used mine for all three kiddos.
I love this over the thermometers that sit in the water because I think it's important to know if the water coming out of the faucet is too hot.  Baby can burn himself with the water coming out of the faucet before the entire tub water gets too hot.
MY FAVORITE BABY BATHTUBS & BATH SEATS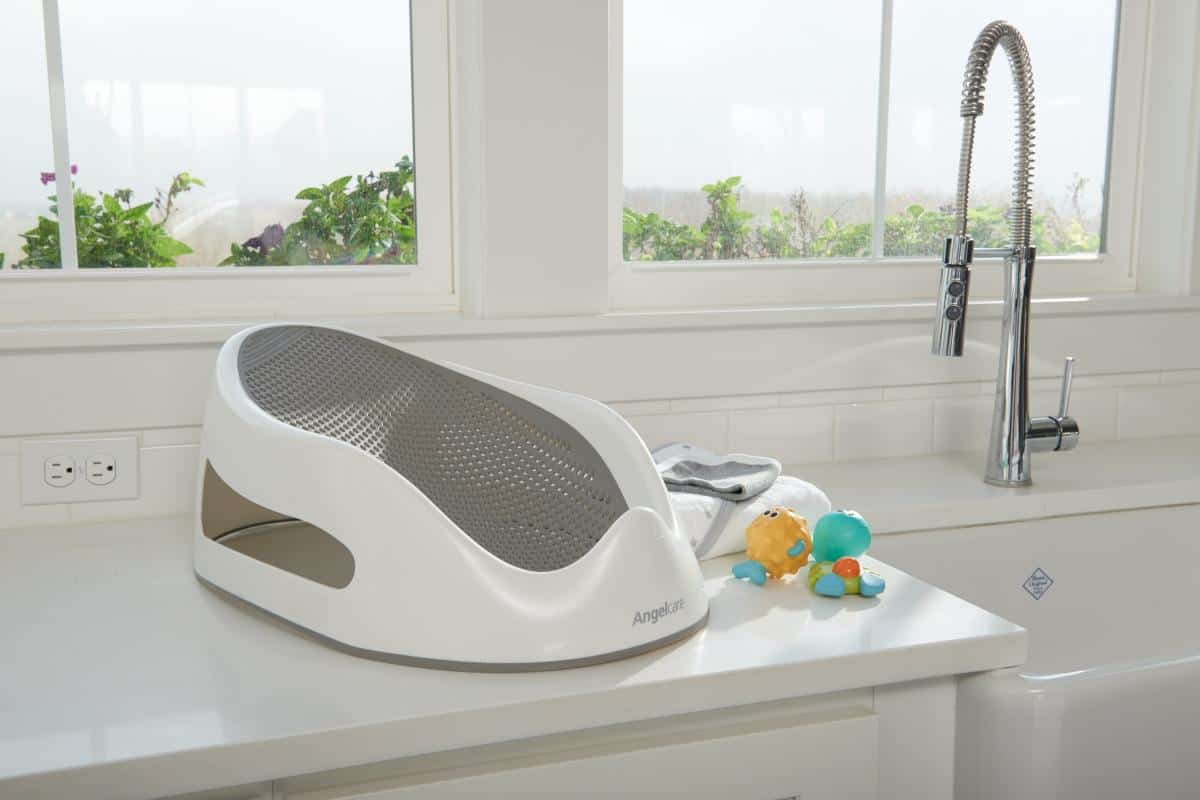 BRAND NEW NEWBORN BABY BATHTUB 
The bathtub I used for all of my kids and love love loved.
4moms Clean water Infant Tub – this one is discontinued. I'm so sad. I loved this tub for all of my babies.

I loved the clean water and I ESPECIALLY LOVED THE THERMOMETER.
I used this tub for all of my kids and loved it but apparently, no one else liked it.
I added a cotton bath towel to add cushion for baby's body but mostly for baby's head.
Today, since the 4moms Clean Water Infant Tub that I adored and used in the kitchen sink for all of my babies for years isn't available, I don't think I'd buy any of the bathtubs on the market right now for the kitchen or bathroom sink. I think I'd go right to the bathtub with this tub with this 4Moms Spout Cover digital thermometer.
With my third baby I was bathing everyone together in the big tub more anyway so I progressed out of the newborn baby tub in the sink into the big bathtub Angelcare Bathtub sooner.
WARNING ABOUT THE ANGELCARE BATH SUPPORT. Maybe it's just my baby but he would turn his head to the side and put his nose and mouth into the water if it was too full. I cannot turn away for even one second with my third baby. He is always putting his face in the water! He's my first n boy. Is that why?
BATHTUB FOR BABIES WHO CAN PULL UP AND SIT UP
Then, once baby could sit up from the angel care bath support we did an inflatable bathtub with all of my kids. The sides are soft so if they fall over they won't hurt their heads. I start with this one with this support in the lap and then progress into this or this one.
I just found this neat seat that was not available with my other two kids. I'm trying it out and I will update this post soon!
STORE THESE ITEMS INSIDE BABY BATHTUB IF YOU BATHE BABY IN THE KITCHEN SINK. OTHERWISE, KEEP THESE ITEMS IN A LITTLE BASKET IN THE BATHROOM TO BRING OUT AT BATHTIME EVERY DAY. 
BABY BATH THERMOMETER
I think this one is a necessity. I know it seems silly and our moms lived without this and we are all alive but I think, especially if it doubles as a guard to keep them from smacking their heads, it is really nice to not worry about the temperature. It just keeps my brain focused on other things.
There are a lot of floating thermometers you can buy for baby's bath thermometer. I like this becuase you don't have to worry about the water getting cold when you didn't notice.
My favorite kind of baby bathtub thermometer is the kind that fits on the spout though and tells you the temperature of the water coming out of the spout. It appears this 4moms item is not longer for sale! Gasp! I loved mine! If we have anymore babies I will be hunting one down!
BLOOMING BATH LOTUS (FOLDING BATHTUB)
The blooming bath lotus sounded so great! I loved the idea! And I was thinking of a solution to bathe baby while I had the other 2 in the big bathtub so we could all do bathtime together and I knew everyone was safe in the same room….until I burned baby in the bathroom sink. Mom fail. Mom guilt. It wasn't bad. It didn't leave a mark. I just couldn't keep the temperature of that water as steady as I could in the bathtub and it was going directly onto baby's skin because the sink was so small. After I burned baby, I decided I needed to look for a different tub. I'll bet in the kitchen sink it would have been great. Have you tried the blooming bath lotus? What did you think?
THE BEST TODDLER BATH TUB OR BATHTUB OR TODDLER TUB OR TODDLER SEAT
I used this Summer Infant My Bath Seat with my last baby because he tried to fall out of the inflatable tub. This was a lifesaver until he was over one year old.
INFLATABLE BABY BATH TUB
These inflatable bathtubs are great as long as your little person isn't a climber or a leaner or a flopper. My girls did great in this type of tub when they were able to sit up and pull up. BUT I do not like vinyl though. So, I prefer something less toxic. 
HOW TO KEEP BABY'S BATHTUB CLEAN
The most important thing is to get the water out right away and let it dry so that mold cannot grow.
Once it's empty I spray it with Thieves Household Cleaner because it's safe, plant-based and really inexpensive. I use this to clean my entire house. (Choose the 14-ounce option and you'll have it forever using only one capful at a time. Then buy these amber glass bottles and keep them in different rooms, or floors. I have one in my laundry room, one in kitchen, one in master bath, one in kid's bathroom.)
Then I wipe it down with a Norwex Enviro (cleans everything) cloth.
I do this right when the baby bath is complete or I'll come back later after everyone is in bed, the house is quiet and I do a quick walk through to tidy up before bed, with my Audiobook of the day in my ear usually. I like to use the empty moments of the day to learn something new and grow.
HOW TO BATHE A NEW BABY IN THE BABY BATHTUB
A few quick tips.
On to the list of stops on how to bathe a new baby in the baby bathtub.
Start from head to toe washing.
Wet one clean 100% cotton pads using fresh water from a clean stream of water from the faucet. Clean over and around one closed eye. Wet another for the other eye.

I do not use the bath water to try to prevent pink eye from any contamination from the bathtub.

Wash under baby's neck where spoiled milk sits. I use my DIY washcloths or these 100% cotton washcloths and warm water. I add YL Seedlings Baby Wash but I haven't always. I used to just use the warm water to wash.
Wash baby's armpits where cheese grows.
Wash behind baby's ears.
Wash baby's hair and scrub scalp gently with nails or with soft hair brush. I have a set of these nail brushes and have divided them into all the bathrooms, some for nails and some for baby's bath for his hair.
I use a safety swab for each ear to remove ear wax and another to clean around the inside of the hidden areas. Be extra careful around baby's ears. And check with your doctor about cleaning out ear wax even using safety swabs. Some say not to do that. So check with your doctor and decide for your family what you think is best!
THE ONLY SOAP I USE ON BABY
The only soap I use anymore on baby boy is YL Seedlings Baby Wash.
WHY DO I LOVE YL SEEDINGS BABY WASH? 
It is 100% plant based
It is tear free. They use a plant-based alternative to make it tear free and I can tell you from first-hand experience, it is actually tear free!
It is scented which is completely selfish of me but I just love smelling a clean baby boy. This scent is just amazing!
It is scented with the SAFE ingredients in the Calm blend of Lavender, Coriander, Bergamot, Ylang Ylang, and Geranium Essential Oils.
It leaves his skin and hair so soft. I can't even explain how soft.
No yucky stuff.
There's also calendula for skin hydration, which is why his skin feels so soft after his baths!
I really believe the YL Seedlings Baby Lotion has stopped the eczema that was starting on baby boy's ankles so I am really in love with these products.
PIN IT.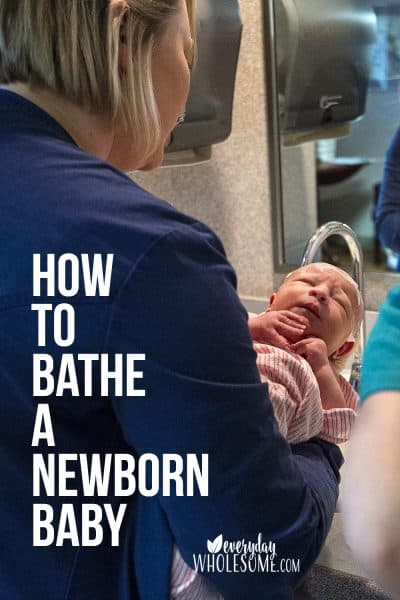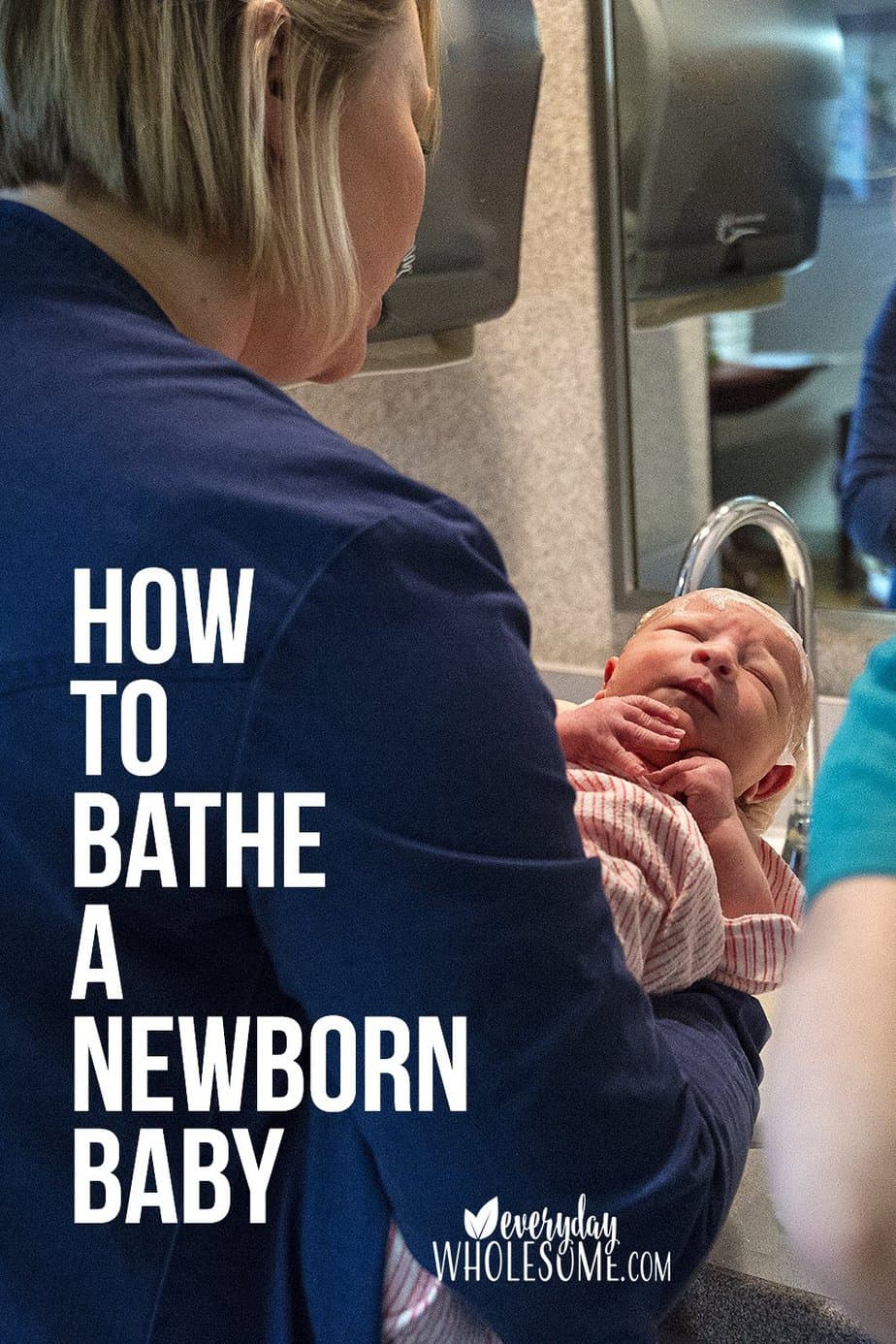 SaveSave
KEEP READING
FREE DOWNLOAD! 
No tags for this post.