Baby Led Weaning First Foods & Recipes | BLW Examples
This is the post is an introduction on how to feed your baby with Baby Led Weaning including exactly how to prepare your baby's first / starter foods and examples.
This post was originally posted in 2012 on FIToriBLOG and kind of made me "famous" in the baby led weaning world. I was on national TV and you can read about it here.
This post has been updated for 2022!
This post was written back when baby led weaning wasn't really a thing in America anymore. Of course, it's how our grandmothers and great grandmothers fed their babies but in recent generations it's unheard of!
Thankfully, in the last decade since I started this with my first baby, it has become more common. And, thankfully for me, I have learned a lot about nutrition and am happy to share that with you, my fellow mom friends.
This post may contain affiliate links which means if you purchase from one of these links I might receive a small commission at no expense to you. Thank you for supporting my blog and my family!
HOW TO START BLW [BABY LED FEEDING]
This is simply my idea of how to start and I'm not an expert, just a mom who reads books and tries to use common sense to do what's right for her kiddos.
This is how I started baby led weaning with my kids in 2011 and this is still all the same info that works today! Try it out! You and your kids might love it!
Start with meat and veggies and less fruits. Fruits (sweet) comes last.
Make sure baby is getting enough iron if not eating fortified rice cereal.
Foods high in iron for baby…. Ground beef & ground organ meat were our faves.
My kids' first foods were almost all broccoli and carrots.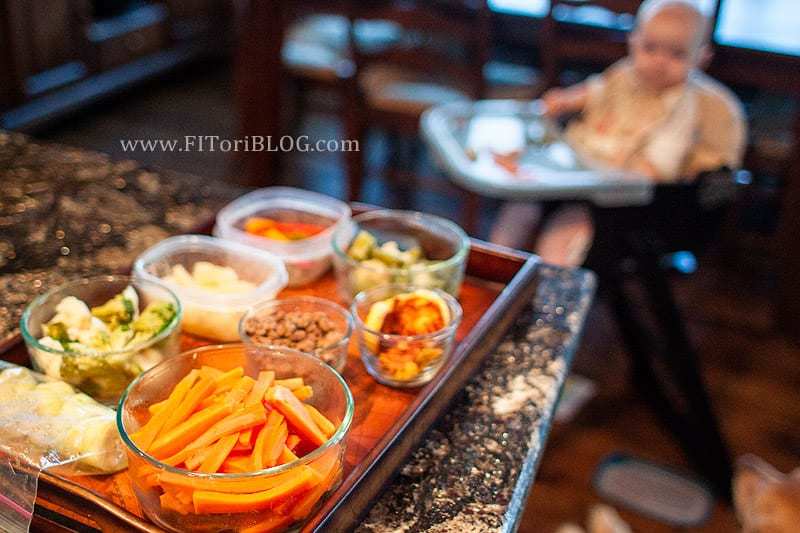 HOW HARD IS BABY LED WEANING?
Baby Led Weaning is basically homemade baby food purees without the pureeing, the freezing, the storing, the warming, etc.
You just… Steam it. Eat it. Refrigerate it. Eat it.
Until baby is eating the same meals as the rest of the family, it does take some time to prepare baby food for baby led weaning, but it's pretty simple when you get into the routine.
Here is my post on Baby Led Weaning Hacks and & Modifications about how to modify baby led weaning at the beginning.
These hacks help as baby is learning and mama is nervous and to make things a little easier for mama.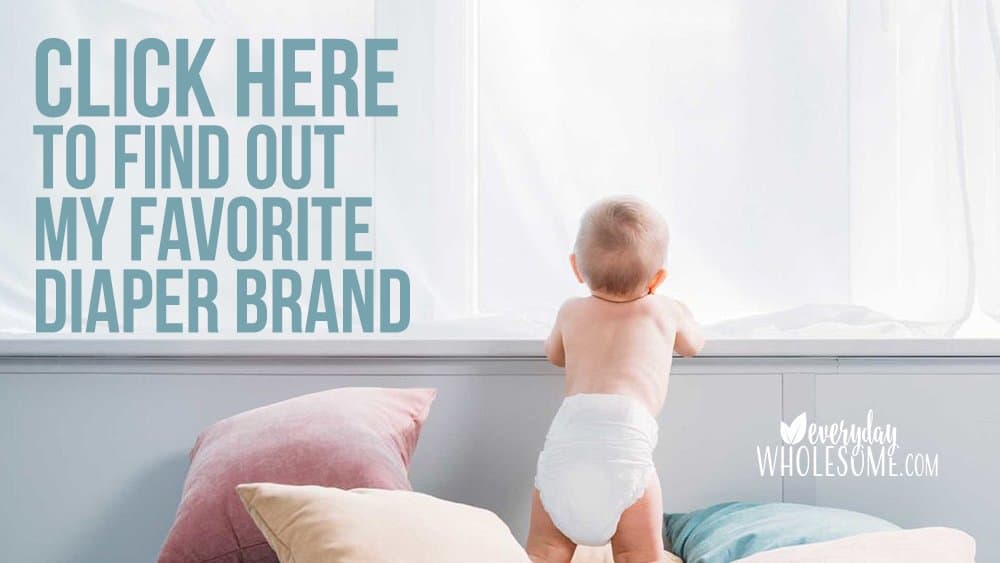 GET A FREE DIAPER BAG & TRY THE BEST BIODEGRADABLE DIAPER
Find out why I switched from cloth diapers after 8 years and 3 kids to these!!! Read the full post here.
Why I love this brand…..
It's super easy to order.
Their customer service is THE BEST.
They don't stink.
They are SUPER absorbent!
The cost is consistent.
They are inexpensive for safe, natural bamboo diapers…..that actually work!!!
They only have one color. It's simple. I love simple.
COUPON AND PROMO CODES FOR FREE STUFF!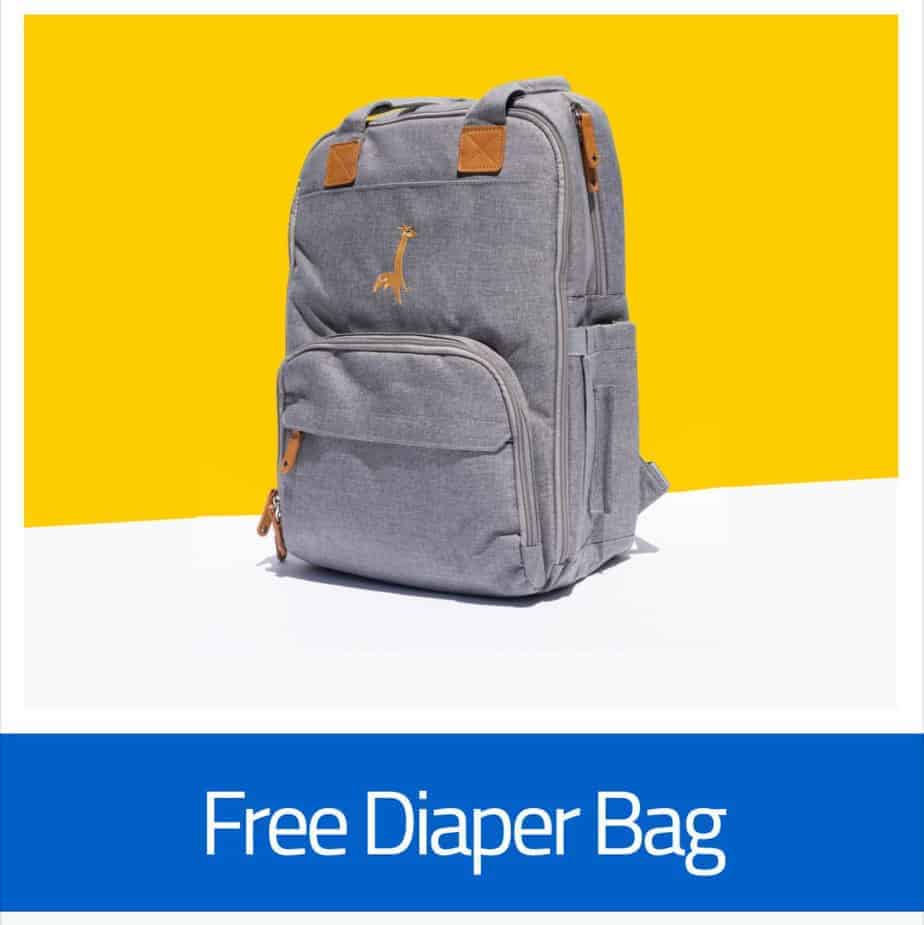 PIN THIS TO YOUR BABY LED WEANING PINTEREST BOARD

BABY LED WEANING – HOW TO GUIDE
I have a "baby food" tray like this or this or this that I keep in the fridge and bring out at mealtimes.
It always has a sampling of the different food groups as listed below….
VARIETY FOR EVERY MEAL…
PROTEIN

Always a meat [usually chicken, turkey or beef] for iron.

BLW says to give meat on the bone but this scared me so we did ground meat early on.
When she was too little [before pincher grip] we offered to put it in her mouth.
If she didn't want it, she let us know. If she did, she opened wide.
[Baby #1 would open wide if she wanted it.
Baby #2 would grab my hand and put it in her mouth.].
Baby #3 was able to hold the ground meat earlier and feed himself.

Almost always a ground organ meat added into the ground meat and cooked
And often egg yolk [no egg white til 12 mo due to allergy]

[I make meat and veggies in a pan on the stove and add garlic and onion or other spices but no salt or sugar]
GREEN VEGETABLES

Almost always broccoli, her favorite.
Often peas, avocado [raw], asparagus, green beans, sugar snap peas, green, red & orange bell peppers, etc.
[all steamed except avocado]
[UPDATE: Asparagus is stringy so they gag on it and it's hard to chew and swallow so I don't do that often b/c I don't want to deal with it.]
ORANGE VEGETABLES

Carrots or Sweet potatoes are almost always on her tray
[all steamed]
FRUITS

Fruits come out after she's had her fill of meats and vegetables.
She loves apples [steamed] and watermelon [raw] the best. Kiwi. Grapes [pealed and cut into a MILLION tall slices to avoid choking]. Banana. Mango. Pears. Peaches.
STARCHY CARBS & DAIRY (NOT YET)

We started these around 1-2 years I believe. I still have more research to do on starchy carbs and milk for around 12 mo-2 year.
The research I have done says that babies cannot properly digest starch until around 2 years old yet Baby Center tells us to base our babies diets around starchy carbs like baby cereal…what??!!! Smoke is coming out my ears. [UPDATE: I believe we started Baby #1 on starches into her first year & when my breastmilk ran out 🙁 we gave her goat's milk after age 1 until about age 2.]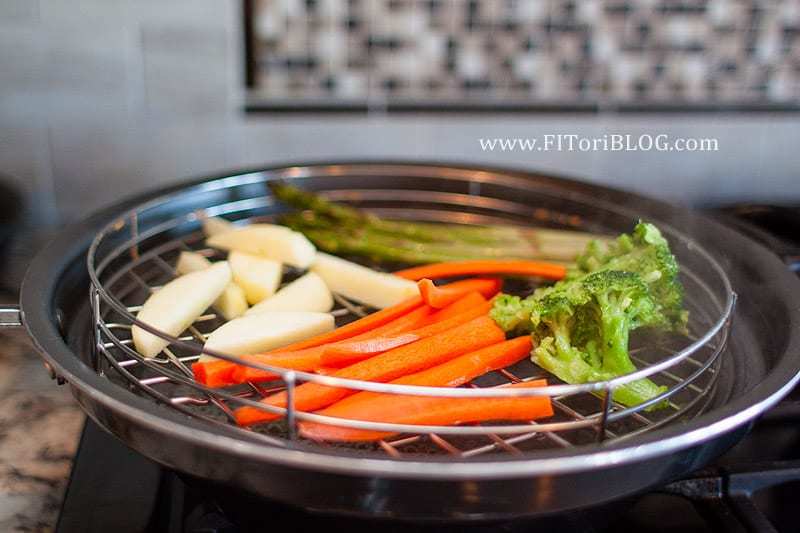 THIS IS HOW WE DO BLW
She eats 3 times a day. I don't worry too much about whether it's before or after nursings, etc. It falls where it falls. At first I had a rough routine of wake up, feed milk, feed food during that wake up time. That occurs after waking first thing in the morning and then again after each nap.
I give her a sippy cup of my milk during the feedings or you can give water. If I don't have milk dethawed or I'm running low I would supplement with formula. I have since researched and realized the formulas I used probably weren't the best. I would use raw goat milk today or make a formula like this one.
I give her a sampling of each item that I have steamed and ready for her.
Once she runs out of an item on her tray I give her more. I just monitor that she hasn't run out of any food. Some days she eats TONS of carrots, others it's peas and others it's chicken & broccoli. I let her decide what she wants/needs that meal.
She eats her food cold if it's been pre-made. It makes life easier when we go out and about. And I don't like the idea of warming her food in the microwave every meal.
From what I've read, microwaving food changes the structure of the food and depletes nutrients. I'm not a chemist so you can look that one up and let me know!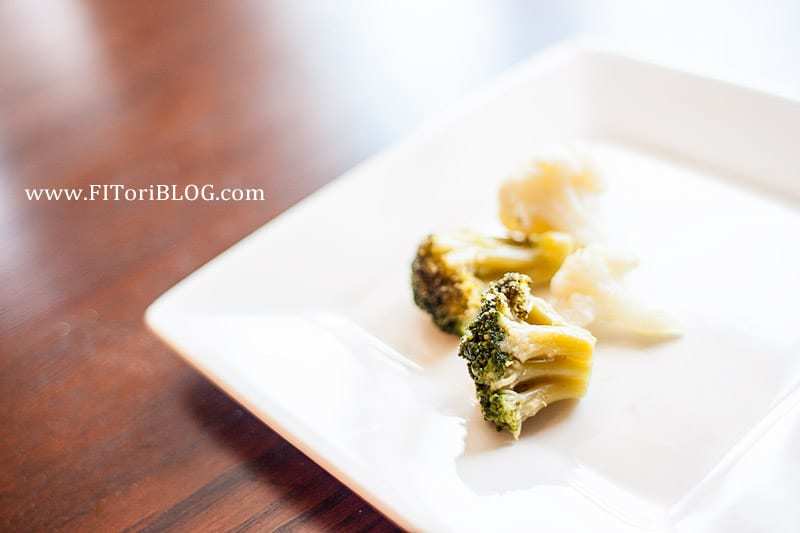 OUT AND ABOUT FOR THE AFTERNOON WITH BABY LED WEANING
I still have not found a stainless steel straw cup for baby with handles that I like. Help?!
For a clean surface to eat. I have tried a few options.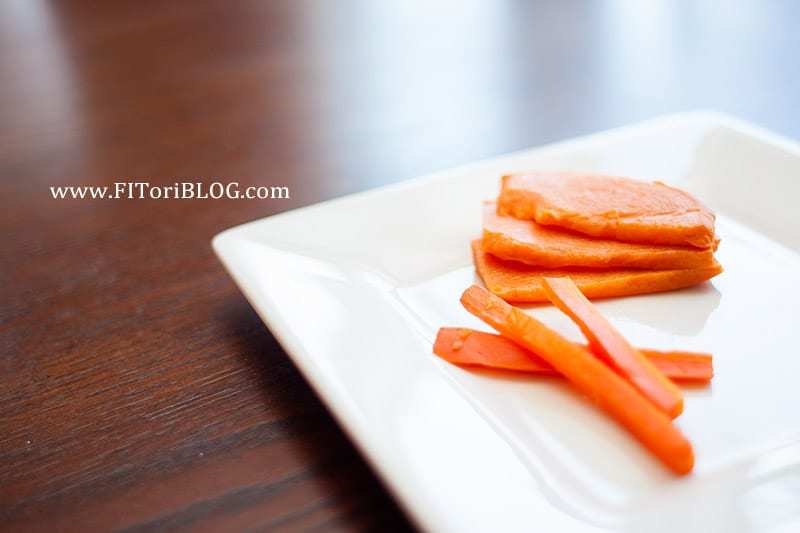 SNACKS & IN-BETWEEN MEALS.
For now, we don't eat in between meals. LOVE LOVE LOVE the book Bringing Up Bebe [the French don't agree with snacking.] I'm curious where we'll "land" on this subject in a few years. Definitely "food" for thought!
UPDATE: I have found the best way to get my kids to eat their meals is to not offer snacks between meals.
WE LOVE FROZEN VEGGIES FOR TEETHING!!! This is in my hacks & mods post. (Link coming soon). Frozen asparagus (not while walking or crawling), broccoli, and french style green beans are favorites, for example. Raw whole carrots & celery are great to chew on also. As always, watch for choking!
**AS WITH ALL FOOD, DO NOT LEAVE KIDS UNATTENDED WHILE EATING. WATCH & LISTEN CLOSELY!**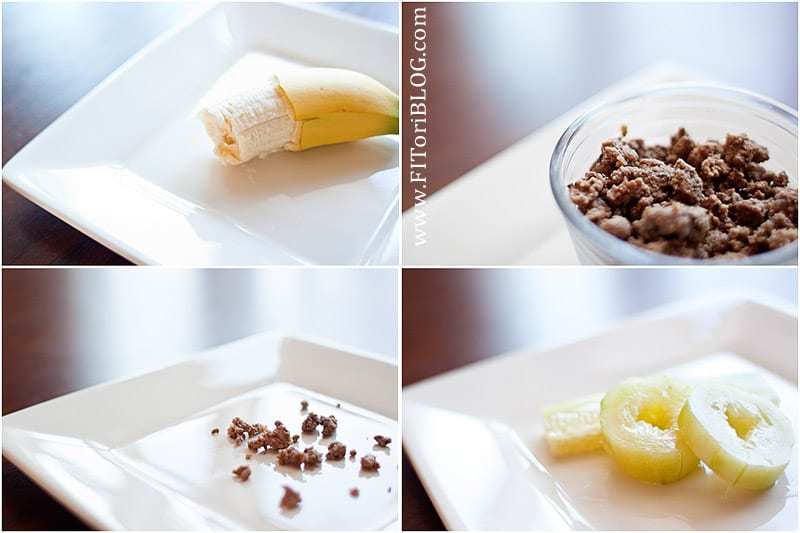 BUYER'S GUIDE – BABY LED WEANING
Easy to clean highchair. I bought a fancy high chair for my first kiddo (and still use it as a kid chair and love it for that but for BLW….it was terrible! It was not easy to clean.) Now we use the Ikea ANTILOP high chair.
Baby Led Weaning Examples Buyer's Guide
Did I miss any foods here? I'm sure I did! Share some ideas!!
PIN IT.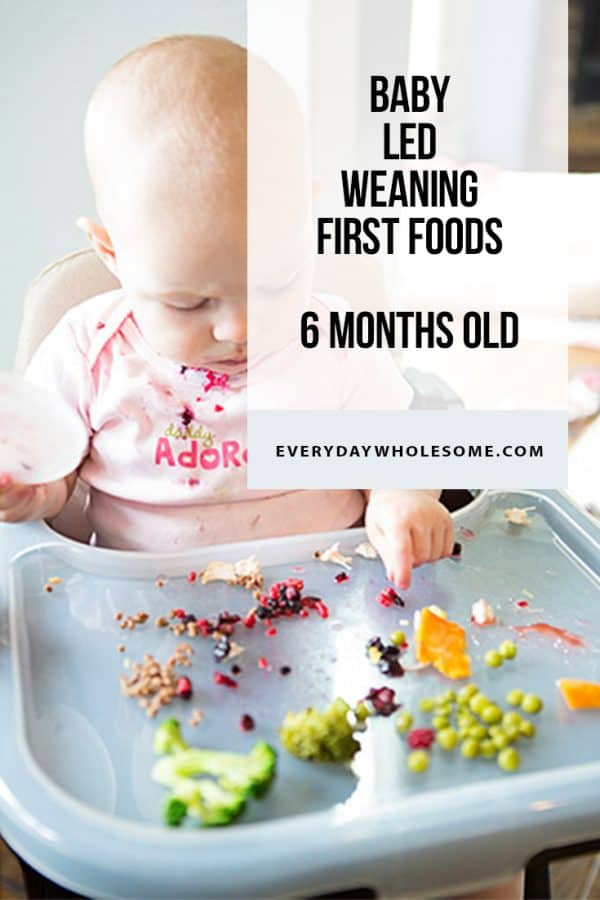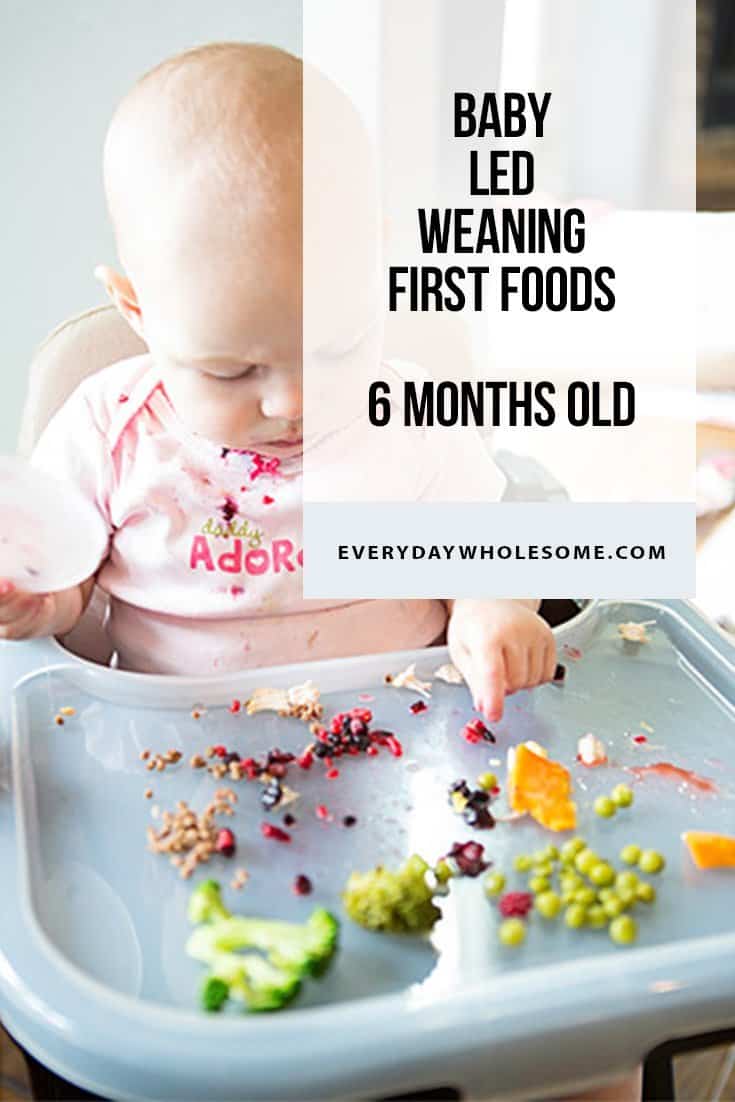 Save
Save
Save
Save
SaveSave
FREEBIE DOWNLOAD!