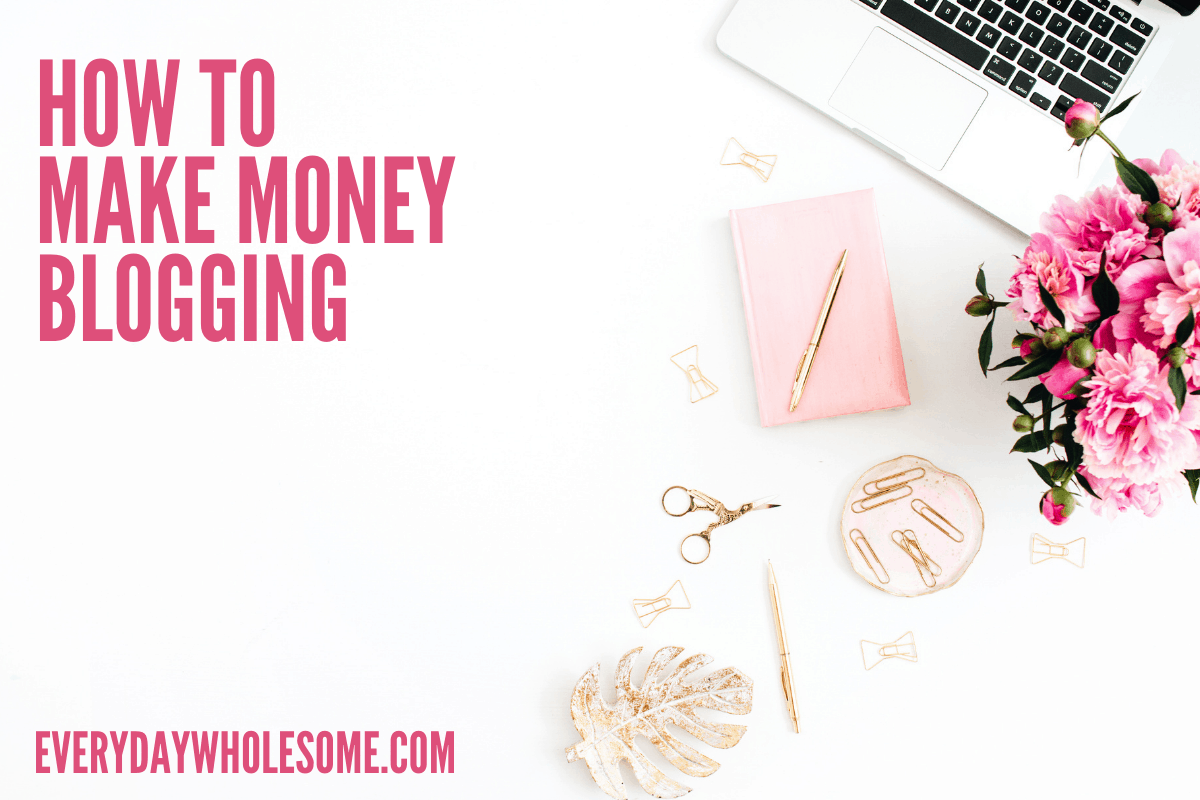 How I started making money blogging and the tips and resources to help you get there also. How to make money through affiliate marketing and the highest paying affiliates. Tools you need as a blogger to help with accounting.
I started blogging for fun in 2010 and highlighted my fitness journey. It was an online journal and nothing more. I realized after becoming a mom that I had a lot of research I wanted to share and that is how this blog began. I started with just a few posts that I had pulled from my old blog about juicing and baby led weaning and cloth diapers. And I rebranded because I wasn't about fitness anymore but about wellness, health, & wholesome eating and living.
This post may contain affiliate links which means if you click on these links and make a purchase you will support my family and my blog at no additional cost to you. Thank you for supporting my blog by sharing my journey and the products my family uses and loves.
I started actually trying to make money blogging by researching and taking classes in November of 2018 but because we were moving I didn't start DOING much until Fall of 2019 and I got my first REAL blog paychecks starting during Covid 2020. It took some time. It took time to think, plan, write and photograph. And mostly….it took time to LEARN. I believe in paying to learn and grow. I have bought & read thousands of books but for the research to learn how to build websites and make money blogging I believe in paying the experts for their research.
It is September 2020 and I make more than $1000 a month on this blog. And honesty, I am not doing much to work with my blog because my health coaching business is going so well! Find me on my personal Facebook page here to learn more if you want to learn about achieving your health goals! Or check out my YOUTUBE channel to learn more about my health coaching!
HOW LONG DOES IT TAKE TO MAKE MONEY BLOGGING?
That totally depends on how many hours you put into it and how much research you do!
COURSES I USED TO MAKE MONEY BLOGGING
I believe in spending money and learning from the experts. I love research. I buy books and courses. I dig in and learn. Here are my faves.
MY FAVORITE PINTEREST COURSES
Carly @ Blogging Like You Mean It
Monica @ Redefinng Mom
Anastasia @ The Best Pinterest Course
MY FAVORITE BLOGGING COURSE
I am working on updating this!
MY FAVORITE EMAIL MARKETING COURSE
Kate Doster @ Love Your List
TOOLS I USE TO BLOG
CONVERT KIT
The customer service is amazing. The platform is great. I love it all.
The design is minimal and perfect at the same time!
I get 30% of my traffic from SEO and I KNOW it is because I have done SEO research and I use the best SEO tools.
It simply matters! Without the right search terms your blog posts will not be seen!
I have a thriving health coaching business. You can watch more on my Youtube Chanel here. Or message me and let's chat.
My point is just that I don't have time to pin on pinterest all day anymore & Tailwind keeps my traffic up!
Thank you Tailwind! Check it out here!
Another feature I couldn't live without on Tailwind is the way I can see which boards are doing well. That is not in Pinterest Analytics so I adore the Tailwind analytics tools and the Tailwind Tribes!
SEND OWL
I use Send Owl to send out my free and purchased eBooks! It's super simple and is very little effort and low cost.
MEDIAVINE
I am so honored that I was accepted to be a member of Mediavine. I still don't feel worthy. They Facebook group is worth it all!
CANVA
I love Adobe Photoshop because I'm a photographer! So Adobe Photoshop is my happy place!
BUT Canva is soooo easy for Pinterest pins! And there are so many templates pre-loaded in there!
MILOTREE
I use milotree for my Pinterest Popup on my site to grow my Pinterest following and it works!
ACCOUNTING APP
Once you start making money blogging or even before you do….you need to write off all your expenses. I LOVE Freshbooks! I used it for my photography business and it is SOOOO much easier than Quicken. It's so user friendly. I used to use it to invoice clients. But now I just use it to track my receipts, my invoices, my milage etc. All of my write offs go in there. And I can put in all of my affiliate income and see how much I made.
And the coolest thing….at the end of the year I can send my tax document directly to my tax person if I have one! It's so simple!
Freshbooks is amazing for my accounting!
MY FAVORITE AFFILIATES THAT MAKE MONEY BLOGGING
If you believe in a product and research a product and want to share about a product, check to see if they have an affiliate network. Then write the post, add the pics and then make a GREAT pin for Pinterest!
PIN TO YOUR PINTEREST BOARD ON BLOGGING
No tags for this post.