This post was updated on November 2nd, 2020.
This post may contain affiliate links.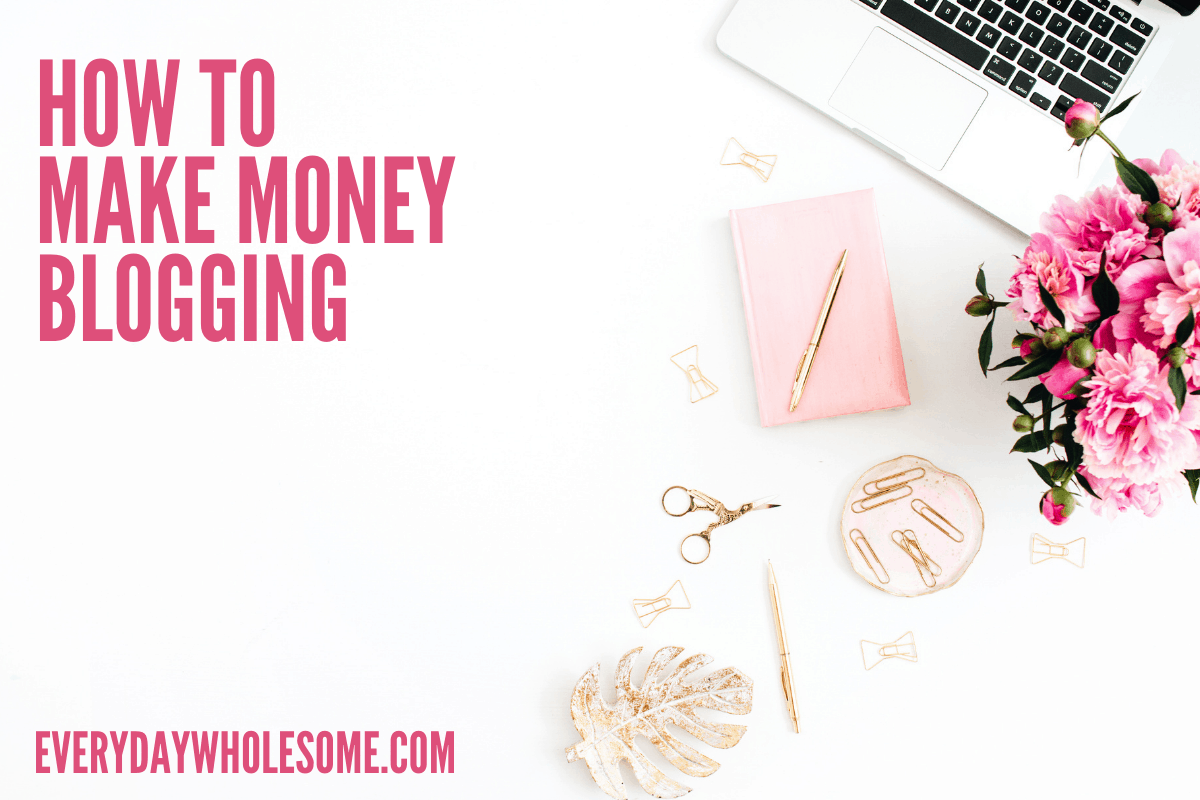 How I started making money blogging and from home and the tips and resources to help you get there also. How to make money through affiliate marketing and the highest paying affiliates. Tools you need as a blogger to help with accounting.
HOW DID I MAKE $1000 IN MY FIRST MONTH?
Blogging was not that for me! I made $1000 my first month in Network Marketing with the company I am currently working with now. And I have made more every month since. I am now making that much with my blog also and you can too! But blogging has a steeper learning curve and you will probably not make $1000 your first month blogging though you can in a few months or a year!
I LOVE what I do with my health coaching. I get to help people with their health. I would not be doing any health coaching anymore if I did not have a product that I TRULY believe EVERYONE needs.
When I discovered how much this health product could help people I HAD TO SHARE IT! And as soon as I started to share, guess what? I REALIZED HOW MANY WOMEN WERE SILENTLY SUFFERING WITH THEIR HEALTH? If that is you CONTACT ME! I can help you! And I want to.
TELL ME ABOUT YOUR BLOG JOURNEY
I started blogging for fun in 2010 and highlighted my fitness journey. It was an online journal and nothing more.
I realized after becoming a mom that I had a lot of research I wanted to share and that is how this blog began. I started with just a few posts that I had pulled from my old blog about juicing and baby led weaning and cloth diapers.
And I rebranded because I wasn't about fitness anymore but about wellness, health, & wholesome eating and living.
This post may contain affiliate links which means if you click on these links and make a purchase you will support my family and my blog at no additional cost to you. Thank you for supporting my blog by sharing my journey and the products my family uses and loves.
I started actually trying to make money blogging by researching and taking classes in November of 2018 but because we were moving I didn't start DOING much until Fall of 2019 and I got my first REAL blog paychecks starting during Covid 2020. It took some time. It took time to think, plan, write and photograph. And mostly….it took time to LEARN. I believe in paying to learn and grow. I have bought & read thousands of books but for the research to learn how to build websites and make money blogging I believe in paying the experts for their research.
It is September 2020 and I am finally making $1000 or more per month on this blog. And honesty, I am not doing much to work with my blog because my health coaching business is going so well! Find me on my personal Facebook page here to learn more if you want to learn about achieving your health goals! Or check out my YOUTUBE channel to learn more about my health coaching!
HOW LONG DOES IT TAKE TO MAKE MONEY BLOGGING?
That totally depends on how many hours you put into it and how much research you do!
COURSES I USED TO MAKE MONEY BLOGGING
I believe in spending money and learning from the experts. I love research. I buy books and courses. I dig in and learn. Here are my faves.
STUPID SIMPLE SEO
I should have started here. I started with Pinterest. I should have started here.
Start with SEO so it can be doing it's thing in the background while you are hammering away with Pinterest!
It's so much easier to get your SEO going early and let it grow and do all those things first.
Rathe than trying to play catch up later when your Pinterest traffic disappears!
MY FAVORITE PINTEREST COURSES
I cannot speak highly enough about Carly. I adore her. And I don't even know her. How weird, right? WRONG.
Why do I feel like I know Carly?! Because she is SO awesome. She is so awesome at what she does. If I feel like I know her from her course, her videos, her accessibility in her Facebook group (that only comes if you join her course), then she is…
a. doing all the things right.
b. she can teach you how to do all the things right!
Her courses are….
a. legit awesome. FULL of valuable info you can't get elsewhere.
b. she walks you through exactly everything she does and has learned.
c. SOOOOOO CHEAP for the value packed inside!
d. you have to get them all!
I purchased Anstasia's Pinterest SEO Traffic Secrets and her Coaching as well. I wanted her to look over my Pinterest strategy and help me. She was amazing. Even without coaching, she is super attentive to her group and her also to her clients. She has put a ton of time and attention to detail into this course and videos and learning Pinterest. Her coaching was invaluable. She went through my blog and my Pinterest pinning technique and gave me pointers. She made a document to go over everything. She was professional and so helpful! I would recommend her coaching hands down! Find her here!
Blog Clarity @ Pinning Perfect Course
I took this course first and I loved it because they go through their EXACT routine of exactly how they work and what they do to pin.
There are step-by-step details of exactly how they pin and their exact technique, covering every detail.
And they have insider info into actually talking to Pinterest to learn more about how you could get penalized when you do the wrong thing.
MY FAVORITE AFFILIATE MARKETING COURSE
I almost bought Making Sense of Affiliate Marketing First but when I read another review explaining this was a more advanced course and cheaper I was super excited about that info!
I adore Carly (as I stated above) and was thrilled to find out that this course was full of more and better info (for me as a more advanced blogger) and that it was cheaper! Score for me! Carly does not disappoint!
MY FAVORITE PINTEREST ADS COURSE
Monica @ Redefining Mom – Pin Practical Promotions
This course is amazing! And it truly works. Not only does she give exact step-by-step detailed instructions on how to set up your ad, but I followed them to a T and went from 1-2 email signups daily to 10 per day! It was amazing.
And she hold office hours for her students where she will look at exactly what is going on if you have an ad that you want more feedback on.
She actually cares about her students and their situations and is seeking to understand the Pinterest algorithm perfectly so she can figure out how it works for herself and for you so it's a win win.
MY FAVORITE EMAIL MARKETING COURSE
Talk about inspiring! Kate took a dream and turned it into reality. She learned email marketing and then created this amazing course to share it all. She is accessible and teaches EVERY SINGLE DETAIL to her students about how to grow a list and most importantly how to nurture that list!
MY FAVORITE BLOGGING COURSE
I am working on updating this!
TOOLS I USE TO BLOG
CONVERT KIT
The customer service is amazing. The platform is great. I love it all.
The design is minimal and perfect at the same time!
I get 30% of my traffic from SEO and I KNOW it is because I have done SEO research and I use the best SEO tools.
It simply matters! Without the right search terms your blog posts will not be seen!
I have a thriving health coaching business. You can watch more on my Youtube Chanel here. Or message me and let's chat.
My point is just that I don't have time to pin on pinterest all day anymore & Tailwind keeps my traffic up!
Thank you Tailwind! Check it out here!
Another feature I couldn't live without on Tailwind is the way I can see which boards are doing well. That is not in Pinterest Analytics so I adore the Tailwind analytics tools and the Tailwind Tribes!
SEND OWL
I use Send Owl to send out my free and purchased eBooks! It's super simple and is very little effort and low cost.
MEDIAVINE
I am so honored that I was accepted to be a member of Mediavine. I still don't feel worthy. They Facebook group is worth it all!
CANVA
I love Adobe Photoshop because I'm a photographer! So Adobe Photoshop is my happy place!
BUT Canva is soooo easy for Pinterest pins! And there are so many templates pre-loaded in there!
MILOTREE
I use milotree for my Pinterest Popup on my site to grow my Pinterest following and it works!
ACCOUNTING APP
Once you start making money blogging or even before you do….you need to write off all your expenses. I LOVE Freshbooks! I used it for my photography business and it is SOOOO much easier than Quicken. It's so user friendly. I used to use it to invoice clients. But now I just use it to track my receipts, my invoices, my milage etc. All of my write offs go in there. And I can put in all of my affiliate income and see how much I made.
And the coolest thing….at the end of the year I can send my tax document directly to my tax person if I have one! It's so simple!
Freshbooks is amazing for my accounting!
MY FAVORITE AFFILIATES THAT MAKE MONEY BLOGGING
If you believe in a product and research a product and want to share about a product, check to see if they have an affiliate network. Then write the post, add the pics and then make a GREAT pin for Pinterest!
PIN TO YOUR PINTEREST BOARD ON BLOGGING
No tags for this post.