12 Minimalist Cleaning Tips & Routine | My Favorite Cleaning Tools
This is my post with my favorite simple and easy minimalist cleaning tips and hacks. I have spent years researching EASY and SIMPLE cleaning systems and it's beautiful that it fits with my nontoxic lifestyle. In this post, I will help you throw away all your bottles for ONE SPRAY BOTTLE. I use the same soap for my dishes, dish soap, dishwasher soap and laundry detergent. I clean my entire home with 2 cloths. It's so simple you won't believe it.
This post may contain affiliate links.
PIN TO YOUR MINIMALIST OR CLEANING BOARD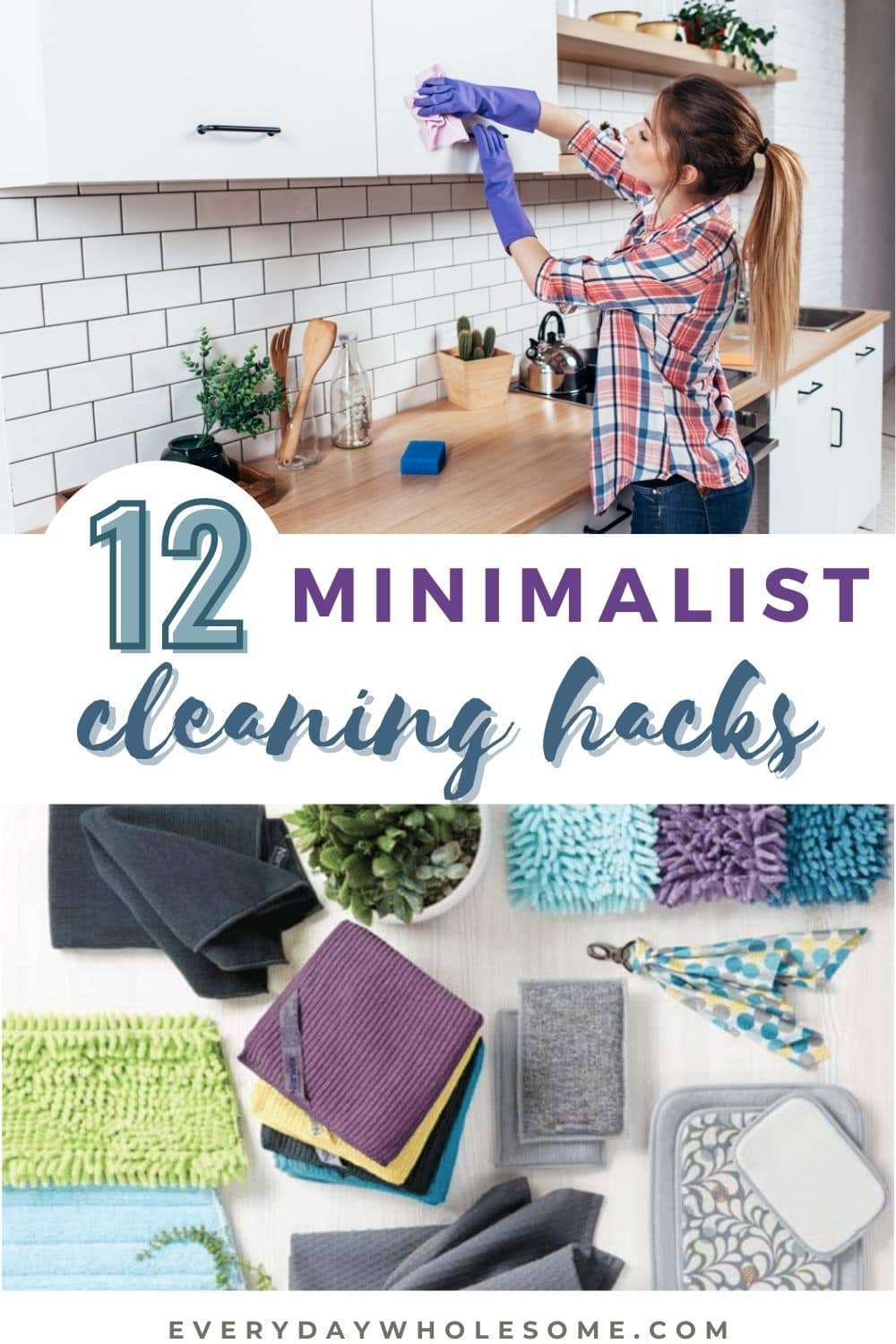 HOW DID I COME UP WITH THESE CLEANING HACKS, TIPS & TRICKS?
I love simple. I love easy.
I never learned to clean when I was a kid.
I spent time researching cleaning. How to clean. How to clean well. How to clean quickly. Simply. Easily.
I believe in habits. Systems. Routines. It takes a load off my VERY FULL mommy brain.
I have found some VERY SIMPLE cleaning tools and routines that I have to share with you to ease your cleaning routine!
DO YOU KNOW ABOUT NORWEX YET?
If you don't…..you need Norwex now. Seriously. It's time. Today. Why? You can clean with JUST WATER. For real!

I CLEAN 98% OF MY HOME WITH A SPRAY BOTTLE OF WATER (OR A PLANT-BASED CLEANER) & TWO CLOTHS!
I use this set to clean my house but hold tight. I have other faves below that you might just have to add to your order!
Seriously, if you are carrying around a caddy of all kinds of different cleaners to clean your house. STOP IT! You don't need a cleaner for this and a cleaner for that! You don't! FIRST, they are toxic. Even if they say nontoxic. They probably are. SECOND, it's wasting your time and money and brain bites. Ditch it all for something more simple. I'll show you how!
WHAT'S SO GREAT ABOUT NORWEX?
It's better microfiber so it picks up more dirt off each surface. Which means it will take you less time to clean. Instead of smearing around your dirt and mess you'll pick it up.
The microfiber doesn't need to be washed everyday. Just rinse it. This will save you on laundry. You'll thank me.
You clean with water. You can get rid of 10-20 bottles of kitchen and bathroom cleaners now. Go ahead.
Your kids can clean with you.
You won't ruin your surfaces with chemicals. Or your nose. Or your health.
It's so much simpler. Less thinking = happy lady.
MY FAVORITE NORWEX PRODUCTS YOU WILL LOVE AS MUCH AS I DO & WHY
This cloth is legit and cleans all the things. I love it so much. I use it to clean all the things. You need a few.
You need this window/polishing cloth for all of your mirrors, windows and stainless steel. Bu-bye Windex! No more windex friends. It's toxic. And it's such a waste of space, money and brain bites to have another cleaner around. Simplify my friends! It's so worth it!
I prefer the envirowand for dusting… personally. But I also have some mitts and the kids love to use them to dust! Here is the mitt also. Get two if you get the mitt. You take 2 dust mitts, rub them together to charge them then you walk around your house dusting! So easy! So fast! So simple.
BONUS: ONE OF THE BEST PARTS…..YOUR KIDS CAN HELP YOU CLEAN!!!!
I like a smaller cloth and many of them to use in the kitchen. I don't know about you but I wipe down my counters a gazillion times during the day so I love to use an Envirosponge like this one. I loooove these counter cloths so much in a set of 3. These are also amazing. Scrubby on one side. Sponge on the other and just the right size for your hand.
#5. SIMPLE DISHES.
I use Sal Suds (read my post on it here) and I take these Dish Cloths and I cut them in half. They never wear out. I have NEVER had to replace one. They never get gross. They don't fray when I cut them in half. They last forever. You can wash them in the washing machine or in the dish washer. I do the washing machine every now and then…maybe monthly.
BONUS: I also use Sal Suds as my dishwashing detergent. And I use vinegar as my rinse aid. So incredibly simple. And….Sal Suds is my laundry detergent! I buy a gallon of Sal Suds once a year maybe. It lasts me that long as my dish soap, my dishwasher detergent and my laundry detergent. It is December. I bought this in June and I still have WAY more than half left.
#6. HOW DO I WASH MY NORWEX CLOTHS?
I use Norwex Powder Detergent. It's also amazing on towels and whites and on all of your clothing too! It's super simple and clean an IT LEGIT WORKS. Get some when you get your cloths and try it out on your clothes. Tell me what you think!
BONUS TRAVEL TIP!!!
I take a small ramekin of Norwex Powder Detergent with me when I travel. It's the bomb! When you are in a hotel without a washing machine, you can put a sprinkle in the bathroom sink of water with your items (underwear or stained item) and hand wash it. Hang it over the shower and voila…..laundry without needing a washing machine in a hotel!
BONUS DETERGENT TIP!!!
Put Norwex Powder Detergent in a spice shaker bottle and you can put a sprinkle on your cloths and rinse out in the hottest water you can stand and you will not have to launder your cloths very often at all.

THINGS THAT NEED EXTRA CLEANING.
#1. STOVETOP CLEANING.
Cleaning Paste is amazing for getting the stains out of things you didn't think you could. I have used it for permanent marker many times and to clean off walls and door frames. I also love cleaning paste with a spirisponge to clean my stove. It's amazing!
#2. GLASS SHOWER DOORS.
Anyone else have a love hate relationship with these? Or consider divorce over a forgotten squeegee after a shower? #kiddingnotkidding This squeegee is the bomb. BUT I'm talking about serious hard water clean up here with just a rinse after. Seriously. This Descaler will get rid of your hard water on your shower doors with a simple rinse. You need it. I need it. It's a must. It's a best seller for a reason.
Keep your floor clean of germs. Keep your home free of chemicals. It dries super fast so no one will get hurt. It's simple. You can grab it for quick spill clean ups. It's simple and easy. It won't ruin your floors and you don't need any more solutions or gadgets! Woohoo! Check out the mop. Clean with just water.
WANT IT ALL?
CHECK OUT THE COLLECTIONS AND SAVE HERE. WANT IT ALL? READY TO THROW OUT ALL YOUR BOTTLES?! I did when I started! Once I realized how dangerous all of my household toxins were I threw them all away! 3-4 BOXES of chemicals. It was so freeing. I emptied tons of cabinets and replaced it all with a big collation of Norwex. I felt free. It was such a great feeling.
BONUS BATHROOM HACK
First, they double as a cleaning cloth so you can quickly grab it and wipe down your faucet and mirror after you wipe your hands. Your bathroom always stays clean! Woohoo!
Second, they aren't gross when your friends come over! Thanks to the bac-loc microfiber!
Third, they are stylish! You can find a color to match any bathroom!
THE ONLY OTHER THING I CARRY BESIDES MY 2 CLOTHS & SPRAY BOTTLE WHEN I CLEAN MY WHOLE HOUSE?
A SCRAPER LIKE THIS! It comes in so handy when mopping or cleaning counters! It's my secret weapon under $5!
TELL ME YOUR CLEANING HACKS?!