Top 5 uses for Dr Bronner's Sal Suds | Is Sal Suds Safe?
My top 5 favorite uses for Sal Suds at home for nontoxic cleaning and living. Sal Suds dishwashing detergent, dish soap, laundry detergent, laundry stain remover, stain spray and cleaning spray. Is Sal Suds safe or toxic? Is SLS safe or toxic?
This post may contain affiliate links.
I buy ONE GALLON of Sal Suds about every 6 months. And it's simple. I use it for all the things below. I love that it's less in my cabinets. And less to purchase and I dont need to replenish very often at all!
TOP 5 USES FOR SALS SUDS
#1 SAL SUDS DISHWASHER DETERGENT
At my sink, I have a glass container like this one. It's not foaming.
My foaming container has Dr. Bronner's Sal Suds + Water + sometimes essential oils.
I put about 3 squirts into my dishwasher detergent compartment.
I add a ramekin like this mason jar (I love mason jars!) in the top rack full of vinegar.
VOILA! Sparkly dishes. And safe.
WARNING: Teach your husband not to use too much or you'll (a) waste it (b) get suds out onto your kitchen floor.
#2 SAL SUDS DISH SOAP
At my sink, I have a glass containerlike this one. It's not foaming.
I squirt this on my dish cloth (these are my faves) or my dish brush to wash dishes.
#3 SALS SUDS LAUNDRY DETERGENT
I put a pump top on one of these bottles.
And I just squirt into the detergent section of my washing machine. 3-6 squirts basically. Experiment with the right amount! It's sudsy so not too much!
I add vinegar into my fabric softener container.
VOILA! Clean clothes!
#4 SAL SUDS LAUNDRY STAIN REMOVER
Pure Sal Suds on laundry stains. Old stains. New stains. Let it sit directly on stain. Earlier is better. Longer is better
#5 SAL SUDS CLEANR SPRAY
1 Tablespoon per quart in spray bottle.
I have to admit….my favorite spray cleaner for ALL THE THINGS is my Young Living or Doterra. Either are great. And smell great. And leave little residue behind.
SAL SUDS CHEAT SHEETS FOR USES
PIN THIS ON YOUR DIY OR NATURAL HOME BOARD ON PINTEREST

SAL SUDS INGREDIENTS.
Water, Sodium Lauryl Sulfate (SLS), Coco-Betaine, Decyl Glucoside, Abies Siberica (Siberian Fir) Needle Oil, Picea Glauca (Spruce) Leaf Oil, Citric Acid, Sodium Sulfate, Sodium Chloride, Potassium Hydroxide
IS SALS SUDS SAFE? IS SLS SAFE?
EWG SAL SUDS RATING
EWG rates Dr. Bronner's Sal Suds Liquid Cleaner an A!!!! Read here.
DIFFERENCE BETWEEN SALS SUDS AND CASTILE SOAP
WHERE TO BUY SAL SUDS
FIND IT.
PIN TO YOUR PINTEREST BOARD ON NATURAL CLEANING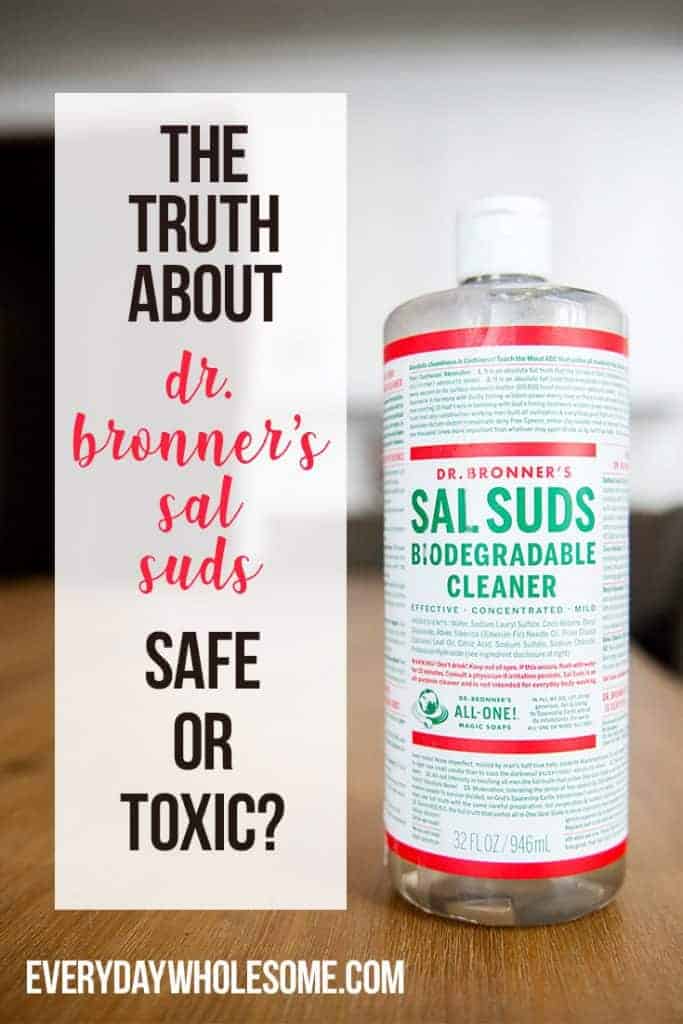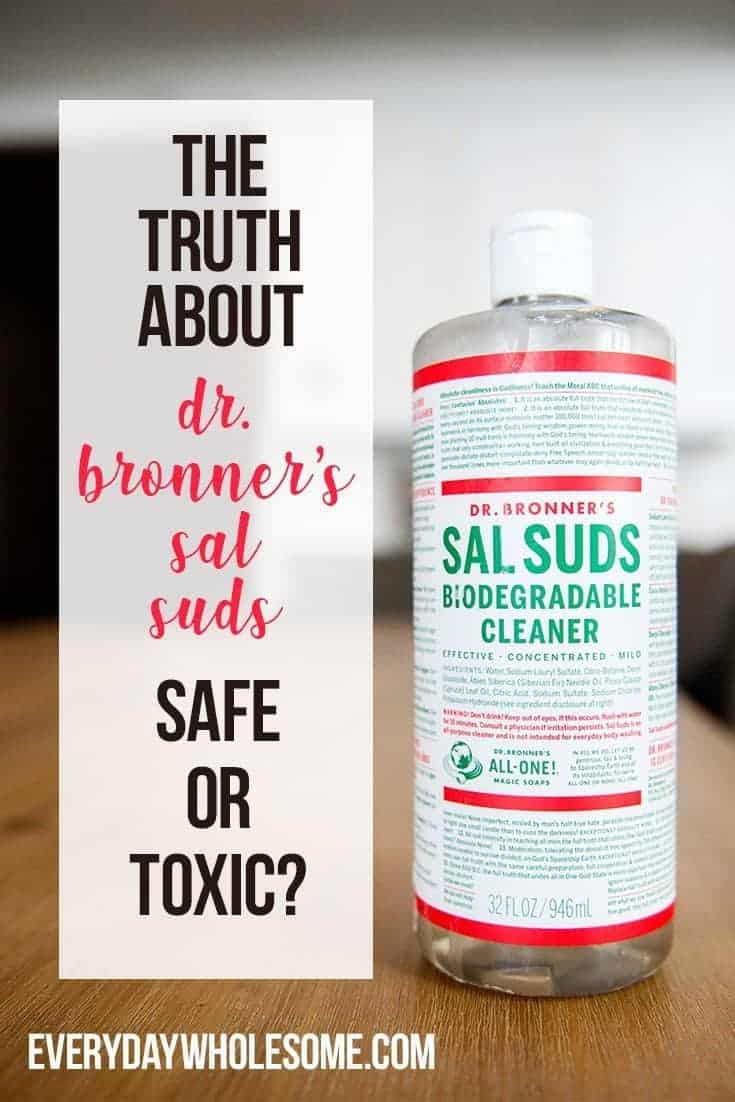 FREEBIE DOWNLOAD