HOMEMADE DIY NO SEW BAMBOO CLOTH BABY WIPES
I will show you how I made my own DIY Homemade No Sew Baby Wipes (they double as washcloths) using natural bamboo fabric. They are super soft. They are cheap. They were easy to make. And they are my favorite. I have a ton and I use them for all kinds of things.
Oh boy how I have simplified my routine since baby #1. Out of necessity, I suppose. And I'm learning about simplifying all the things.
I wrote this blog post when baby #1 was teeny. Wow, was my routine was complicated!! I pulled that post off my blog and updated it a bit. My old routine had a million steps and was super complicated compared to what I do now. I have simplified my routines and systems tremendously throughout the years. And I hope to share that with you along this blog journey.
This post contains affiliate links, which means if you purchase a product using one of these links it will help support this blog, at no cost to you. Thank you for supporting this blog!
Things are much busier these days with 3 kiddos!
With baby #3 on the way it was time for new cloth baby wipes. I had used the same wipes for baby #1 and baby #2 and I was ready for new and fresh and…he was a boy and there was lots of pink.
I brainstormed the best baby wipes. I wanted….
cheap wipes
natural material
the correct weight fabric
soft, soft, soft fabric for baby's booty
fabric with some grit to swipe the poo
did I say cheap wipes?
easy & fast to make
a material that wouldn't fray too badly b/c I wasn't going to sew them all
SIDE NOTE. I cut these with a little help from a sweet 6 year old at the time. I was in active labor with baby #3 when I cut these. Nothing like waiting until the last minute. He was born a few hours later. I allowed for some slop. They are less than perfect and I love them because they are so soft and amazing. And all the fun imperfections remind me of the time we spent in my bed cutting them, while I was in labor. Great story too, huh?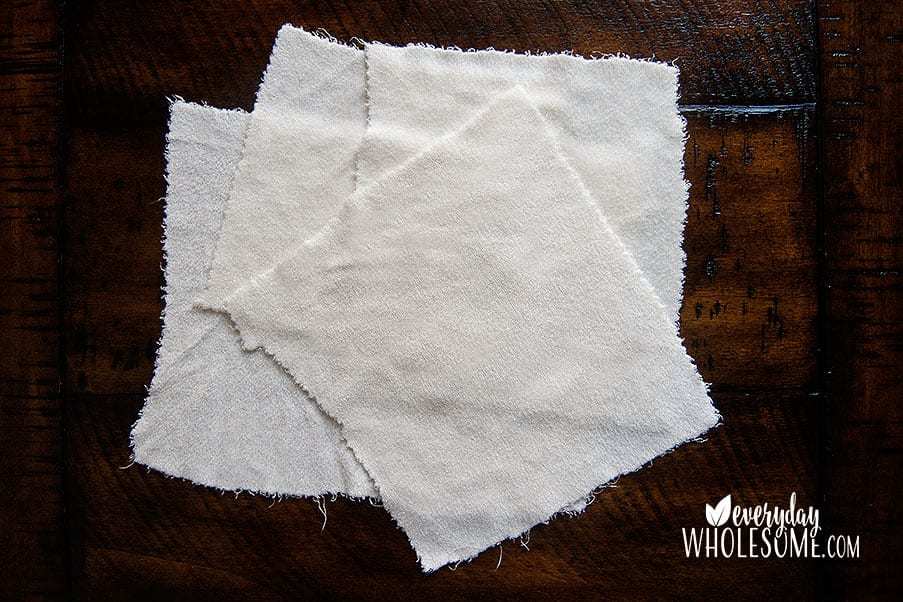 While I liked the flannel wipes I purchased for baby #1, they weren't my favorite material. I didn't LOVE them. I do love bamboo. It bends & flops just perfectly. It's heavy. It's the softest natural material. It has a soft side and a side with a little texture which helps when cleaning booties. And so, this was my idea….
CUSTOM DIY NO SEW HOMEMADE CLOTH BABY WIPES
My favorite all in one cloth diapers are by this brand. (My favorite newborn diapers are the minky diapers called Little Green by KaWaii…post coming soon…sign up for my email newsletter to be updated when I post so you don't miss it.) I like their fit and the fabric. I really love their bamboo.
Alvababy makes wipes but they are too thick (two ply) and too small in my opinion so I brainstormed tweeking (omg, side note. that just autocorrected to twerking…I'm so old) them a bit to make them perfect.
I bought their bamboo material by the meter. They have a minimum order of 5 meters in 2 different weights.
250g for 5 meters is $60
330g for 5 meters is $75
I liked the 330g for washcloths and wipes. I use them for both. They are about the same thickness as most baby washcloths and I really like that. I do like a thin wipe though! You can't go wrong with either weight!
With my first order of fabric I tried different sizes from 6×6 inches to 8×8 inches.
My favorite wipe size is about 6 inches x 6 inches I think. I recommend you cut some and try them for a day or two and then cut the rest of the fabric. You'll get a TON of fabric! You can use it for all kinds of things and for gifts too. Or split this order with a friend or two!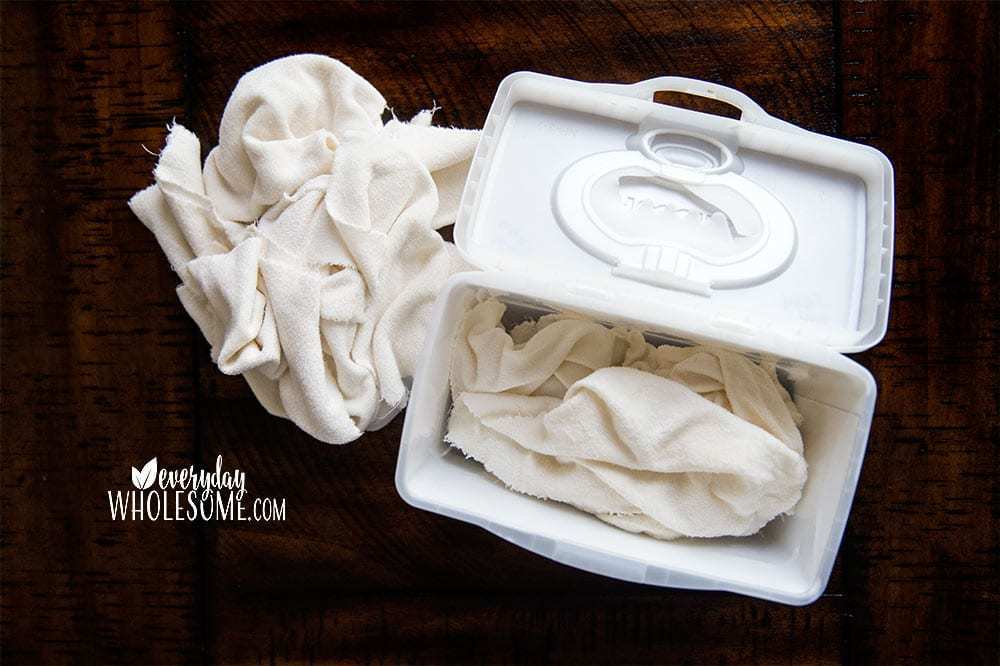 HOW TO MAKE CUSTOM NO SEW BABY WIPES & WASHCLOTHS
It's super simple.
Lay out the fabric and start cutting.
I used these pinking shears. I cut 20-30 wipes in the size I thought I would like. I washed them. I tried them. I cut some more in different sizes. I washed them. I tried them.
CUSTOM CLOTH DIAPER BABY WIPES **TIPS**
Cutting bamboo makes a mess at first. Keep that in mind and be ready to vacuum after. And don't wear black velour pants, for example, unless you want to wash them when you're done with this project.
Experiment with different sizes of wipes to find the ones YOU like. We are all different regarding what we like, which is why it's so fun to make the PERFECT CUSTOM wipes!!! You can also cut some of them smaller and use for wipes and others larger for washcloths.
WHY DO I LOVE THESE DIY HOMEMADE BAMBOO BABY WIPES BETTER?
The material is gorgeous. I love the feel of them. They are soft and they fall into your hand because of the weight of the fabric. Imagine the softest washcloth you've ever felt….this is it.
They are cheaper so I have a ton. I use some for faces and some for booties and some for washcloths etc.
I love that they are a natural fabric. The cheap washcloths I would buy that had poly in them just felt slimy to me.
HOW MUCH CHEAPER ARE THESE HOMEMADE DIY NO SEW CLOTH BABY WIPES?
I did some math. It depends on the size and weight of the fabric you choose. The cost of my DIY NO SEW BAMBOO CLOTH BABY WIPES is anywhere from 18 cents to 40 cents each. The low end is calculating a 6×6 baby wipe with the thinner fabric and the higher end is calculating an 8×8 baby washcloth with the thicker fabric.
HOW EXPENSIVE ARE COMMERCIAL BABY WIPES OR WASHCLOTHS?
MY DIY NO SEW BAMBOO CLOTH BABY WIPES range from 18 cents to 40 cents each.
When I researched my favorite wipes on Amazon they were all between 72 cents to a dollar each. The cheapest I could find were 50 cents each and the reviews weren't great. My favorite wipes I used with baby #1 can be found here, here, here, here, and here. They are more expensive than my homemade and I didn't love the fabric as much for a wipe and I don't love them at all for a washcloth. The flannel is too lightweight. I love that my DIY no sew bamboo wipes are luxurious wipes and they double as washcloths also!
I always liked having LOTS of washcloths because they always disappeared and I couldn't justify buying a TON of them at $2 each. The baby washcloths I found for 50 cents each were synthetic and I really despised the fabric so much I got rid of them quickly. They were slimy.
HOW DO I ORDER BAMBOO FABRIC FOR DIY NO SEW BABY WIPES WASHCLOTHS?
So for now, this is tricky. I couldn't find a bamboo I liked on Amazon. I looked and tried a few but I didn't find one that I liked.
I purchased my lovely bamboo by emailing Alvababy direct at [email protected] because the fabric is not on their website for purchase yet. Maybe you all will change that with all of your upcoming orders!
HERE'S WHAT TO DO: I email them that I want to buy 5 meters (order minimum) of whichever weight of fabric I have chosen. They email me back an invoice. I pay via paypal. I send them the invoice ID that shows I paid the invoice and my shipping name and address. They ship to me and it only takes a few days. A week tops.
If you find a similar fabric, please let me know. I would love to try it. I find fabric purchasing to be overwhelming and frustrating. The store associates don't ever seem to help me….after I've taken my number and waited for an hour with three crazy kids. It's producing anxiety just thinking about it. After I fail at the fabric store, I look online. And you can't feel fabric online. So I am always spending too much time and money and getting disappointed when I try.
WHAT DIY HOMEMADE BABY WIPES SOLUTION DO YOU USE?
Cloth Wipe Solution? Who has time for solution? Just kidding. But seriously. I don't use anything but water anymore. Gasp. I know. I know. I totally used this smelly, wonderful cloth wipe solution with baby #1. With baby #2 and #3 they got water. If you have the time to use solution and enjoy it, please let me know which one and how you liked it. If I were to make not I put the recipe below using my Young Living Essential Oils. If you have a great recipe…please share!
MY CLOTH WET WIPE SYSTEM
Here's what I do….
Time for a diaper change?
Before I put baby onto changing table, I check the wipey container (I use this wipey container and throw away the wipes or this wipey container) that lives in the drawer of this Ikea Hemnes Dresser….do I have wet wipes? Nope?
Take dry wipes to bathroom in wet wipes container. Wet them. Put them back into wipes container wet.
Change baby.
If I just wet enough wipes to fit into the wipes box, I have not had any issues with mold yet.
WHAT ABOUT CLOTH DIAPERING OUT AND ABOUT?
When baby is a newborn I often will pack one of these wipes containers (the other brands' I tried on Amazon all broke over time but these are still working well so far) and put my homemade DIY wet wipes in there before I leave on each outing. The key is that you need to use them or get them out or they'll get funky. When baby is a newborn we use more wipes so this system works.
This doesn't work for me when baby is older and we change less diapers and use less wipes out and about. So, as baby gets old er we just use disposable wipes on the go. They go right in the washer with the diapers usually because there are so few of them. Then I throw them away while I'm putting the diapers away in the drawer.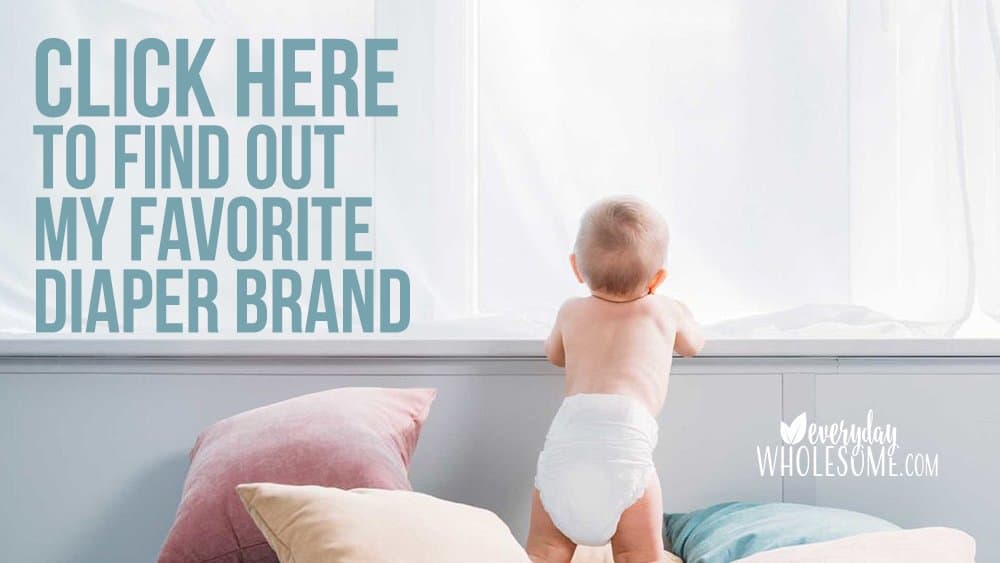 THE BEST SAFE, AFFORDABLE NATURAL DISPOSABLE DIAPER BRAND
This brand made me switch after 8 years of cloth diapering to using disposable diapers!!! Read the full post here.
Why I love this brand…..
It's super easy to order.
Their customer service is THE BEST.
They don't stink.
They are SUPER absorbent!
The cost is consistent.
They are inexpensive for safe, natural bamboo diapers…..that actually work!!!
They only have one color. It's simple. I love simple.
COUPON AND PROMO CODES FOR FREE STUFF!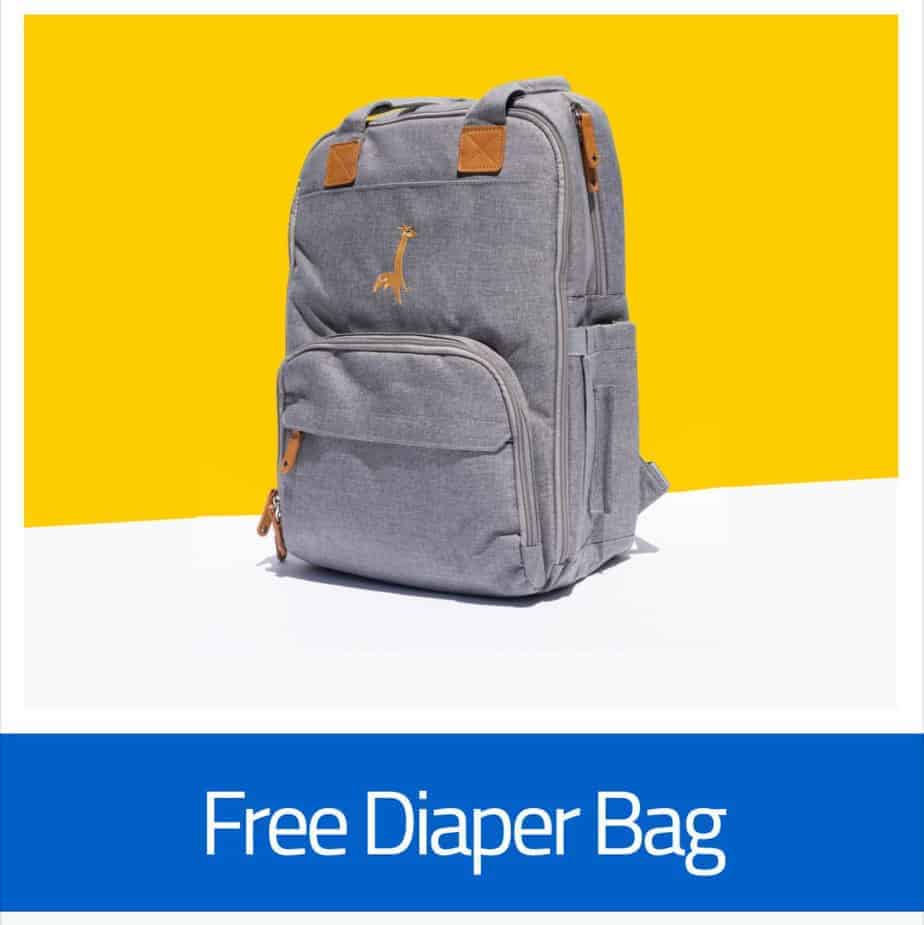 MY FAVORITE DISPOSABLE BABY WIPES
HOMEMADE BABY WIPE SOLUTION.
I don't really see the need to add soap to wipes. In the past I have added Castile soap. You know how much I love Castile soap. I'm currently obsessed with Almond Castile Soap for my DIY Foaming Hand Soap & DIY Foaming Hand Sanitizer recipes.
I don't really see a need for cloth diaper solution. I just use water. But if I did make one it would probably not have soap, just soothing oil and essential oil.
MY HOMEMADE BABY WIPE SOLUTION RECIPE
WHAT OIL COMBINATIONS DO I USE? I love looking at Young Living product ingredients and "stealing" their oil combinations for my DIY recipes. I love the YL Seedlings Baby Oil so I would use some of my favorite oils from that recipe: Geranium Essential Oil. Lavender Essential Oil.
IF YOU CLOTH DIAPER, YOU HAVE TO CLOTH WIPE.
It was VERY shortly after I started cloth diapering baby #1 that I realized cloth wiping just makes sense. Think about it. If you have a dirty diaper (this time it's cloth) and you use a disposable wipe that's now dirty, where do you put it? It's so much easier to just take the dirty cloth wipe, put it in the dirty cloth diaper and then put it all in your dirty cloth diaper bag and wash it…all….together.
No mother ever said she wanted MORE opportunities to touch poop. Can you imagine? She has poopy disposable wipes in her poopy cloth diaper and tries to get the poopy disposable wipes into a trash can while getting her poopy cloth diaper into the dirty cloth diaper wet bag. What are the odds she will spill something? It's as if I've tried to do this juggle before!
MY POINT? If you cloth diaper, you really need to try cloth wiping. It's so. much. easier. You just put the dirty wipes in the diapers to wash. It's not as gross as you think. Just try it.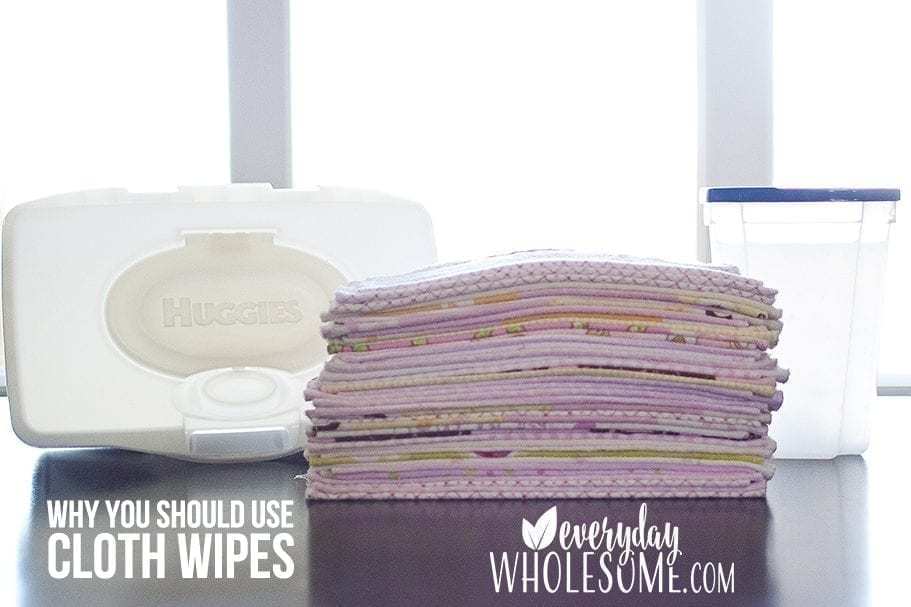 PIN THIS TO YOUR FAVORITE CLOTH DIAPER BOARD ON PINTEREST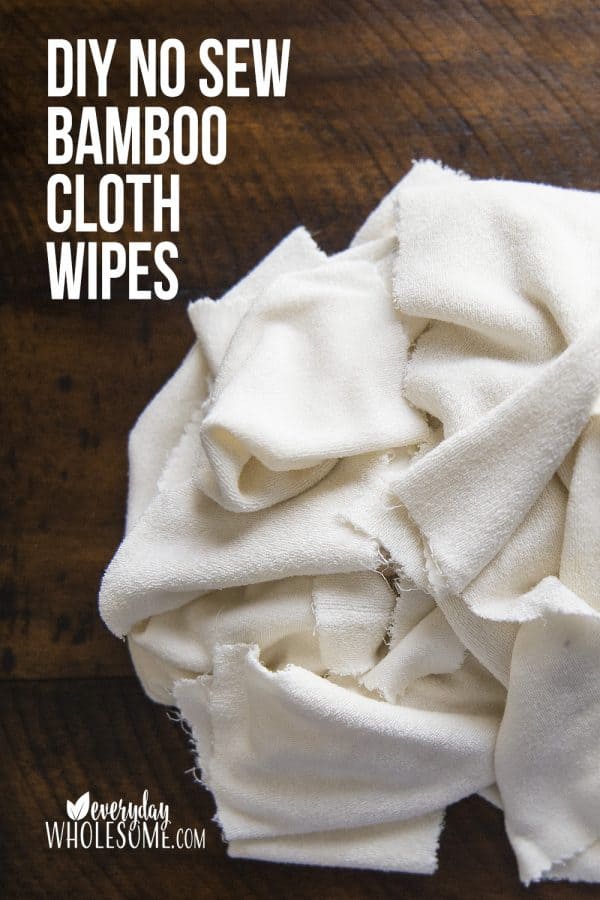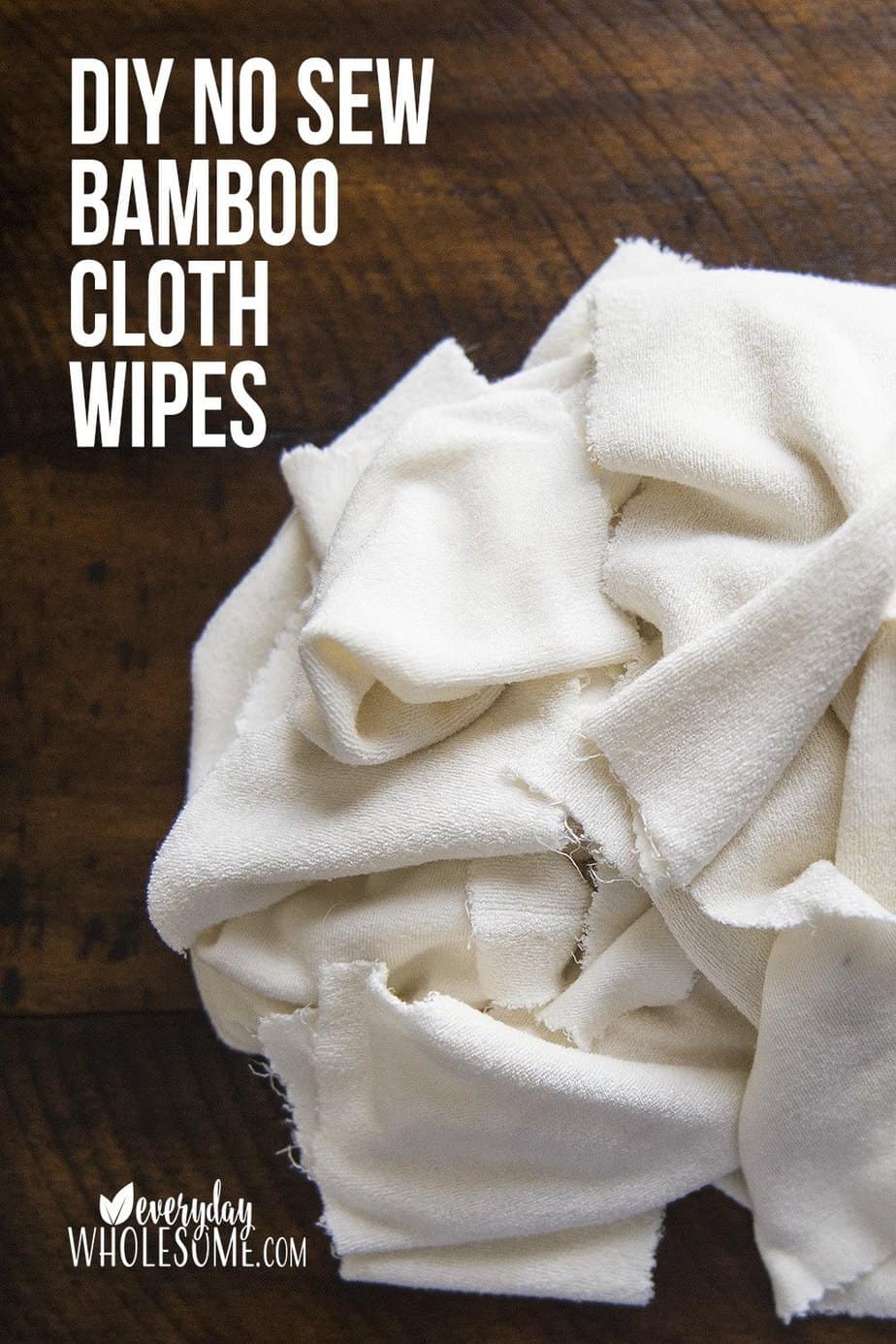 RELATED POSTS.
GIVE ME FEEDBACK!
If you try this or you have another homemade cloth wipe solution, (especially if it includes essential oils) will you let me know?! I want to hear about it! I love learning from my smart mommy friends!
SaveSaveSaveSave
SaveSave
SaveSave
SaveSave
SaveSave
SaveSave
SaveSave
SaveSave
FREE DOWNLOAD!