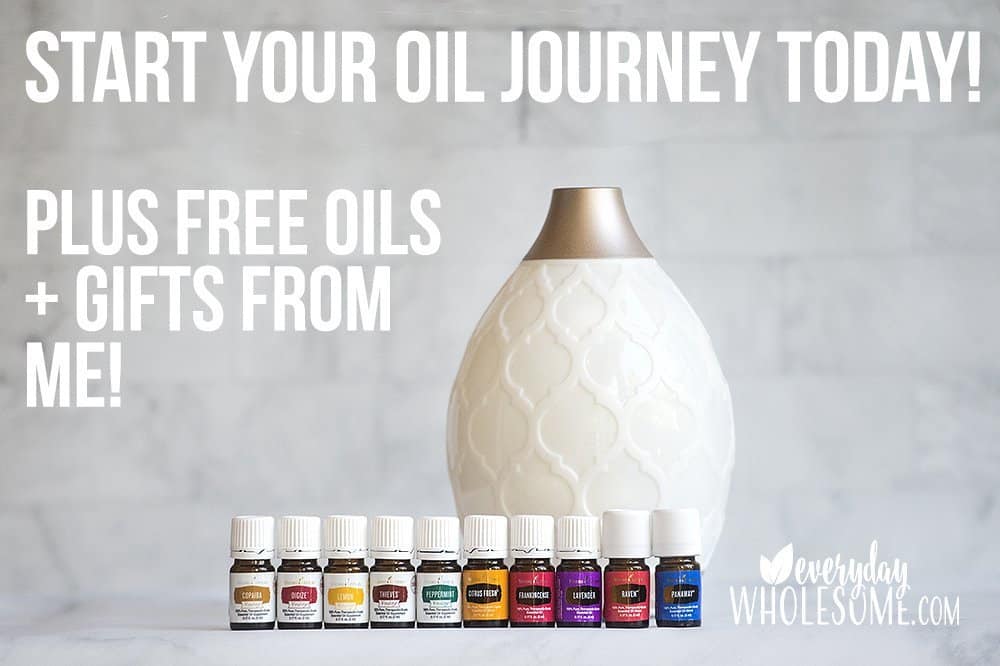 WHAT ARE ESSENTIAL OILS & HOW DO I USE THEM?
Essential oils are the life-force of plants.
They help the plant to regulate itself and add health and overall wellness.
These oils can work in much the same way for us.
There are three ways to use essential oils: aromatically, topically, and internally.
It takes 20 minutes for an essential oil to reach every cell in your body from the time you apply them.
This means every single cell in our body, in 20 minutes, is covered by 400,000 essential oil molecules.
AROMATIC: Smell the essential oil directly from the bottle or your hand, or use a cold-water diffuser.
TOPICAL: Place a drop into your palm and rub the essential oil on the back of the neck, bottoms of the feet, wrists, spine, top of the head, or anywhere there is a need. Use a carrier oil when needed.
INTERNAL: Only use essential oils that are labeled for consumption from the Young Living Vitality line. You may add a drop or two into an empty capsule and top off with a carrier oil, use a drop under your tongue, add a drop to a glass or stainless steel water bottle, or add a drop to honey or another edible item.
This post may contain affiliate links which means if you purchase from one of these links I may receive a commission at no cost to you that will support this blog and my family. Thank you for your support!
HOW DO I (TORI) PERSONALLY USE ESSENTIAL OILS?
I diffuse oils in my kitchen & around the house so my house smells nice!
I diffuser oils when we have a stinky room in our house. And the oils do not just cover the smell like toxic fragrance, they help purify the air. Email me and ask me about the time we went out of town and left the old fish in the trash can for a week.
I diffuse oils in our bedrooms to help with a restful night every night and different oils when we are feeling like we are under the weather.

I like the Rainstone for bedrooms. I think it is masculine.
And I have an owl diffuser for each chid bedroom.
My favorite scent for the bedroom is Peace & Calming. I just LOVE that smell. And one drop goes a long way with P&C.
And when I feel a tickle in my throat, I use Thieves, Frankincense, Peppermint & Eucalyptus.

I put essential oils in my car to make it smell nice.

I usually use Stress Away, Peppermint or Lavender in my car.
I use these car vent clips from Norwex.
I liked that better than any plugin diffusers I tried. If you haven't heard of Norwex, you have to read more here.

I have a personal fragrance I wear as "perfume" that I have on my blog. These recipes also double as linen or body sprays.
I use the Thieves Household Cleaner on my counters, floors, mirrors, and windows. I use it as a stain remover for my clothes and even as dishwashing detergent and I CANNOT BELIEVE HOW AMAZING IT WORKS!
I add Lemon Vitality to my water. Yum. It helps to detox my body from all the junk our bodies are trying to process AND it helps me drink more water daily. I drink so much more water when I add oils b/c I enjoy the taste more!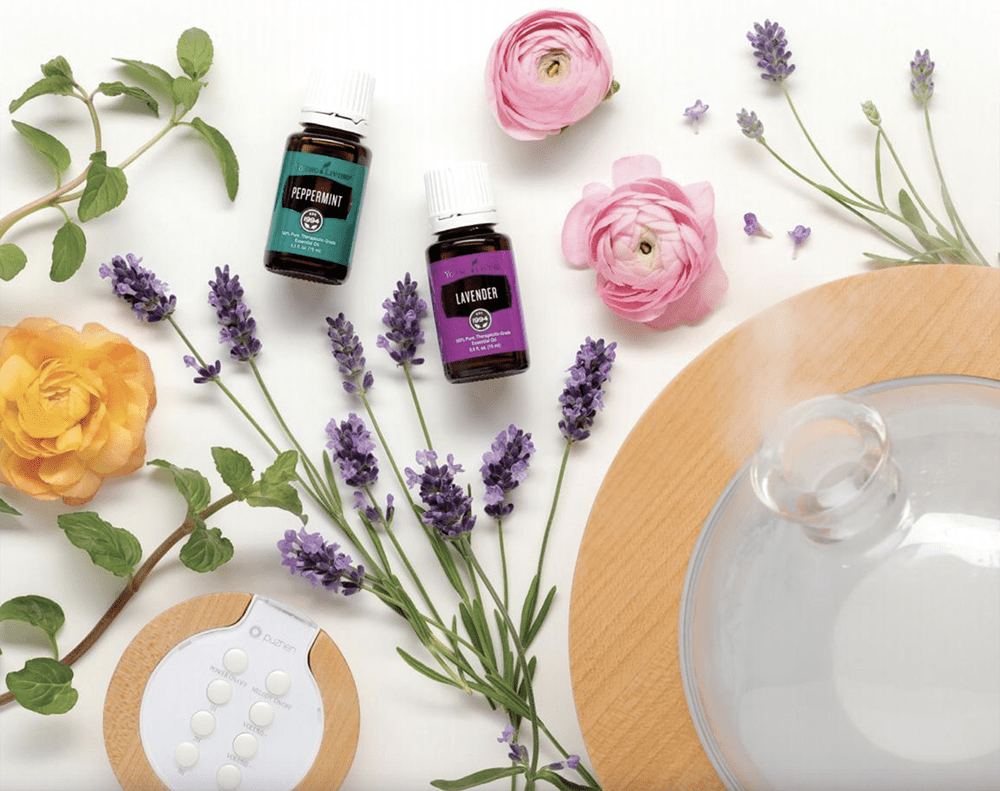 MY STORY.
I started with Essential Oils for smells. I learned that "fragrance" = chemicals so I got rid of all my wax warmer and plugins. Cue tears. It was a sad day. I started looking for nice smells to replace in my home, car and for myself as a personal fragrance. The only safe replacement I could find was essential oils and when I did my research, the only pure essential oil was the original, Young Living. I had a sweet friend who sold Young Living Essential Oils. She told me all about them. She pulled out her mega box of oils. She shared with me. She taught me. And she let me smell.
At first, I thought she was kind of nutty. I really didn't understand why she would have so many oils or use so many. But I didn't get it yet… WHY?! I hadn't started using the oils! When you use the oils YOU WILL HAVE A STORY. You will use the oils and then they will work like they are supposed to work and you will become a believer. If you use them…they will work.
WHEN DID I START USING ESSENTIAL OILS FOR WELLNESS AND NOT JUST SMELLS?
We were sick. We were in a dark place. We had multiple miscarriages. I was sick and could not seem to get well, We were suffering from chronic illnesses in my house. My dog died early of cancer (a tumor). It was mother's intuition. We were going to the doctor all the time. I was researching the next problem, the cough at night to see if we should go to the doctor. My daughter would have a cough at night that would keep us all up, all night long, I'm not exaggerating for a month after her sickness was gone. I knew something was not right. We were not thriving.
I was sick again. I had tried all the natural things I could think of except oils. I tried Thieves diffused overnight and the next morning I felt better than I had in months. I was starting to believe they work!
By the way, this is why I loan essential oil diffusers and oils to friends ALL THE TIME. You might be on this page because I loaned you a diffuser and oils and you fell in love. I'm passing on the same love my friend shared with me. What better way to fall in love with oils than to use them. Once you try them you won't be able to imagine life without them.
HOW DID REMOVING ALL THE TOXINS IN MY HOME & ADDING IN THEREPUTIC OILS CHANGE OUR LIVES?
Young Living has given me peace of mind. I understand how to build up our immunity so that our bodies can work the way they were designed. I don't fear sickness anymore. I have so many tools in my natural remedy/wellness toolbox that I am not afraid. I understand how the body works. I use these amazing oils to support our bodies to work as they were intended.
Ask me about what happened after our miscarriages & chronic illnesses. I'll share the rest of my story with you! Email me! I'd love to chat! The changes in our health are unbelievable.
LEARN WITH OUR TEAM. JOIN US.
Learn alongside us. Let me walk along this journey with you and make this process simple with easy steps, email and text classes and unlimited questions and assistance! Step one is the Premium Starter Kit!
THE BEST WAY TO GET STARTED USING OILS
Step One in removing toxins in your home is…..The Premium Starter Kit! It is the best start to using oils and for the best deal!
THE 12 BEST OILS. Young Living did an amazing job choosing the 12 best oils that are the most popular and most versatile oils for everyone. And, in the age where we are all looking to simplify and get rid of things, this kit can be used to replace so many toxic products in your home! I will show you how! I have a downloadable toxin-free checklist, email courses and information to share with you. It doesn't do any good for you to have these oils if you do not use them! I will share all of my resources with you and walk alongside you on this journey!
THE BEST DEAL. The Premium Starter Kit is also the only thing on the Young Living sells for 60% off! It's such a good deal I buy starter kits anytime I need a new diffuser (it's like getting the diffuser for free). You get 12 of the best oils, a gorgeous diffuser, hand sanitizer, Ningxia red antioxidant drink packs, etc all for $165. (Retail this would be over $400!) And, free along with that you get your membership to get 24% off all future purchases because you will fall in love and need more or you will want to replace your current oils as you run out.
WHAT IS IN THE PREMIUM STARTER KIT?
Desert Mist™ Diffuser (I use mine daily all over my house!)
Premium Essential Oils Collection

Lavender 5-ml (We use this daily!)
Peppermint Vitality™ 5-ml (We use this daily!)
Lemon Vitality™ 5-ml (I love this in my kitchen & my water!)
Valor 5-ml (This is a fan favorite! One of the most popular oils!)
Frankincense 5-ml. (I use this often! I love this for the kids.)
Thieves® Vitality™ 5-ml (I use this daily!)
Citrus Fresh™ 5-ml (I love this for my kitchen & my water!)
Raven™ 5-ml (I use this for congestion and for wellness and soothing)
DiGize™ Vitality™ 5-ml (This one soothes an upset tum tum)
PanAway® 5-ml. (I love this for my headaches.)
Peace & Calming 5-ml (I use this one almost every night. One drop is all you need.)
Stress Away™ 5-ml. (This is one of my favorites! I use this in my car and on myself often!)

AromaGlide™ Roller Fitment
Thieves Household Cleaner 1-oz. sample. —I use this to spray all the thigns and clean all the things, every day, in every room. I have them all over my house. I use it as stain treatment. I use it as my dishwasher detergent. It's a rockstar. And it's ONLY a teeny capful! It goes a long way!
Thieves Waterless Hand Purifier (don't leave home without it and keep one in every bag & in the changing table! )
Thieves Spray (for shopping carts and even sore throats!)
2 NingXia Red® 2-oz. samples (These are great in the freezer as popsicles for kids!)
Product Guide and Product Price List (This is gorgeous to look through. Find it online here.)
BONUS GIFTS JUST FOR YOU!
You will be in direct contact with me. I want to be a part of your oils journey, friend! I can't wait! I am so happy for you! And so excited to join you!
You will get all of these resources here on this site, via email & text information and email & text classes. Recipes. Tips. Guides.
You will get added to our amazing Facebook groups and meet some of the most amazing women!
You will receive a beautiful welcome book with TONS of info.
You will receive bottle top stickers for your new oils.
You will receive a sample of an oil or cleaner to try!
I WILL SEND YOU AN AMAZING BOOK PACKED WITH INFO AS A FREE GIFT FOR JOINING AND USING YOUR ESSENTIAL REWARDS
Message me to ask about my monthly promos happening right now!
TESTIMONIALS
A company that sells 100,000 starter kits a month is selling them for a reason! People are tired of the chemical yuck around them, and they are taking control of their homes!

Sarah H.
I admit I was initially a skeptic until I had an upper respiratory infection. The essential oils were the only thing that allowed me to breathe at night. Since then I really enjoy the citrus flavors in cold and hot water, the PanAway is incredible for muscle soreness, and I enjoy many different scents that make my home smell lovely!

Daneta H.
When I started using Young Living Essential Oils one of the effects I didn't expect was thicker hair, brows & lashes! When I see women struggling with problems I know could be solved by these oils I have a hard time not stopping them in the stores and sharing with them that I have the solution for them!

Cathy S.
HOW TO ORDER YOUNG LIVING ESSENTIAL OILS
Choose Wholesale Membership (in order to get your Premium Starter Kit). Choose your country and language. Check for my member ID (2144239) to be in there as Enroller AND sponsor. This is how you will join my team and get all the free things.
Choose your starter kit. I recommend the Premium Starter Kit! You can choose your diffuser.

The Aria diffuser is a hugely popular, iconic diffuser. On it's own it sells for $300 but with the kit it's about $100! (That is how I got my Aria diffuser!)
I also love the Rainstone diffuser because it is masculine and it's black. I have it in my bedroom.
And I think the Desert Mist is romantic and elegant and I like it on light countertops, entryways, more feminine bedrooms & spaces.

Choose Essential Rewards. It makes the best deal even better! You will be getting even more free things today! You'll start earning points (free dollars) for your purchases, starting today. After today's purchase you'll have at least 10 reward points (which is like $10) in your account! And you'll get a free oil or gift from Young Living just for signing up today and using it as your order for this month! You can cancel anytime (but be sure to use your points!) but you will fall in love with your oils and want more!

There is an amazing resource I save for my members who are serious and using oils every month on Essential Rewards. I have a reference guide that is ridiculously amazing and I make sure you get that in your hands to understand how to use these oils!

Add any other products you want. Definitely sign up for Essential Rewards if you add extra products and get extra freebies too! Message me or take a look at some ideas here.
Complete your order by adding your name, shipping address, email address, payment information, and choosing a user name, password and 4 digit Pin number. (Write those down for later use!) You do not need to put in your SSN. If you later decide you want to do this as a business you can add that in then.
YOU'RE DONE! You'll get an email from Young Living and you'll also be getting an email from me to start helping you on your journey.
[FAQ] DO I HAVE TO SELL OILS?
Nope! You can just use the oils. In fact, most members just use them….and tell their mom and their sister and friends how much they love them. Because they do!
[FAQ] IS THERE A FEE TO JOIN?
Your starter kit is your fee! There's no fee! You will be getting the best deal on the best oils ever. The Premium Starter kit is the best way to start your oils journey! You'll get 60% off these oils. You'll love your new diffuser. You'll love the education you receive in the kit. You'll love it all and it's at a discount. So once you decide to start using essential oils, a starter kit is a great next step!
YOUR FREE GIFTS!
You will be in direct contact with me. I want to be a part of your oils journey, friend! I can't wait! I am so happy for you! And so excited to join you!
You will get all of the resources I have on this page!
You will get continued emails or texts with education in them about oils and how to use them.
You will be added to our amazing Facebook groups and meet some of the most amazing women!
You will receive a beautiful welcome book with TONS of info.
You will receive bottle top stickers for your new oils.
You will receive a sample of an oil to try
I often run other monthly promos also. Email me to check on what I have going on right now!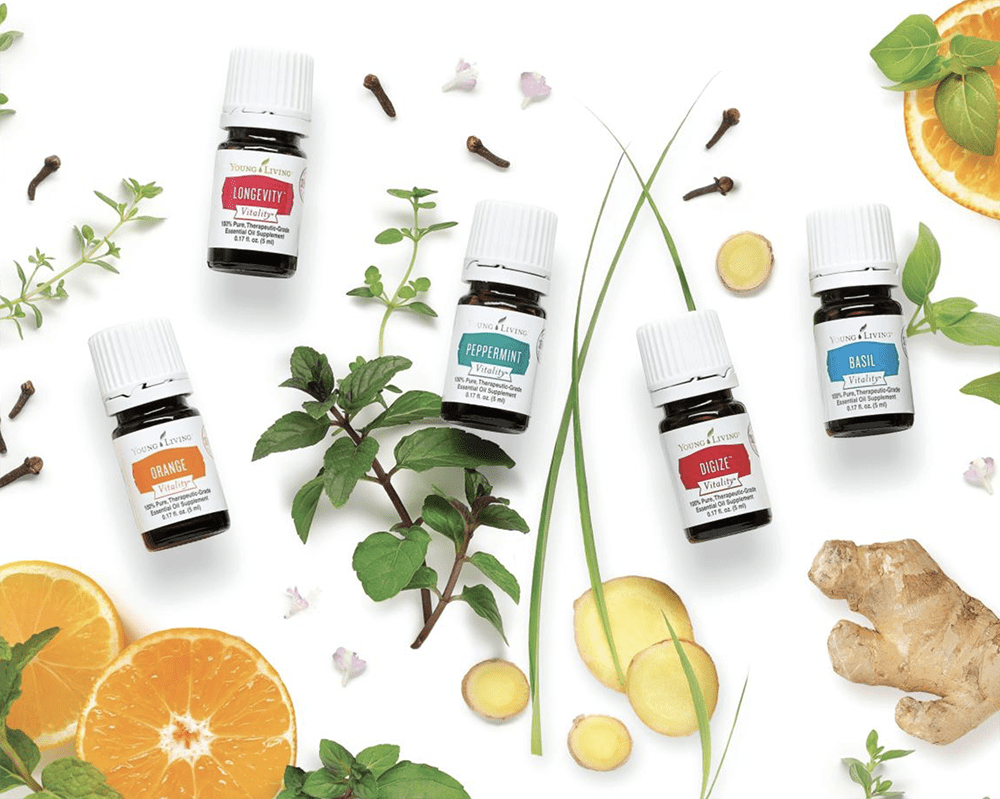 [FAQ] IS THERE A MINIMUM PURCHASE REQUIREMENT?
If you have a wholesale membership account you'll need to make $50 worth of purchases a year to continue your membership. But you'll definitely do that if you love the oils and the other products. If you do not make that purchase one year you can just reinstate your membership for a $50 purchase. No fee.
When you join the Essential Rewards program, you get a percentage back every month on your purchases (up to 25%) in free product credits and you get free products each month you order a certain amount. It's sooooo fun to earn free products by buying products you were already going to purchase anyway…products that help the health and wellness of your family.
I WILL SEND YOU AN AMAZING BOOK PACKED WITH INFO AS A FREE GIFT FOR JOINING AND USING YOUR ESSENTIAL REWARDS!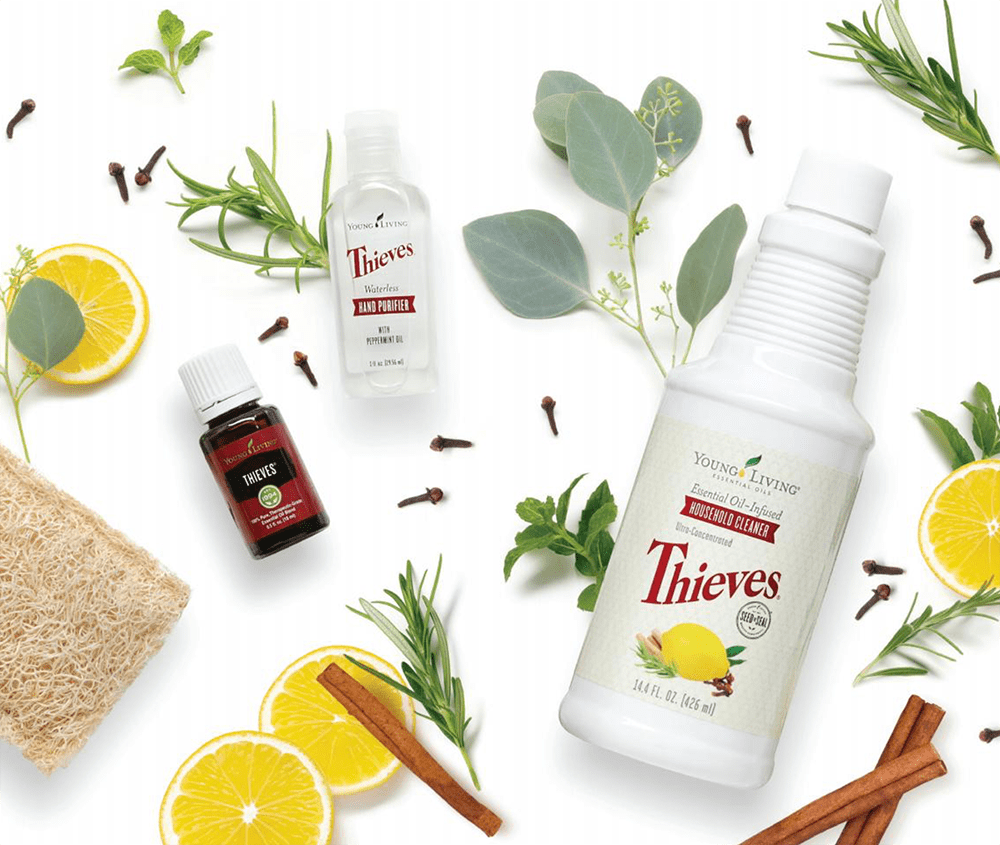 WHAT IS ESSENTIAL REWARDS? DO I HAVE TO SIGN UP?
I highly recommend Essential Rewards. Think of all the cleaners and drug store items you will replace with these products once you start using them and switching over to Young Living products. View the Product Catalog here. I had an account and was on essential rewards for more than 4 years before I ever shared oils with you, my friends. I have received well over $1000 of dollars in free oils! We get free oils all the time through this program. My mom and I share all the fun! We share them and talk about them. It's so great. I get to try new products that I have now fallen in love with! Young Living picks great products to give away every month so that you'll try new things!
Sometime I use my Essential Rewards Points (dollars) to buy something I realized I forgot to order and must have. But sometimes, I forget I have points for a while and look and there they are! Woohoo! And, I can purchase an oil that is on the pricer side (also higher in frequency and more therapeutic to body systems) and I am able to get that oil. I just did this the other day. Message me and I'll share with you all the free oils I got in October!
I WILL SEND YOU AN AMAZING BOOK PACKED WITH INFO AS A FREE GIFT FOR JOINING AND USING YOUR ESSENTIAL REWARDS!
WHY JOIN YOUNG LIVING WITH ME?
Our team is amazing!
I chose Young Living partly because of our LEADER. She is a former military wife (she retired her husband with this business) and a homeschooling mom of six. She is a wonderful leader and example. She is a wealth of knowledge and I am so glad to have her mentorship. (View Young Living's Income Disclosure Statement here.)
I chose Young Living partly because of the amazing, inspiring, wonderful Christian women that I get to work with every day and be inspired by. It's an honor to know them. I can't wait to get to know them better.
I hope you'll join me and that we can do this journey together! And I can't wait to get to know you better! CONTACT ME TO LET ME KNOW YOU'VE JOINED AND I'LL ADD YOU TO OUR GROUPS AND GET YOU PLUGGED IN.
TELL ME MORE ABOUT THESE FREE GIFTS!
Join through the links on this page and……
You will be in direct contact with me. I want to be a part of your oils journey, friend! I can't wait! I am so happy for you! And so excited to join you!
You will get all of these resources here on this blog!
You will get added to our amazing Facebook groups and meet some of the most amazing women!
You will receive a beautiful welcome book with TONS of info.
You will receive bottle top stickers for your new oils.
You will receive a sample of an oil or cleaner to try!
I WILL SEND YOU AN AMAZING BOOK PACKED WITH INFO AS A FREE GIFT FOR JOINING AND USING YOUR ESSENTIAL REWARDS!
HERE'S WHAT YOU'RE GETTING IN YOUR PREMIUM STARTER KIT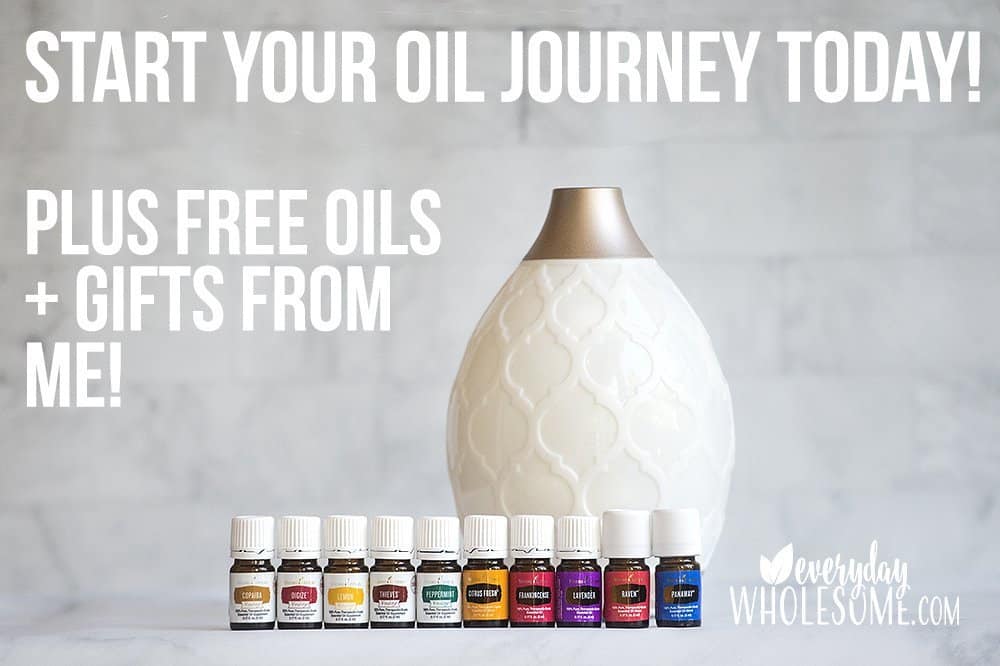 WHAT ELSE SHOULD I ORDER TODAY? OR NEXT MONTH?
Many of my favorite oils are listed above! You should definitely sign up for Essential Rewards to get free products and product credits every month and start using your oils and learning about them.
OTHER FAVORITES….
My all time favorite Young Living Product right now are their SAFE TITANIUM PANS! They really are non-stick and easy to clean but SAFE & HEALTHY! Read more about them here.
I use Purification in my DIY laundry detergent.
I use Cedarwood in our diffusers at night as it naturally increases melatonin production.
I diffuse Christmas Spirit over the holidays. And I love to add Northern Lights Black Spruce! It smells like Christmas Tree!
My favorite baby shower gift is now the YL Seedlings Wipes and YL Seedlings baby wash and baby cream. I love that there's a gentle and safe scent and I have missed scents because most safe and natural baby products are unscented.
I use my Thieves Whitening Toothpaste & floss every day.
I use the Thieves Household Cleaner every day in the glass spray bottle on my counters, floors, windows, and mirrors every day and then I wipe it down with Norwex microfiber cloths. I also use Thieves HHC as my dishwasher detergent and….
I use the Thieves Household Cleaner on my laundry now as a stain treater and IT'S BETTER THAN THE CHEMICALLY ONES! I can't even believe it! I'm in love.
I love the Hormone Oils for balance from pre-puberty all the way through menopause. Check out this great article on which ones are good for which part of your cycle.
When you click to sign up and order essential oils you'll see this page….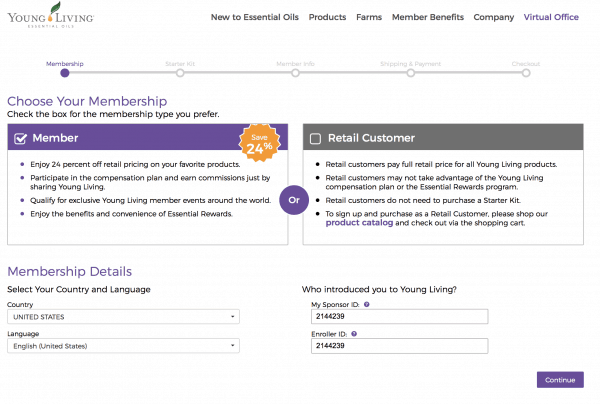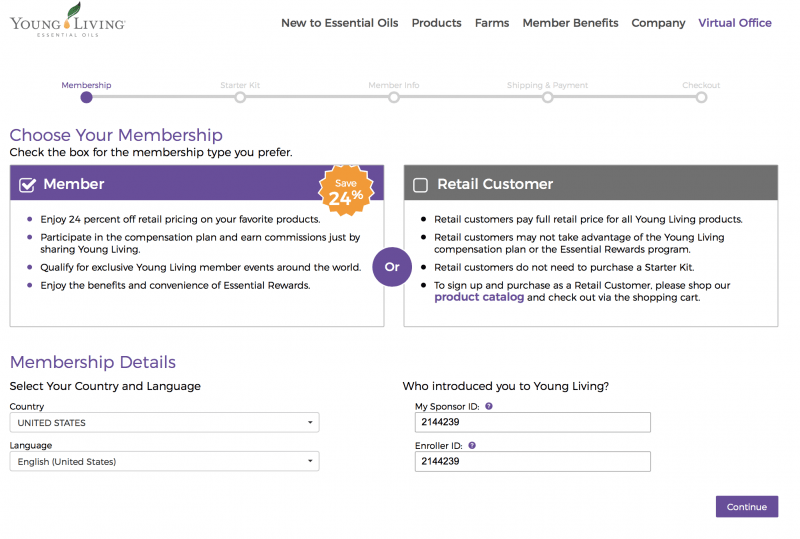 CHECK BOX for Member.
Confirm you see My Sponsor ID 2144239 and Enroller ID 2144239.
Click CONTINUE.
Pop up box confirms the Sponsor ID and Enroller ID are mine.
Do NOT check the box.
Do click CONTINUE.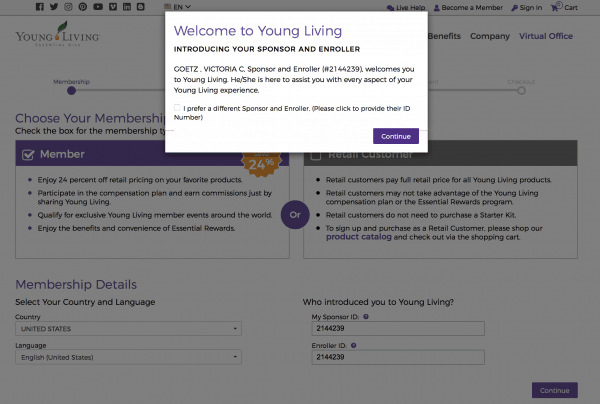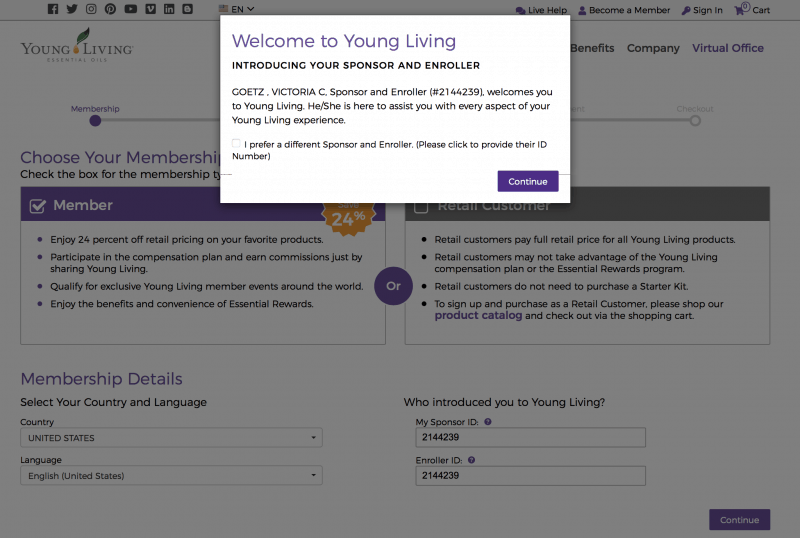 STEP 1: CHOOSE YOUR STARTER KIT
Next, you will select your starter kit and diffuser. I recommend the Premium Starter Kit with the Dewdrop Diffuser. This way, you get 50% off the oils.
Check the box that says "Use the selected Premium Starter Kit as my first Essential Rewards order and sign me up for an Essential Rewards Subscription."
This will sign you up for Essential Rewards so you can get all the amazing deals and free Young Living products every month.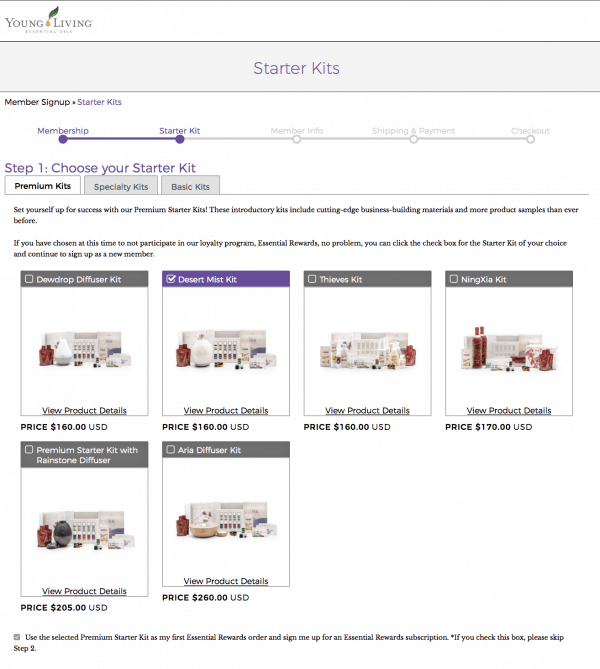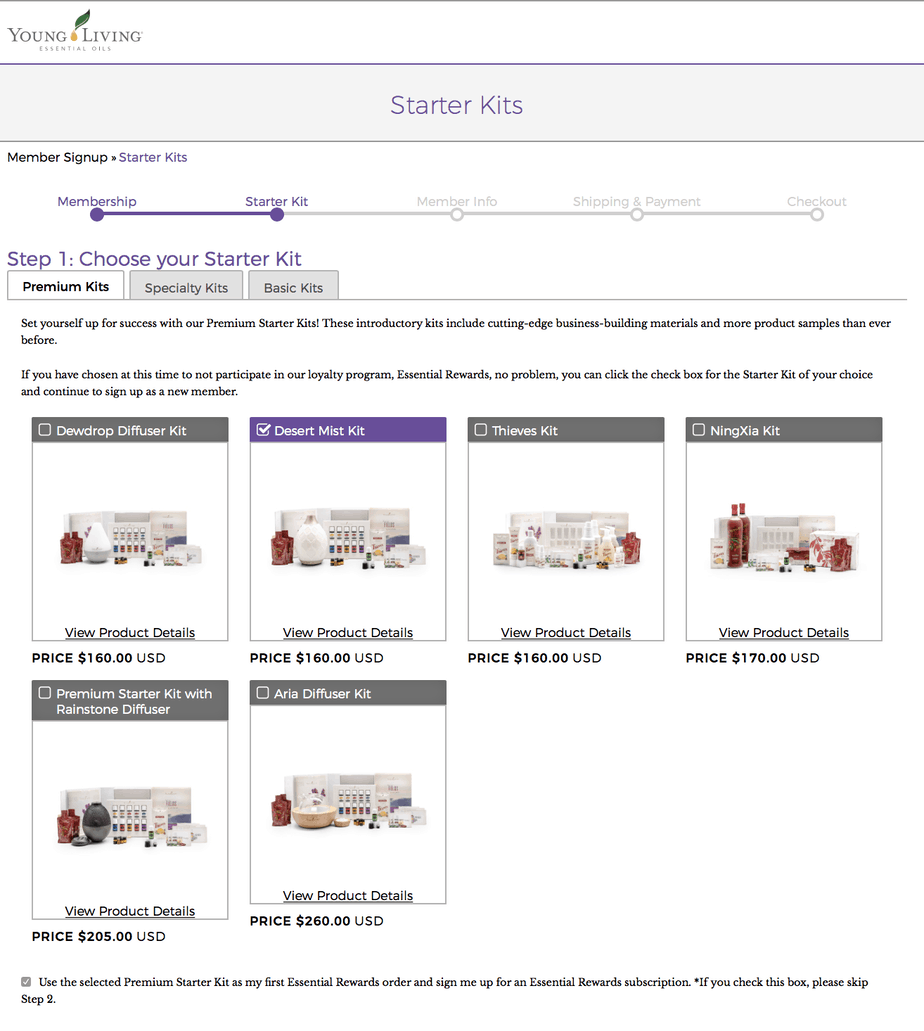 STEP 2: SET UP YOUR MONTHLY ORDER
IF YOU WOULD LIKE TO ADD SOMETHING TO YOUR CURRENT ORDER (to receive it with your first order, Premium Starter Kit) also click "Customize Your Kit."
Anything you add to the order after "Customize Your Kit" will be added to your first order with your Premium Starter Kit.
For next month's order, you will log back in after you have finished placing this order and you will adjust your order for next month. You have an entire month to update your order for next month.
IF YOU DO NOT WANT TO ADD ANYTHING ELSE TO YOUR FIRST ORDER, PREMIUM STARTER KIT, you will NOT click to customize your kit.
CONFIRM MONTHLY ORDER. You will also need to check the box to confirm your monthly order if you are signing up for your monthly Essential Rewards (your monthly wellness box every month) every month. Remember to message me and I'll help you select products you'll love. You will customize your products and the date to ship every month! Set up a reminder in your phone a few days or a week before your order in order to change your order every month. I also have a running list in my phone (like a grocery list but of Young Living products) so that I don't forget what I want to add to my order.
You can also flip through the online catalog here. I listed more favorites to order at the end of this post.
And comment below or message me with questions & to share your favorite new products!
SaveSaveSaveSaveSaveSaveSaveSaveSaveSaveSaveSaveSaveSaveSaveSaveSaveSaveSaveSaveSaveSaveSaveSaveSaveSaveSaveSave
SaveSave
SaveSave
SaveSave
SaveSaveSaveSave
SaveSave
SaveSave