Best Fall Scented Essential Oils | Recipes & Blends for Autumn Holiday Season
These are my favorite essential oil diffuser recipes for fall or autumn that I love to diffuse in my home all during the holiday season! You can also make room sprays & scent your hand soap for fall! Many of these are Young Living essential Oils.
BEST FALL SCENTED ESSENTIAL OILS
We need essential oils as the seasons change into fall! We need the smells because they are part of the joy of the season.
We also need the smells to help us relax and deal with holiday season stress!
It's currently September as I write this and school just started. This year has been extra stressful and the start of school has been an extra sort of overwhelming for most people this year who still haven't had a break after COVID stress. You need these oils!
HOW TO MAKE THESE FALL SCENTED ESSENTIAL OILS SMELL LIKE A CANDLE IN AUTUMN
Diffuser in the main rooms of your home.
Diffuser in the guest bathroom for guests.
diffuser in the entry of your home.
Diffuser Reeds in main rooms, bathrooms, bedrooms or entryway.
Car diffuser to refresh your car.
HOW TO USE THESE BEST FALL SCENTED ESSENTIAL OILS DURING THE AUTUMN SEASON
Anywhere you would normally find a synthetic (toxic) fragrance, you can add essential oils. Try adding some of these fall favorite blends where you would use essential oils during the holiday season.
DIY Foaming Hand Soap. Try the blends below instead of your normal lemon mixture. Try Christmas Spirit or Northern Lights Black Spruce!
Diffusers around the house and in the car & with diffuser reads.
THE BEST FALL SCENTED ESSENTIAL OILS
Bergamot, Black Pepper, Cardamom, Cedarwood, Cypress, Juniper, Cinamon Bark, Nutmeg, Orange, Oregano, Palo Santo, Patchouli, Thieves & Wintergreen
THE BEST AUTUMN ESSENTIAL OIL BLENDS FOR THE HOLIDAY SEASON
These are my favorites and the best Autumn essential oil diffuser recipes and blends. They also work very well for DIY recipes like room sprays, linen sprays, DIY homemade soaps, gifts and sanitizers.
Christmas Spirit is a fave!
Christmas Spirit + Northern Lights Black Spruce is another fave!!! This is my go to over Fall!
Pumpkin Spicer Blend

3 drops Cinnamon Bark
2 drops Bergamot
1 drop Cardamom
1 drop Nutmeg

Crisp Fall Walk Blend

4 drops Thieves
2 drops Juniper
2 drops Eucalyptus
1 drop Wintergreen

Cold weather comfort Blend

3 drops Cedarwood
2 drops Palo Santo
2 drops Orange
1 drop Patchouli

Autumn Breeze Blend

4 drops Bergamot
3 drops Lemon
3 drops Elemi
2 drops Wintergreen

Hot Cider Blend

6 drops Bergamot
2 drops Thieves
2 drops Ginger

Set the Fall Mood

4 drops Cedarwood
3 drops Patchouli
3 drops Geranium

Leaves Change in the Fall Blend

6 drops Northern Lights Black Spruce
2 drops Wintergreen
2 drops Eucalyptus Globus

Pumpkin Pie Blend

5 drops Cinnamon
1 drop Clove
1 drop Nutmeg

Fall Leaves Blend

6 drops Orange
1 drop Patchouli
1 drop Ginger

Autumn Spice Blend

4 drops Orange
3 drops Ginger
3 drops Cinnamon
PIN TO YOUR FAVORITE HOLIDAY ESSENTIAL OIL BOARD

MY FAVORITE CHRISTMAS SPIRIT ESSENTIAL OIL RECIPE
I prefer a little more Christmas Spirit to Northern Lights Black Spruce and my husband prefers the opposite!
So you can decide which combination of these oils you like the best.
3 drops Christmas Spirit & 2 drops Northern Lights Black Spruce
ESSENTIAL OIL CHRISTMAS ROOM SPRAY RECIPE
In perfume bottle
4 T Perfumer's Alcohol, Everclear or the highest proof alcohol you can find (or if you prefer, just use witch hazel!)
30-40 drops Christmas Spirit Essential Oil
ANOTHER TIP….You can also take an almost empty essential oil bottle and add witch hazel. Then you can add a spray top like this.
PIN THIS TO YOUR FAVORITE HOLIDAY OR ESSENTIAL OIL BOARD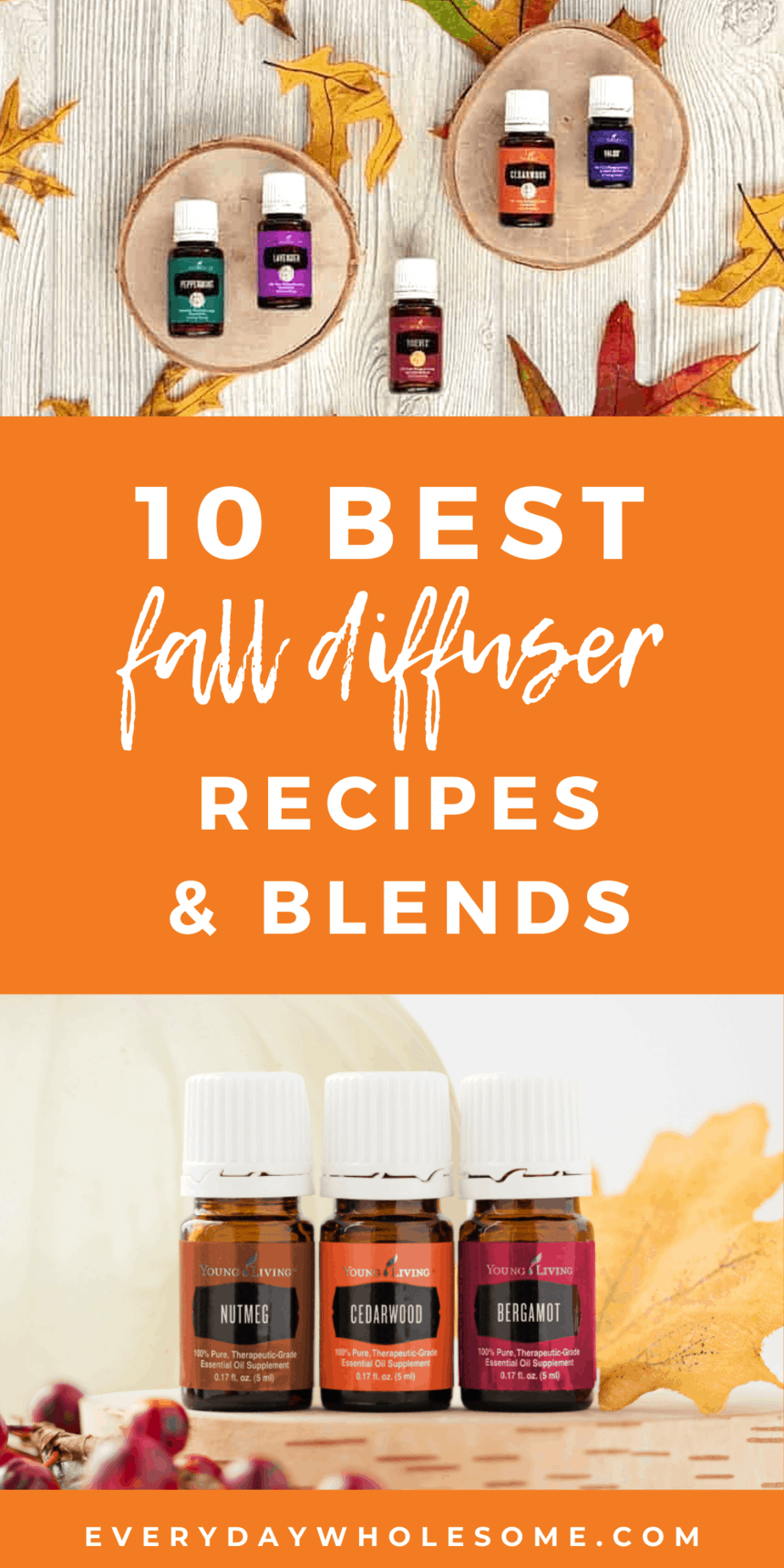 FREEBIE DOWNLOAD