ARE ESSENTIAL OILS SAFE FOR BABIES & CHILDREN?
BOTTOM LINE: It's always best to go with your gut. Do what you think is right. But I wanted to share a few things with you from my research. Also, never substitute any advice on this blog for proper medical advice.
Do your own research on essential oils and babies and kids. Decide on your own. Use at your own risk.
Also read this post about 5 PLACES NEVER TO USE ESSENTIAL OILS.
We should never live in fear. Knowledge is power. So, let me get a few facts into your hands so you can make the best decision for you and for your family.
MY ESSENTIAL OILS STORY. I had been sick for a while. I could not get well. I could not shake this "cold" and "congestion." Turns out (I later found out) my immune system was in terrible shape because of an infection. Long story and I will share that privately with anyone who wants to know about it. Just message me on Facebook or reply back to an email on my VIP Newsletter and I'll share all the deets. I had tried all the natural and medicinal remedies I could but my immune system was in bad shape and I just was not well and could not get well. A sweet friend offered to drop off a diffuser and some Thieves Essential Oil. In the morning I was better than I had been in weeks (maybe months). I had already been researching essential oils to add into our home where I had cut out toxic fragrances but now I was interested in the health supporting benefits of essential oils and I believed it was worth a try. We use them for all sorts of things now.
I USE ESSENTIAL OILS ON MY CHILDREN & BABIES.
I treat essential oils with the same respect I would treat medicine. My children treat them like medicine. My children are not allowed to touch them in any different way than they are able to touch the medicine. Just like you have over the counter medicines in your home that are unsafe for your children to ingest in large quantities and unsupervised, essential oils should be kept in a safe place. And administered by adults.
PIN THIS TO YOUR ESSENTIAL OIL BOARD ON PINTEREST TO READ LATER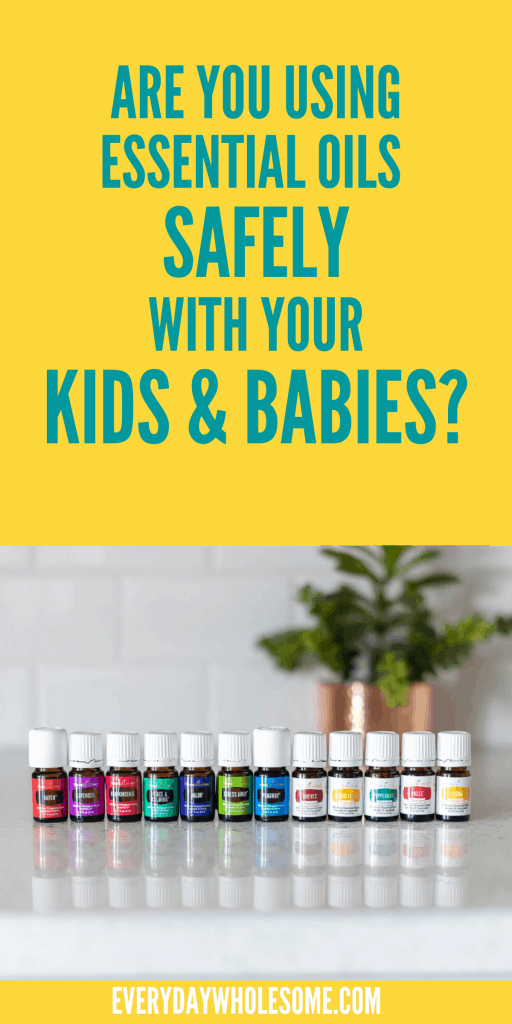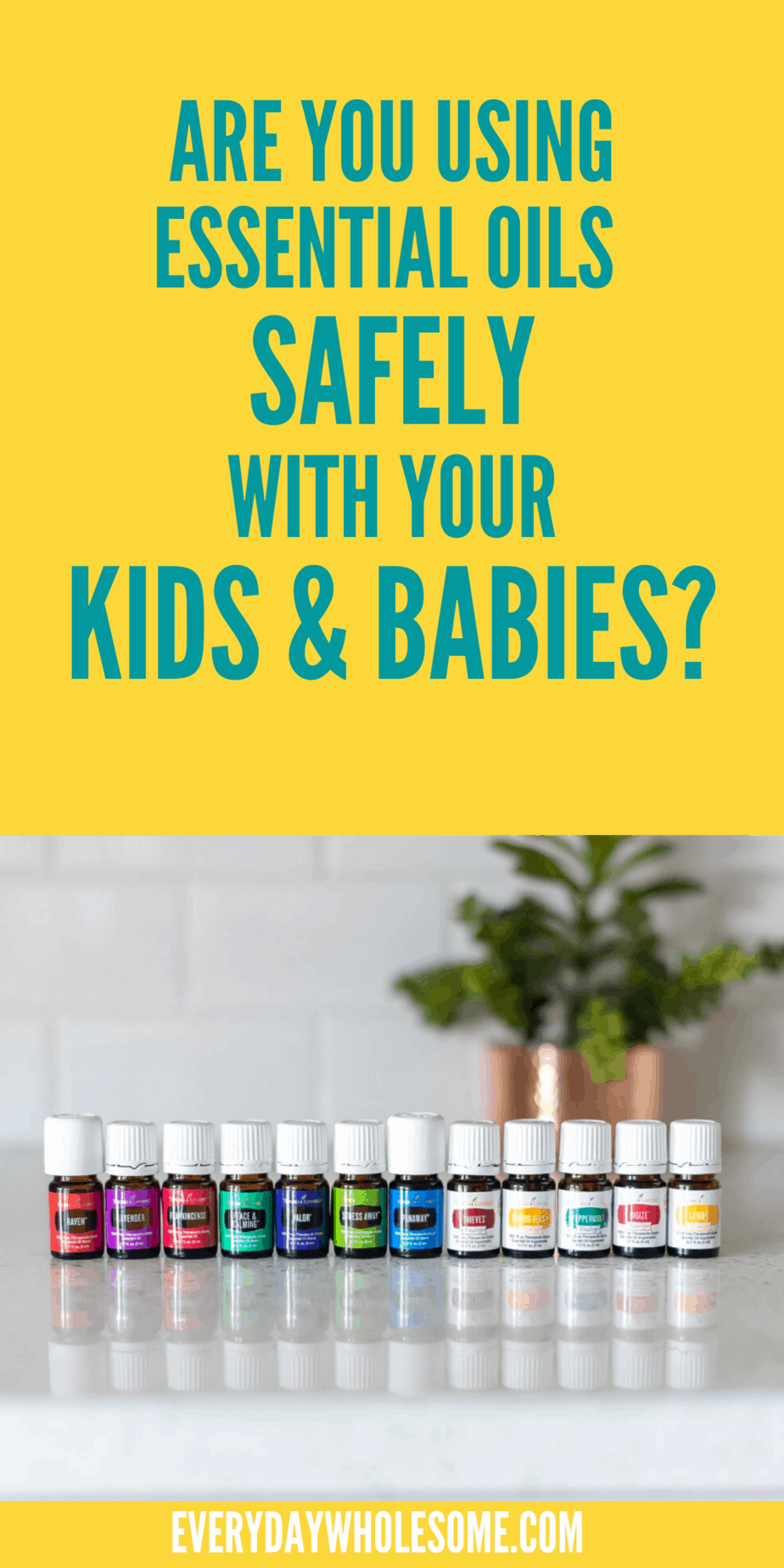 SAFETY TIPS FOR ESSENTIAL OILS WITH BABIES.
The safest way to do this is to use the essential oils that Young Living has created for babies. It is their Kidscents line.
The more I researched and used oils the more I was comfortable using them around my babies.
Babies 0-6 months. You can skip topical application and just stick to wearing the oils around babies. They will get the aroma from being near you. Use less oils in diffusers near these little ones. Use caution.
Babies 6-12 months. This is when I may start using topical essential oils. I prefer to use products like the YL Seedlings Lotion with a teeny bit of oils around them. If baby is congested, I'll add the YL Kidscents line in their diffuser.
Special conditions like PKU or epilepsy. Use extra caution.
OILS TO USE WITH CAUTION ON AND NEAR BABIES & CHILDREN
Basil
Nugmet
Coriander
Tarragon
Mountain Savory
Sage
Juniper
Idaho Tansy
Hyssop
Clary Sage
Wintergreen
Panaway
Aroma Siez
Peppermint
Eucalyptus
Watch children closely when using these oils near them. I treat them like medicine so I watch them closely when introducing new oils and I introduce them slowly.
BE CAREFUL TO DILUTE HOT OILS
Clove
Cinnamon
Cassia
Thieves
Oregano
FAVORITE OILS FOR 2 YEAR OLD CHILDREN AND UP
YL Kidscents Line: Owie, SleepyIze, GeneYus, SniffleEase, TummyGize.
I love the YL Seedlings Lotion and it has a wonderful relaxing blend that is part of our bedtime routine.
Frankincense
Cedarwood
Lavender
Lemon
Pine
Roman Chamomile
Copiaba
Myrtile
Tea Tree & Peppermint (diluted)
Peace & Calming
Purification
Melrose
Stress Away
Gentle Baby
GUIDE TO DILUTING ESSENTIAL OILS FOR BABIES & KIDS
Always use your judgment. You know your children. Also, check with a doctor or medical professional as stated in the "6 TIPS FOR USING ESSENTIAL OILS SAFELY FOR CHILDREN" post. This dilution chart is a great place to start to share the benefits of essential oils with your kids and babies.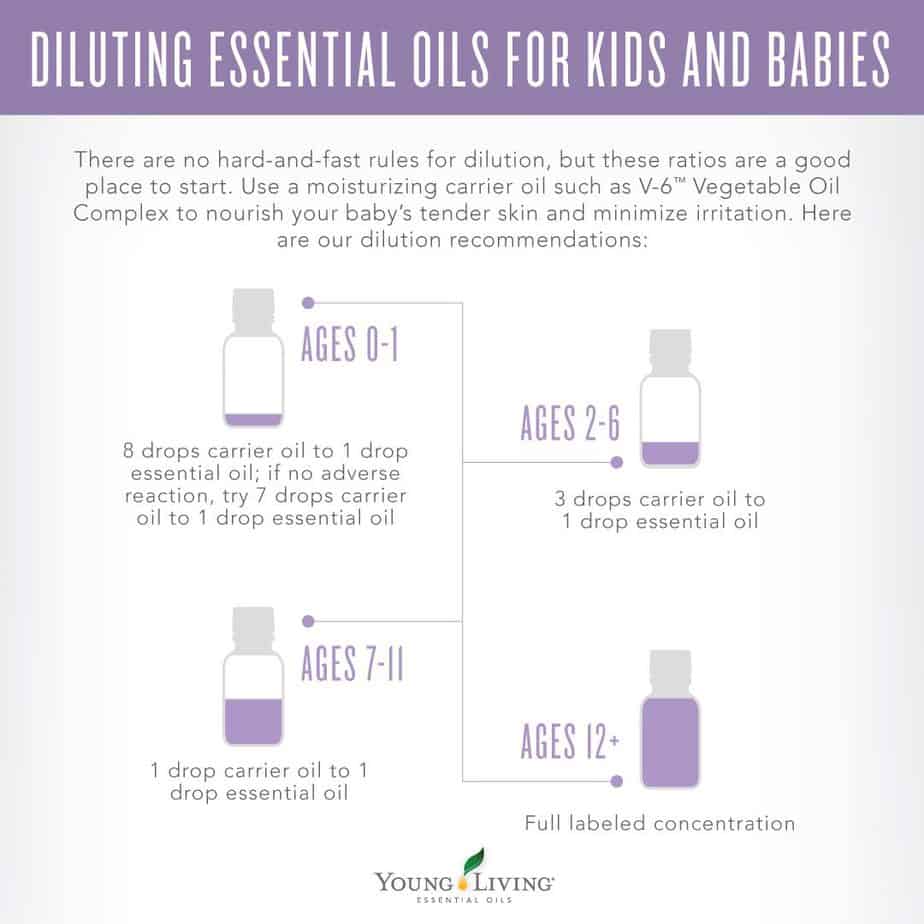 6 TIPS FOR USING ESSENTIAL OILS SAFELY FOR CHILDREN
Check with your children's healthcare professional before using any new medicines or essential oils, especially if your child is sick.
Dilute essential oils using a chart like the one below. You can also dilute and start with one drop in an ultrasonic diffuser. Follow the label instructions on each bottle of essential oils and then dilute according to the chart on this post.
Do not add oils to baths for children so they don't ingest the oils or get any in their eyes on accident.
You can wear essential oils on your skin before ever administering directly to children so that they can acclimate to them.
Heavily dilute any new essential oils and spot test on a child's arm or leg if you are concerned about a reaction. If there is no reaction after a few minutes, the oil is probably safe to use.
Start by using only our KidScents® line so that they are already prediluted. And, feel free to dilute more to your comfort level.
ARE OTHER BRANDS SAFE TO USE?
I personally believe that a few brands are safe. I prefer Young Living for medicinal reasons. It's the purest for those reasons. I also believe that Doterra is safe but I do not believe it is as pure or as potent for medicinal reasons. I do love some of the scents for a safe smell in my home or body. Read my post here for more info.
YOUNG LIVING NURSERY SAFETY INFOGRAPHIC

PIN IT TO YOUR ESSENTIAL OIL BOARD ON PINTEREST