JUICING BENEFITS | IS JUICING HEALTHY?
I am not a juicing authority. As always with my blog, I am sharing my personal experience and research with you to help make your journey smoother than mine. If you know more than me, share it! If you have questions, ask them! If you disagree with me, tell me why!
[This content has been modified from an article that originally appeared on my former blog, FIToriBlog on February 12, 2013.]
HOW DID I GET INTO HOMEMADE JUICING?
I don't like cancer. It seems to be everywhere these days. We all know someone who is affected…or worse, who has died. But why? What is causing it? It seems to be coming from everywhere! Food. Environment. Cleaners. Etc. As I do my research I am slowly starting to change the things in our lives that may be causing or preventing cancers. One step at a time. One thing at a time. It seems, everywhere I look I see potential cancer!
This post may contain affiliate links, which means if you purchase a product using one of these links it will help support this blog, at no cost to you. Thank you for supporting this blog!
PIN THIS TO YOUR JUICING OR HEALTH BOARD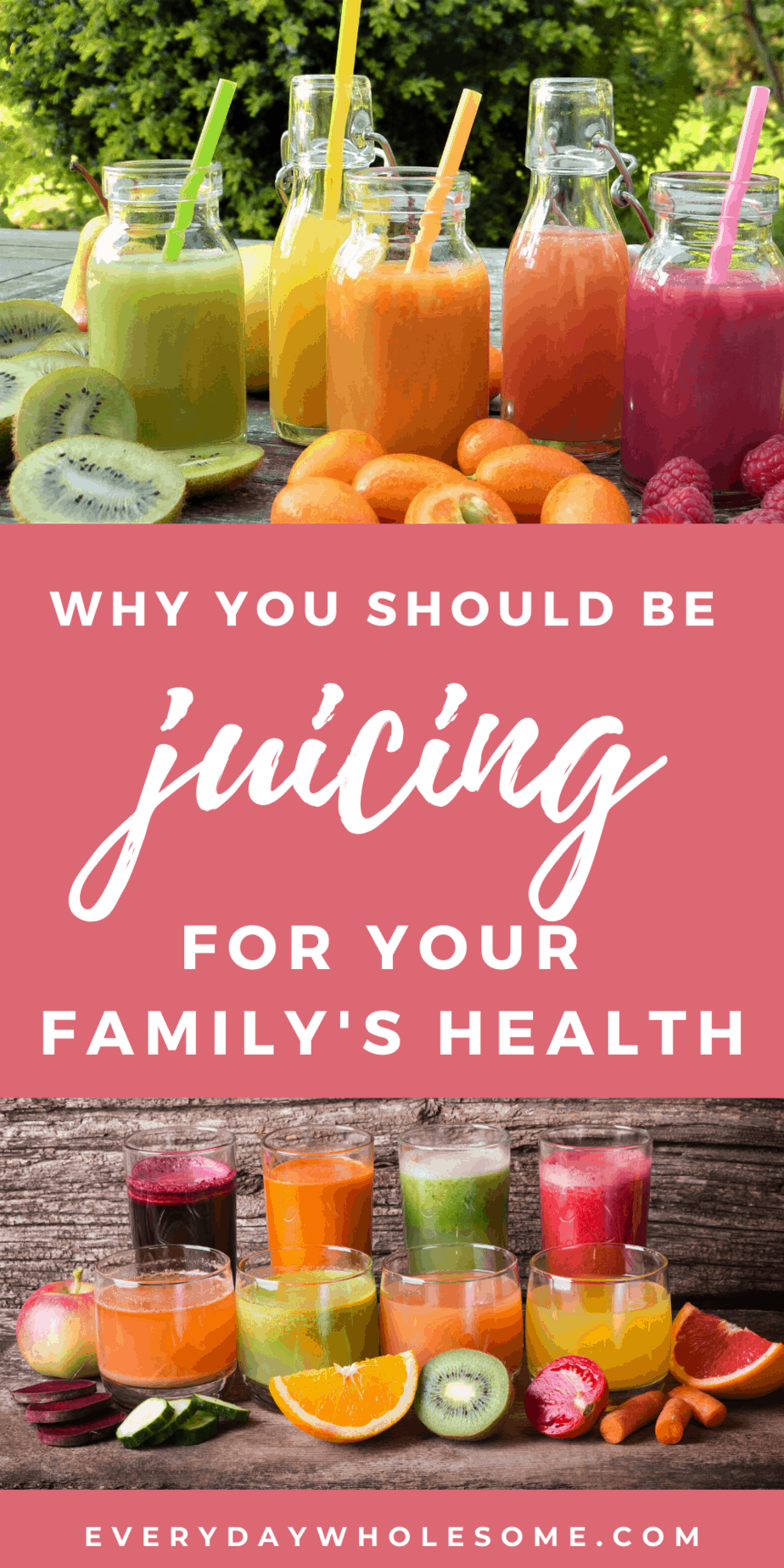 A few changes I've made along the way….
THE BACKSTORY ON WHY WE MAKE HOMEMADE JUICE.
I've done a lot of cancer research. It all started when I came across a documentary on Netflix around 2009 [The Gerson Miracle] that mentioned the Gerson Therapy and it sparked my interest enough for me to keep researching. [If you're interested, check out these documentaries… The Beautiful Truth, Hungry for Change, Dying to have Known, Fat Sick and Nearly Dead & The Gerson Miracle.] It all makes sense to me. Food is medicine.
BACK TO CANCER. When I watched these documentaries they struck a cord with me & I wanted to make some changes in our diets. I wanted to juice to get as many veggie nutrients in our body. The Gerson Therapy juicer sounded great to me back then but I knew the cost was in the thousands. [Next post will have my Buyer's Guide to Juicing!] If one of us had cancer, the cost wouldn't be an issue. BUT I wasn't even sure we would use the juicer before I bought it. Would juicing even fit into our lifestyle? Would we actually drink this stuff? How hard is that thing to clean? Would it be worth the cost to our family for prevention right now? I thought about it for years before actually taking the plunge!
After I watched the Fat Sick & Nearly Dead documentary, I was sold on juicing. I knew I needed to try it. I knew I had a lot to learn before I could start, but I was ready to try. It made sense to me that in order to get the GREENS we need, in the QUANTITIES we need, we would need to juice it. AND, I was having a hard time getting kid #1 to eat as many greens as I would like. I knew we needed more greens. I knew we needed to consume more nutrients from fruits and veggies. Enter our juice machine!
PIN THIS TO YOUR JUICING OR HEALTH BOARD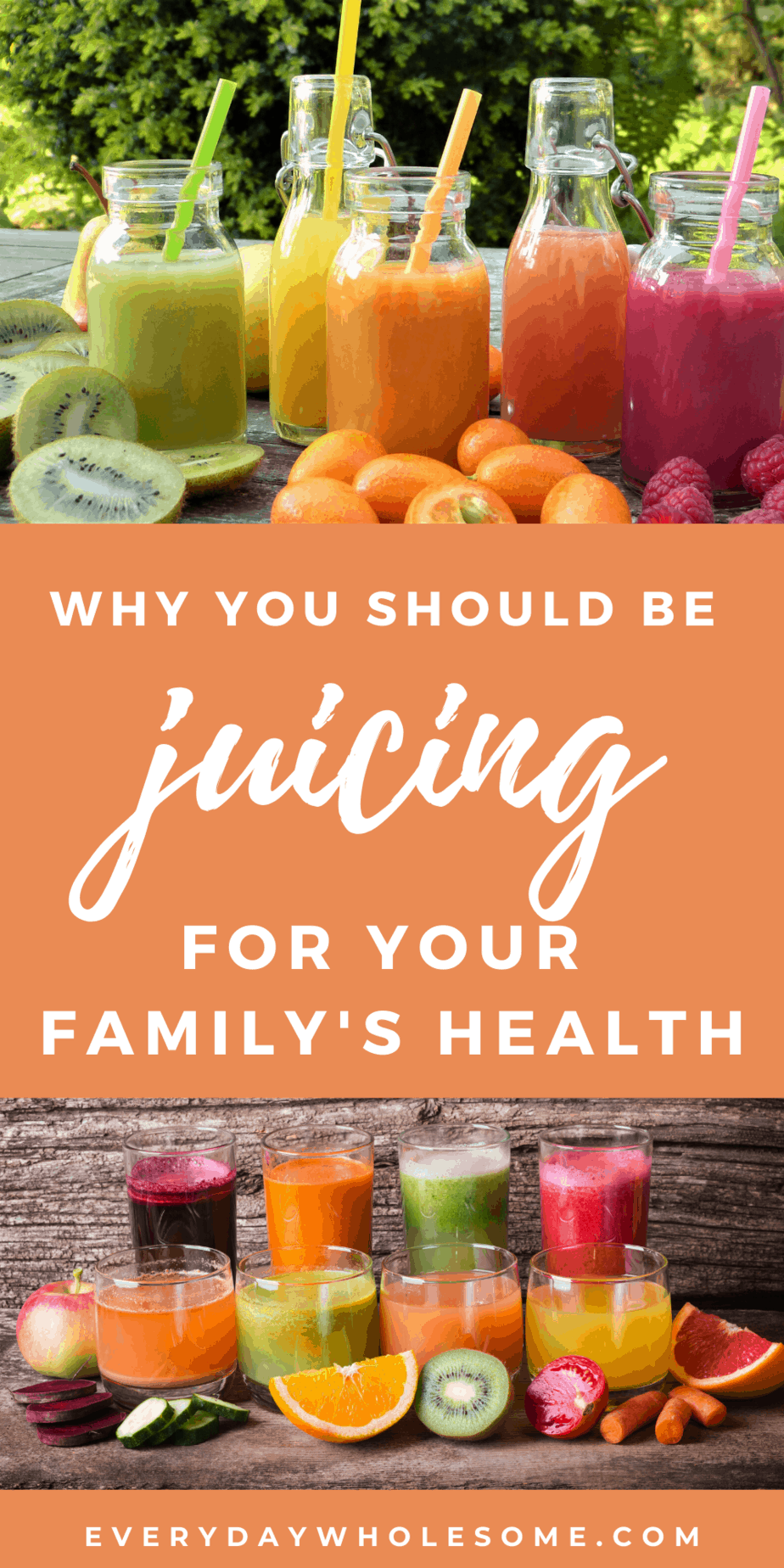 WHY DO I NEED A 'HOW TO' JUICE GUIDE?
It was NOT easy getting started juicing. It is super simple now that I've figured it all out. I had so many questions at the beginning….What is the best juicer? How long does juice last in the fridge? What do I juice? Does it need to be organic, etc
This series (and the rest of my blog) is to make your life easier through my research and my trails and errors.
It's a super simple process now….it takes no more than an hour every few days. And it's so worth it! We enjoy our juice and smoothies and know they are so good for us!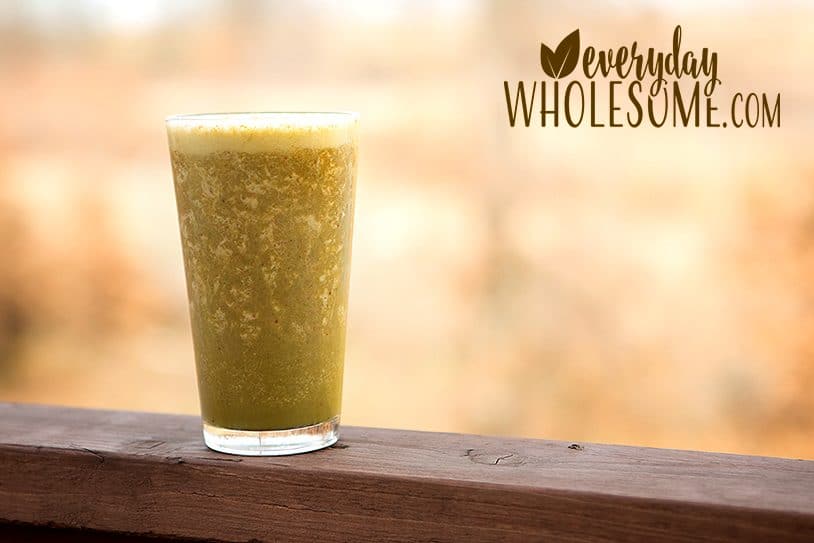 WHY SHOULD YOU MAKE HOMEMADE JUICE?
I urge you to watch some or all of those documentaries. The Fat Sick & Nearly Dead one is great for teaching you how a healthy diet full of nutrients can return an unhealthy body back to a healthy one in a matter of days. Our bodies are amazing! The point of juicing is to get the maximum amount of nutrients (which means removing the pulp, hence juicing vs eating it) and drinking it without food so that it's digested & absorbed FAST (to get all the nutrients before they break down).
Please remember my philosophy about healthy living….good, better, best. If you can't do this 100%…the BEST way….and go ALL out…so what?! Something is better than nothing! Give it a try! Do better. Do good. You don't have to be perfect. You'll get there. It's a process. It's a journey. We have to start somewhere. Just START. Just try it. [More info on absorption and food combining in part 3 this juicing guide when I discuss recipes!]
WHY TO JUICE. bottom line.
We don't eat enough greens. [My family, that is…and maybe yours too.]
We can't physically eat enough calories in a day to get the amount of nutrients we need.
The nutrients aren't digested fast enough when we eat whole foods in order to get the maximum benefit.
Raw food is best.
By the way, this is also why we need to be adding supplements (vitamins and minerals) to our daily routines!

DO I NEED TO DO A JUICE FAST TO JUICE FOR LIFE AND HEALTH?
I have never done a juice fast. My husband does them and loves them. I have been pregnant and nursing for…well it feels like forever….so no fasts for me until after that season. My hubby says he feels better on a fast!
WHY SMOOTHIES? WHY NOT SMOOTHIES?
At first, I didn't do smoothies at all. I just made juice and we drank that every morning, throughout the day and in the evening. A cup or two a day for each of us. Then, I made some juice that was a little too green!!! Yuck. How were we going to drink it? I wasn't throwing it away! SMOOTHIE!!! Mix in some frozen fruit, greek yogurt, & protein powder and VOILA! Yuuuuuuuuuum! Now, I do a combination of both juicing and smoothies. My smoothie base is always my homemade juice. Then, I add in other frozen fruits, greek yogurt, flaxseed, "natural" protein and a ton of organic spinach!!!
SMOOTHIES ARE MY WAY OF MAKING THE KIDS EAT TONS OF RAW SPINACH IF THEY DIDN'T GET ENOUGH OR ANY VEGGIES AT DINNER.
WHAT ABOUT THE FIBER?
As I stated above in the "WHY JUICE?" section, we need as many veggies and fruits as we can get! But, we don't consume enough….we can't consume enough and it doesn't digest fast enough in order to get the maximum nutrients we need. We still eat fruits and vegetables at our house. Read this book to learn more about fiber & fiber myths. Also, I've read it's actually better to EAT your fruits & JUICE your veggies.
DO I NEED TO BUY ORGANIC FRUITS AND VEGETABLES ?
Yes! Do your research on this. [My book & documentary list will be the last post on this series!] But, from my research we shouldn't even eat certain foods if they aren't organic [grapes being one of them]. The Juicing Bible [my favorite juicing book!] has TONS of info on which fruits/veggies juice well, how to prepare them & if they must be organic. As a family, we are moving toward organic and local for as much as we can. Things with thick skins like oranges we don't buy organic. But for apples, carrots, kale, blueberries, etc. we buy organic. Check out the dirty dozen PLUS list here. [BTW, more posts coming soon on ewg.org's fantastic info on household cleaners & soaps. I am finding the best out there for us and I will share those with you!]
IF YOU HAVE ANY QUESTIONS OR MORE INFO FOR ME, COMMENT BELOW! I WANT TO KNOW WHAT YOU KNOW!
WHAT DO WE DRINK WHEN WE DON'T HAVE ANY HOMEMADE JUICE?
We drink Ningxia Red juice.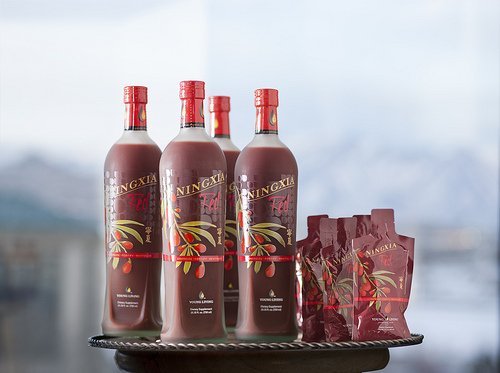 ONE OUNCE of Ningxia Red has an antioxidant equivalent of 100 oranges, 814 blueberries, 22 carrots, 10.85 lbs of spinach, 59 broccoli florets, 73 strawberries, and 93 apples! READ MORE HERE!
MOM HACK! We freeze those little packets and if the kids want a popsicle they drink the packets or they drink a smoothie or juice pop I made from our homemade juice or smoothies!
MORE POSTS RELATED TO JUICING
PIN IT TO PINTEREST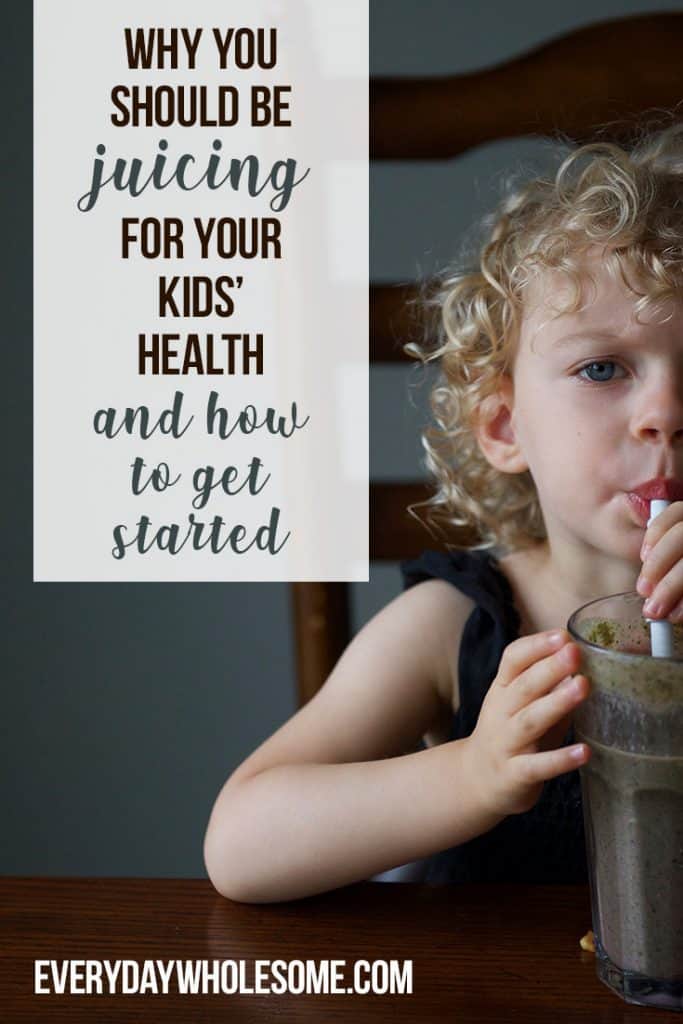 PIN THIS TO YOUR JUICING OR HEALTH BOARD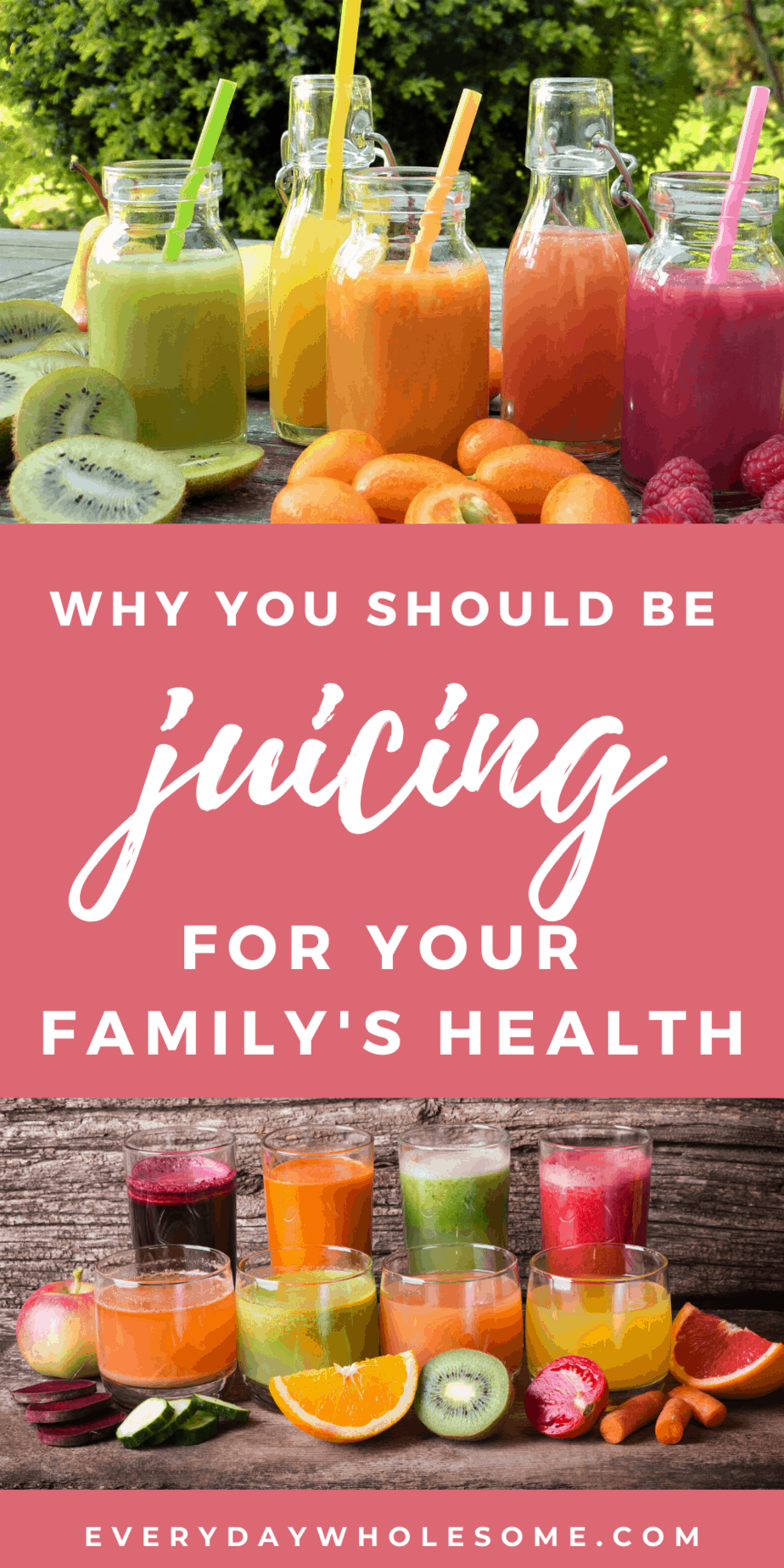 GRAB YOUR FREEBIE