SOUTHWEST CHICKEN WRAP RECIPE
This southwest chicken recipe is a favorite because it is a versatile lunch or dinner recipe. It works served cold for lunch or heated for dinner. It works as a salad, sandwich, burrito or plain.
ADDING MORE BEANS
I have been working on adding more beans to our diets. They are a great, plant source of protein. I wrote an old blog post on FITori about being a flexitarian and adding more plant proteins in for fertility reasons. Also when this post was originally written I had just finished our kitchen renovation in our home. That was back in 2010 when I wrote this post. And after a full kitchen renovation I finally had a working kitchen again! This was our kitchen when we lived in Louisiana. (Remember we are a military family so we've moved a few times.)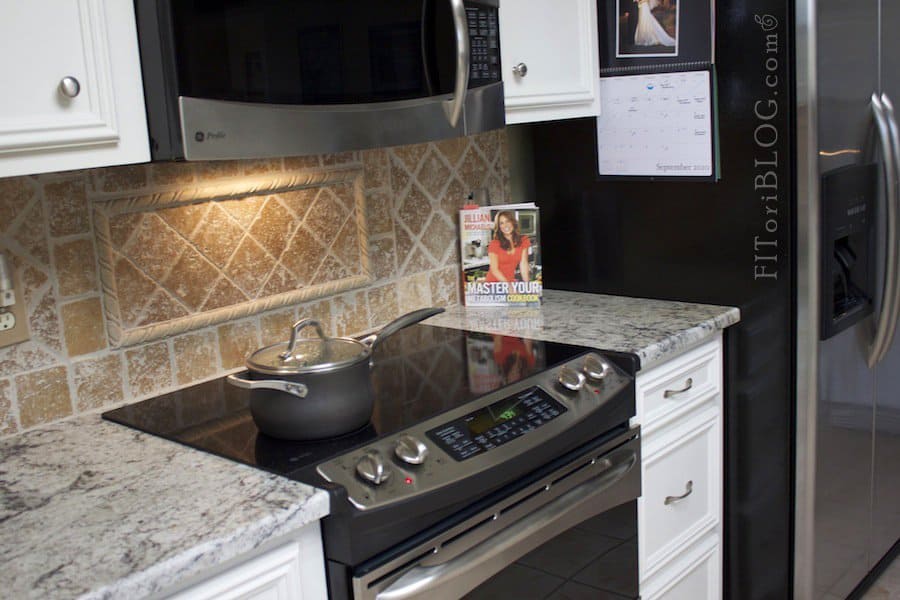 I CAN'T BELIEVE I ADDED TABASCO TO THIS RECIPE
I have to tell you that I do not like tabasco. At all. Even the smell. But after making this recipe I thought it needed a bit more spice…it was lacking a "kick!" My hubby tricked me! He told me he added "salt, pepper and red pepper" and it was EXCELLENT! He added TABASCO! With all the other wonderful flavors, the tabasco doesn't taste like tabasco, it takes like a little extra spice. I added tabasco to the end of this recipe so that you should "salt, pepper, red pepper or tabasco to taste" because I think it needs some extra spice, but everyone is different with what they like.
This got raves by the family. Woohoo.
SOUTHWEST CHICKEN RECIPE
INGREDIENTS
1 1/4 lbs chopped cooked boneless, skinless chicken breast (2-3 large breasts)
1/2 cup mayo
2 tsp ground cumin (add more?)
2 tsp chili powder (add more?)
1 medium red pepper, chopped
1/4 cup red onion, chopped
2 cups frozen yellow corn, thawed
3 medium scallions (green onion), chopped
1 cup canned black beans, rinsed and drained
1 package 10 inch whole wheat tortillas (read the ingredients!)
salt, pepper, red pepper or tabasco to taste!
**You can easily make this vegan by using vegan mayo and adding more beans for the chicken
Instructions
Poach/boil the chicken breasts. Cover the chicken with water. Don't bring to a full boil. Lower below a simmer and cook for approximately 15-20 minutes for 1.5 pounds of chicken breasts.
While chicken is cooking, you can chop and mix all of the other ingredients in a medium bowl.
Start by combining mayo, cumin and chili powder.
Add chicken (chopped against the grain), red peppers, red onions, corn and scallions.
Gently fold the black beans (rinsed and drained) into the mixture.
Cover and refrigerate for at least 2 hours for flavor.
Scoop 8 oz of mixture onto tortilla wrap, roll it up and serve!

**I thought it was even better warmed. It can work cold for lunch and heated for dinner!**

Make sure you add a salad or a green vegetable to this meal or the others in the day! Or add lettuce or spinach to this wrap!
recipe adapted from: oxygen mag | january 2006
[This content has been modified from an article that originally appeared on FIToriBlog on September 12, 2010]
Save
Save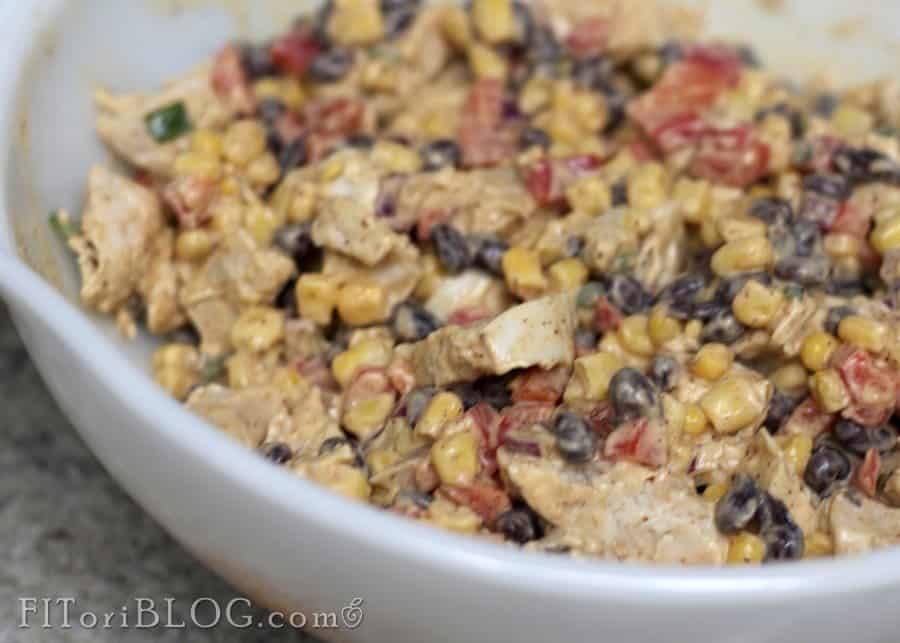 Did you make this recipe and add extra spice? If so, what did you add?
FREEBIE DOWNLOAD!