HOMEMADE ALMOND BUTTER RECIPE
This is our family's favorite almond butter and it happens to be our homemade almond butter recipe. We don't like store-bought almond butter any more after making this recipe.
HOMEMADE ALMOND BUTTER RECIPE
INSTRUCTIONS
Get out Food Processor. We use this Cuisinart Food Processor.
Set up with large S blade.
Get out Raw Almonds. I use the raw almonds I purchase from Costco.
Add 2-3 cups of almonds (less than half of your container)

If I add too many almonds I find it takes longer.
I prefer to make smaller batches and then pour them into my mason jars and make another batch. It is a smoother process (in many ways)

COVER EARS. COVER CHILDREN'S EARS OR HAVE THEM LEAVE THE ROOM.
Start Food Processor. (The first few seconds to a minute is LOUD…LOUD…LOUD)
It takes about 20 minutes to make the perfect almond butter for us. We like ours really creamy, so that it pours out of the container into the jar.
You'll stop it every so often when it gets stuck and scrape the edges.
It starts out as an almond flour, then into a thicker almond chunky and then into butter if you mix it long enough.
I like to mix it long enough that it will POUR into the mason jar.
THE BEST HOMEMADE ALMOND BUTTER TIPS & HACKS.
Make smaller batches. In the long run, it may actually take less time than one big batch of homemade almond butter that you have to continually stop and stir.
MAKING HOMEMADE ALMOND BUTTER IS LOUD. Put your food processor in the garage or a bathroom and shut the door. I turn mine on with my elbow and my hands over my ears so closing the door is a bit tricky. I have also heard of friends putting theirs in the their kitchen cabinet and shutting the door.
Don't forget to scrape the sides.
Keep running the food processor until the almond butter is liquid. It will pour beautifully into your mason jar.
CAN I MAKE ALMOND BUTTER (OR PEANUT BUTTER) IN MY VITAMIX? VITAMIX ALMOND BUTTER? VITAMIX PEANUT BUTTER? VITAMIX NUT BUTTER?
I have heard 2 different things. First I read that a vitamix or blendtec was not meant to be run for 20 minutes at a time and can/will burn up your blender motor. Check first that whatever device you are using was meant to run for 20 minutes before you start this process. But I have also read that a vitamix has a stronger motor and smaller container so it actually makes almond butter faster. I did see one blog post that showed her almond butter out of a vitamix that was not nearly as creamy as I prefer. I prefer to keep blending and I'm not sure if that can be done in the vitamix? Insert hands in the air emoji.
DO I NEED A SPECIAL NUT BUTTER MACHINE?
My food processor works perfectly! I think nut butter machines are more for commercial use and are pretty costly.
HOW TO STORE ALMOND BUTTER.
I store my almond butter in mason jars, in the fridge, labeled "ALMOND BUTTER." Also, be careful about cross-contamination to keep it from going bad sooner.
DOES ALMOND BUTTER NEED TO BE REFRIGERATED?
No, I don't think almond butter HAS to be refrigerated. BUT it is recommended to help the almond butter stay fresh and not go bad as quickly. I keep my almond butter in the fridge.
DOES ALMOND BUTTER GO BAD?
Yes! But I have never had my homemade almond butter go bad. I'm sure it could if it sat long enough but we eat ours so quickly at our house, I have never personally experienced "bad" almond butter. Yuck.
HOW TO KNOW IF ALMOND BUTTER HAS GONE BAD?
There should be signs. Visible mold. A change in color or texture. No longer creamy. Harder or more watery.
IS THERE A SUBSTITUTE FOR ALMOND BUTTER?
I use peanut butter when I run out of almond butter but IT IS NOT THE SAME. Just not. Nor is almond butter the same in place of peanut butter. There are other nut butters with lighter flavors such as cashew butter and sunflower seed butters that are probably more similar but I do not usually have those in my pantry.
PIN THIS TO YOUR HEALTHY RECIPE BOARD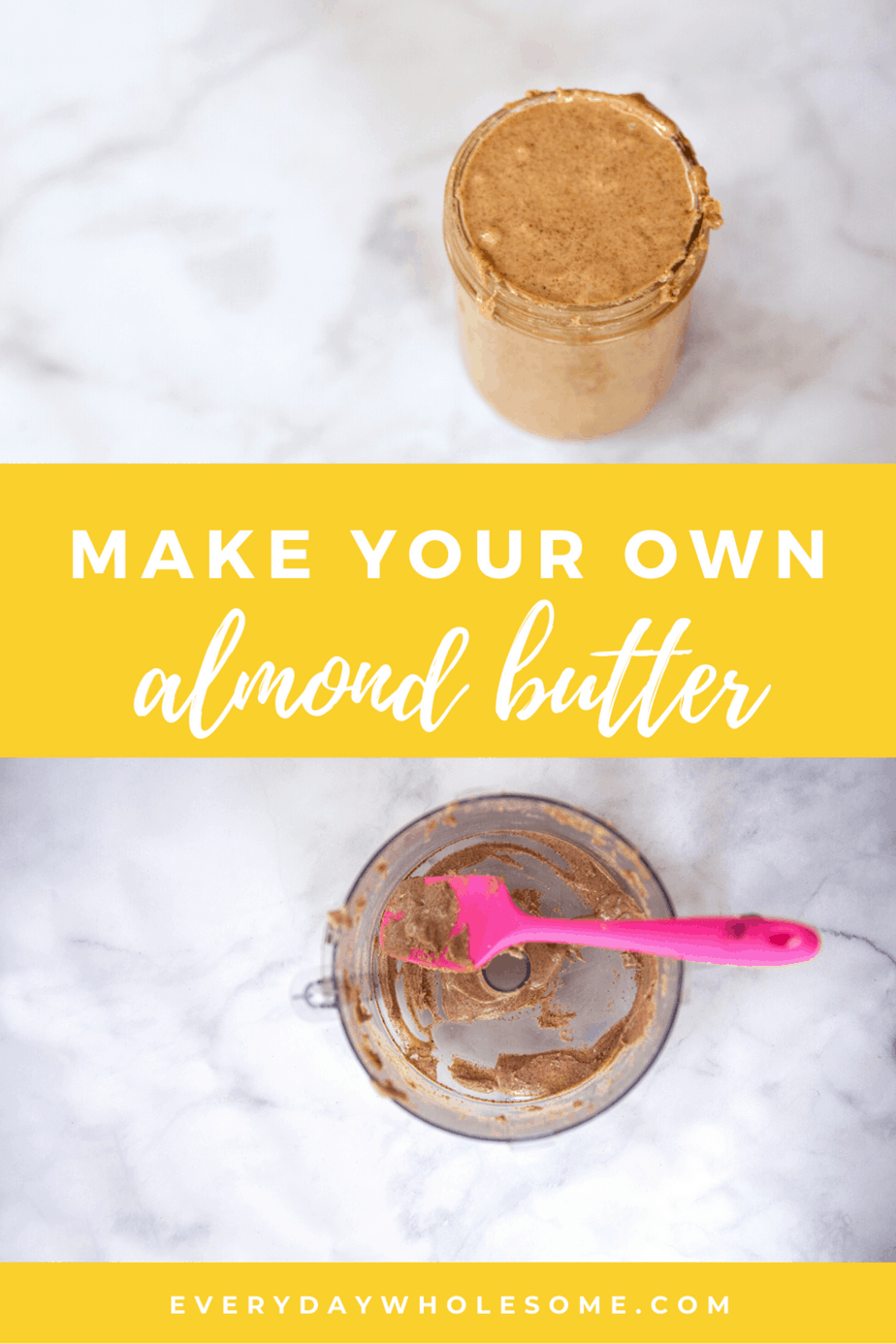 HONEY ALMOND BUTTER?
I prefer to add my honey later but there are definitely some recipes for honey almond butter that seem tasty! If you try one, let me know!
VANILLA ALMOND BUTTER?
I prefer to keep it the same because I have it perfected. BUT vanilla sounds yummy and I might need to try this sometime!
POPULAR ALMOND BUTTER BRANDS.
COSTCO ALMOND BUTTER
KIRKLAND ALMOND BUTTER
TRADER JOE'S RAW ALMOND BUTTER
TRADER JOE'S MIXED NUT BUTTER
WHOLE FOODS ALMOND BUTTER
I have tried a lot of store-bought almond butters and I don't like any of them as much as I like my homemade almond butter recipe! I prefer Costco Raw Almonds and making my almond butter at home to ANY store-bought almond butter….even Costco! We have tried store-bought almond butter and we have never enjoyed the flavor. We always prefer to make it…for the taste. The cost savings are a bonus!
SPROUTED ALMOND BUTTER & SPROUTED NUT BUTTERS.
Now this one is on my list of next foods to research and try. Sprouting nuts helps to remove toxins, increase absorption increase digestion, neutralize the enzyme inhibitors and phytic acid, and activate live enzymes inside.
From my minimal research to date, I know that to properly sprout almonds I need to buy better almonds from out of the country. So my research needs to go even further and I need to change some things about my almond butter besides just adding in the sprouting time of 8 hours or overnight.
RAW VS. ROASTED ALMONDS
In general raw food is better for us. Heating (Roasting) foods sometimes damages the nutrients in the food. Same with almonds. Almonds can become rancid at too high heat. They can also form free radicals, which are bad for our bodies. And in general, sprouting makes the almonds more nutrient dense and easier to digest.
ORGANIC ALMOND BUTTER
I need to do further research on better almonds to use rather than Kirkland/ Costco brand. From what I know, US almonds are pasteurized to prevent salmonella. To get a truly organic almond for my homemade almond butter recipe I will need to search outside of the country. I'll let you know when I research this one. Sign up for my email list so I can keep you updated.
THE BEST ALMOND BUTTER.
I prefer raw homemade almond butter to any other store bought almond butter I have ever tried. Ever. But I am interested in trying some better sourced almonds and sprouting them. I'll let you know!
CAN DOGS HAVE ALMOND BUTTER? IS ALMOND BUTTER OK FOR DOGS?
Yes. As far as my research goes there is nothing in homemade almond butter that is toxic to dogs. Of course, it's not recommended for their daily diet either. Mine licks the jar when I'm done with it….and loves it. Once in a while.
HOW TO EAT (USE) HOMEMADE ALMOND BUTTER & WHAT TO EAT (DO) WITH ALMOND BUTTER & ALMOND BUTTER USES & RECIPES WITH ALMOND BUTTER.
We add our almond butter mainly to oatmeal and add raw, local honey. We also make our "healthy pancake" recipe that I discovered during my figure competition prep and we love love love that recipe with almond butter and honey on top.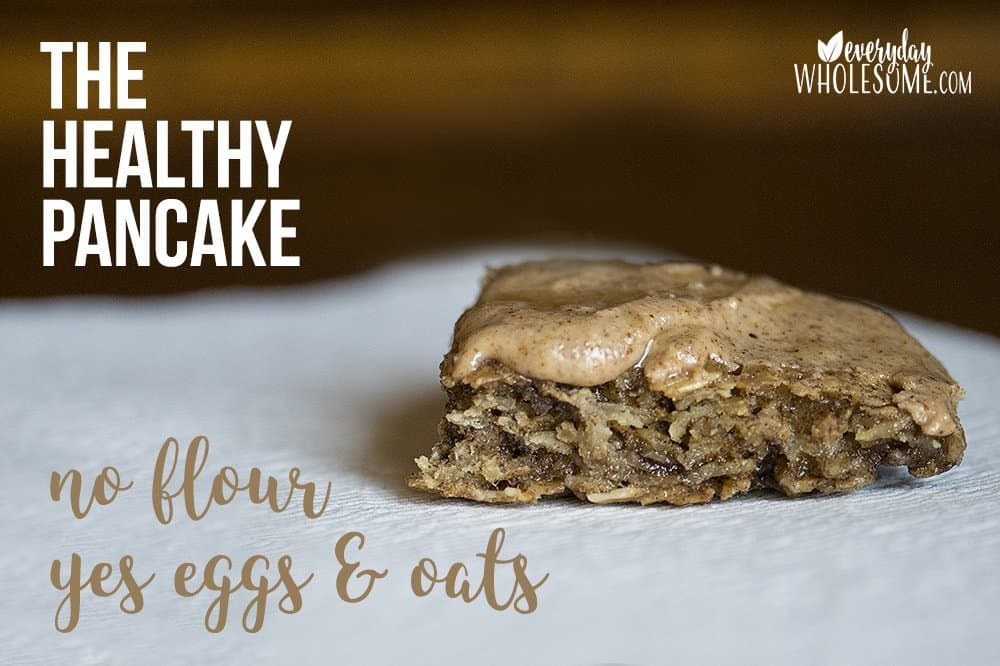 PIN THIS TO PINTEREST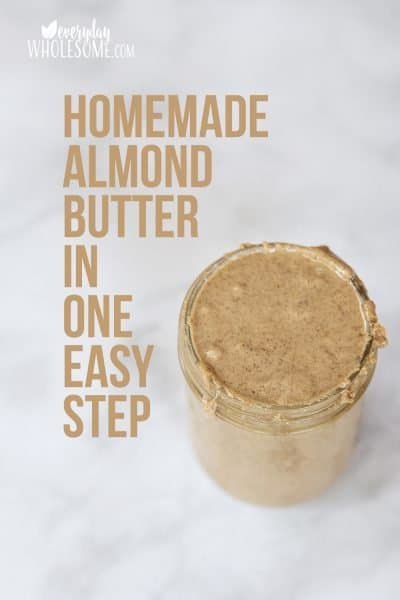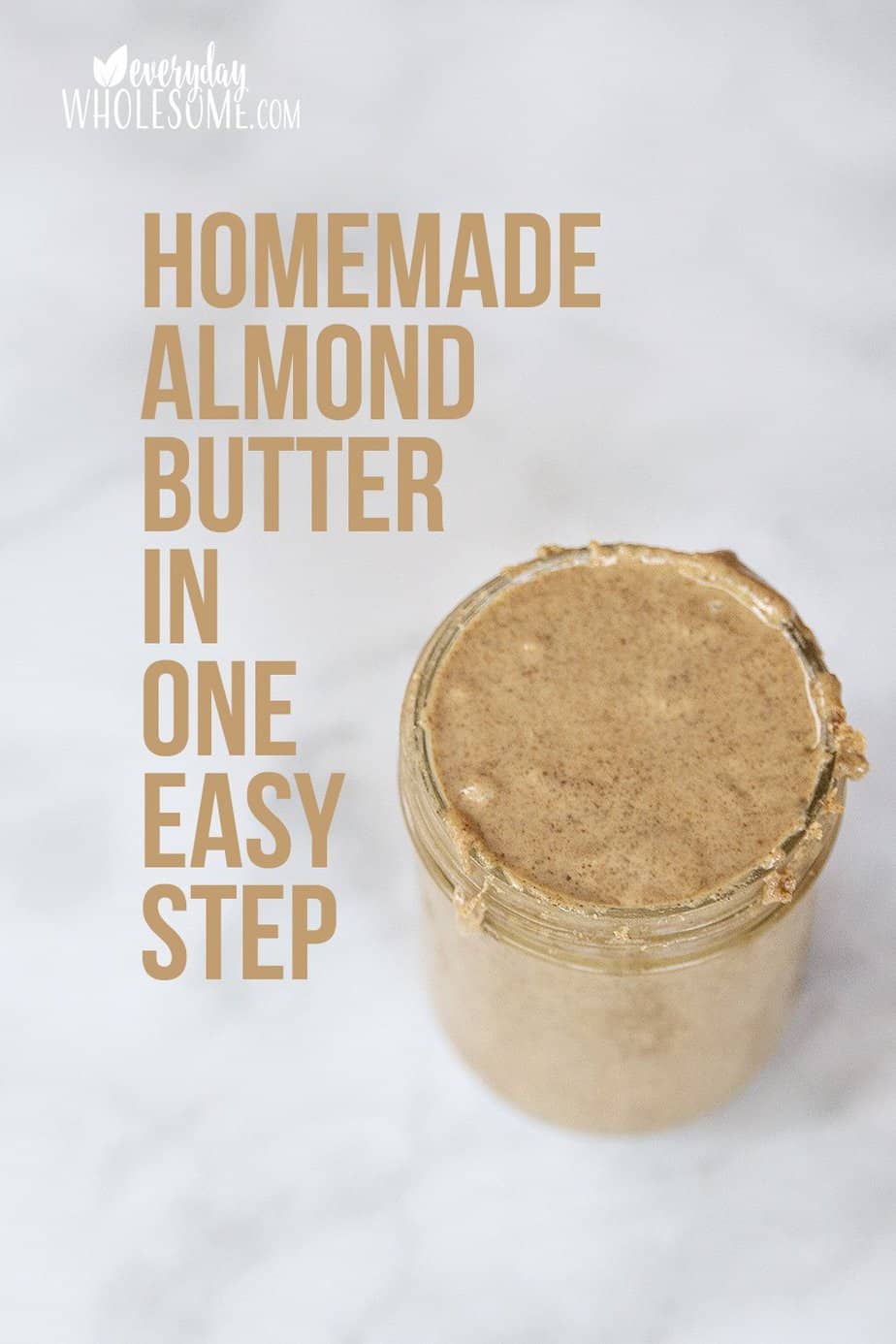 Do you have any tips on making this recipe? Do you soak your almonds first? Tell me more!
SaveSave
SaveSave
FREE DOWNLOAD!