Healthy Pancake Recipe | Gluten-Free, Dairy-Free
This is a healthy way to make breakfast fun and interesting for kids and adults. We call this a "healthy pancake" recipe at our house. It's just oats & eggs. We add in cinnamon (lots) and a spot of pure vanilla extract. We always add banana or pumpkin for fluff.
WHERE DID I FIND THIS RECIPE?
This is what I ate every morning during the last 6 weeks of contest prep…and have ever since! This was a fantastic creation from one my wonderful trainers, Lisa Marie Bickels. But now that I have a family, we eat this at least once a week and the kids all love it and devour it. It's a great way to change up breakfast.
During the entire figure competition contest prep I ate the same breakfast every morning, but I added different seasonings and made different concoctions all the time! It was always 6 egg whites and 1/4, 1/3 or 1/2 cup oatmeal. Sometimes, when I worked with Erik of Lean Bodies, he took out the oatmeal and added in a yolk and/or cheese. But, every other trainer and all the other diets had the same egg white and oatmeal.
When I met Lisa and she added this pancake to my recipe in the morning I was super excited. No more egg whites and oatmeal? Lisa was brilliant in coming up with this recipe for a PANCAKE or a MUFFIN!!!! When I was traveling for work, I would make and take these muffins with me. I don't make them until I travel because they take 6 egg whites per muffin tin [times] 6 muffin tins = 3 dozen eggs!!! And, to be honest, they're not as good as the pancake. The pancake comes out more moist. BUT, if you travel, make these muffins and you will have a guaranteed healthy way to start your day!
HEALTHY PANCAKE RECIPE – GLUTEN & DAIRY FREE
Mix together whole eggs and oats.

I do this by how it looks. I usually use 4-6 eggs and about a cup of oats. But you'll adjust based on the consistency you want.
You can make this gluten free if you use gluten free oats!

Add 1-2 T cinnamon. It's a lot but it acts like flour almost in consistency.
Add a dash of pure vanilla extract
Add a banana (mash in a ziplock bag and let kids help) or 1/4 to 1/2 cup of pumpkin puree
Mix up thoroughly.
Heat a lot of coconut oil in this safe & nonstick skillet over medium heat.
Pour entire "batter" into skillet and let cook halfway through.
Flip using part skill and part a large spatula
Serve on plate.
Add toppings. Our favorite toppings are a thick layer of our homemade almond butter (recipe here) and natural, local honey drizzled on top of that.

I only top the parts we are going to eat and I save the rest for tomorrow. It reheats in the skillet really well!
MUFFIN RECIPE ADAPTATION
This recipe is labor intensive and not as good as the pancake in my opinion. But this is how I did it for context prep.
Make each muffin individually in a bowl.
Mix together eggs/whites and oats.
Add other ingredients.
Mix up thoroughly.
Pour into large muffin tin (should hold 6 giant muffins per tin).
Mix all 6 muffins separately and add to sprayed muffin tin.
Bake on 350 for 30 minutes.
Make sure they cook all the way through on the top if you're traveling with them without a microwave – uncooked egg whites are yucky! If you can add more oats for travel that helps the recipe to cook through better!
SUGGESTIONS FOR ADDITIONS TO HEALTHY PANCAKE RECIPE
I always add cinnamon & I add a LOT. It acts like flour and makes it fluffy.

Pumpkin puree (pretty low cal and adds great flavor, moisture and fluff)

Pick your favorite extracts and add for flavor

Experiment with natural sugars and sweeteners or just add a bit of sugar or stevia

Try protein powder in place of some of the egg whites. It will add protein and some sweeteners and flavors plus will act like flour and make it fluffy!

Try to sweeten with fruit! Blueberries make a great start to the day!
SUGGESTIONS FOR OTHER HEALTHY PANCAKE TOPPINGS
nut butters (my favorite is almond butter)

local honey

butter or butter alternative

sugar or sugar alternative

syrup or sugar free syrups

greek yogurt

blueberries or other fruit

natural, organic fruit spreads
FIND MY HOMEMADE ALMOND BUTTER RECIPE HERE.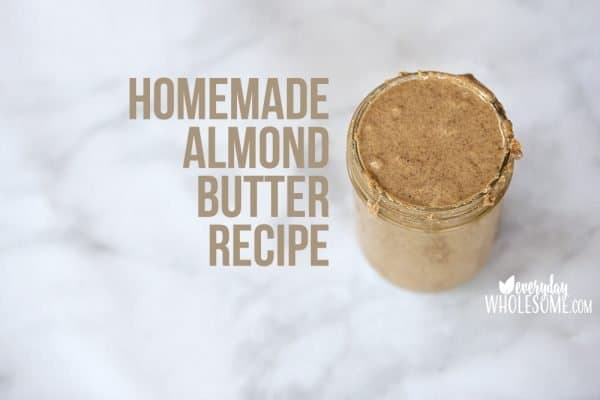 PIN THIS TO YOUR HEALTHY BREAKFAST BOARD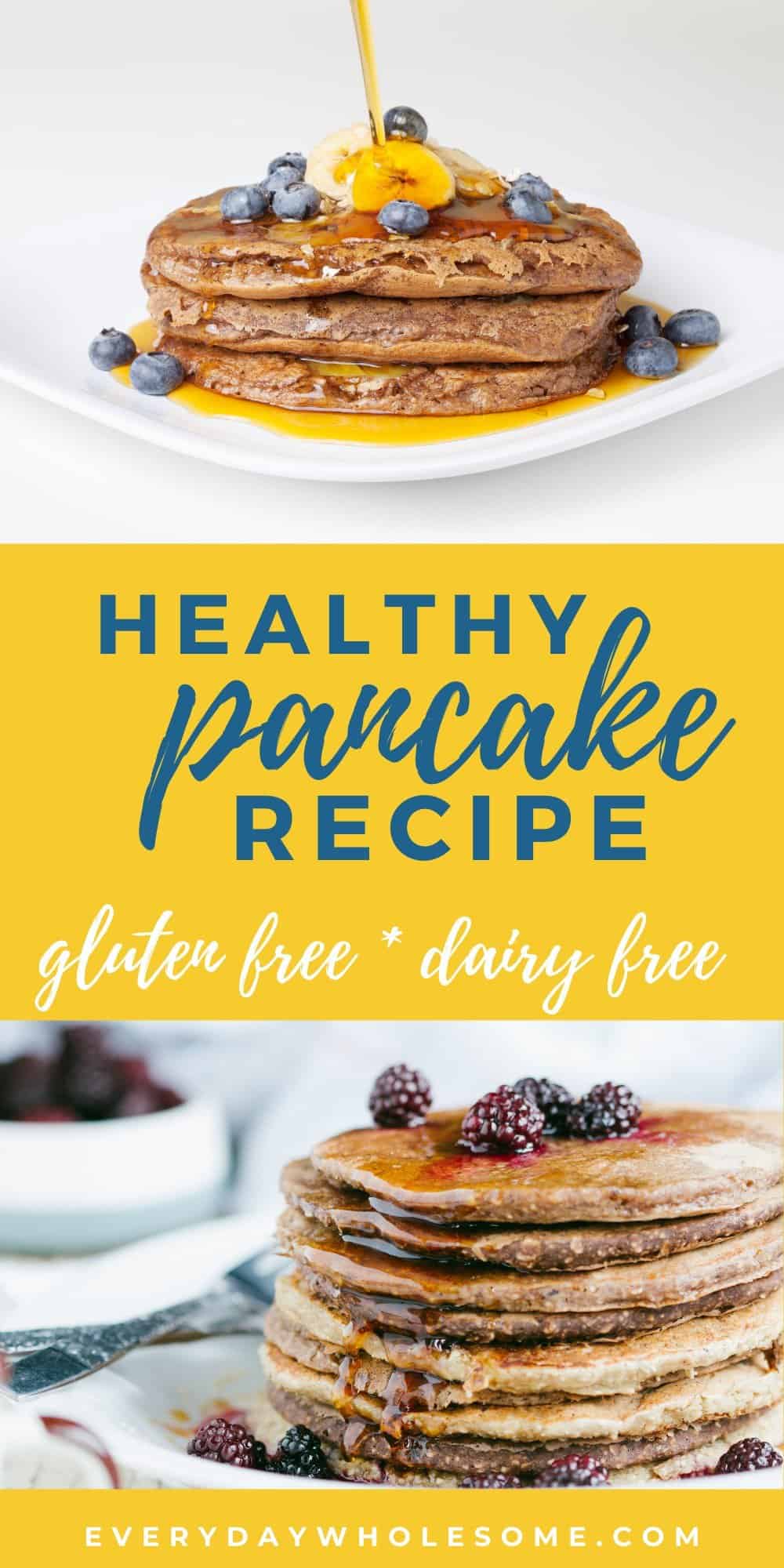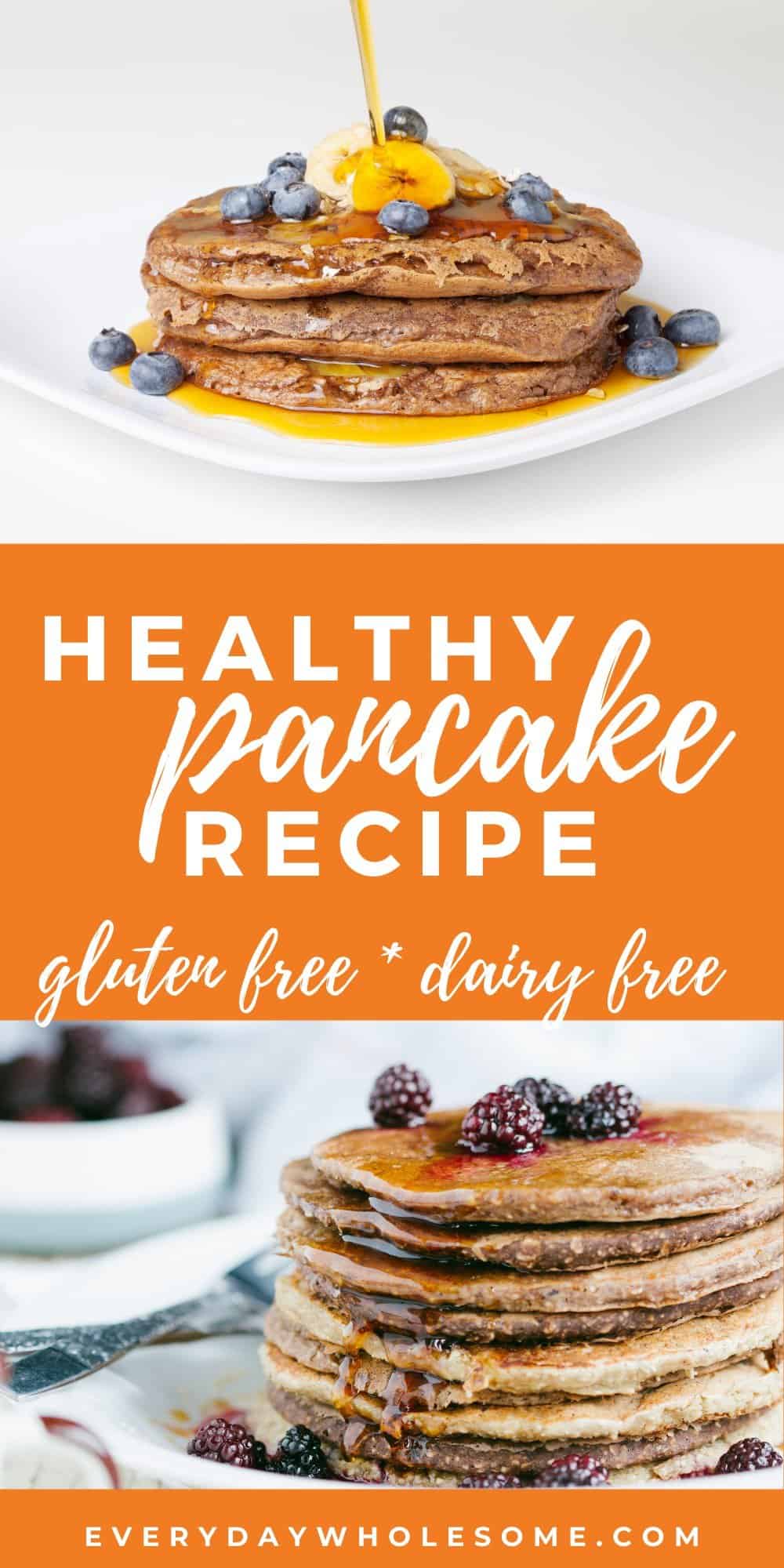 SaveSave
SaveSave
FREE DOWNLOAD!