LEMON WALNUT CHICKEN SALAD RECIPE
I love to make this healthy recipe for dinner and then use it for lunches over salads the next few days. I even like this lemon walnut chicken recipe so much I've been known to have it for multiple meals in one day.
This post may contain affiliate links which means if you click on a link in this post I may earn a small commission at not cost to you that will help support my family and this blog! Thank you!
LEMON WALNUT CHICKEN RECIPE
Ingredients
2 T very finely chopped parsley
2 T very finely chopped toasted walnuts
1/4 t finely grated lemon zest ( you can leave this out if you use Lemon Vitality Essential Oil)
4 medium skinless, boneless chicken breast halves, pounded to 1/2-inch thickness
2 t flour (I used ww)
1/2 t salt
1/2 t black pepper
1 T extra-virgin olive oil
3 T diced shallots
1/4 cup low-sodium chicken broth (I use this Chicken Soup Base)
1 T fresh lemon juice, plus lemon wedges for serving (or a drop of Lemon Vitality Essential Oil)
1-1/4 cups basmati rice, steamed
Directions
Start basmati brown rice cooking first (as often takes up to 45 minutes).
Follow the instructions on this post for toasting almonds to toast the walnuts.
(350 F w/ walnuts on single layer on cookie sheet until fragrant or lightly golden – approx 5-6 min)
In a small bowl, mix together the parsley, walnuts and lemon zest.
Dust chicken with the flour and season with the salt and pepper.
In a very large skillet (or two med-lg skillets), heat the olive oil over medium heat.
Add the shallots and saute until they begin to turn translucent, 1 minute.
Push the shallots to one side of the pan, add the chicken breasts and cook until golden, about 2 minutes per side.
Pour the chicken broth and lemon juice into the pan.
Cover, and let simmer over low heat until the juices run clear when the chicken is pierced, 3 to 4 more minutes.
Use tongs to transfer the chicken to a serving dish, leaving the liquid and shallots in the pan.
Bring the liquid to a boil over medium heat and stir until thickened, 1 minute.
Stir in the parsley mixture. Pour the sauce over the chicken and serve over the rice and with the lemon wedges.
source: Fitness Magazine | February 2010
[This content has been modified from an article that originally appeared on FIToriBlog on October 6, 2010]
MY FAVORITE WAY TO PREP AND COOK THESE DAYS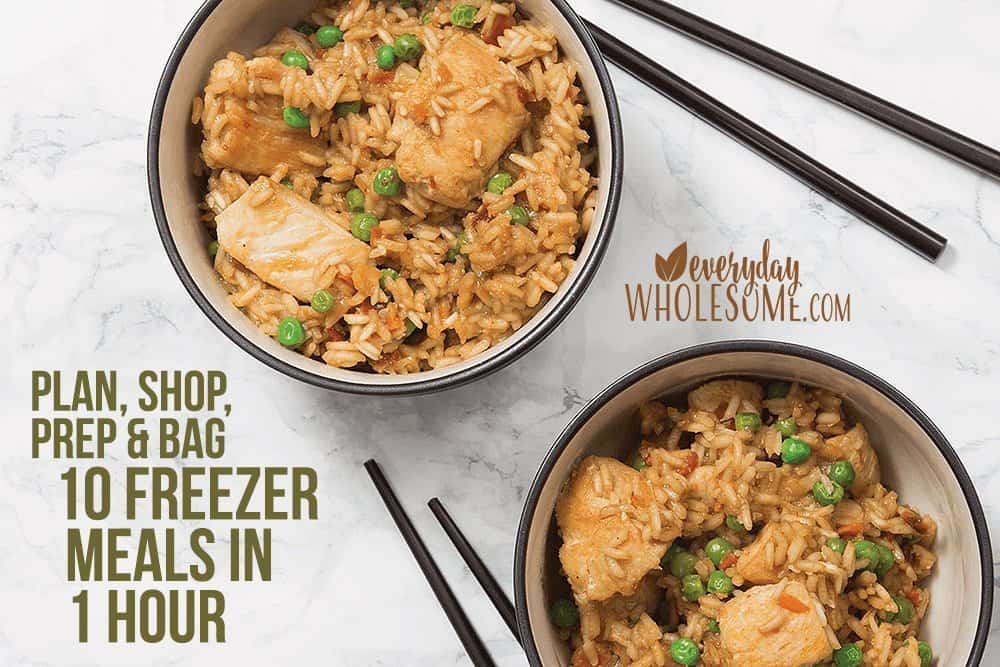 FREEBIE DOWNLOAD