Organic Fleece Cotton Baby Pajamas Products | Toddler Nightgowns
This post includes some of my hacks as a mom looking for non-toxic, safe pajamas that do not include fire retardants and chemicals. Tight-fitting pajamas for kids are often safe and do not include chemicals but looser pajamas like nightgowns must have fire retardants in the US. These are my hacks to find or make safe alternatives to these pajamas for toddlers and babies.
The fact that this is even a blog post is infuriating to me. Moms are unknowingly exposing their children and babies to chemicals. We have to be on guard about all things everywhere these days and it makes me mad.
This post may contain affiliate links which means if you purchase from one of these links I may receive a commission at no cost to you that will support this blog and my family. Thank you for your support!
**COUPON CODES & DISCOUNTS**
Use THIS LINK & the code WHOLESOME for 10% off Castleware Baby Organic Sleepwear!
MORE DISCOUNTS & FREE THINGS FOR SAFE, NATURAL BABY PRODUCTS!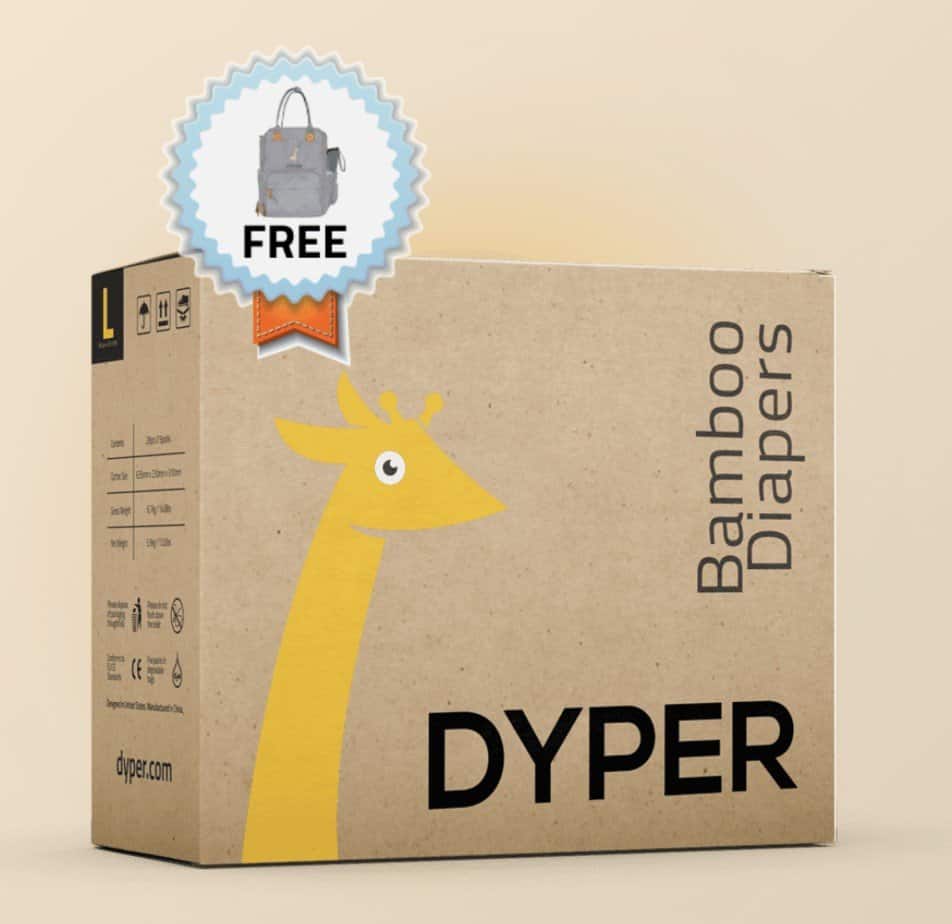 DOES SLEEPWEAR NEED TO BE FLAME RESISTANT?
The best way to protect your kids is to prevent a fire in the first place.

Cleveland Clinic [link]
This is my opinion. You can do what is best for your family. I prefer not to expose my kids to chemicals when I can!
TOXIC CHEMICALS ADDED TO PAJAMAS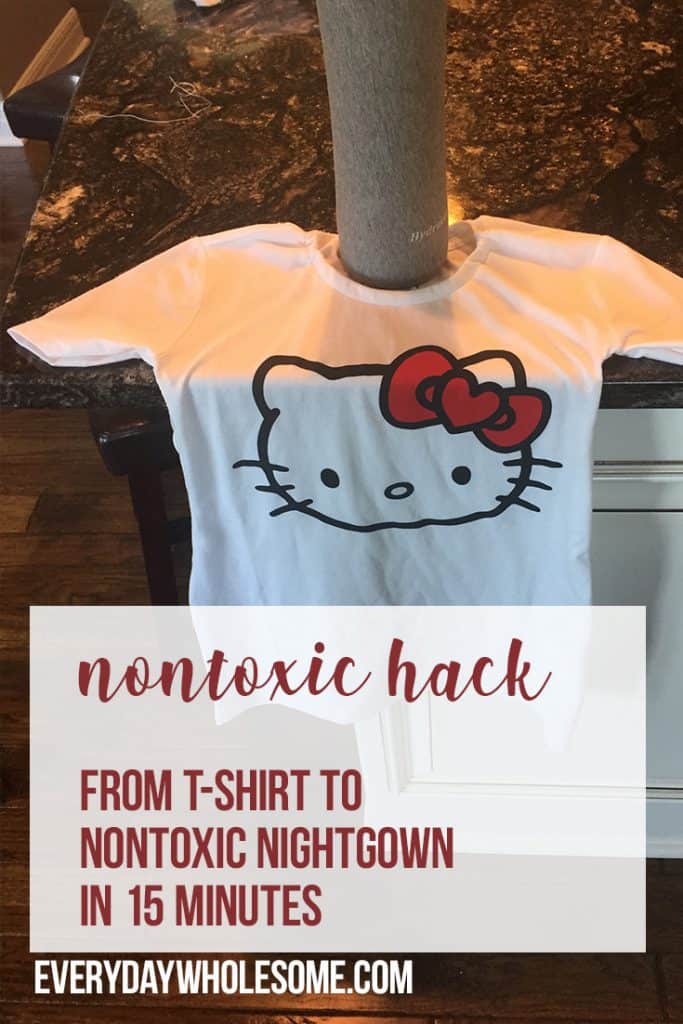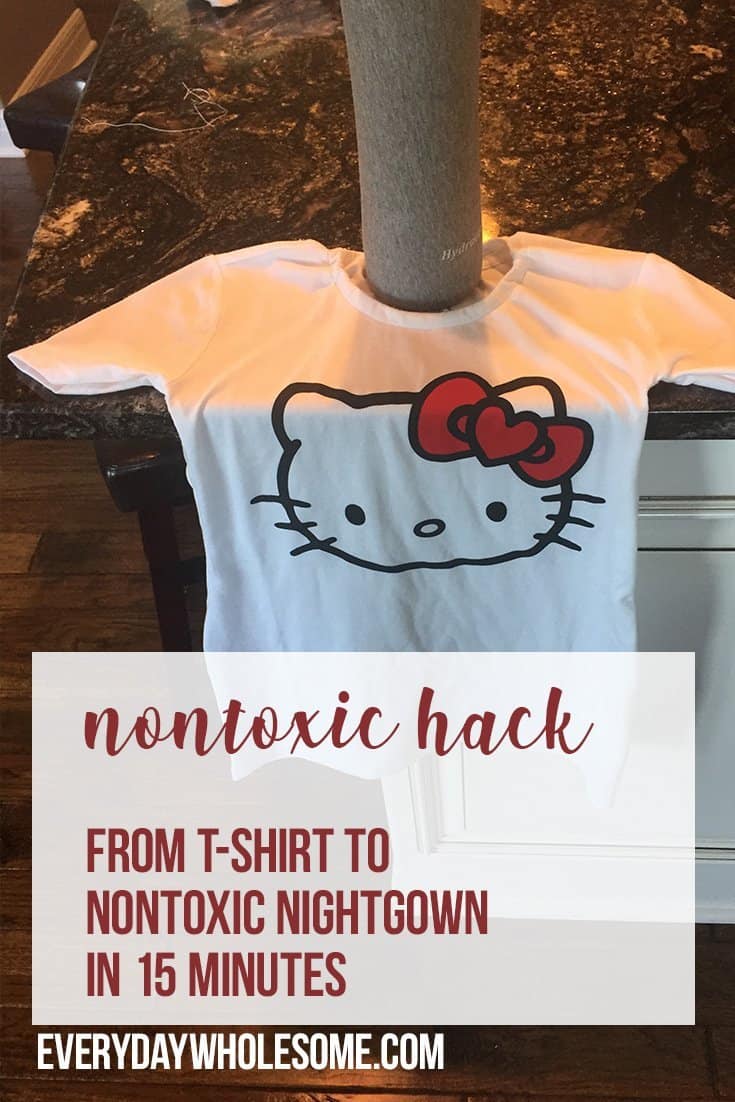 HOW TO BUY SAFE, NATURAL, ORGANIC PAJAMAS FOR KIDS?
If you buy tight-fitting pajamas with a yellow tag that is made of an organic, natural fabric you are good to go! But what if your daughter wants to wear a nightgown to bed that won't cause hormonal imbalances, thyroid disruption and delayed development? You'll have to think outside the box! Unfortunately all nightgowns in the US are treated to be fire resistant.
#1. NATURAL FABRIC, TIGHT FITTING PAJAMAS WITH YELLOW TAG.
Tight-fitting pajamas often do not include fire retardants. They have a yellow tag that says they must be worn tight-fitting.
#2. MAKE A DIY NIGHTGOWN FROM A LADIES TEESHIRT
I am not much of a sewer. I tried this once with one set of shirts and within a year they all fell apart so I switched to my #3 tip below and started buying organic cotton dresses to use as nightgowns. But for some of you who are better seamstresses than I am….comment and tell me how you did!!! !
I used this tutorial…
Easy Upcycled Pajamas: From T-shirt to Nightgown in 15 minutes.
#3. BUY A CUTE, NATURAL FABRIC DRESS THAT COULD BE WORN AS A DRESS
I find organic cotton, natural fiber dresses that could pass for nightgowns. I try to buy them on sale or buy them larger so they will last a few years. Here are a few of our favorites….. CLICK TO FIND OUT MORE…..
#4. BUY USED NIGHTGOWNS AND HOPE THE FIRE RETARDANT CHEMICALS HAVE BEEN WASHED OUT.
This is my least favorite option. I have never done that but I've heard about this option.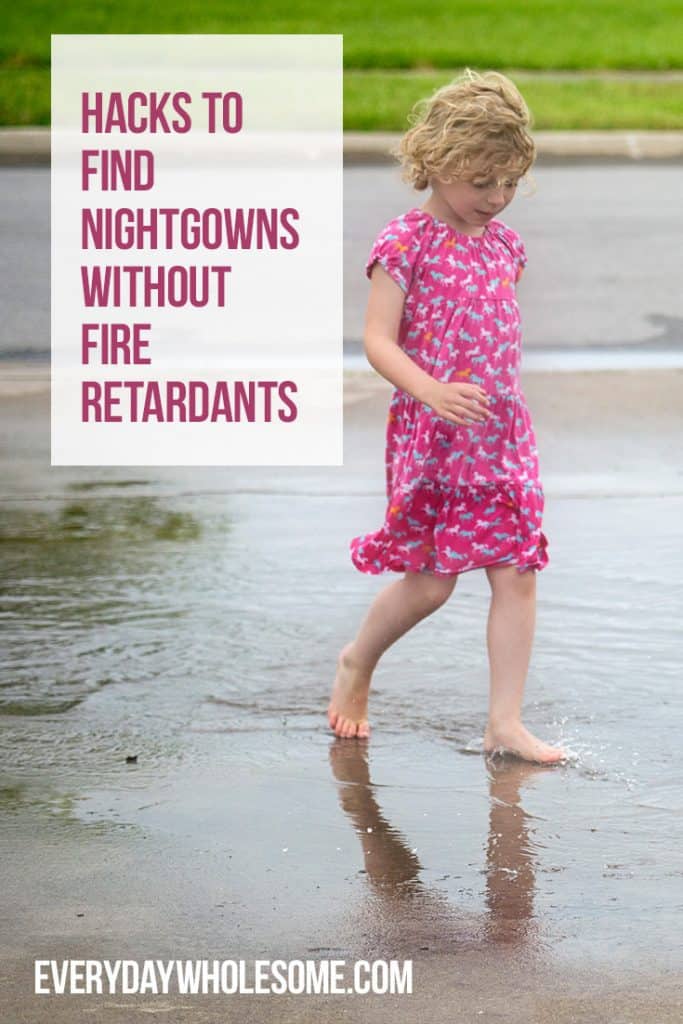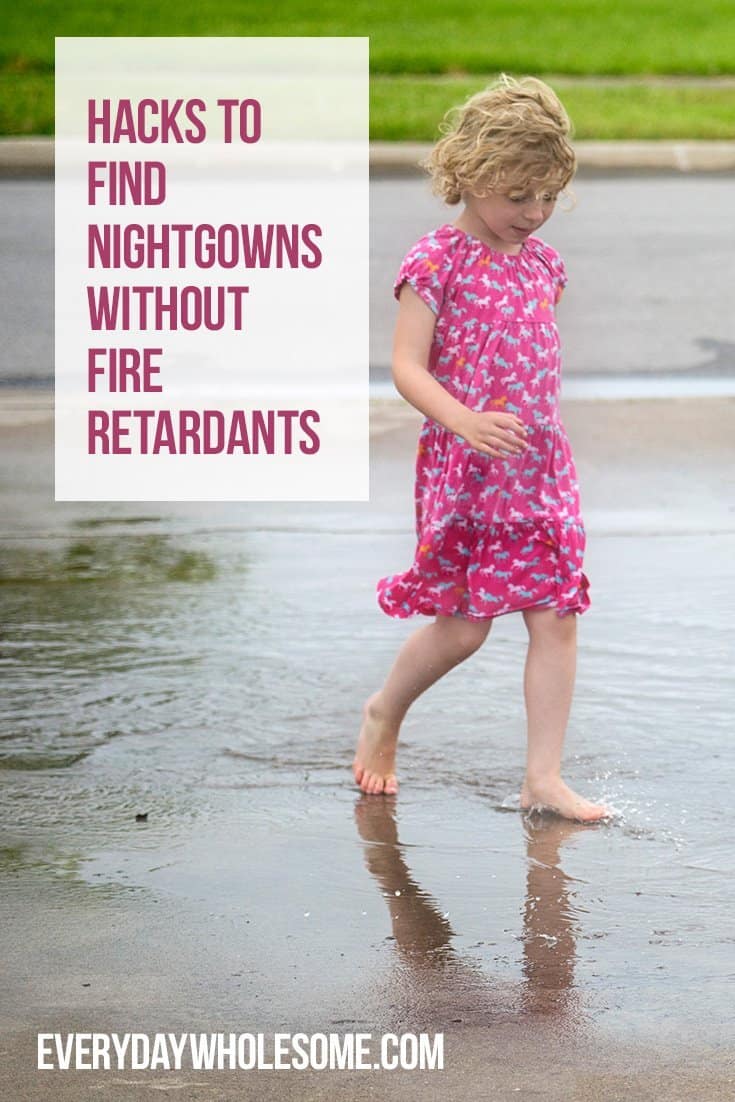 ARE FLEECE PAJAMAS SAFE?
Fleece is synthetic so it isn't as breathable and some say it can lead to overheating.
Some babies and kids may be sensitive to synthetic fibers.
These synthetic fabrics are often treated with chemicals.
Fleece is made of recycled plastic soda bottles. I know I don't really want to wrap my kids in plastic to sleep. This plastic is heated (we know that's not good and leaches chemicals) and they use heavy chemicals to clean and remove labels.
The same people who are removing plastics from their lives, who know that plastic bottles contain estrogenic-releasing toxins, may not be aware they are wearing those same plastic bottles….When plastics are heated they release toxins whether they are in water bottle form and we drink the toxins, or in the form of clothing. Holding plastic against your warm skin could have the same effect…..The biggest concern may be fleece pajamas, where the material is pressed directly against the skin for an eight-hour stretch under warm blankets. If the person is sick with the flu and fever, sweating slightly acidic sweat, the situation is potentially more dangerous.

Weston A Price Foundation
You can decide what is best for your family. I have some alternatives below.
IS THE MERLIN SLEEPSUIT SAFE OR FILLED WITH CHEMICALS?
Is the Magic Sleepsuit sprayed with any flame retardant chemicals?
The fabrics used in the Magic Sleepsuit are not sprayed with any chemicals, and there are no flame retardant chemicals in the fabric. Every Purchase Order we place specifies that no flame retardant chemicals are to be used in the manufacturing of the Magic Sleepsuit. The Magic Sleepsuit does comply with all CPSIA flammability and safety requirements as required for all infant sleepwear products up to 9 months of age. Flammability requirements change for sleepwear over 9 months of age, but the Magic Sleepsuit largest size is 6-9 months.

[from magicsleepsuit.com]
There is a fleece and a cotton version of the Merlin Magic Sleepsuit.
What is the difference between the microfleece version and the cotton version of the Magic Sleepsuit?

Both versions have the same jersey cotton inner layer and the same layer of polyfill. The only difference is the outer layer – microfleece in one and jersey cotton in the other. By nature of the fabric, microfleece is a bit more cozy and puffy, and cotton a bit more breathable and flexible. Both versions should be used in rooms at an appropriate temperature for a baby. We offer both versions to give our customers a choice based on their fabric preference. Please keep in mind that the cotton version will be more likely to shrink with laundering.

[from magicsleepsuit.com]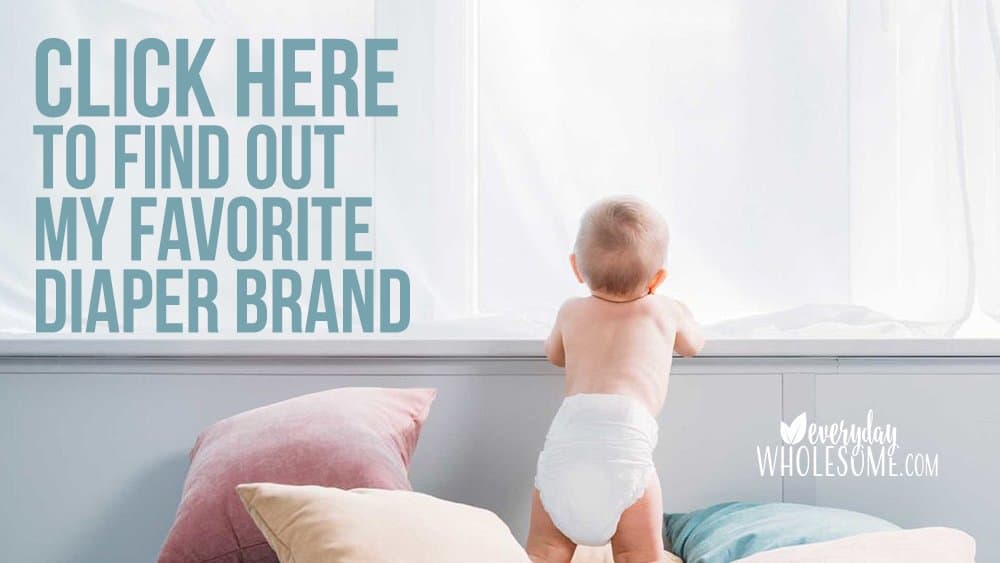 THE BEST SAFE, AFFORDABLE NATURAL DISPOSABLE DIAPER BRAND
This brand made me switch after 8 years of cloth diapering to using disposable diapers!!! Read the full post here.
Why I love this brand…..
It's super easy to order.
Their customer service is THE BEST.
They don't stink.
They are SUPER absorbent!
The cost is consistent.
They are inexpensive for safe, natural bamboo diapers…..that actually work!!!
They only have one color. It's simple. I love simple.
COUPON AND PROMO CODES FOR FREE STUFF!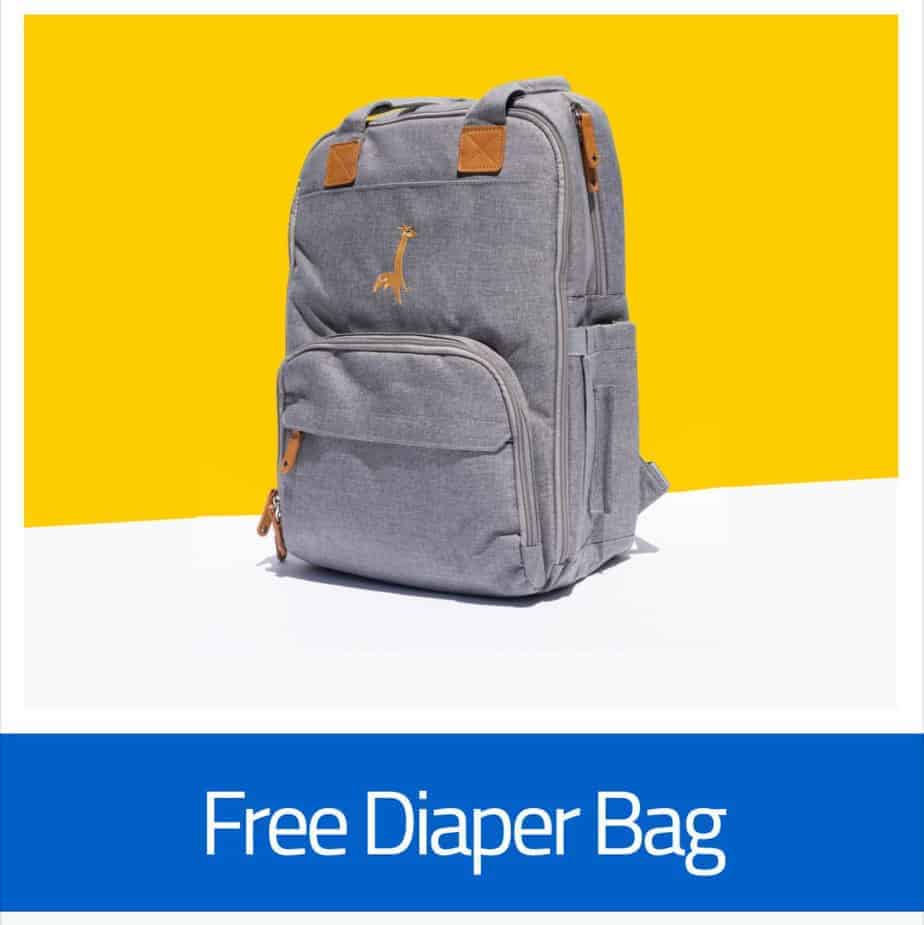 MERLIN SLEEP SUIT ALTERNATIVE. FLEECE PAJAMA ALTERNATIVE.
If you don't like the polyfill of the Merlin Magic Sleepsuit or if you have BIG kids like me who grow out of the sleepsuit quickly, I have found some alternatives that have worked really well for me.
ERGOPOUCH 2.5 IS MY FAVORITE MERLIN SLEEPSUIT ALTERNATIVE. Find it here. You can go up a size or two also and just roll up the sleeves and the feet. The smaller sizes have mitts that can be rolled over. All of the sizes have the feet that can open and close as needed. I love that feature!
CASTLEWARE BABY ORGANIC FLEECE FOOTIES. Find them here. After I got these I set them aside thinking I wouldn't need them and then one day I got them out and I'm so glad I did! We love them! They are adorable. They are comfy. They fit perfectly. My only complaint is that the feet do not open. BUT the grippies on the feet are actually grippy (unlike Carter's fleece pajamas that inevitably make my children slip and fall…every time they wear them!)
FIND ORGANIC SLEEPWEAR & DISCOUNT CODE
Use THIS LINK & the code WHOLESOME for 10% off Castleware Baby Organic Sleepwear!
PIN TO PINTEREST.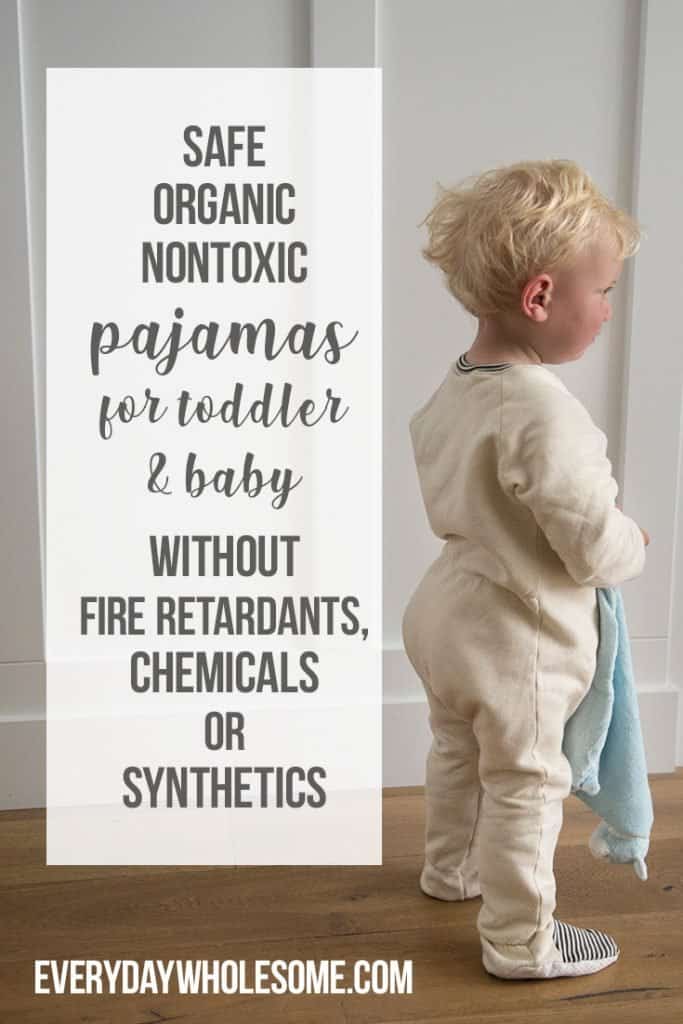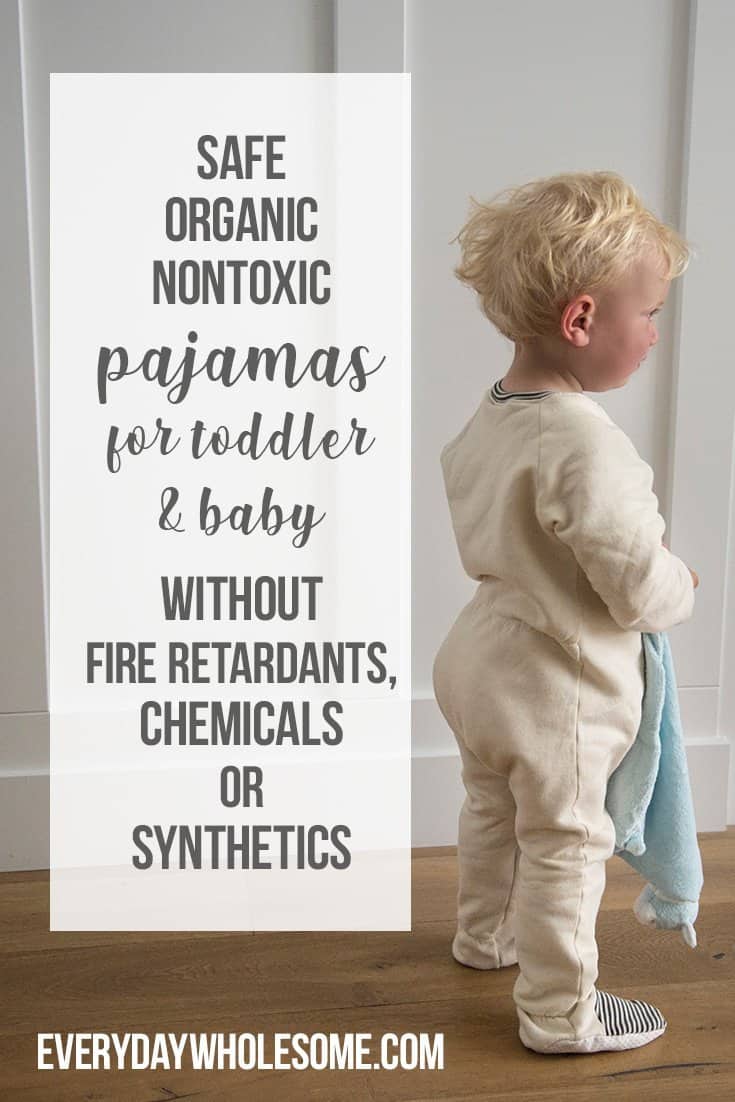 FREEBIE DOWNLOAD