Ultimate Nontoxic Laundry Room Guide | Safe & Natural Detergents, Fabric Softeners
This post is one of the most important when you are on your toxin-free home journey. If you are wondering if toxins matter, read this book. Dr. Myers shares just enough about toxins and all other things health so that you understand why it matters to EVERYONE. Not just to some of us.
Toxins are lurking everywhere and they overtax our immune system and cause inflammation and are one of the many factors making us sick. THE LAUNDRY ROOM is the most toxic!!!
Have you ever walked down the street and smelled someone's fabric softener coming out their dryer vent?! Have you ever smelled someone's clean laundry on them? Those fragrances are toxic and the cleaners in the detergents and fabric softeners are toxic.
And if you are looking for a place to start….start in the laundry. I feel like it's more simple than the bathroom or kitchen.
This post may contain affiliate links which means if you purchase from one of my links I may receive a small commission at no additional cost to you! Thank you for supporting my family!
PIN THIS TO YOUR SAFE HOME BOARD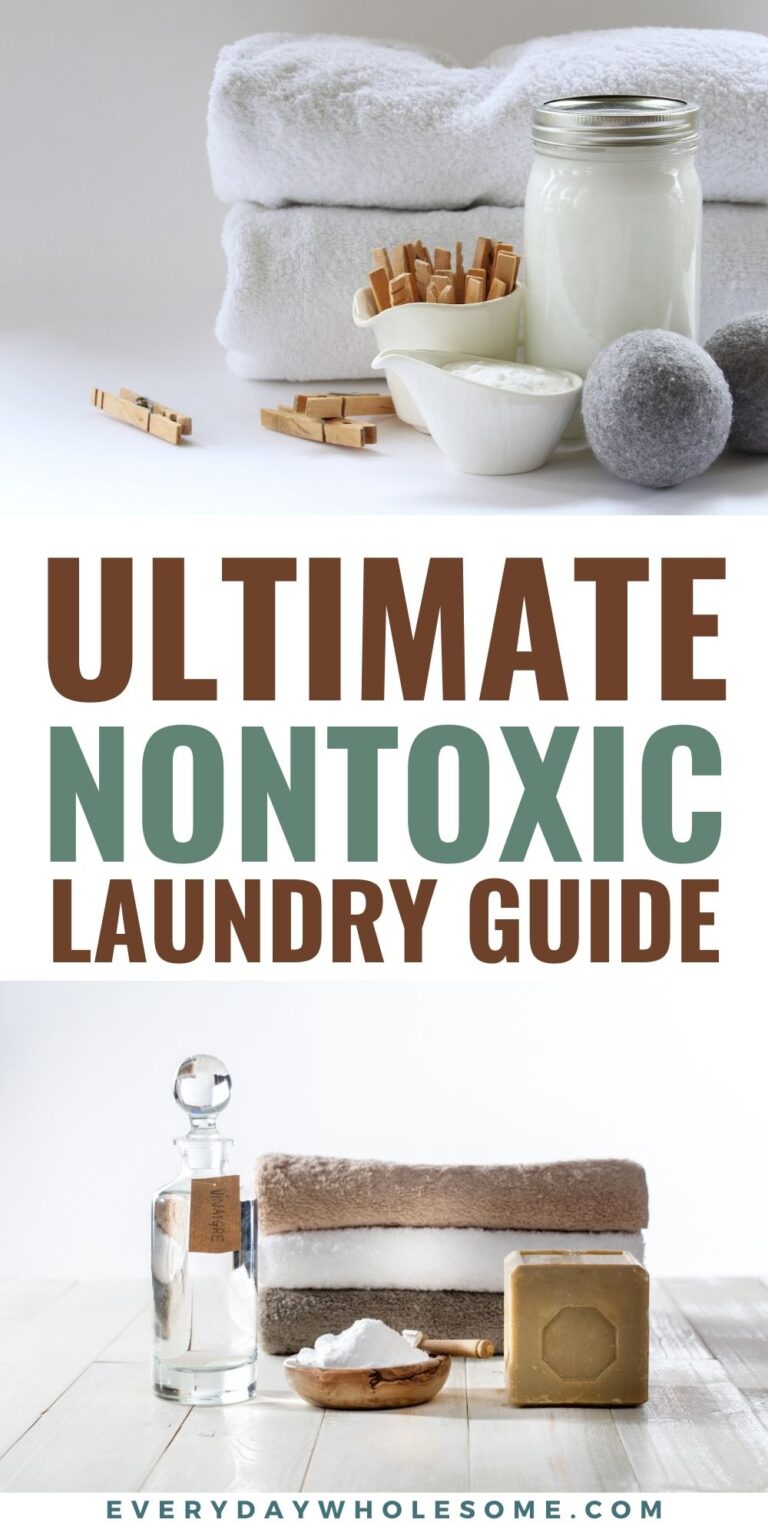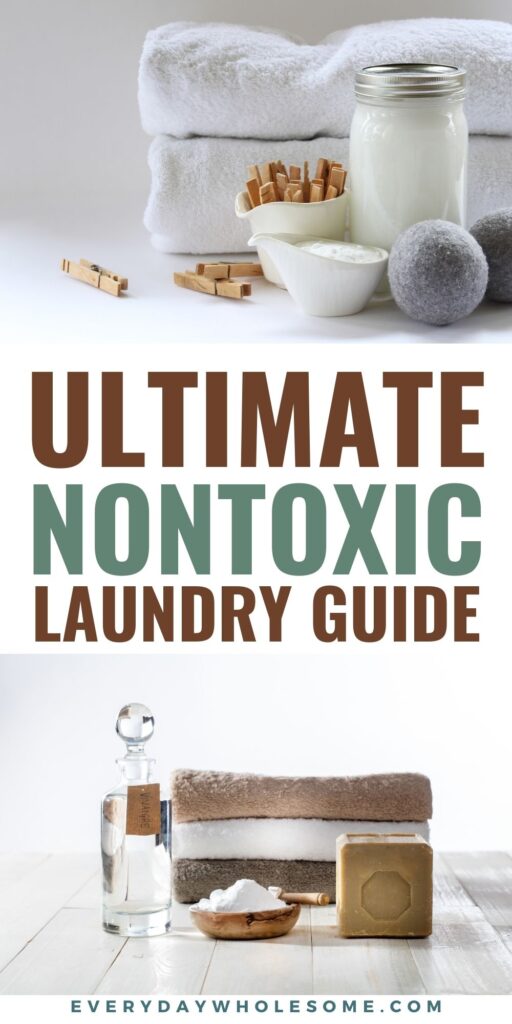 FIRST, A FEW TIPS
I have been on this journey for almost 10 years and have tried a LOT of natural products.
PLEASE BEWARE of mislabeling. There are many products labeled "natural" and even "nontoxic" that are in fact VERY toxic.
#1. Start researching ingredients. Make sure you know what is in the products you are buying.
#2. Start researching companies. Some companies are "greenwashers" who label products as natural to sell more products but they are lying to you. It's a shame. But it's true.
#3. Use websites like ewg.org to search and research products. They make it so much easier to understand what's safe and what's not.
#4. Go simple. Make your own and use simple products where you can.
MY NONTOXIC LAUNDRY PRODUCTS – SAFE LAUNDRY DETERGENT #1
I use 2 different detergents now.
My laundry cabinets are nearly bare and it's such a nice feeling. My products are very concentrated. So I use very little and I honestly only have a couple things in there. The rest of my laundry room cabinets I use to store my cleaning cloths!
#1. My go-to laundry detergent is Sal Suds. I have an entire post about it here.
I buy 1 gallon at a time now every 6 months or less, because I use it for my laundry, dishes & dishwasher.
I use this bottle in my laundry room with a pump top like this.
I use 2-3 pumps in my washing machine for my loads.
I also add vinegar to the fabric softener container in my washing machine.
That is all. Clean. Done. And Sal Suds has a slight smell so it's a win win!
MY NONTOXIC LAUNDRY PRODUCTS – SAFE LAUNDRY DETERGENT #2
#2. For extra smelly laundry (workout clothing) or for my whites I use this powdered detergent.
Since it is not on EWG, I researched every single ingredient in it when I first discovered it.
Here they all are for you!
Sodium Carbonate (Mineral-Based) (Water Softener); – EWG RATING 1 / GREEN
Sodium Citrate (Plant-Derived) (Water Softener/Chelator); – EWG RATING 1 / GREEN
Tetrasodium Iminodisuccinate (Plant Modified Synthetic) (Water Softener/Chelator); – EWG RATING 1 / GREEN
Sodium Carbonate Peroxide (Mineral-Based) (Oxygen Cleaner); – EWG RATING 1/2 / GREEN
Sodium Dodecylbenzenesulfonate (Synthetic) (Surfactant); – EWG RATING 1 / GREEN
Alcohol, C10-12, Ethoxylated Propoxylated (Plant-Modified Synthetic) ( Surfactant); – LEVEL OF CONCERN – LOW
Alcohol, C9-11, Ethoxylated (Plant-Derived) (Surfactant); – LEVEL OF CONCERN – LOW
Sodium Silicate (Mineral-Based) (Corrosion Inhibitor). – GREEN / B
I also use this powdered detergent as my travel detergent. I take it in a little cup with me when I travel. I wash clothes in the sink at a hotel. Then I hang it to dry! It's brilliant!
And I use it to wash my cleaning cloths & whites & anything stinky like workout clothing. I find it does an exceptional job at getting clothes clean!
Wash something in your sink with a pinch of it and you'll be amazed!
MY NONTOXIC LAUNDRY PRODUCTS – FABRIC SOFTENER #1
For those of you who like things that are easy……this is for you!
I buy gallons and gallons of vinegar! It works!
I fill up my fabric softener drawer in my washing machine with vinegar and it softens my clothing and my towels beautifully!!!
I also have another gallon under my kitchen sink for my dishwasher. I use a ramekin of it in my top rack as my rinse aid! It makes my mason jars sparkle!!!!
MY NONTOXIC LAUNDRY PRODUCTS – FABRIC SOFTENER #2
I add this to my fabric softener drawer in my washing machine if I have time to make it. Otherwise I just use vinegar!
NOTE ABOUT TOWELS: If you are really struggling with towels, this might help! You also might have to strip them of your old chemicals first. This can be a pain.
NOTE: This is my old recipe. I honestly don't make much anymore. My Vinegar works so well and doesn't require a lot of effort!

MY NONTOXIC LAUNDRY PRODUCTS – STAIN REMOVER #1
This is my easy version.
I just add a squirt of Sal Suds to the spot.
OR You can add a spray of Thieves Household Cleaner or DoTerra Cleaner if you have one of those handy!
MY NONTOXIC LAUNDRY PRODUCTS – STAIN REMOVER #2
Mix one part Sal Suds soap with two parts hydrogen peroxide.
Be careful with this. It can stain. But it does work.
DRYER BALLS & STATIC ELECTRICITY
Dryer Balls help your laundry to dry faster.
You can also add safety pins to your dryer balls to help with static electricity!
AND you can add essential oils to add smell as your laundry is drying.
BUT HOW WILL MY LAUNDRY BE SOFT?
Between the baking soda and vinegar, your laundry will be soft. And, don't forget your towels will actually be absorbent again…ok maybe not until you get new ones. The toxic fabric softener sheets you have been using actually coat the towels and make them less absorbent.
NONTOXIC LAUNDRY DETERGENTS, STAIN REMOVERS, DRYER BALLS & FABRIC SOFTENERS YOU CAN BUY!
No tags for this post.