Stretchy Swaddle Blanket | How to make DIY Baby No Sew
Summary: Easy instructions on how to make a no sew stretchy swaddle blanket from 100% cotton stretchy jersey, my favorite material. I also included information and a graphic on how to swaddle a (newborn) baby and when to stop swaddling.
This post may contain affiliate links which means that if you click on a link in this post I might earn a small commission at no cost to you. Thank you for supporting my blog and my family!
Shhhh. Don't tell my baby boy I used pink in the photo above to match his cute pink cheeks.
He won't know if you don't tell him. Shhh.
HOW TO MAKE A DIY STRETCHY NO SEW SWADDLE BLANKET
I have big babies.
They need big swaddle blankets.
I have strong babies.
They get out of their swaddle blankets.
I started making my own swaddle blankets that they can't get out of as easily.
I also don't love to sew.
It's because I'm not proficient at it so it takes a lot of extra time that I don't have.
So, most (probably all) of my DIY projects on this blog will be "no sew."
WHY DON'T I LIKE ALL THE OTHER SWADDLE BLANKETS?
I couldn't be the only one who doesn't love muslin. Right? I want to love it. I want to love the these swaddle blankets like everyone seems to love them but I truly hate them. I'm so ashamed. It's my deep dark mommy secret. I don't like any of the swaddle blankets on the market really.
The muslin swaddle blankets stretch out after a nap or two and don't hold the babies as snug.
They always seem too small. I ALWAYS struggle with them. I actually cried when my first baby was a newborn (I was first-baby-tired and I couldn't get the swaddle blankets to work and I had a mommy meltdown, begging my husband-with-earplugs-in to wake up and swaddle the baby…boohoo). Granted my first baby was 9.5 pounds so she was basically a 3 month old from birth…no wonder I had problems!
I like a little stretch in my swaddle fabric. My kids seem to be swaddled until they're 2 years old….just kidding but only kind of. As my large babies get bigger, my swaddle problem gets bigger too. The little bit of stretch in a 100% cotton stretch or "jersey" fabric just helps me to keep baby snug.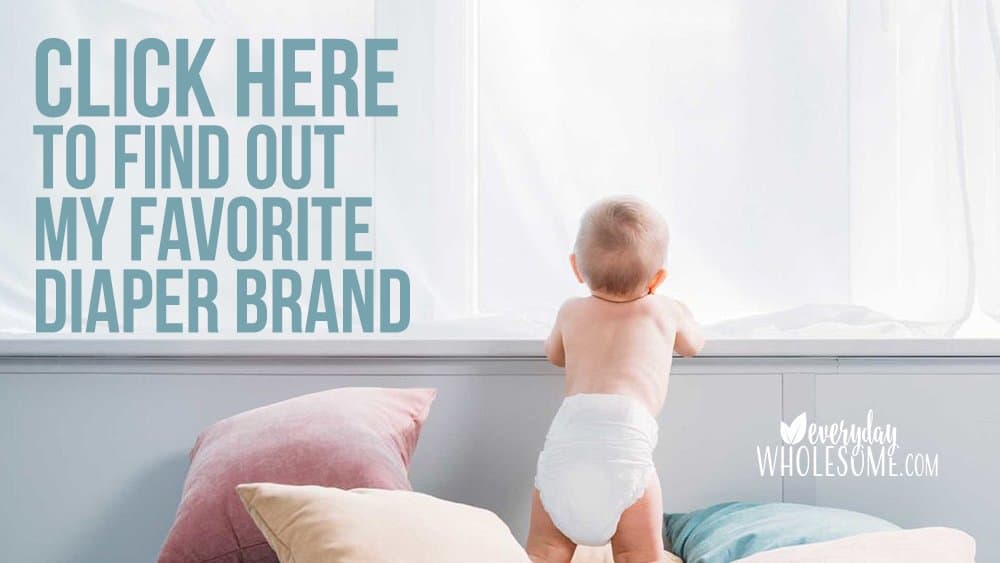 THE BEST SAFE, AFFORDABLE NATURAL DISPOSABLE DIAPER BRAND
This brand made me switch after 8 years of cloth diapering to using disposable diapers!!! Read the full post here.
Why I love this brand…..
It's super easy to order.
Their customer service is THE BEST.
They don't stink.
They are SUPER absorbent!
The cost is consistent.
They are inexpensive for safe, natural bamboo diapers…..that actually work!!!
They only have one color. It's simple. I love simple.
COUPON AND PROMO CODES FOR FREE STUFF!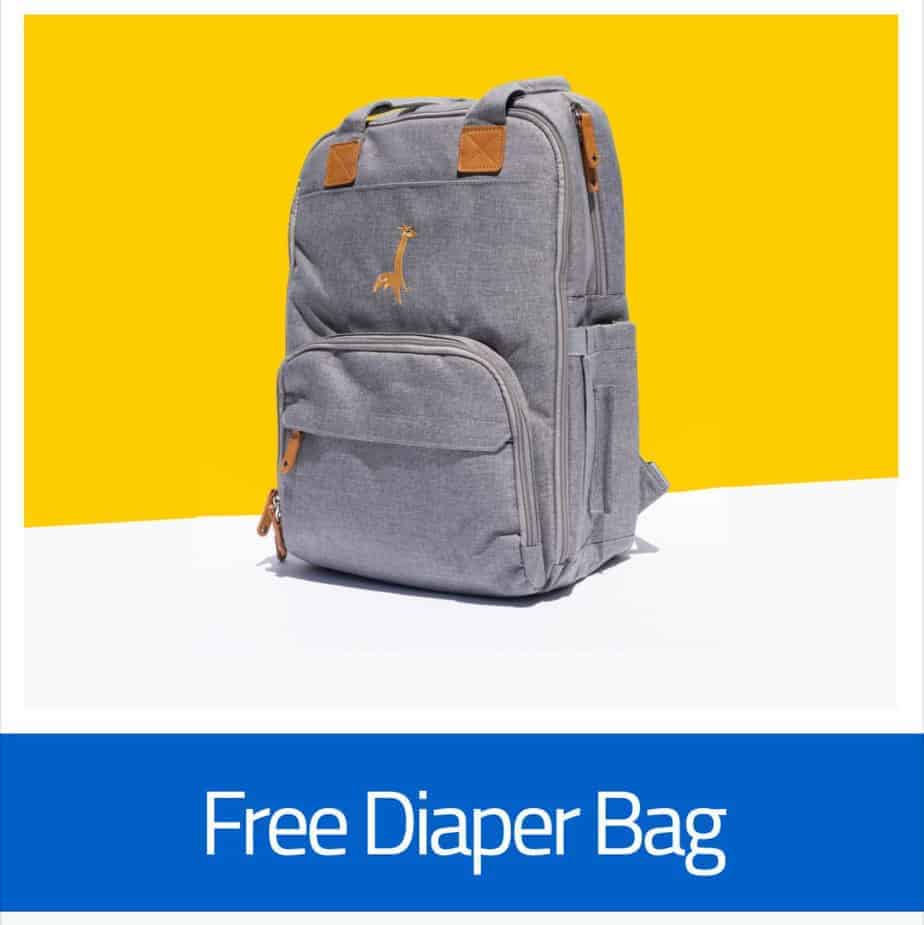 WHY DON'T I LIKE HALO SLEEPSACKS OR MIRACLE BLANKETS?
To be fair, I only tried a few of these magical blankets and I only tried them on my first baby.
And, she was a tremendous spitter upper and I needed a new swaddle blanket for every nap.
She also only took 30 minute naps for about a year and so it would have cost me approximately $500 a month (I said approximately!) to buy new fancy swaddle blankets in the right sizes every month (as she grew and the blankets were sized) so she could have a fresh one at every nap.
And I'd still be doing fancy, miracle swaddle blanket laundry today. (Instead with my DIY blankets, I can turn the swaddle blankets around because they are a solid piece of fabric so that the spitty part is now wrapped up inside or around her feet and I can use one blanket for more naps….meaning… less laundry.
All moms need less laundry.
Halo sleepsacks and SwaddleMe swaddlers come in sizes so they are not one size fits all. I always felt like its as wasteful (read: too expensive) to buy 3 or 4 of each size just to replace them as the babies grow. (My giant babies grow so fast!)
And then I'm not even sure if they will last as long as I will need them to last because my babies are larger than average and they like to be swaddled until preschool…not really but it feels like it. I think I tried the Miracle Blanket when baby #1 was new. Not sure what I didn't like about it.
Forgive me…it's been a lot of years now and I was tired. Oh so tired. First baby tired is a REAL THING by the way.
PIN THIS TO YOUR BABY DIY BOARD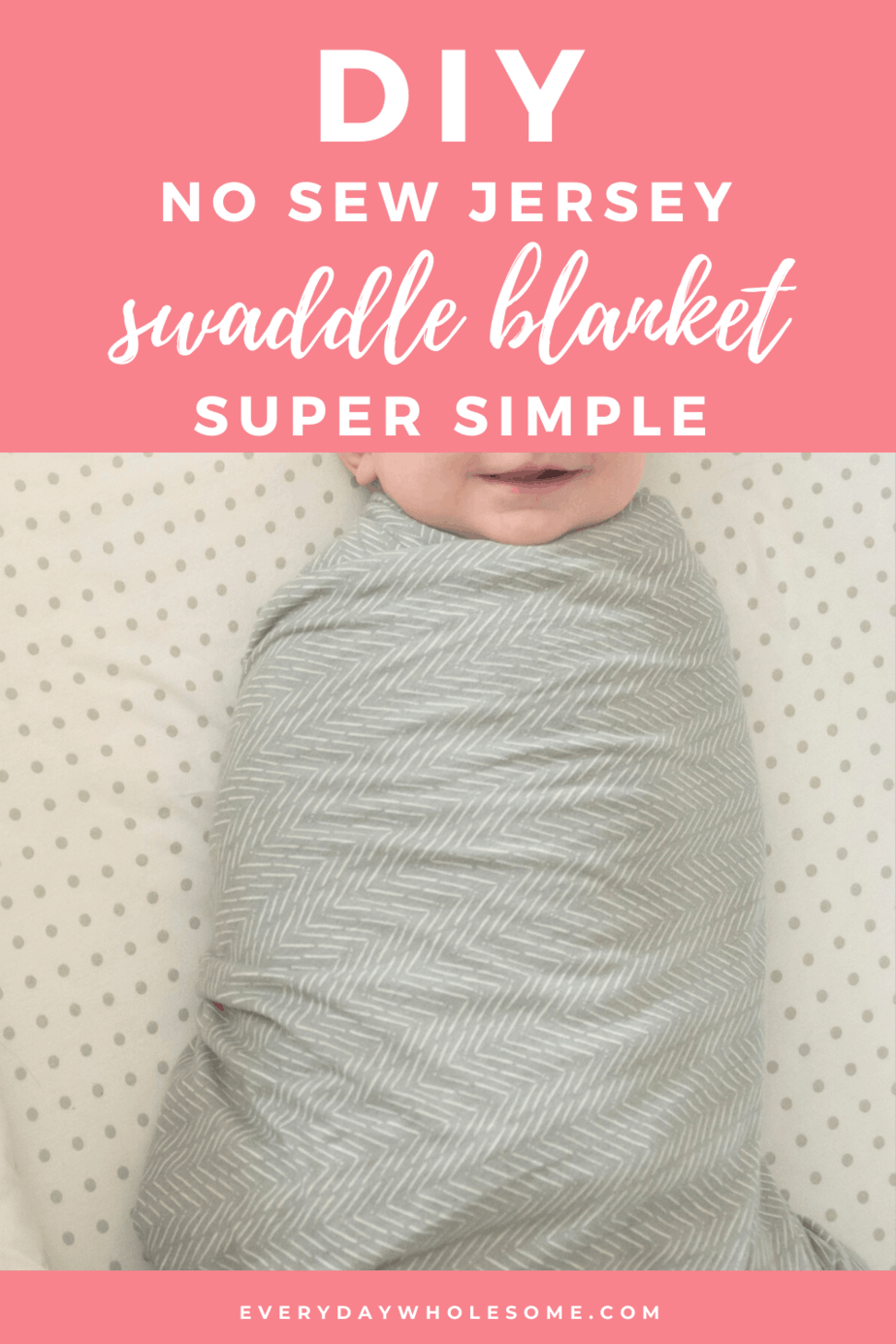 MY ALL TIME FAVORITE DIY SWADDLE BLANKET FABRIC
I included information in the next section on the other fabrics I tried in case you're curious or want to try them.
These are my favorite…my go to. I love these. They don't say stretch anywhere online though. I had to go into the store and ask and it was quite an ordeal. If you try this fabric and it's not the right kind of stretch, will you let me know?
RUNNER UP. The Target Jersey Sheets in the Twin Fitted. I cut off the elastic only. I keep the pockets in the corners because it didn't matter. But apparently the size was the perfect size for my chunky babies and this was one of my favorites for a LONG night where I wanted him to sleep.
TOO HOT BUT NICE STRETCH & SOFT. The stretch fabric I found at online fabric stores was stretchy but it had synthetic fabric in it and was too thick and hot.
HOW BIG ARE YOUR BABY SWADDLE FABRICS?
I BUY TWO YARDS of fabric for each swaddle blanket. You might decide to cut yours smaller if you have normal sized children. I have tried 1.5 yards and I always prefer the 2 yard size. If you want to cut it down in size you can cut it in any shape you prefer.
If you prefer a triangle verses the rectangle/square I like….you can cut it in half at an angle and make two blankets. I preferred 2 yards of fabric!
PIN THIS TO YOUR DIY BABY PINTEREST BOARD

HOW TO MAKE THE DIY SWADDLE BLANKET.
You just cut the fabric. That's all. IT'S REALLY THAT SIMPLE. Jersey fabric rolls on the edges so there's not finishing necessary.
It's so simple I forgot to say and had to add this section in later after some friendly commenters. Thank you friends!
With thinner jersey fabric I would fold it in half at the top. The thicker jersey fabrics I would use it in a single layer.
OTHER STRETCHY JERSEY 100% COTTON FABRICS FOR DIY NO SEW SWADDLE BLANKETS
Jersey, by definition, means it has some synthetic in it as far as I know, in my teeny bit of fabric knowledge, so you're looking for stretchy 100% cotton basically.
Here are the fabrics that I have tried…..
(A FAVORITE listed above) Target or Walmart jersey sheets in TWIN. These are my favorites and they are in the photo above. FYI. I bought them a second time, about 6 months after my first purchase and they didn't seem as soft. Maybe it's 6 months of washing. Maybe it's a new fabric. I'm not sure.
WHAT SIZE sheets make good no sew swaddle blankets? Twin sheets give me 2 swaddle blankets plus the pillow cases (which can be used as burp cloths or to lay down on the changing pads for example). King sheets aren't exactly 2x as big as twin sheets but they are often exactly 2x the cost so I actually get more fabric for the money if I buy twin sets.
Fabric stores online. I have not loved the fabrics I have purchased online. They have been too heavy for me. But that might be great for winter months.
Fabric Wholesale Direct. Cotton Jersey. It's 95% cotton. 5% spandex. If you want to use organic or art least natural fabrics, don't choose this one.
HOW TO SWADDLE A BABY USING MY DIY NO SEW SWADDLE BLANKET

WHAT IS A DOUBLE SWADDLE?
I didn't really even know this was a "thing"…the double swaddle, until researching for this post! But it's exactly what I have been doing with my bigger babies. There are two ways to double swaddle……
You either take a smaller, receiving blanket and put it around baby's arms to hold them down BEFORE swaddling in a regular swaddle.
Or, you can wrap the blanket around double, for a double swaddle.
Both are great ideas for an extra swaddle blanket for a Houdini baby or large baby who can get out of a regular swaddle and get loose!
HOW MANY DIY NO SEW STRETCHY SWADDLE BLANKETS DO I NEED?
It really depends on if you have a spitter baby. I only need three and that's probably too many.
One to use, one in the wash and one as a backup.
If you have a baby who is constantly spitting up and you need to wash them more often, you might need a few more. or you could rotate the blanket a few times so baby is not touching the wet part of the blanket and still wash it every few naps.
SOME WORDS OF CAUTION WITH STRETCHY SWADDLE BLANKETS & DIY SWADDLERS
BEWARE OF THE STRETCH. I don't know if it's a thing but it could be.
***Make sure baby can breathe and you don't pull the stretch so tightly that baby can't breath.***
BEWARE OF BABY'S NECK PART ONE. I like to swaddle w/ the blanket straight across at the top and I pulled too tightly once and I gave baby a friction burn on the neck. Cue mom guilt. So, beware and don't do that.
BEWARE OF BABY'S NECK PART TWO. Don't pull too tight around baby's neck for friction burns but also to be sure it's not too tight around his neck in general. Make sure it's not constricting his neck. I always pulled it down around his shoulders a bit to be sure it wasn't in the way of his neck at all and wouldn't be too tight.
BEWARE OF HEAT. I dressed baby in a onesie and a diaper only to keep him cool. And I liked the cooler, thinner fabrics for the swaddle blanket to try and keep him cool.
BEST SWADDLE FOR NEWBORN
I personally like a cotton or flannel receiving blanket like this one more for a newborn than this DIY Jersey No Sew Swaddle Blanket I'm telling you about in this post.
It's smaller and while it's tight, it can come loose if needed. I also think velcro swaddle blanket like this one might be best for a newborn!
RECEIVING BLANKETS VS. SWADDLING BLANKETS
A receiving blanket is usually much smaller. It is often cotton, 100% cotton, bamboo, jersey or flannel. It is often in a cute pattern and comes in a pack of 4 usually. It is usually much smaller than a swaddle blanket.
A swaddle blanket is usually larger and is made of a fabric that is best for swaddling and wrapping multiple times. I prefer a receiving blanket for newborns and a swaddling blanket for larger, older babies.
MY FAVORITE CARTER'S SWADDLE BLANKETS
I really love these Carter's Swaddle Blankets for newborns and feel like the example in this post of the stretchy swaddle blanket DIY so it can be any size is best for bigger babies and older babies.
WHEN TO STOP SWADDLING A BABY
You can use your best judgement mama. The advice is to stop when baby starts rolling over because you don't want baby to roll over onto his belly and not be able to get back.
HOW TO TRANSITION OUT OF THE SWADDLE BLANKET
We have had success using this amazing suit though I know it an be controversial. But what about motherhood isn't controversial really. Just do what feels right to you mama. Trust your gut.
After the Merlin Sleet Suit became too small I tried all the other sleep bags and suits I could find. So far this pouch is my favorite!
Before the Merlin Sleep Suit existed I just slowly eased her out of the swaddle, one arm at a time, etc. That was a LONG experience that I personally would not recommend. Oh if only babies and sleep were an easier thing.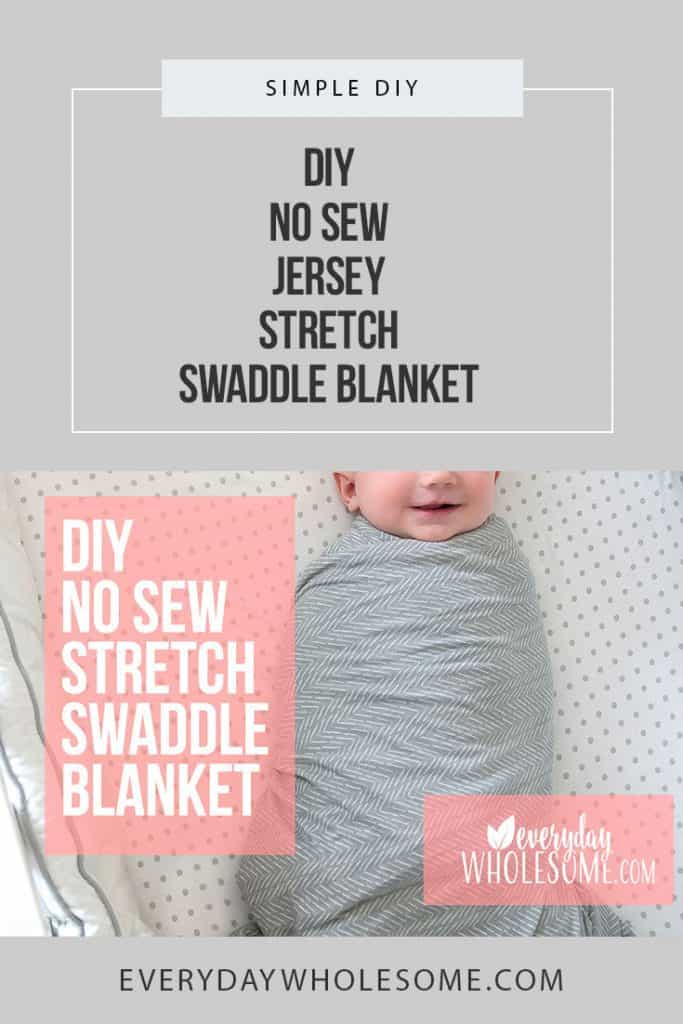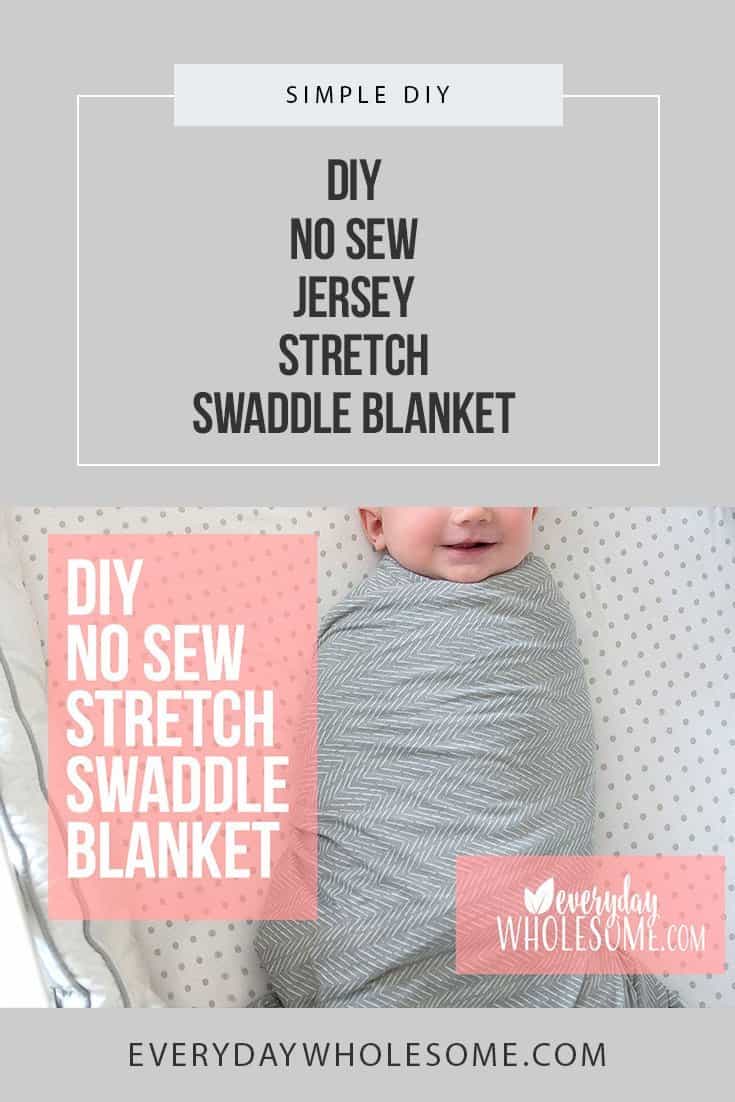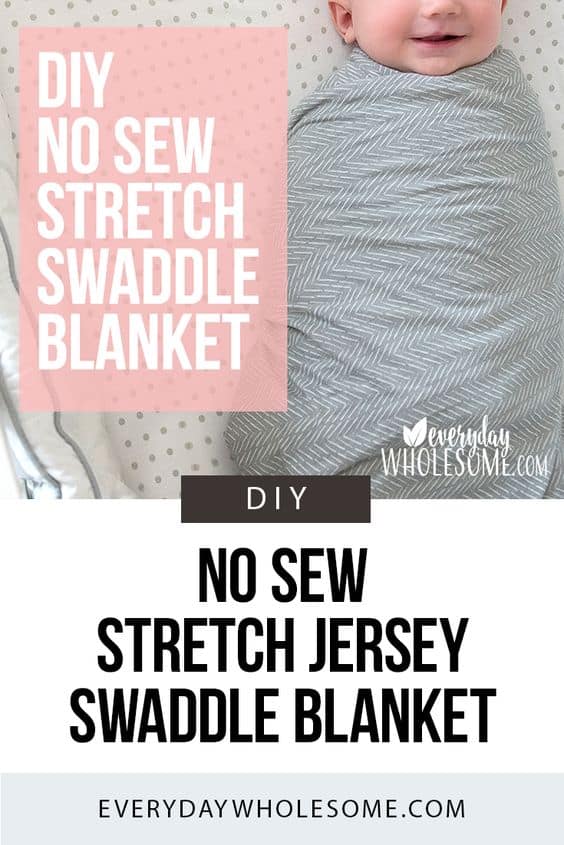 SHOP THIS POST - DIY No Sew Swaddle Blanket
FREEBIE DOWNLOAD