100 Best Thanksgiving Fall Table Centerpiece & Decorations
These are the best 20 Thanksgiving Centerpiece Table Decor Ideas for Fall, Autumn, Halloween. Some are DIY or copycat DIY with vases, mason jars & candle holders and all kinds of ideas for your holiday table home decor doecraotons. Some are pumpkins, tiered wooden trays, small wooden trays, painted mason jars, fabric pumpkins, place mats, place holders, white, orange, fall colors, painted signs.
This post may contain affiliate links.
PIN TO YOUR THANKSGIVING DECOR BOARD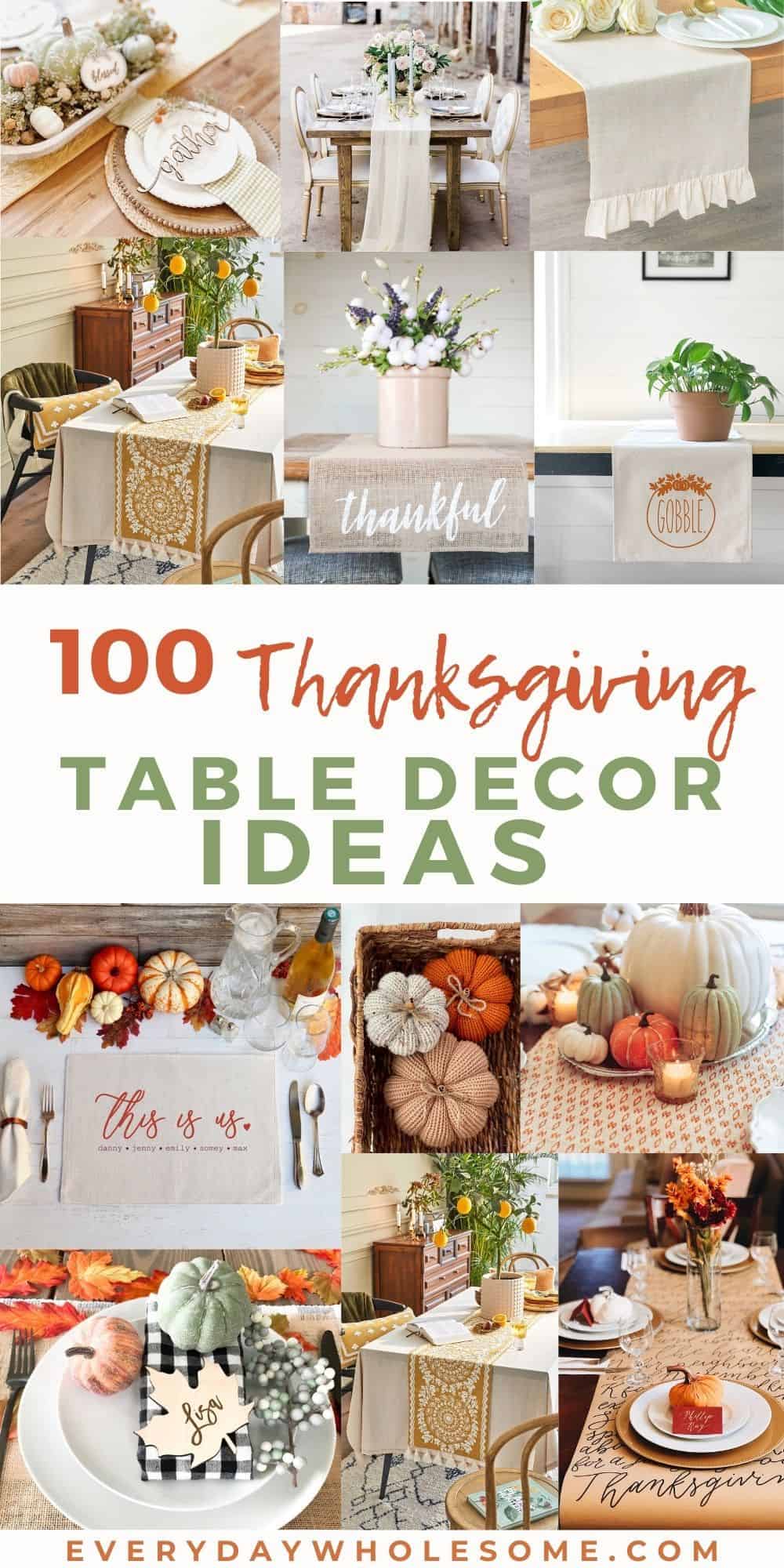 100 BEST THANKSGIVING CENTERPIECE AND TABLE DECOR IDEAS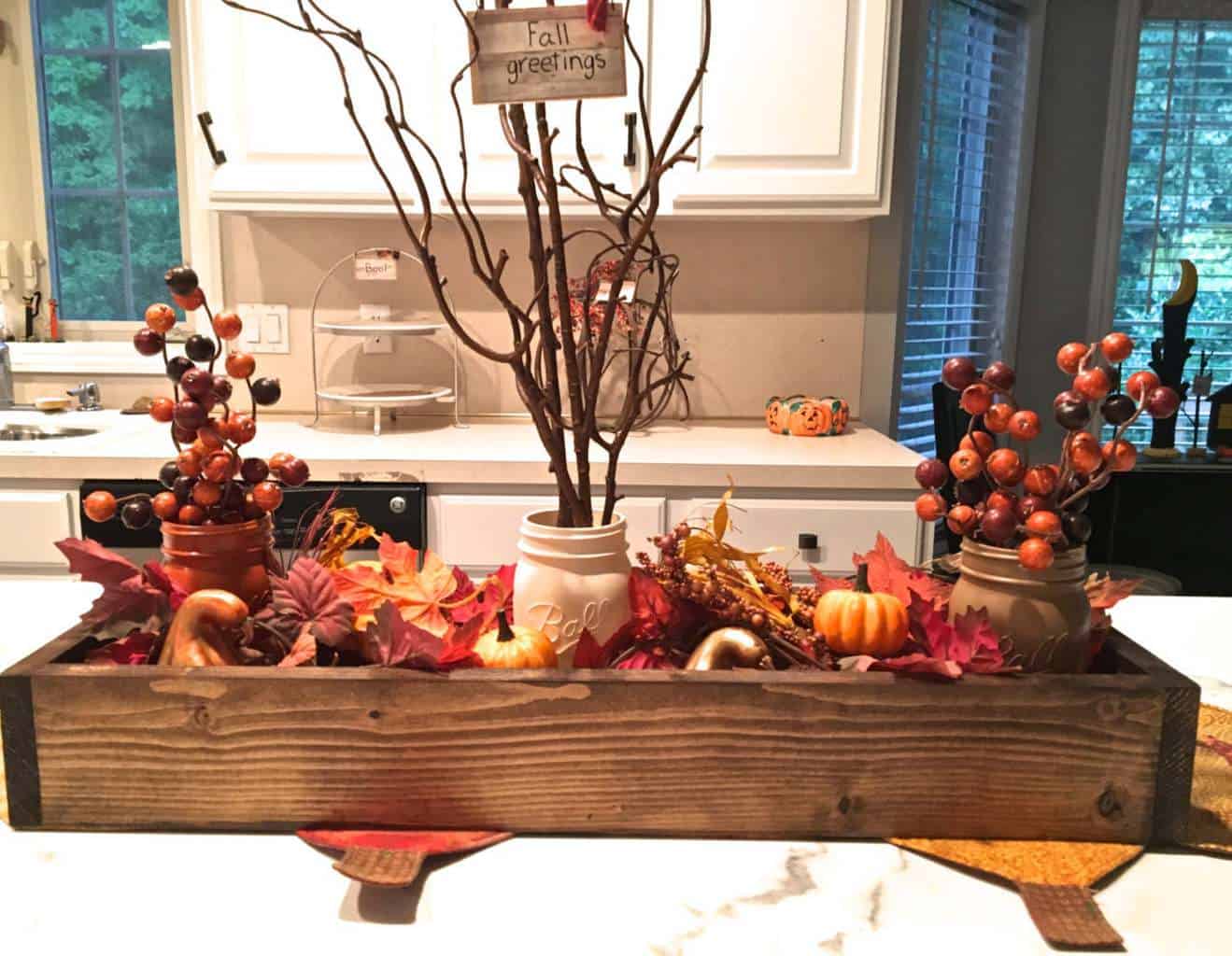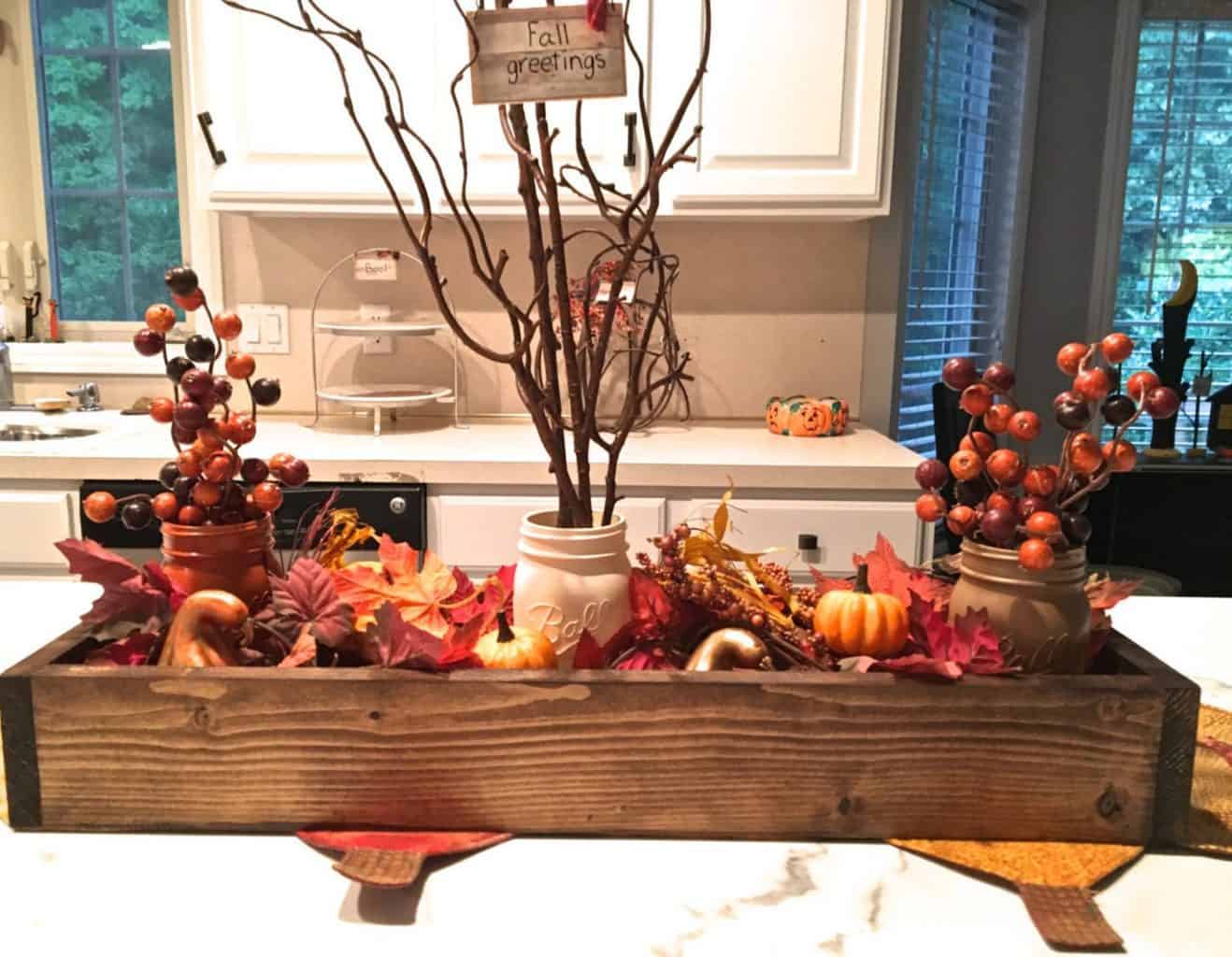 Fall centerpiece table decor by The Wooden Owl
I love all things fall, mason jar and wooden! This is my jam for sure! The box is gorgeous as well as the painted mason jars. I love the fall leaves.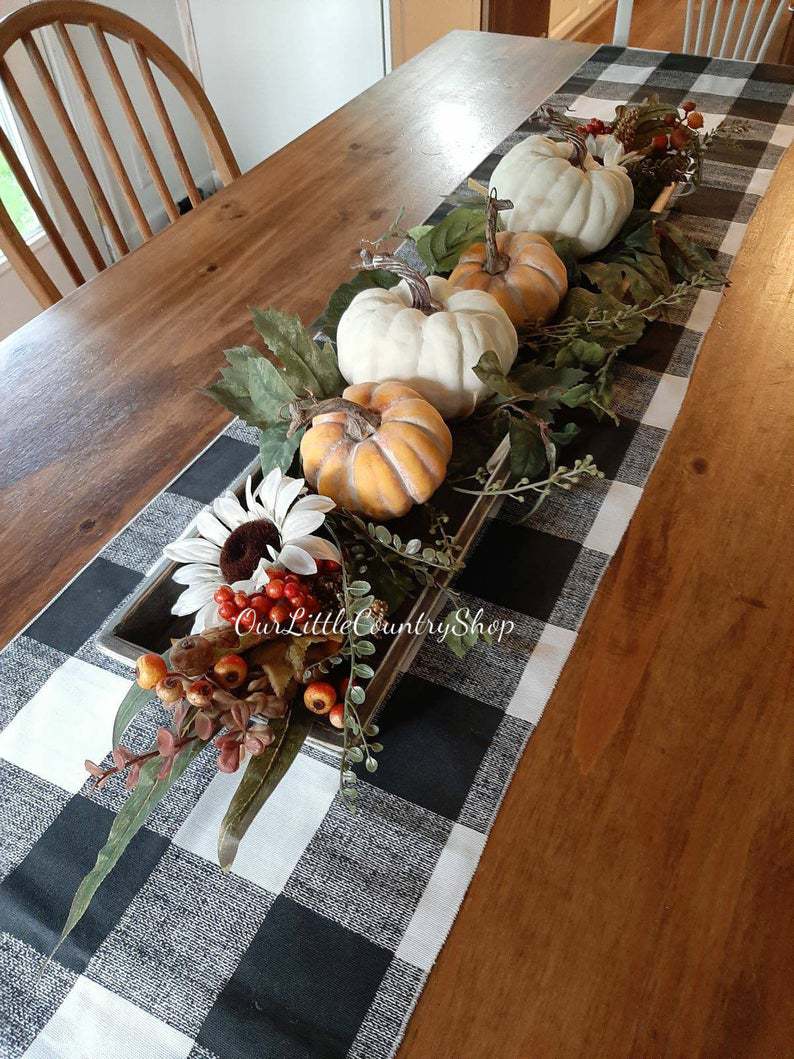 Farmhouse centerpiece box by Our Little Country Shop
Who doesn't love black and white buffalo print. I have a rug just like this for my entryway in my front porch. The soft colors of the pumpkins are a perfect addition.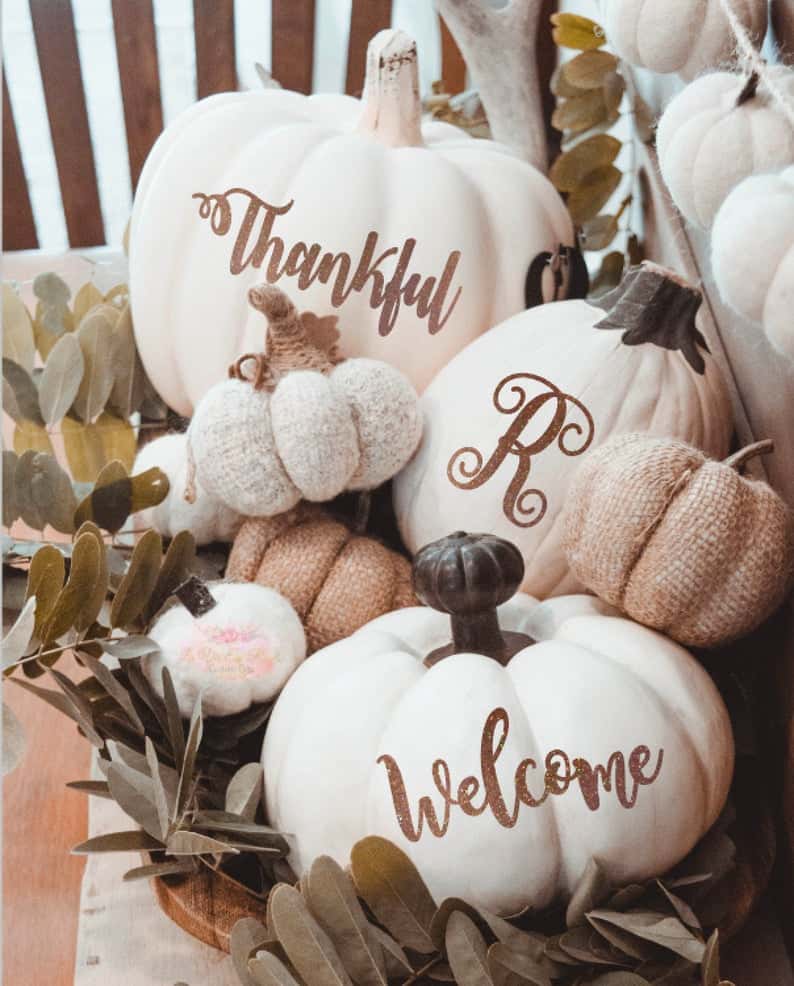 Fall Pumpkin Table Decor by La Vie En Roses Designs
The painted pumpkins are perfection! I love the soft color scheme and the gorgeous hand lettering.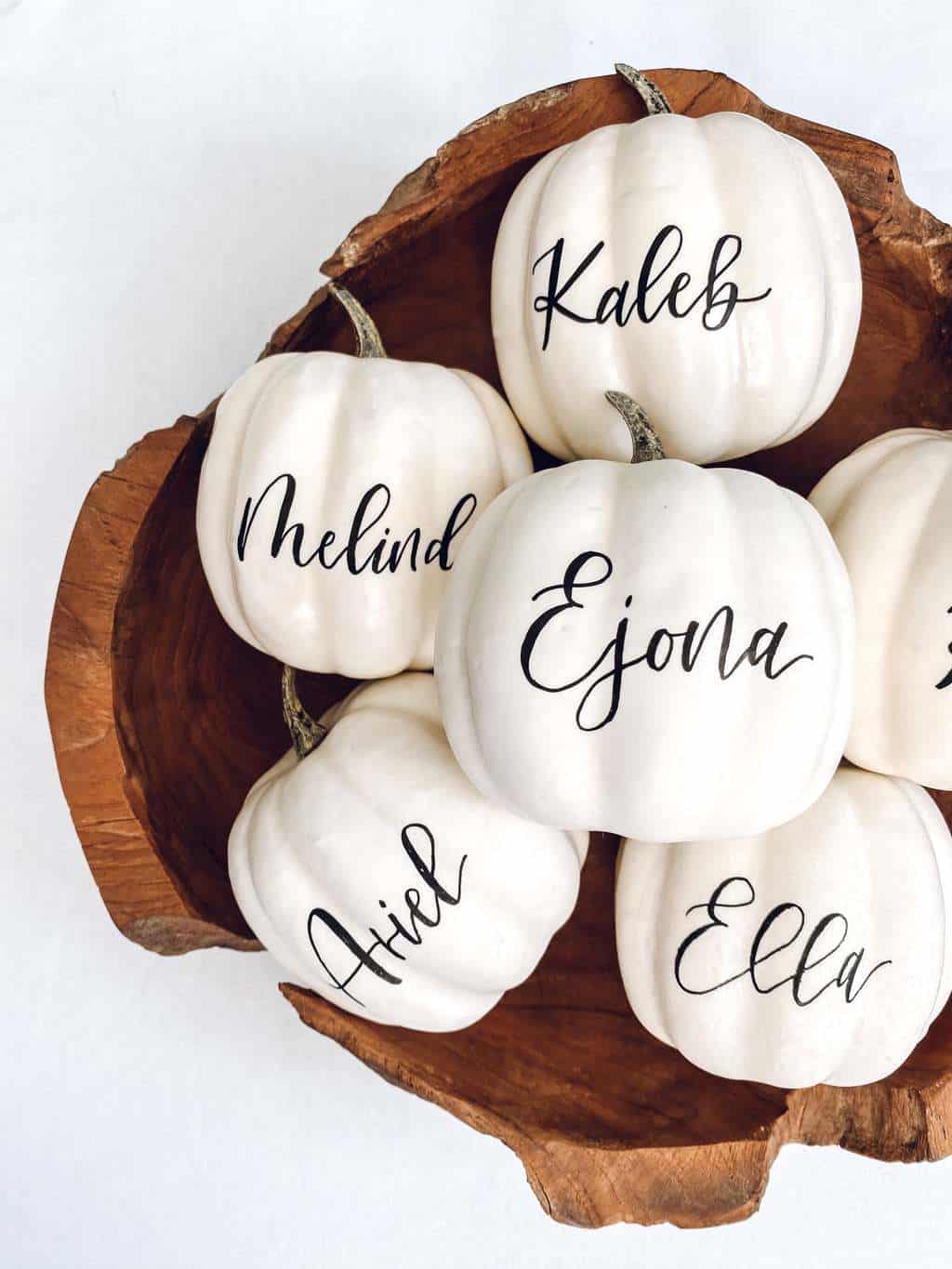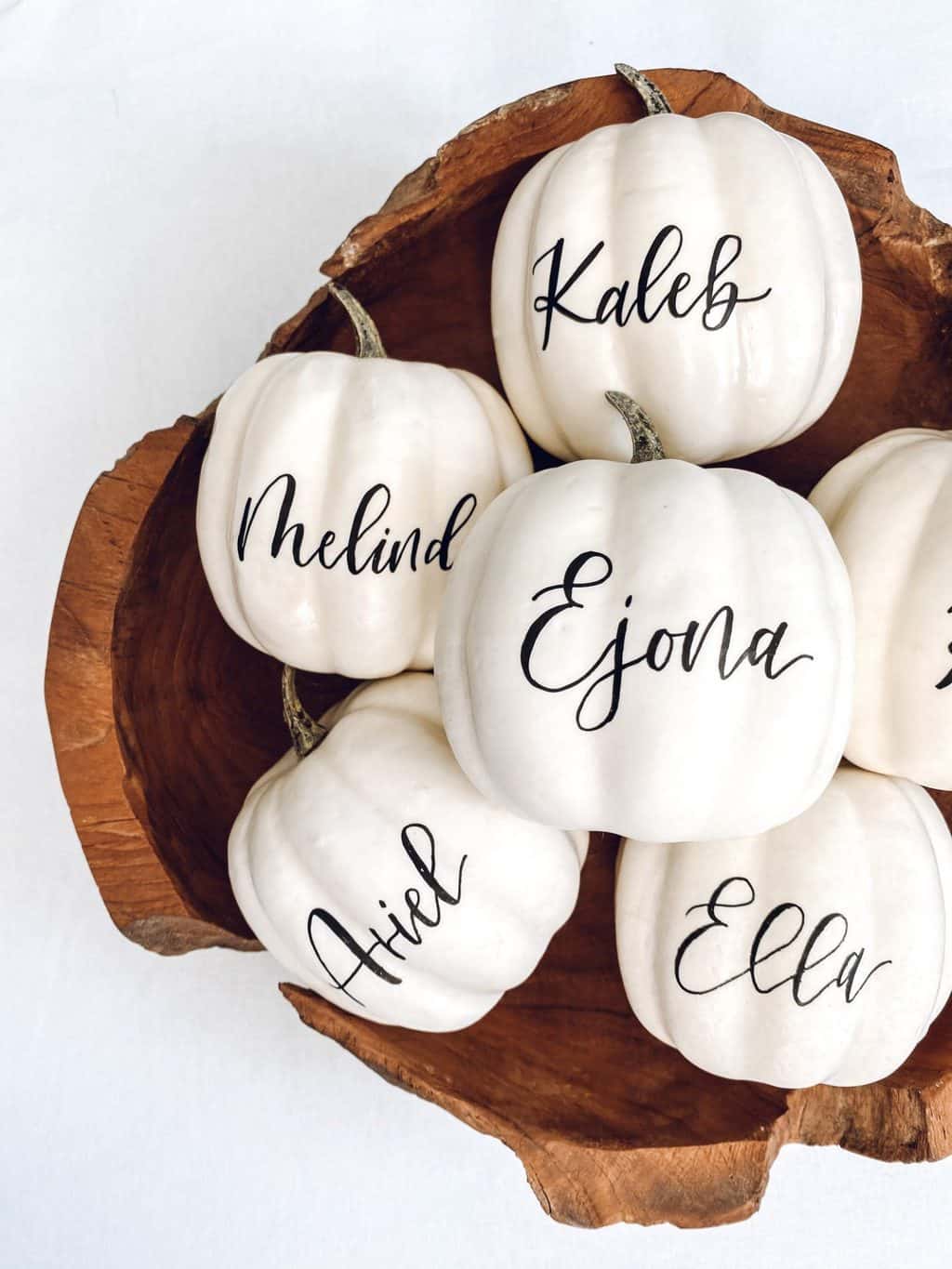 Small Personalized Pumpkin place cards by Folmarst
These place cards are perfect. This shop does a wonderful job with the lettering and these unique and custom place cards are stunning.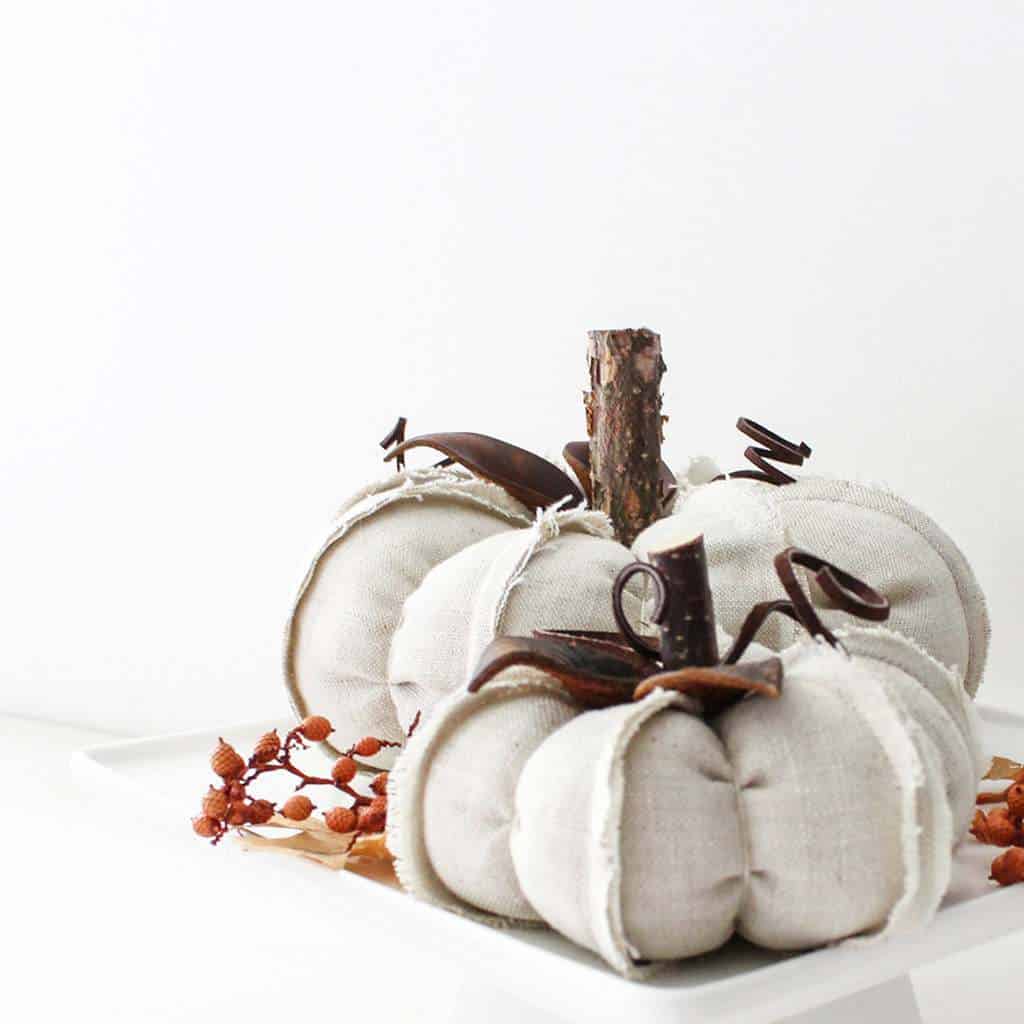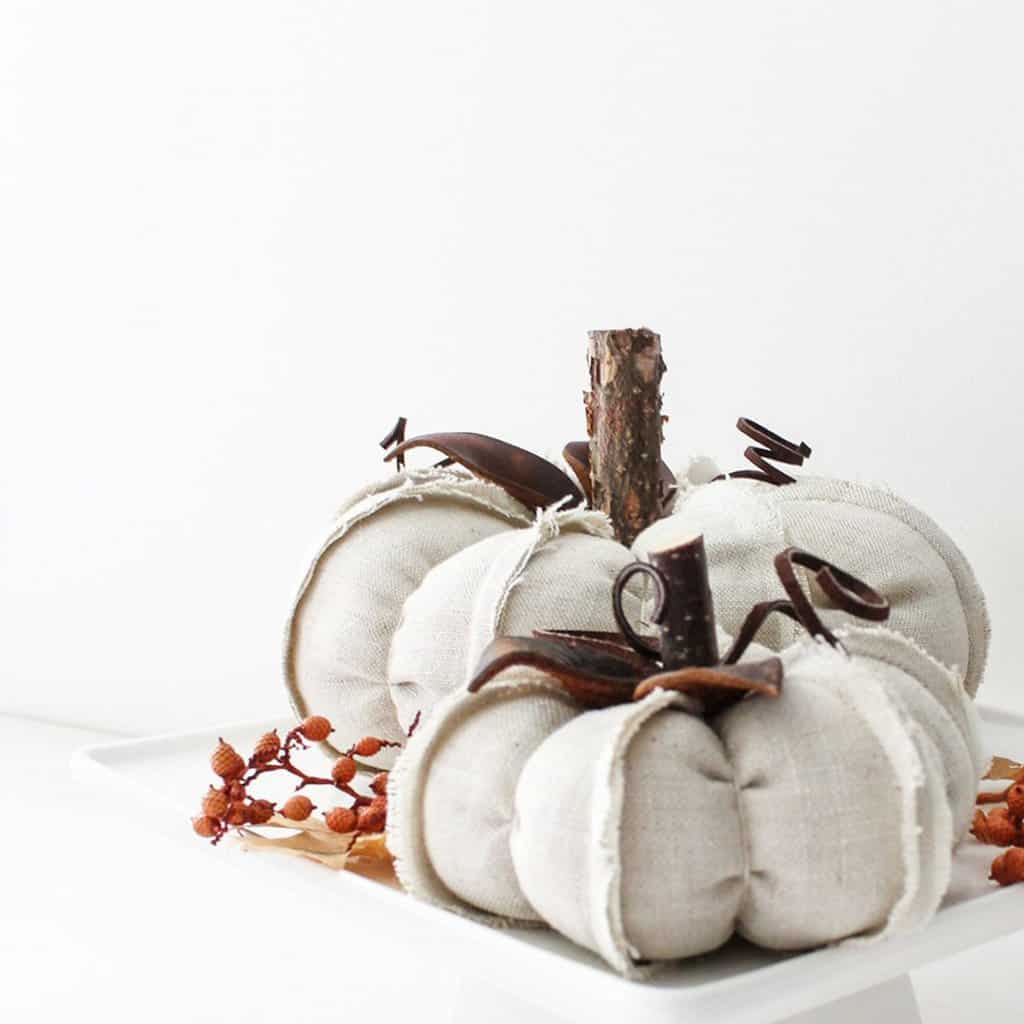 Oatmeal Linen Fabric Pumpkins + Leather Leaves by D Amore 1896
These linen fabric neutral pumpkins are so unique and gorgeous. As a non-crafty person who turns to crafty people for all of my home decor, this photo and the pumpkins in it are exactly what I would choose for a white and neutral thanksgiving table decor.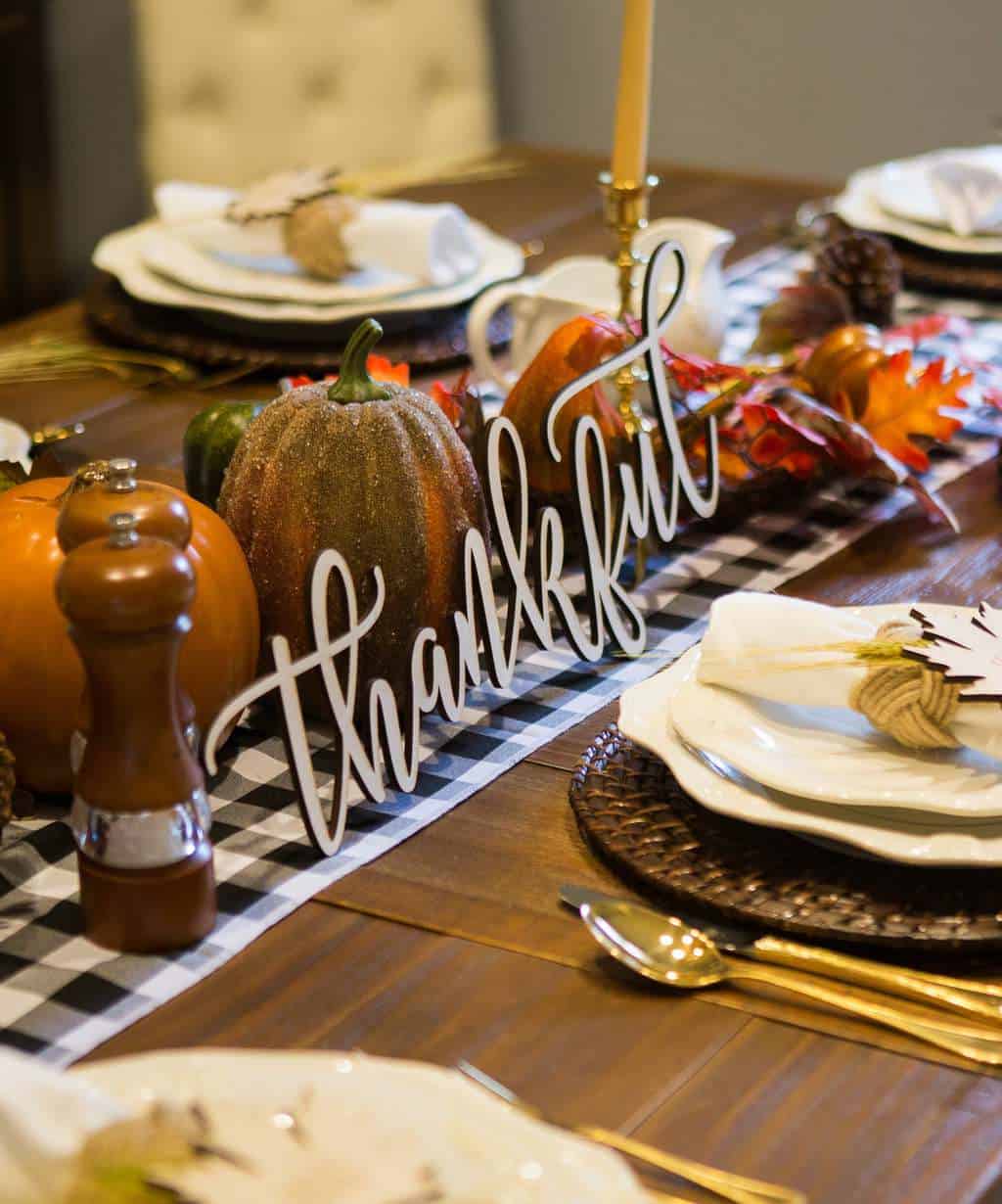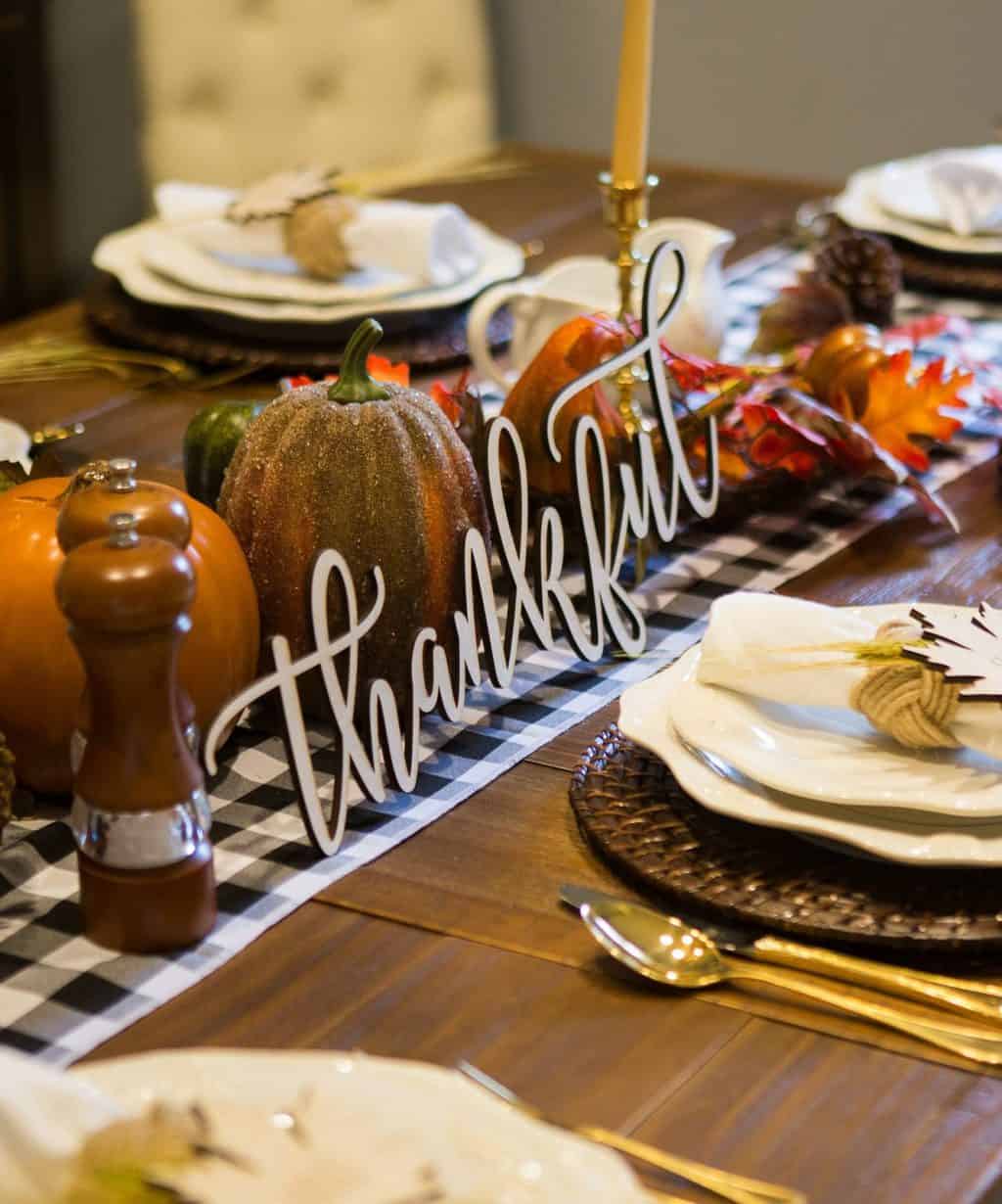 Thankful sign for Thanksgiving table centerpiece by ZCD Gifts
I love the versatilely of this sign. This Thankful sign could be used on a mantle or on a table. And you can pull it out year after year.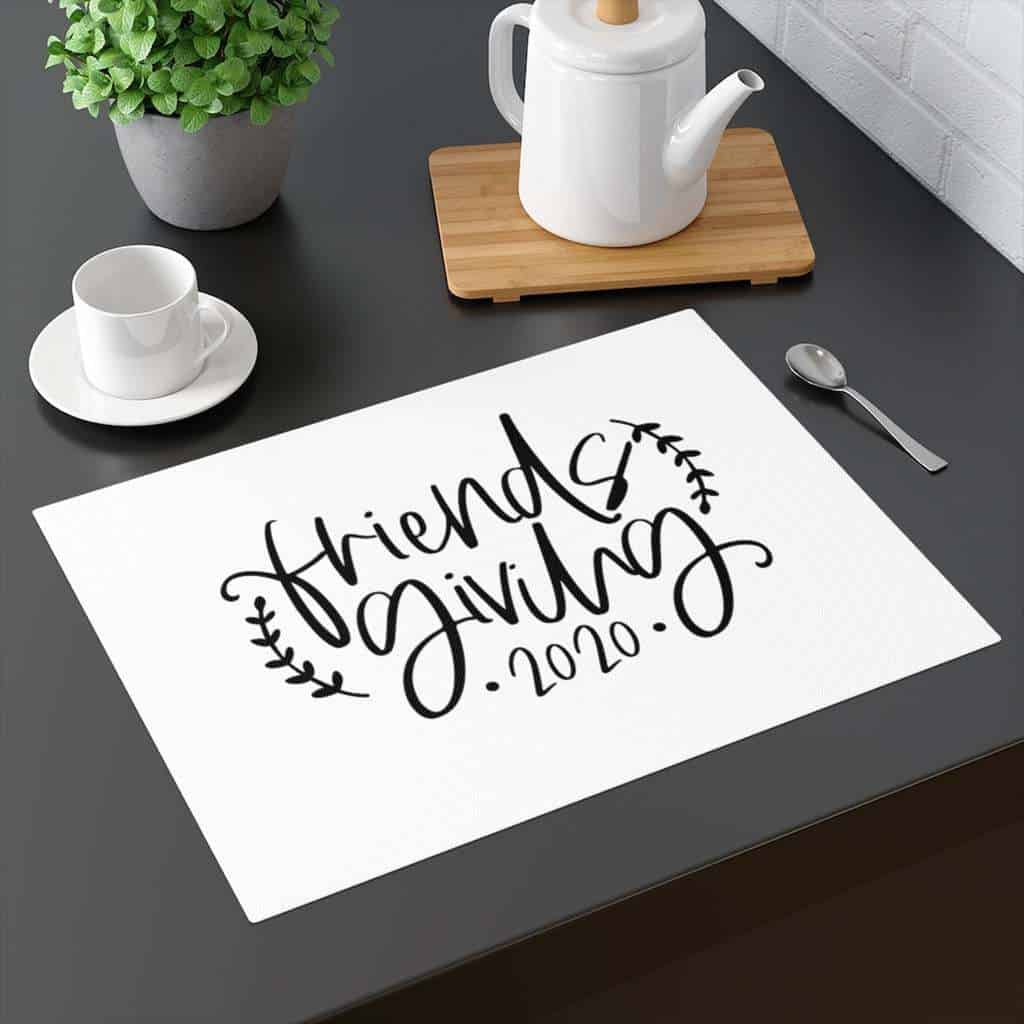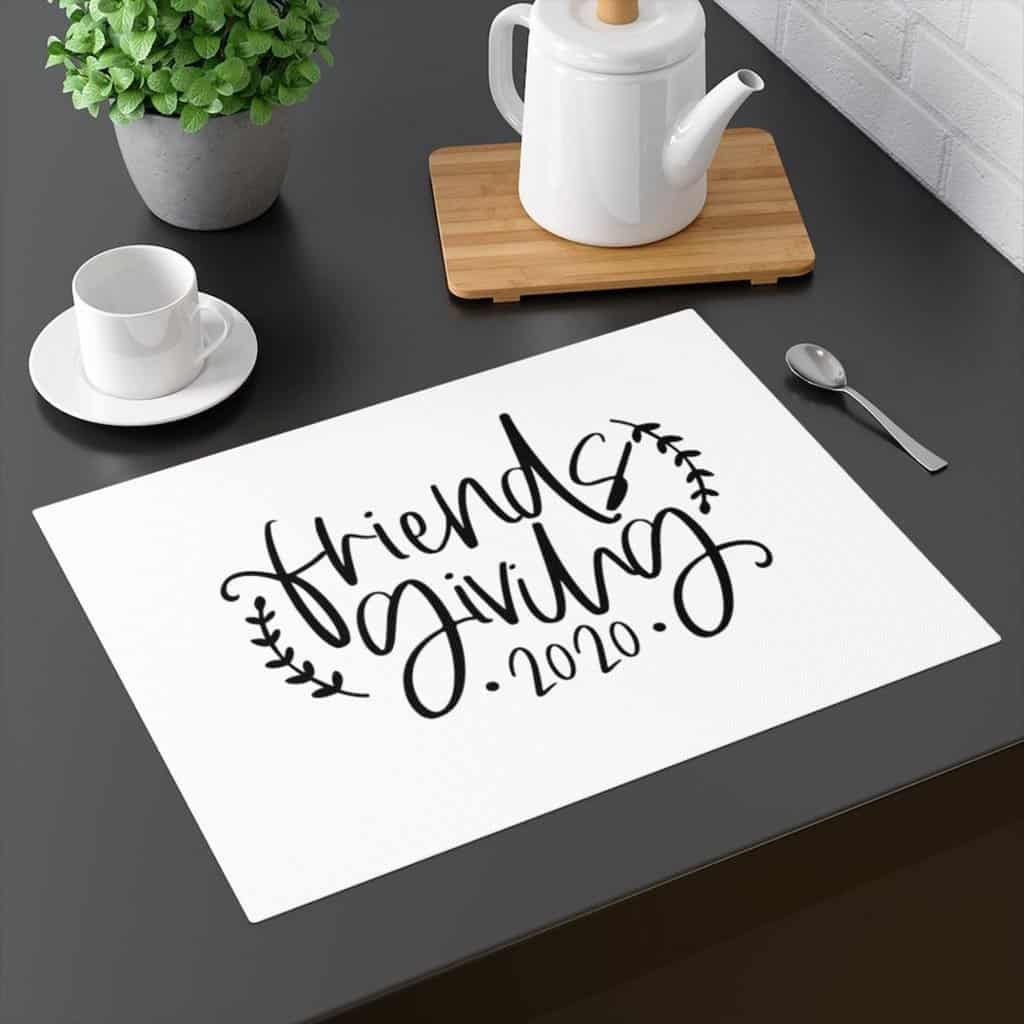 Friendsgiving Table Decoration by JCMS Gifts
Our family is obsessed with friendsgivings!!! They are our absolute favorite way to spend Thanksgiving so this caught my attention. And it's done to perfection!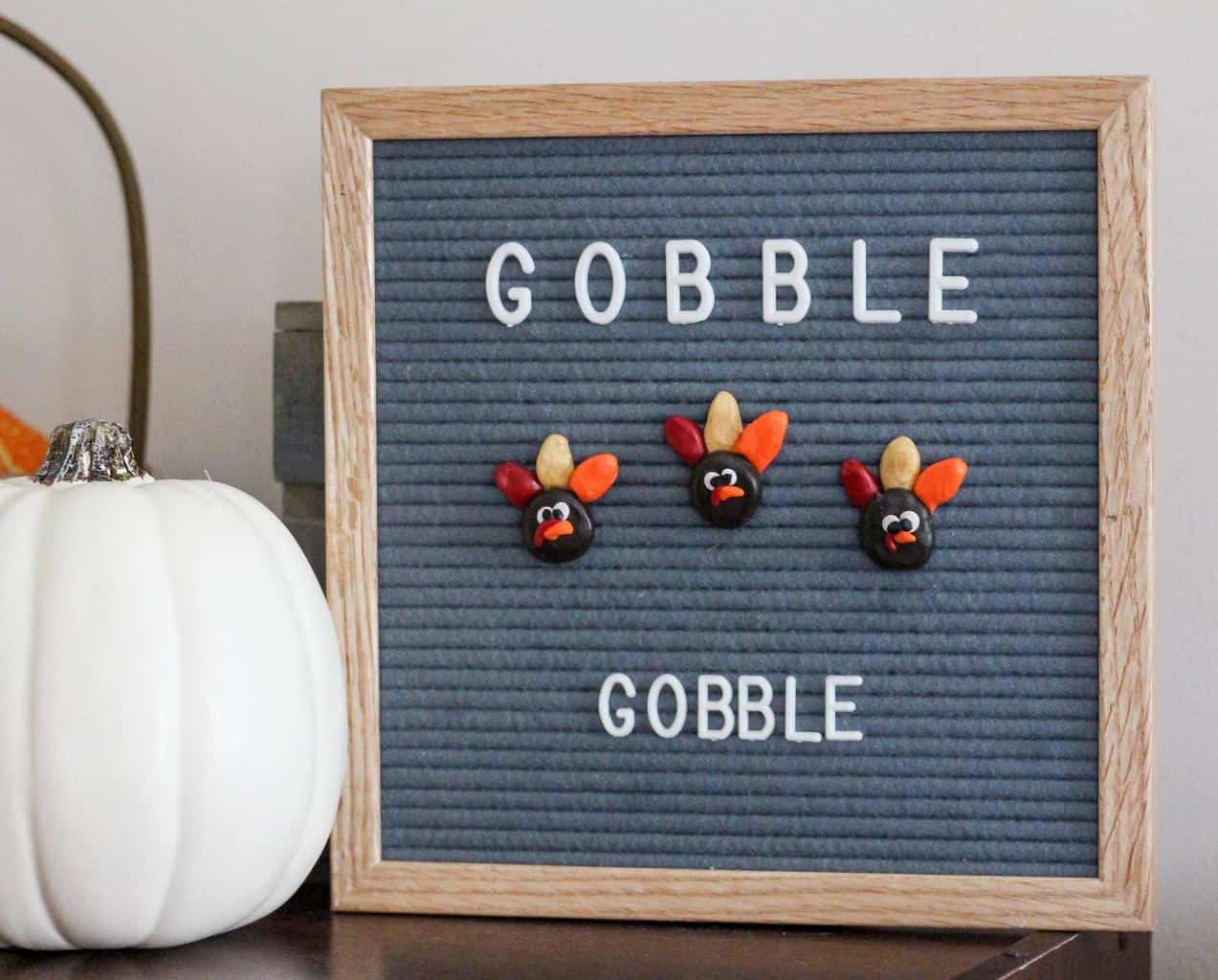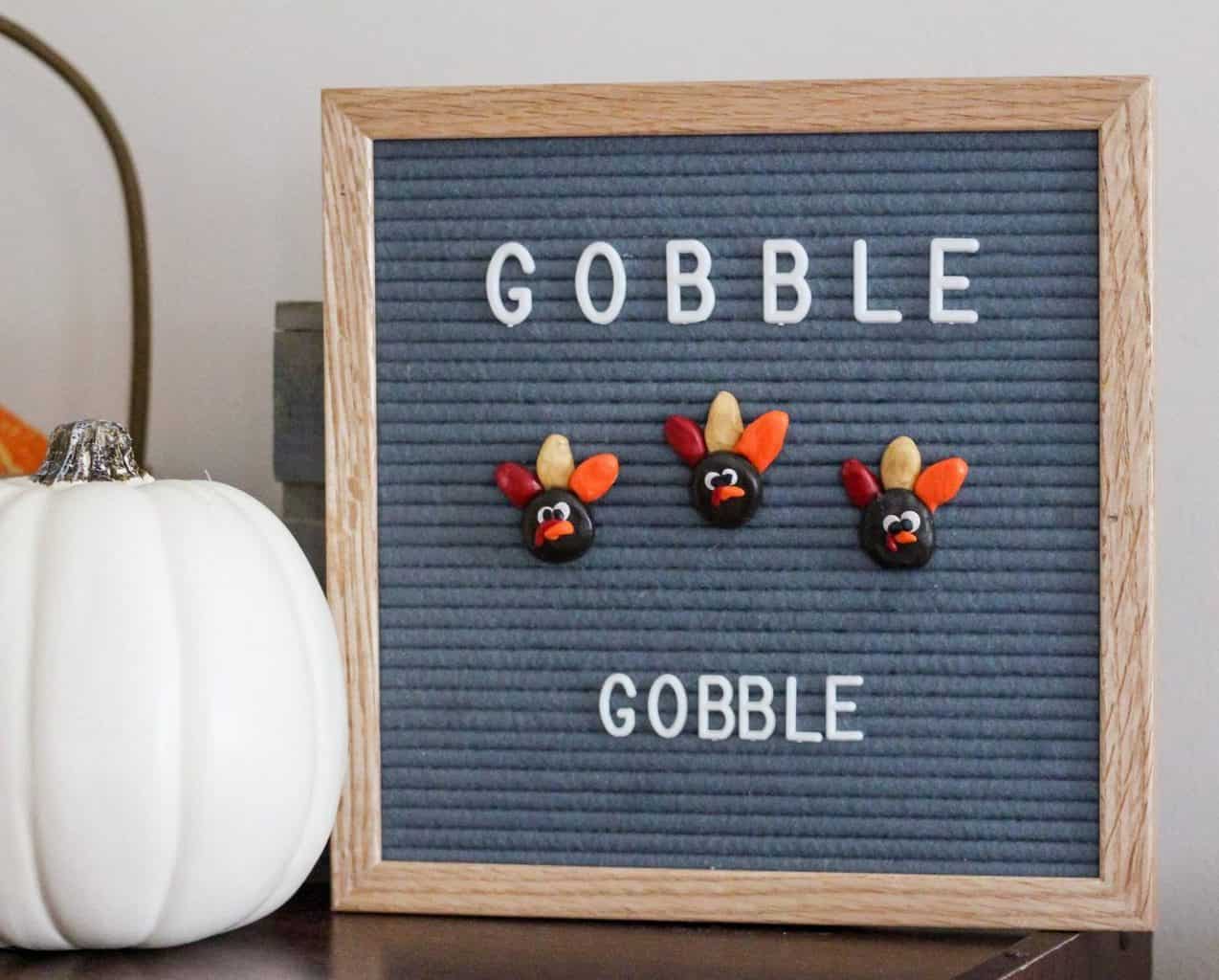 Thanksgiving Turkey Letterboard by Posey Creative
How cute is this? I adore these little turkeys. And letter boards are all the rage right now. The possibilities are endless for creative friends to do awesome things with this for years to come.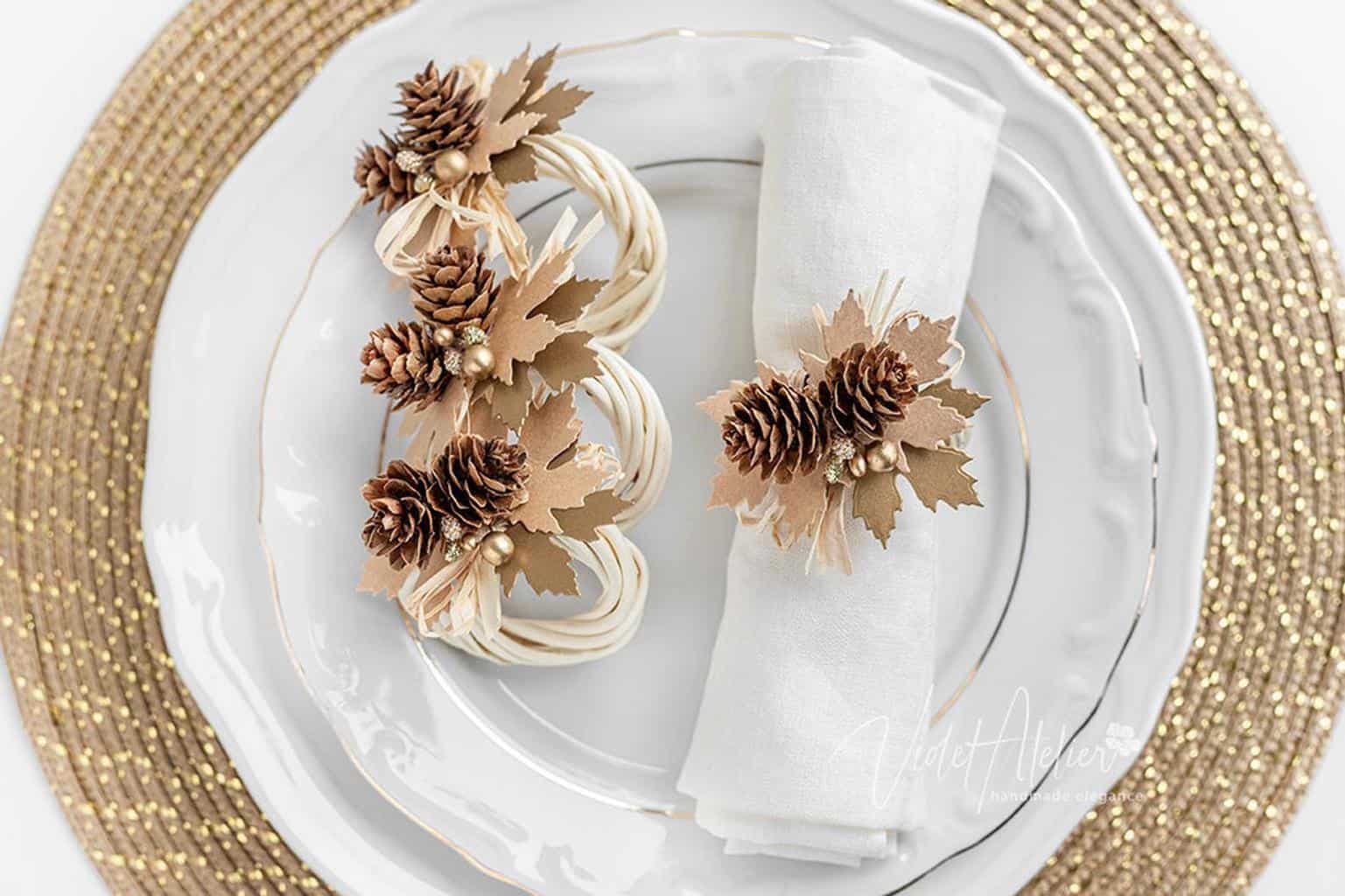 Thanksgiving Pine Cones Fall Leaves Napkin Rings by Violet Atlelier
What a great idea for these Pine Cone Fall Napkin Rings! I love them! I love the natural themes with some of these creative designs and these would be a perfect addition to any table this fall.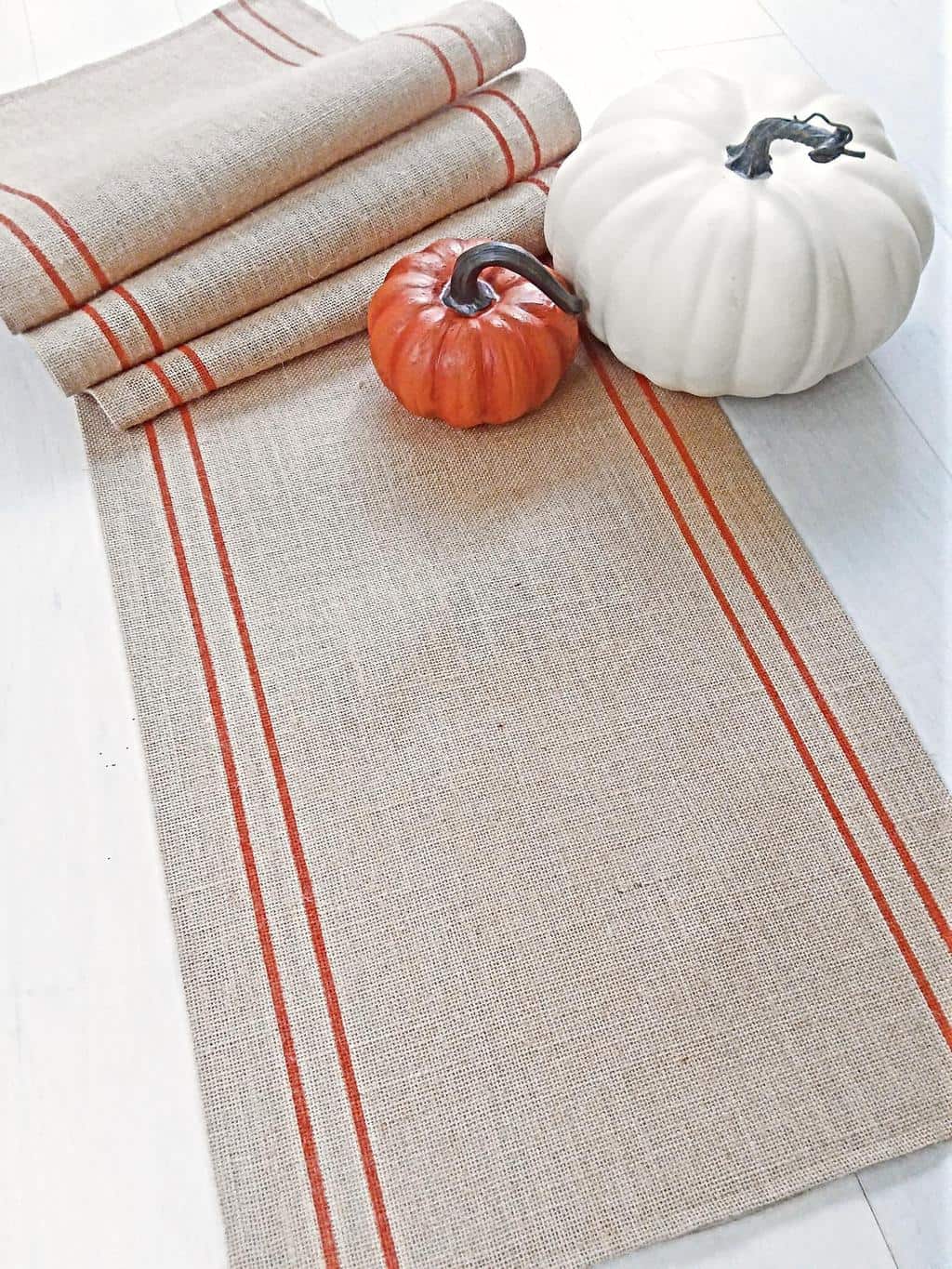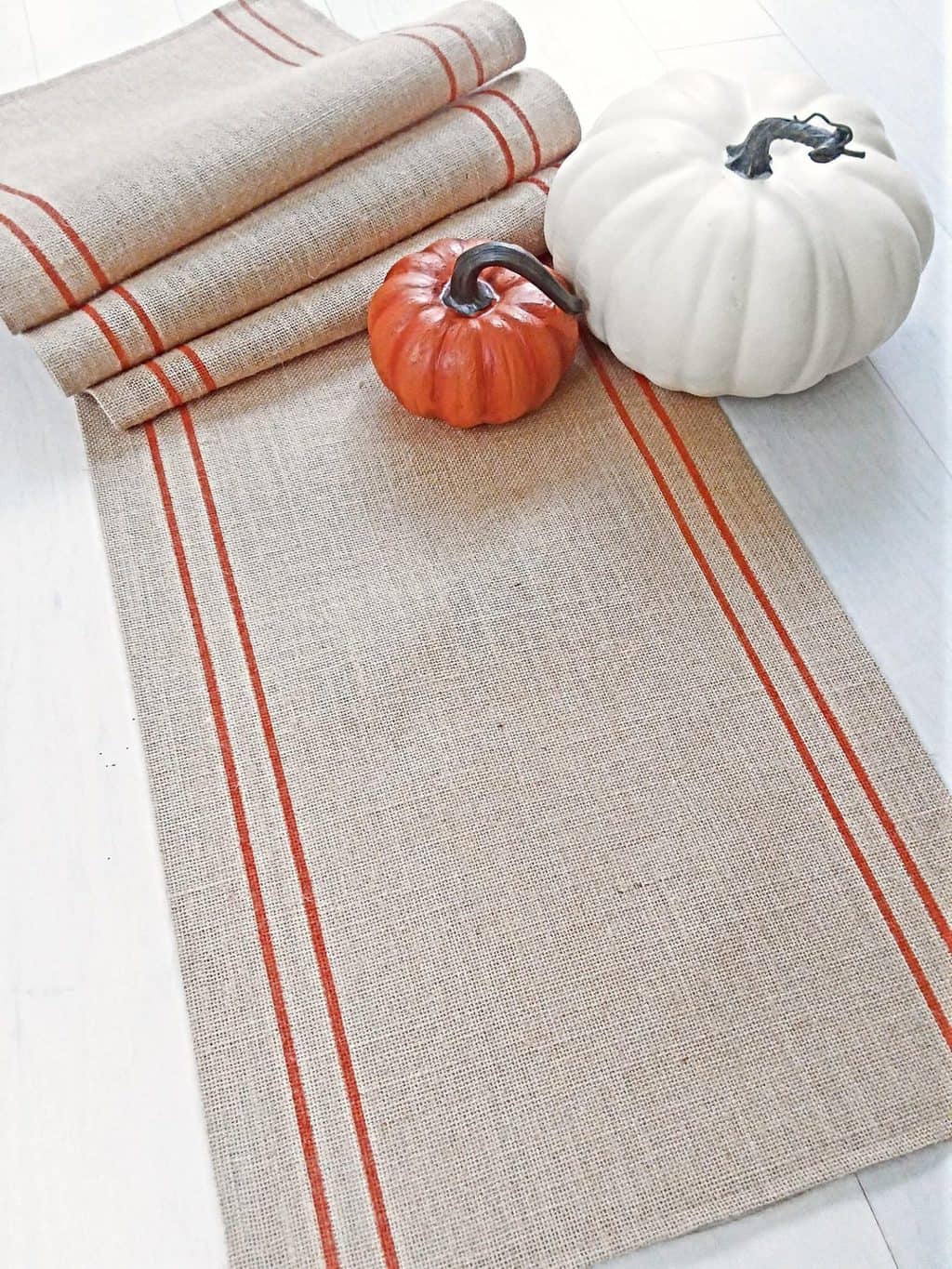 Rustic Fall Table Runner by Woods and Shore
This is perfect with neutral colors and the orange color to add a pop of color with fall colors of orange and pumpkin theme. Great job Woods and Shore!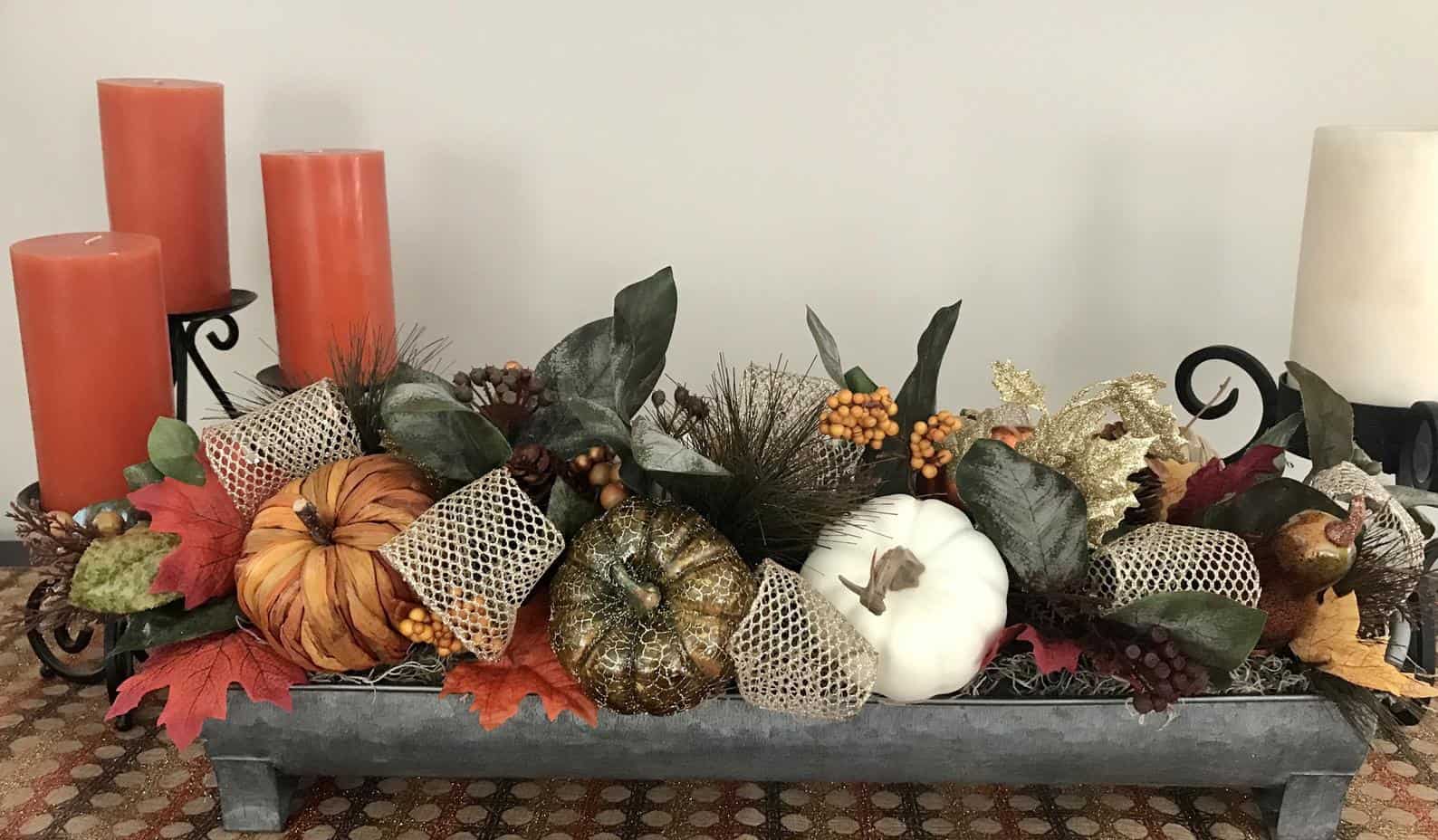 Fall Farmhouse Centerpiece by Maverick Crafts Shop
This Rustic and Farmhouse centerpiece was put together so well with attention to all the details I would have missed! I love the colors and the feel of it!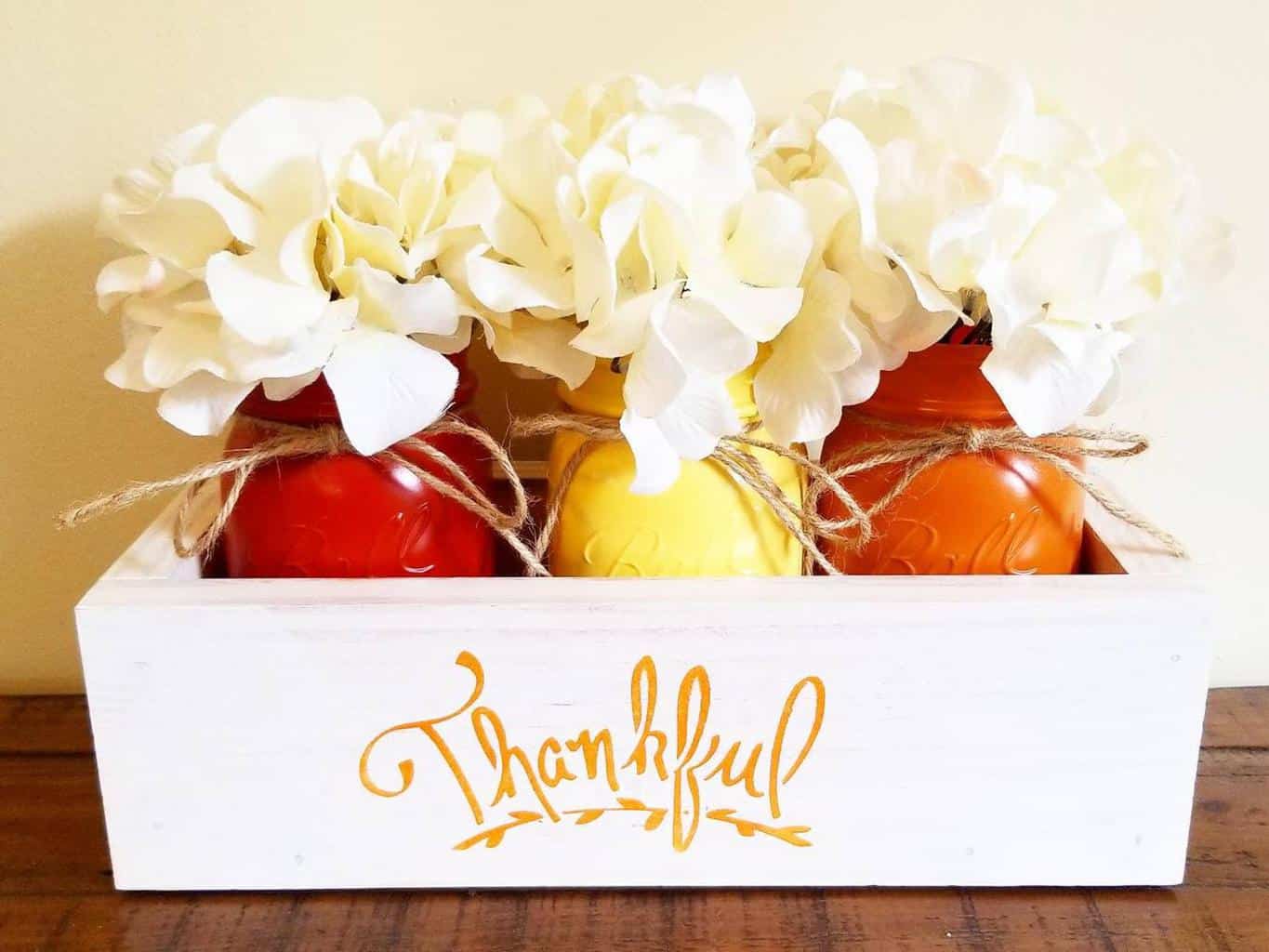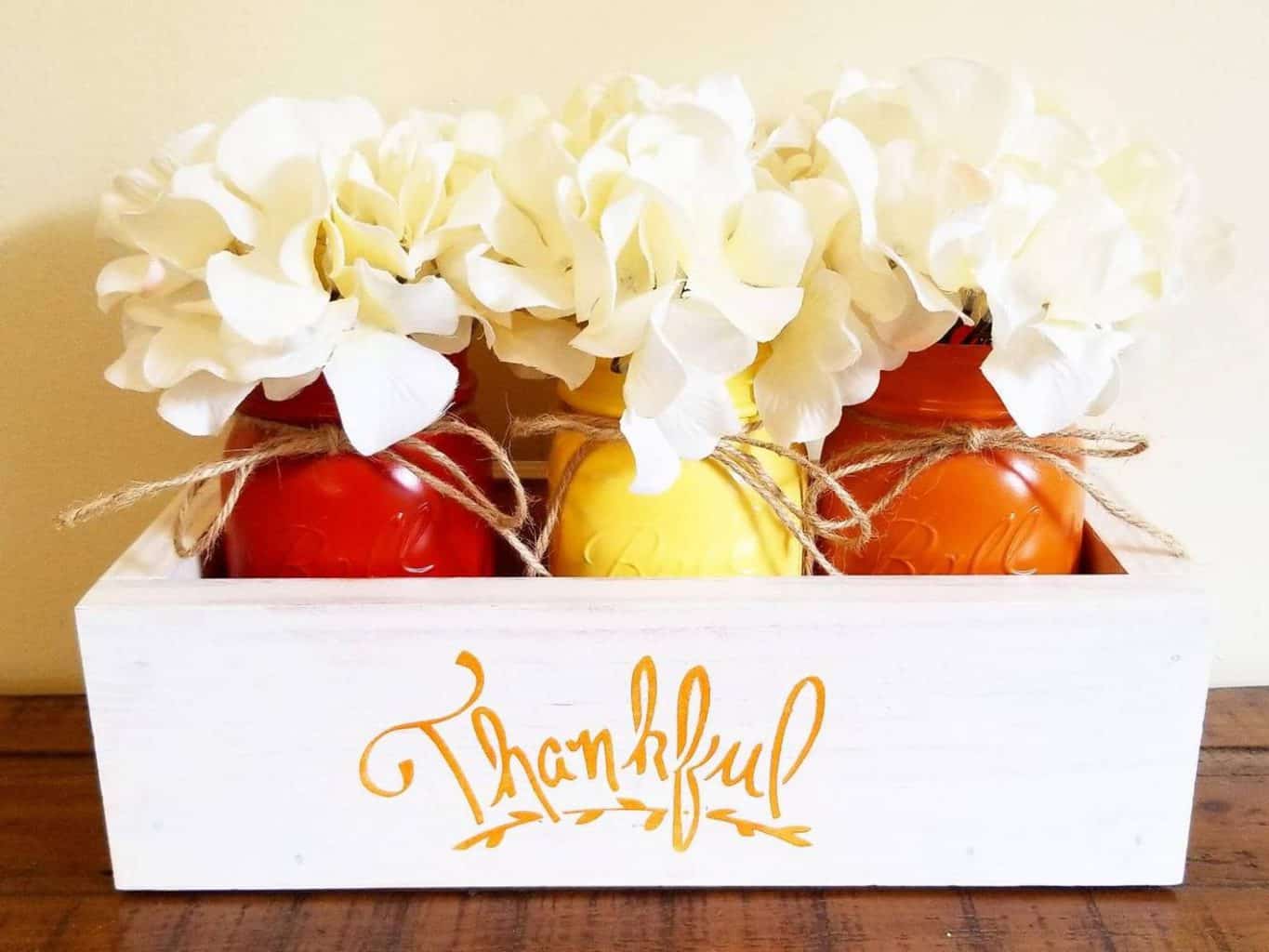 Mason Jar Fall Centerpiece by Knowles Home Decor
I love how versatile this box is! It is white so it is light and fun and can be used in so many different ways this Thanksgiving holiday.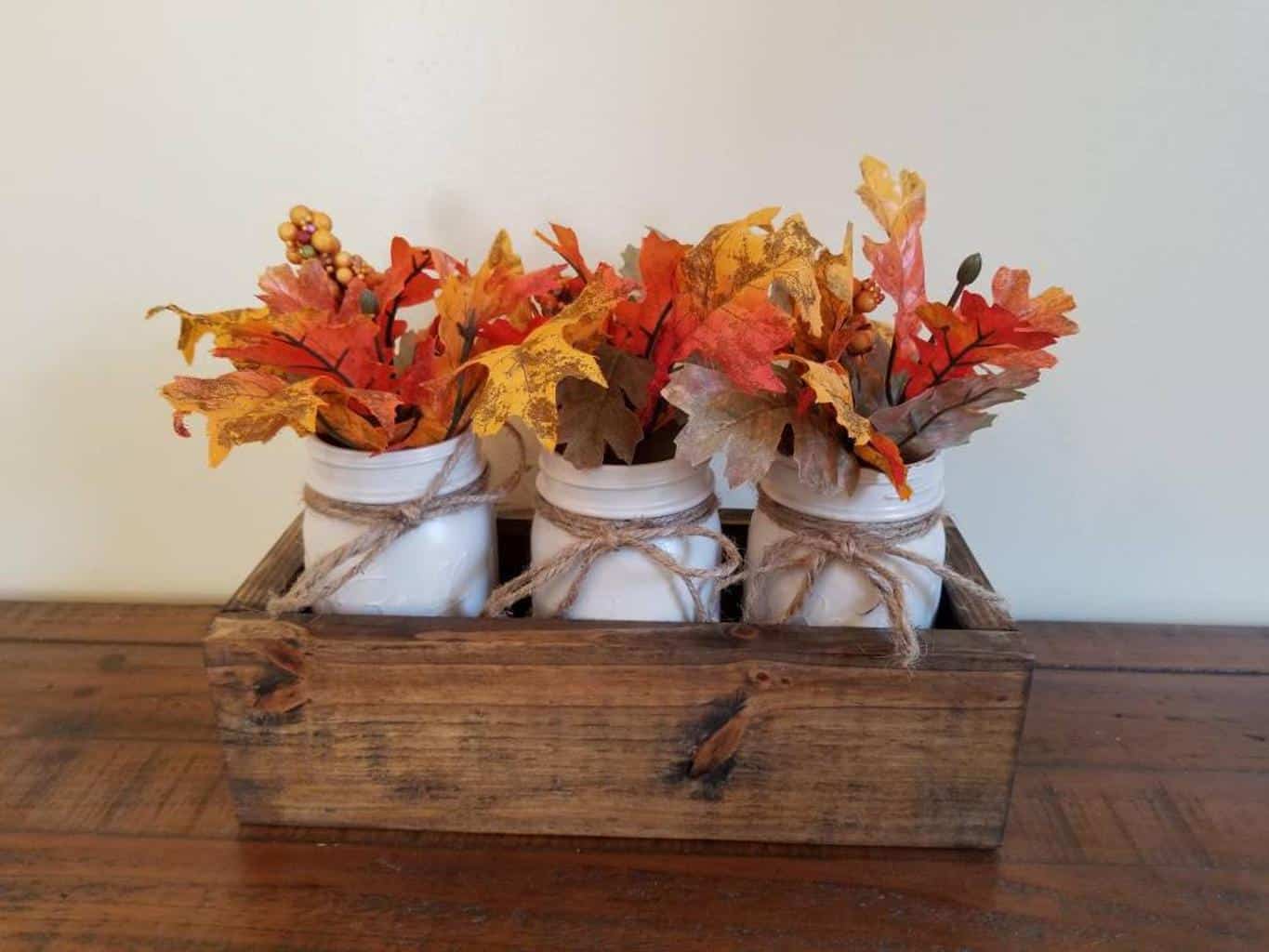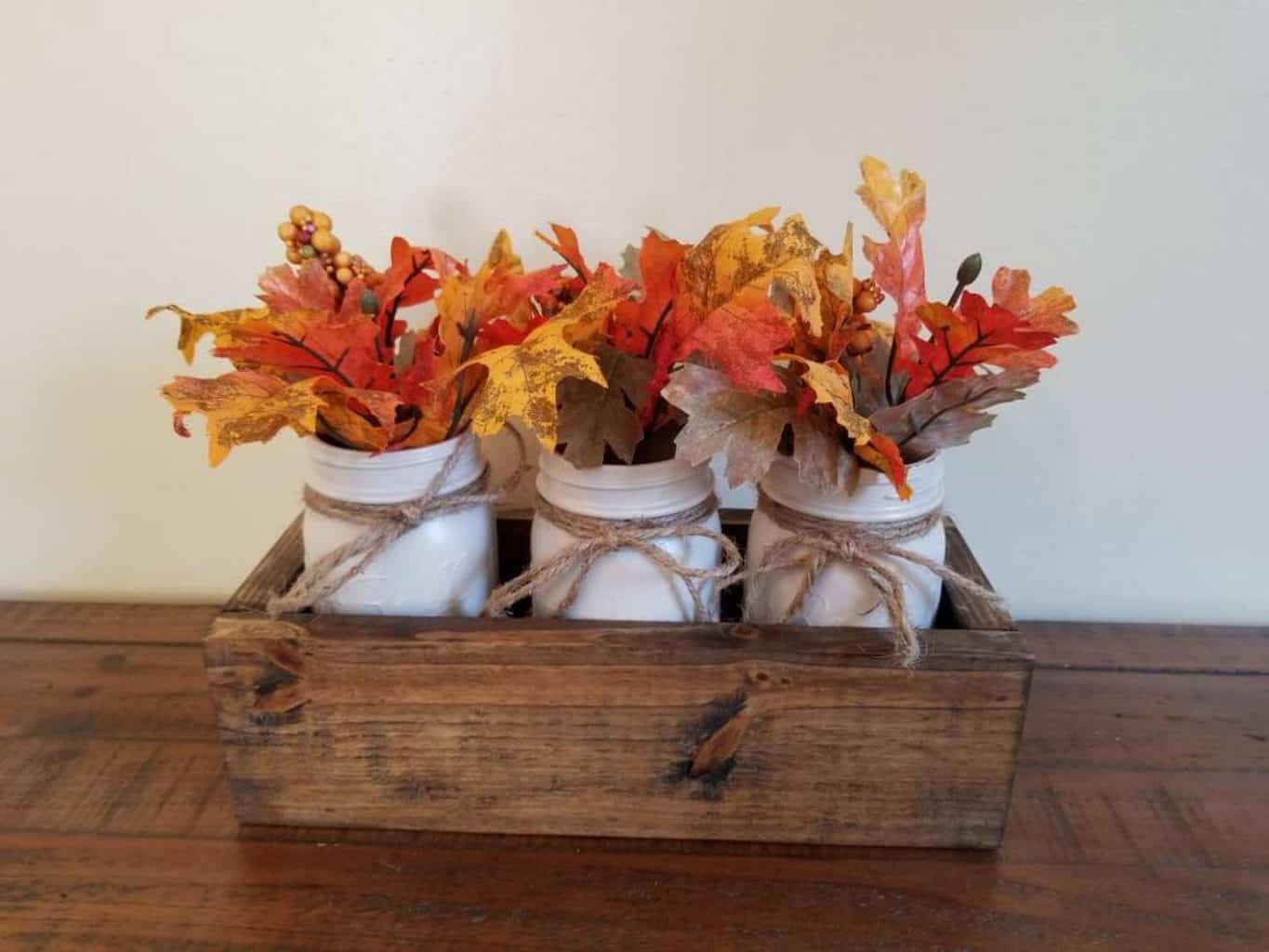 Fall Mason Jar Centerpieces for Fall Table by Knowles Home Decor
A little different twist on the wooden box with painted mason jars! I love this one as well!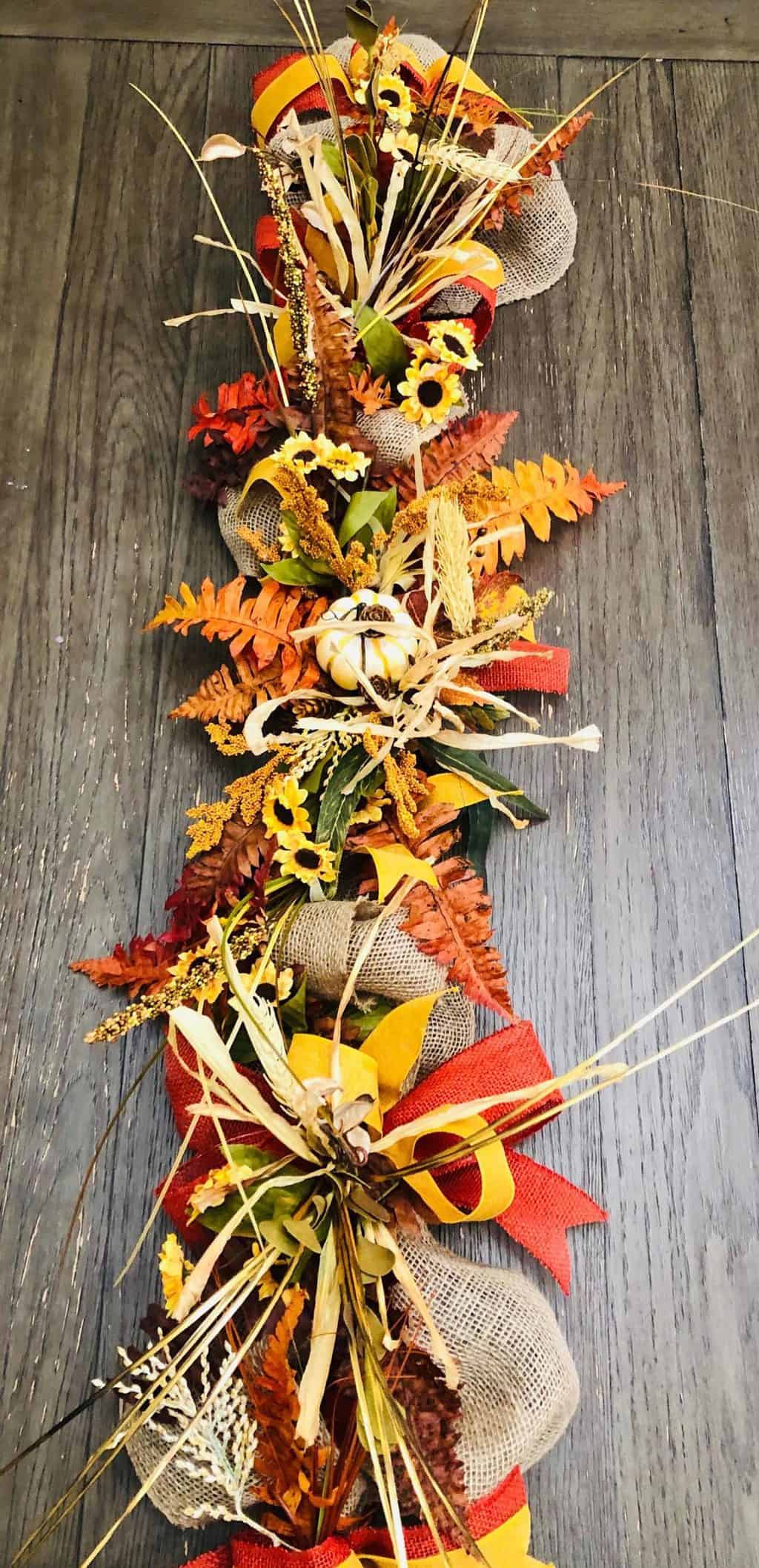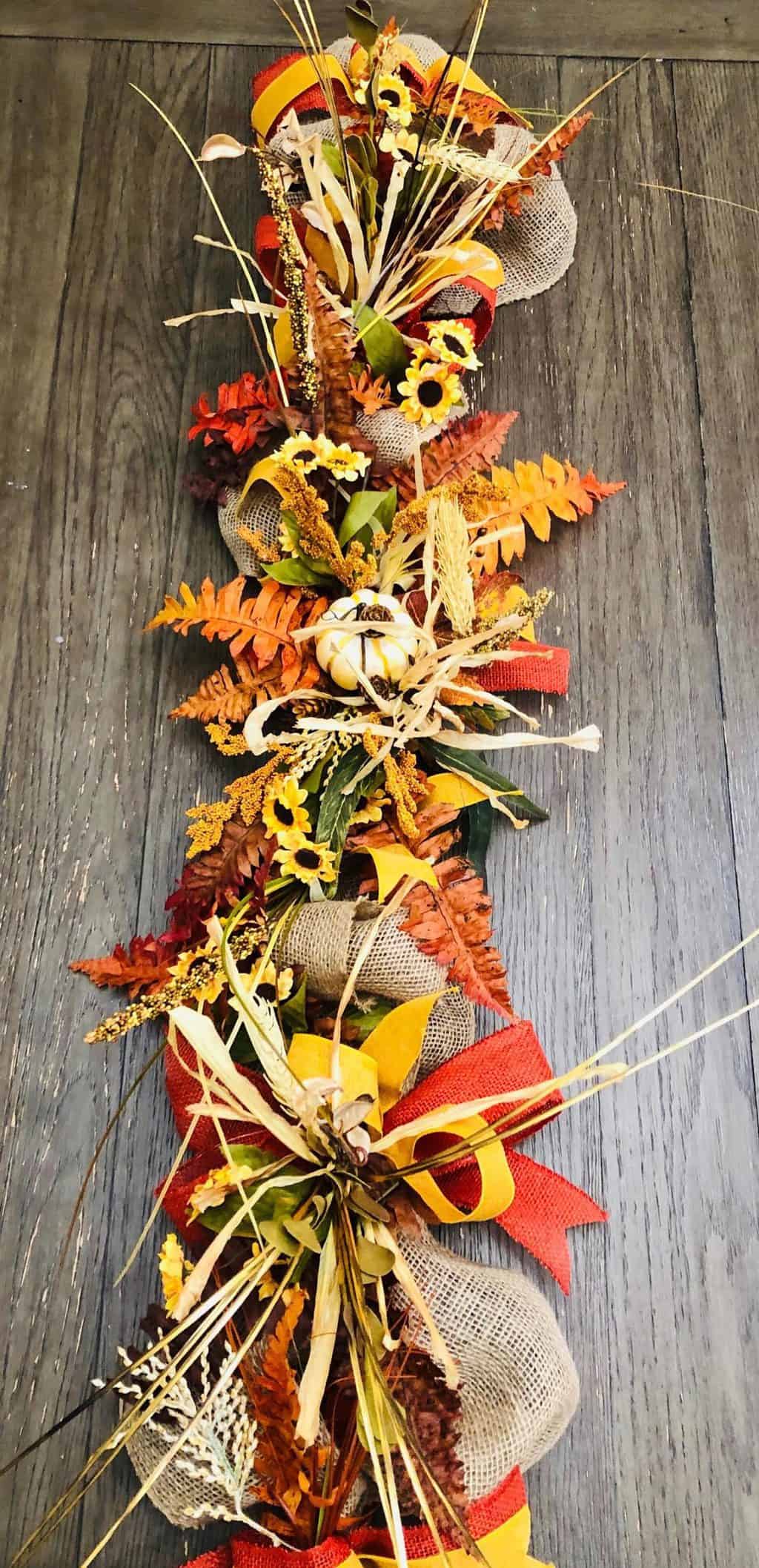 Fall Centerpiece Garland by Holiday Decor Crafts
This feels like home! And this can be used on a mantle as well! I love things that can be repurposed throughout the entire Thanksgiving season. Use it on the table for a fancy dinner and then on the mantle the rest of the month or season!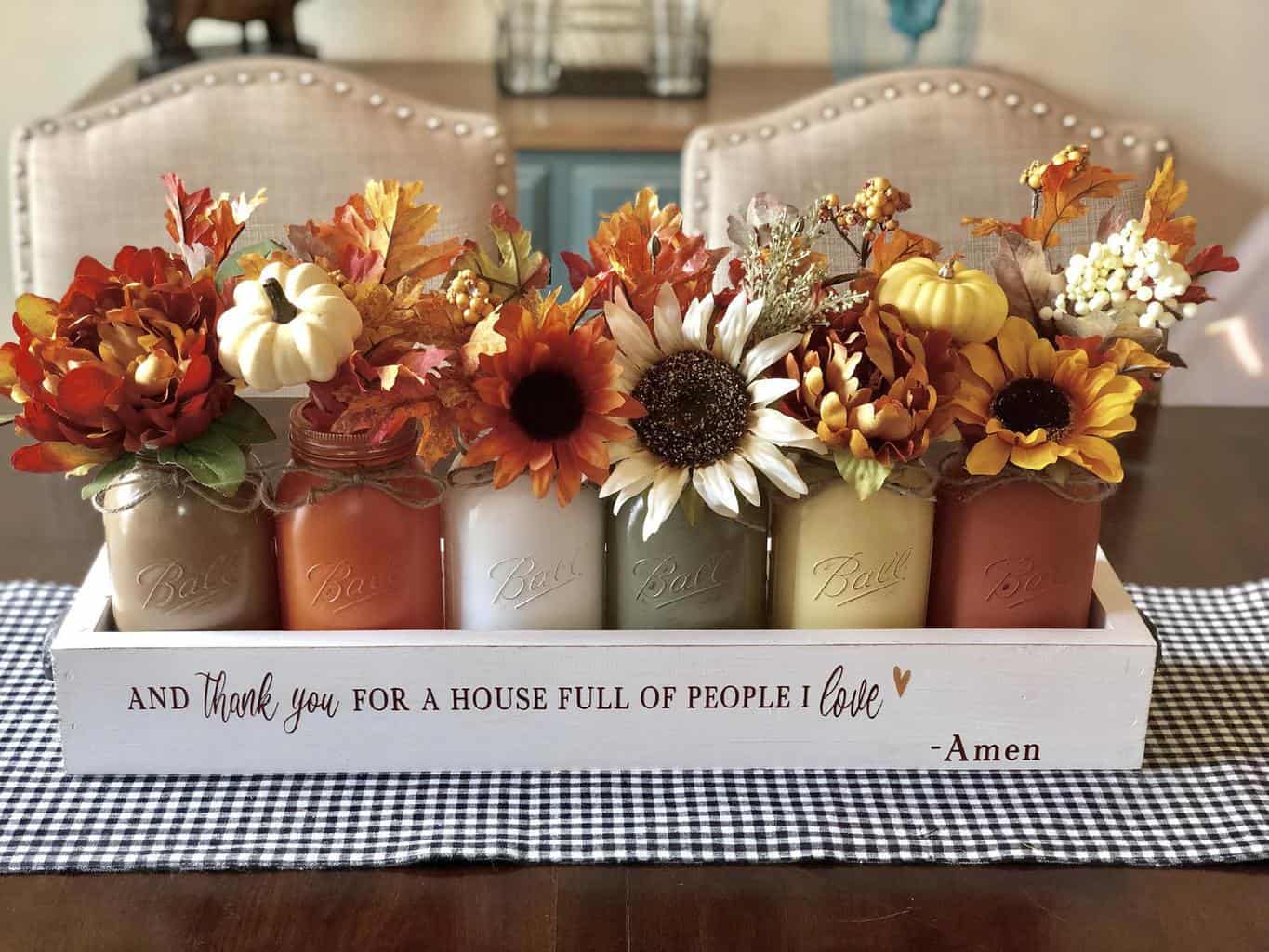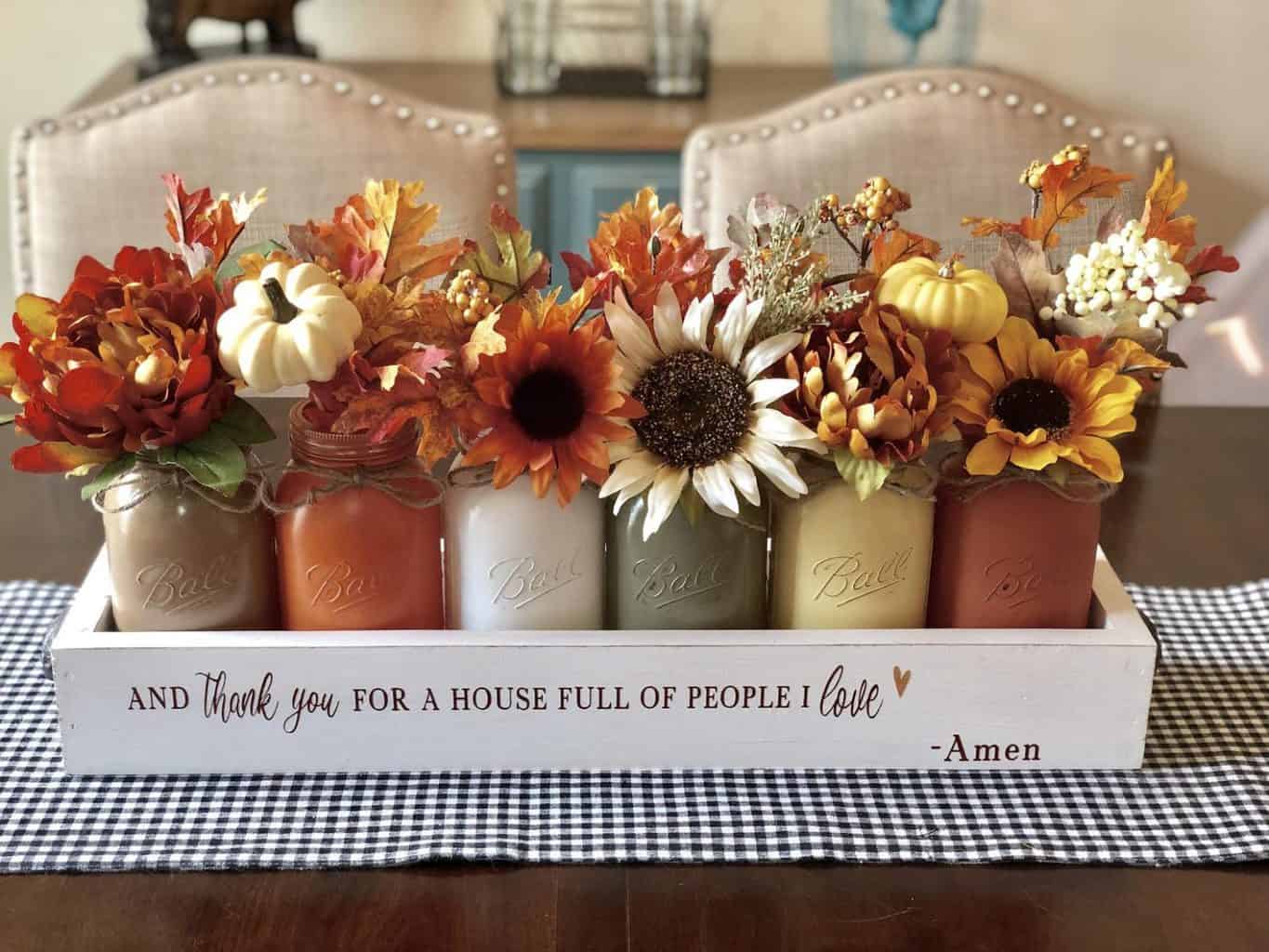 Fall Mason Jar Centerpiece by The Little Witty Shop
This centerpiece is elegant while being so farmhouse and comfortable. I love the saying, the colors of the painted mason jars and the design all around!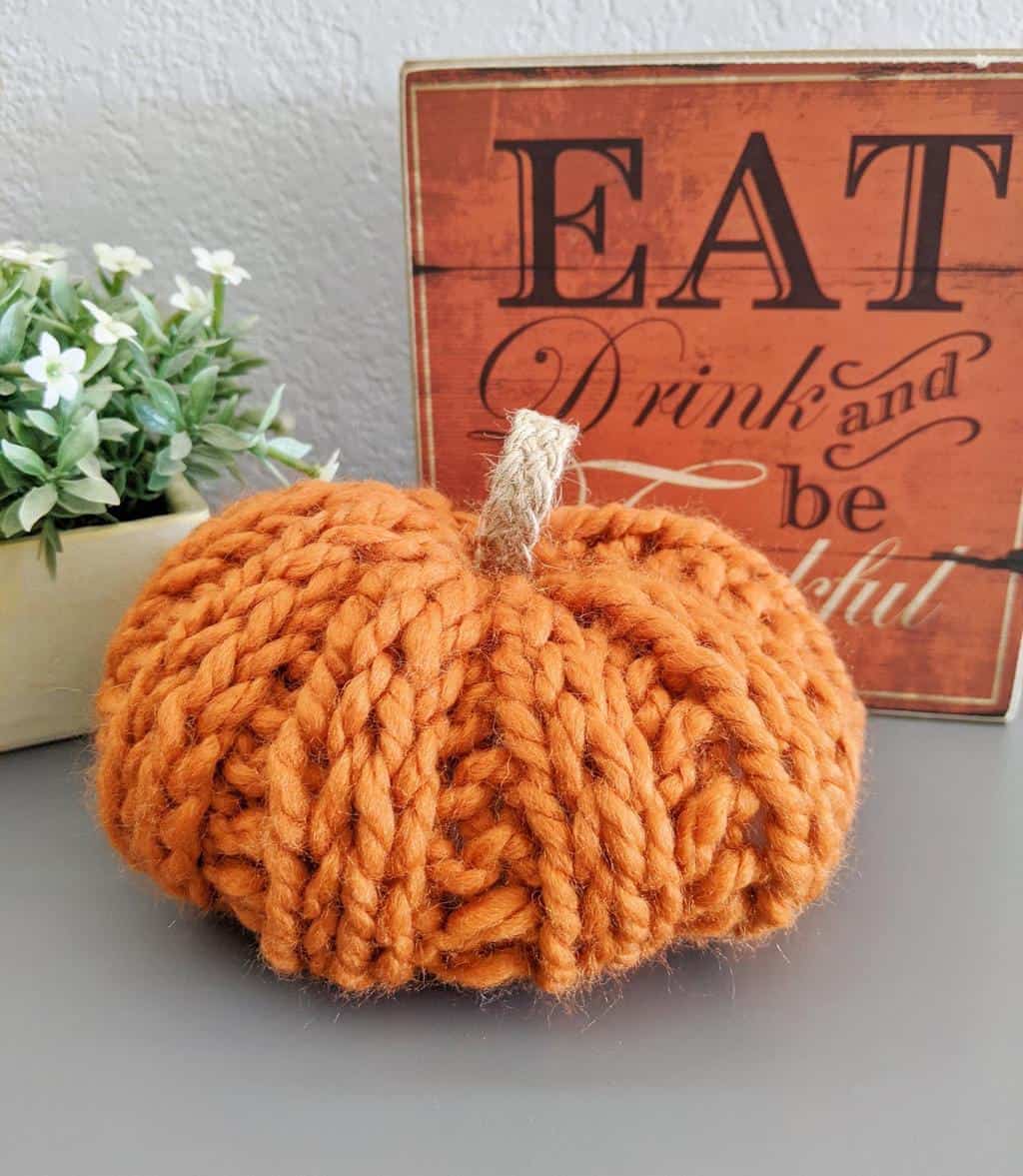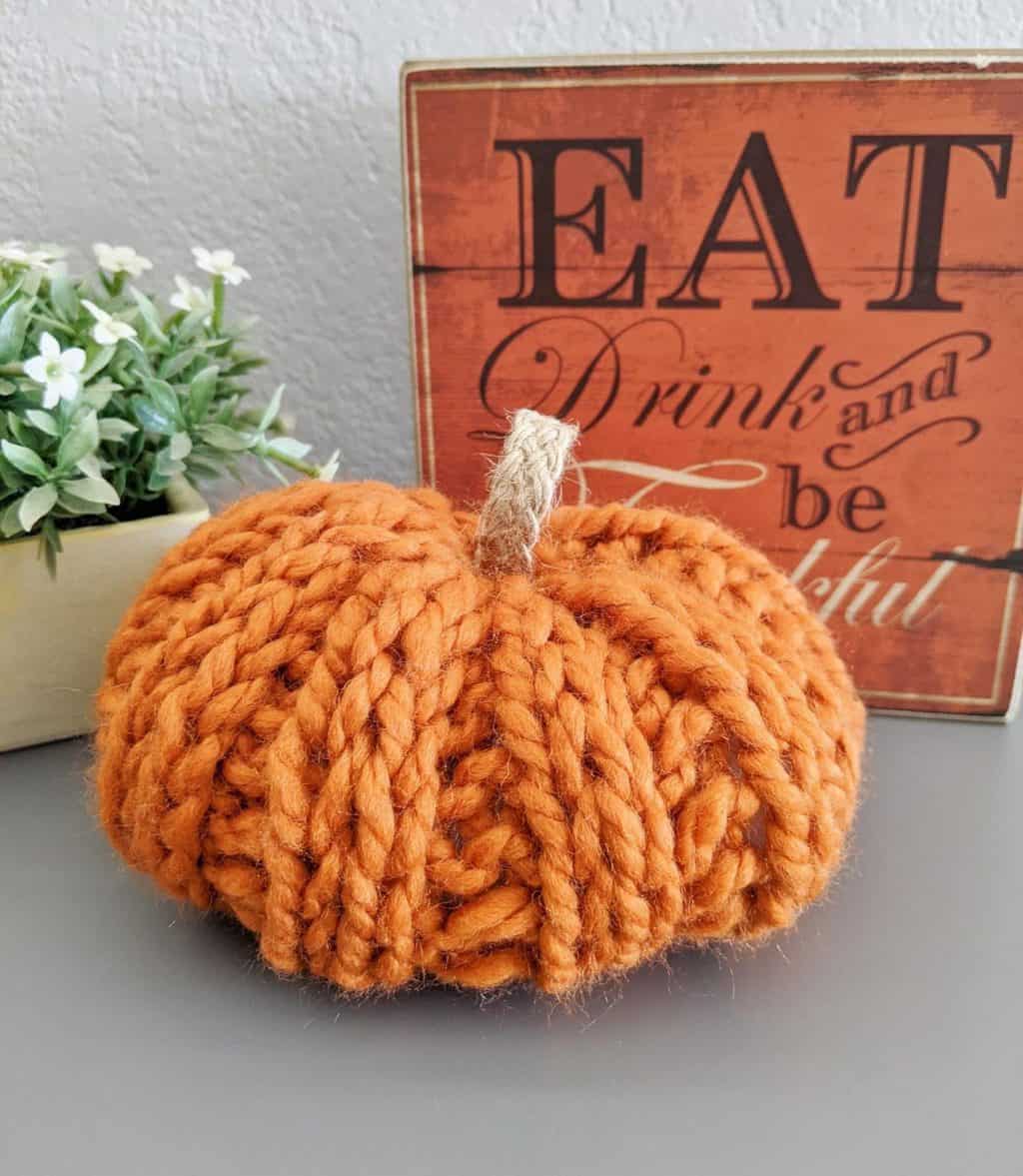 Knit pumpkin Fall decor centerpiece by Bethany Knit Shop
Can't you just see this in the center of your table this year?! I love it! I am so impressed with Bethan's talent to make these too!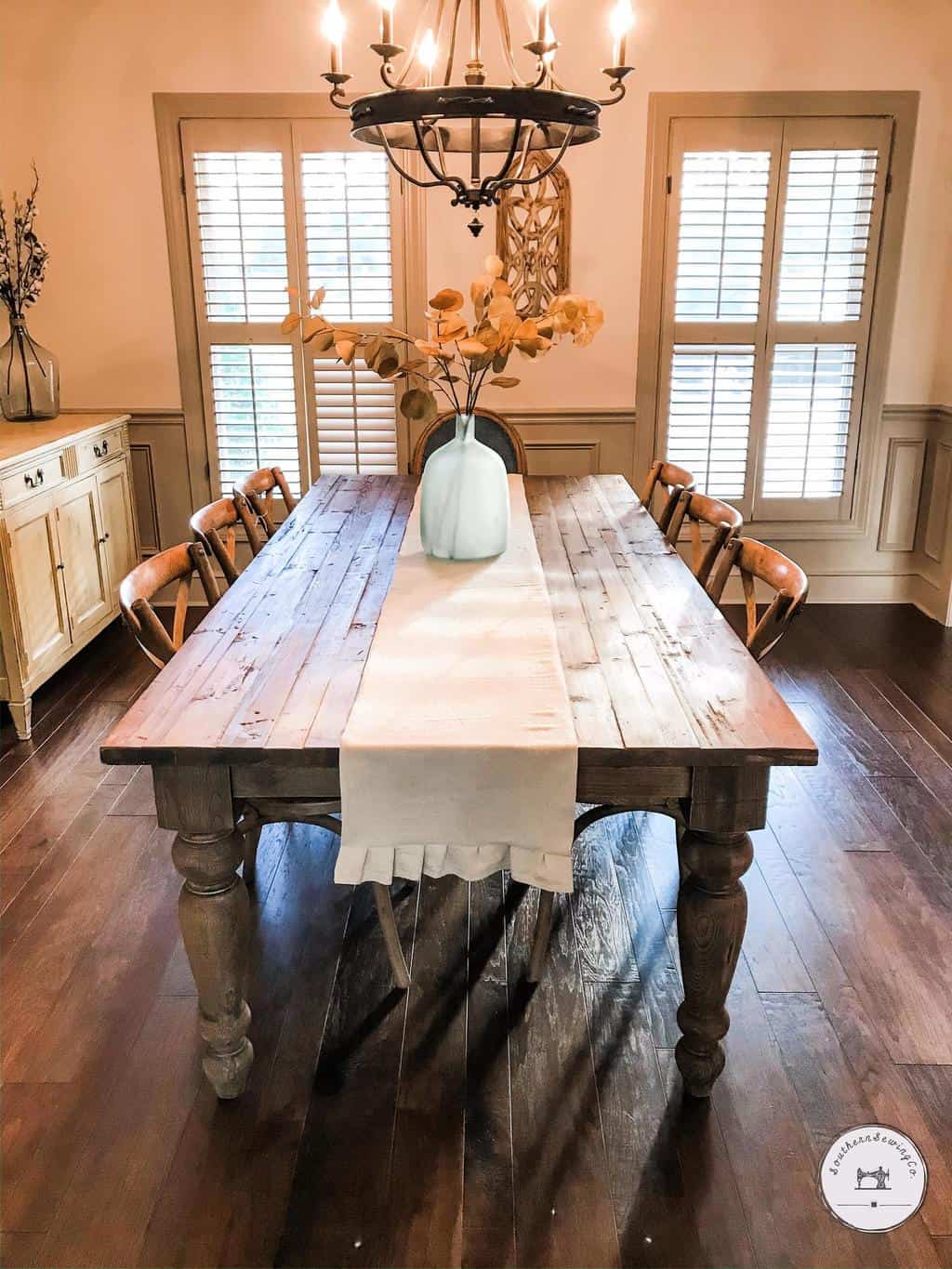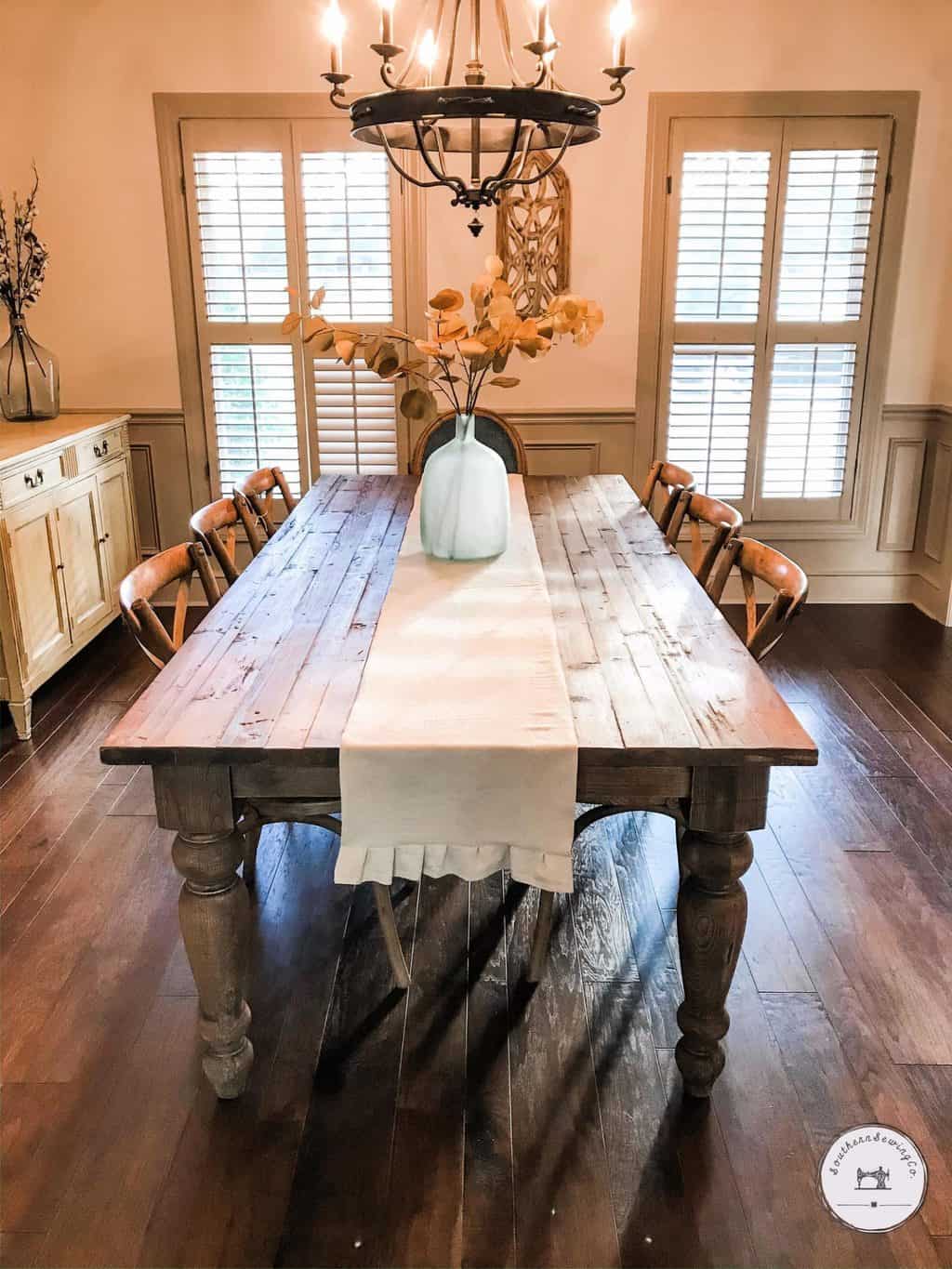 Farmhouse Table Runner for Fall Thanksgiving by South Sewing Co.
Simple yet I love the frill edges as a perfect touch on something neutral for Fall Table Decor! You can definitely use this year-round and re-decorate around it.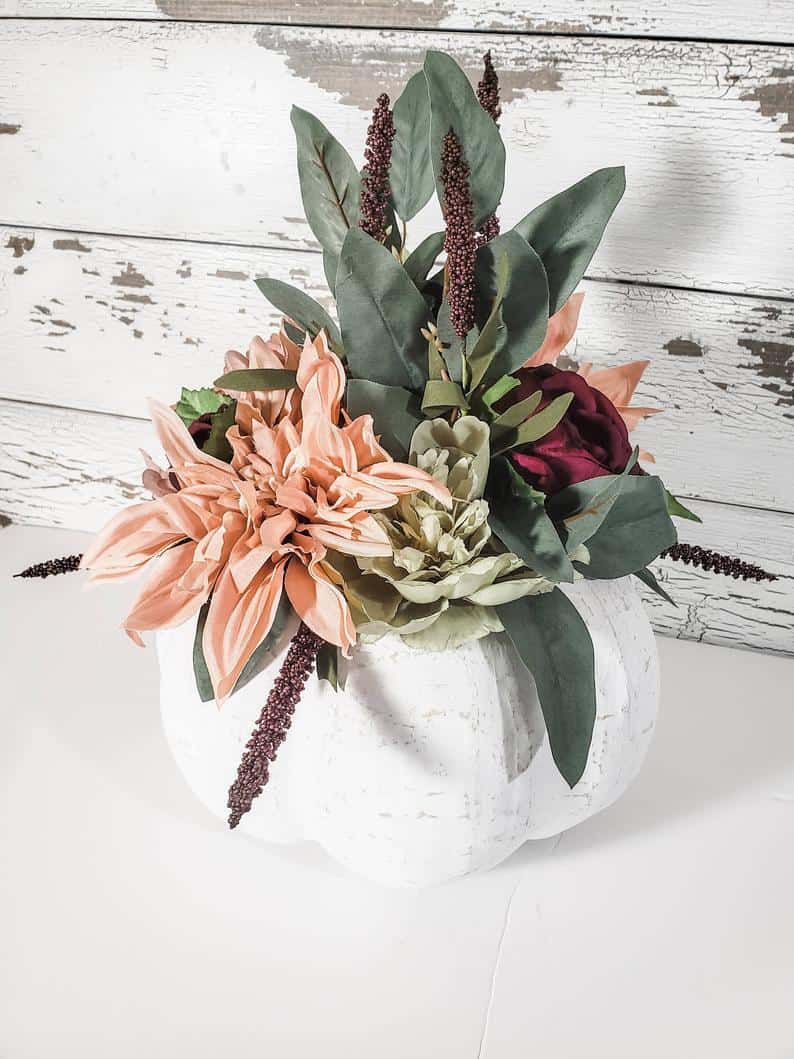 Pumpkin Centerpiece for Fall by Creations by Joy Belle
Are you not in love with this?! The colors are so fall without being the traditional thing you'd think of. The painted pumpkin too. I can see this on my table this year!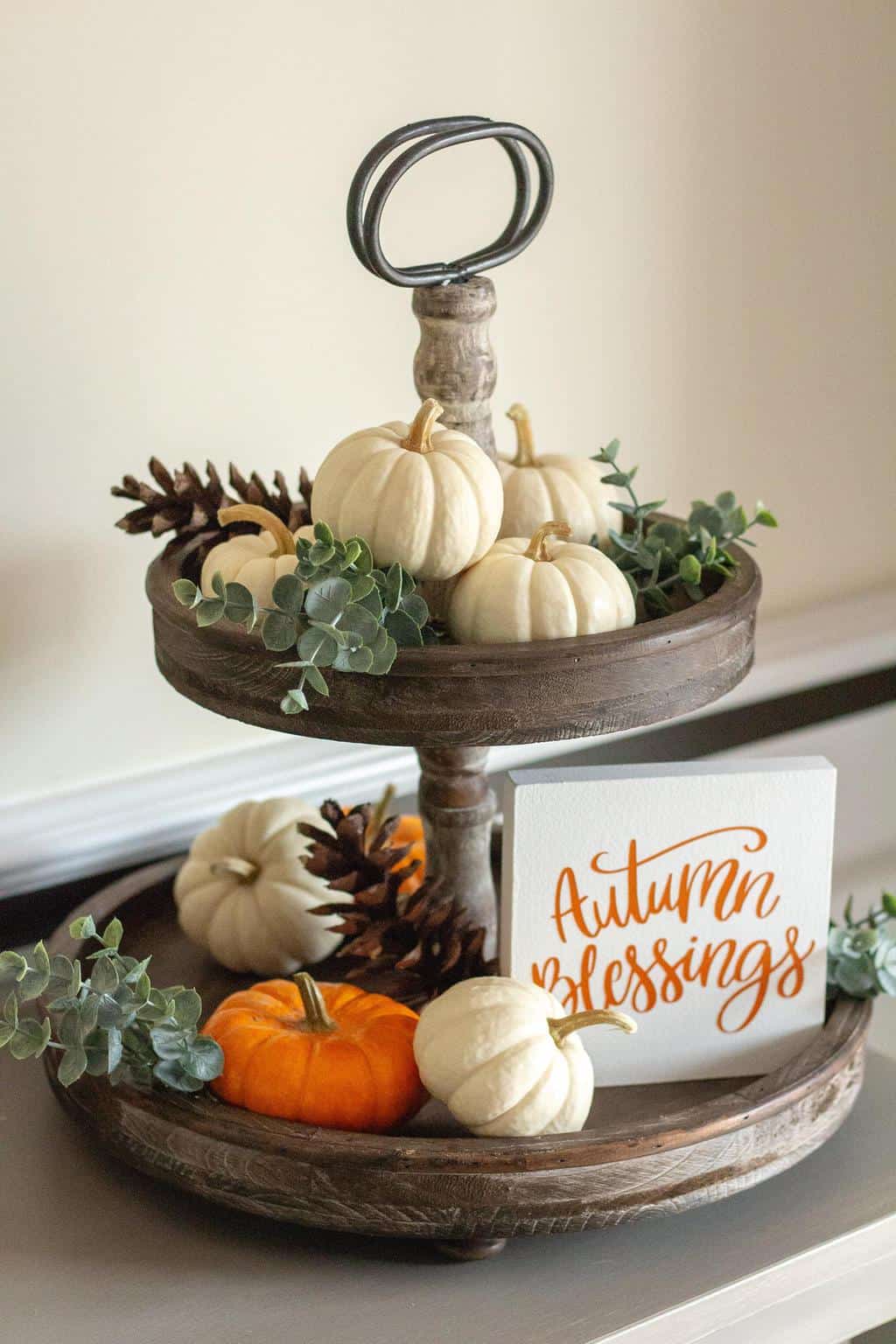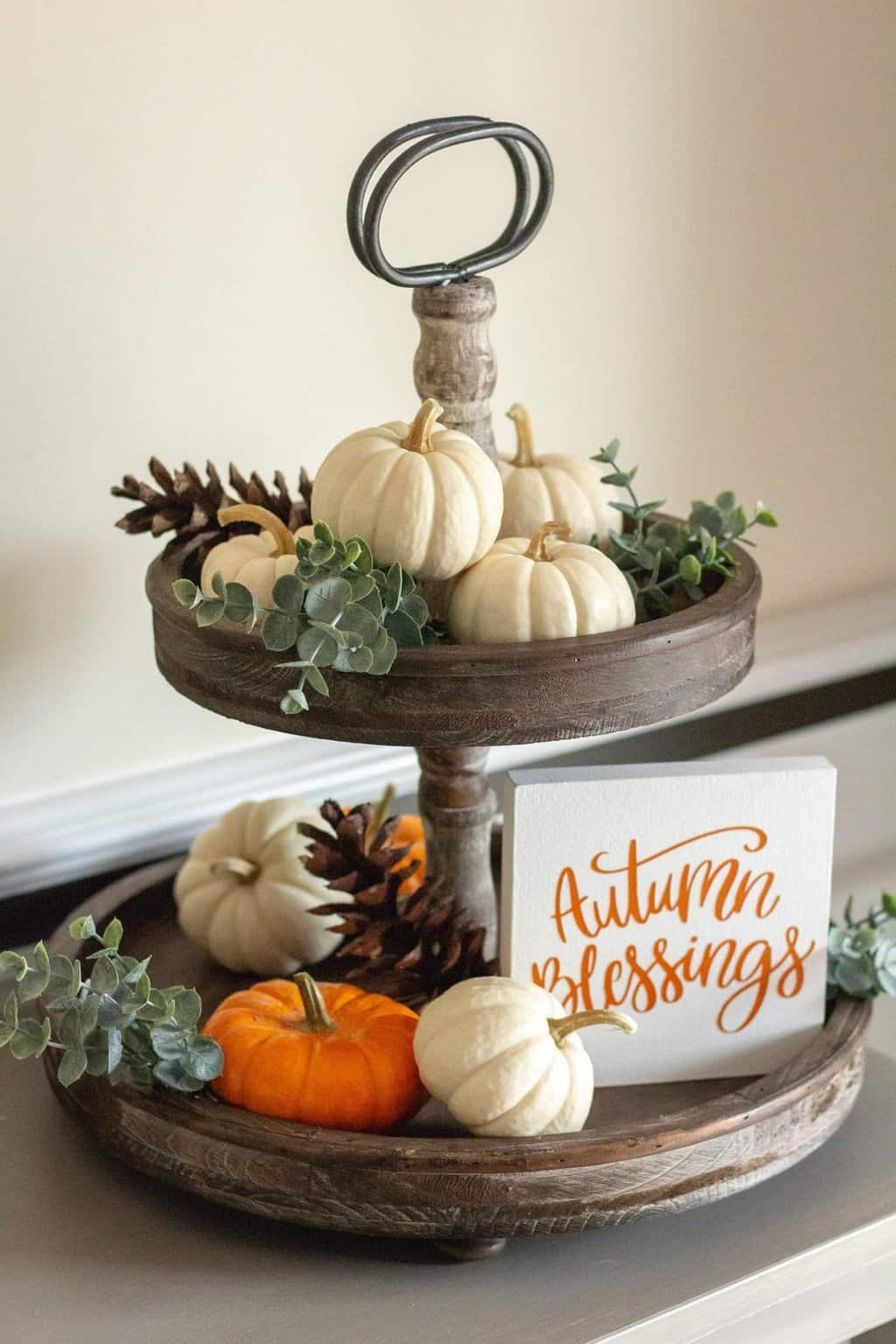 Autumn Tiered Tray for Fall Table Decor by Jarful House
I would totally copy this entire set up! I love the way they designed the whole thing. It's perfect just the way they designed it!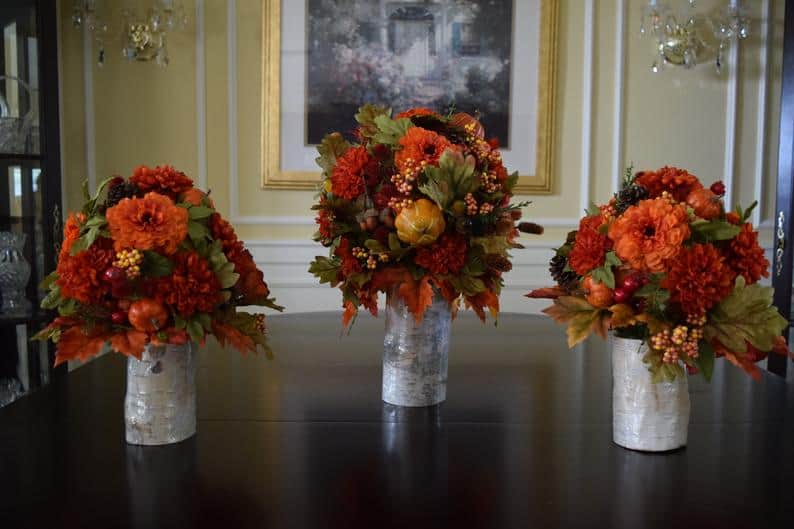 Fall Thanksgiving Centerpiece by Lana Divines
This screams Thanksgiving to me! And I love that it could be used or split up throughout the home for the rest of the season.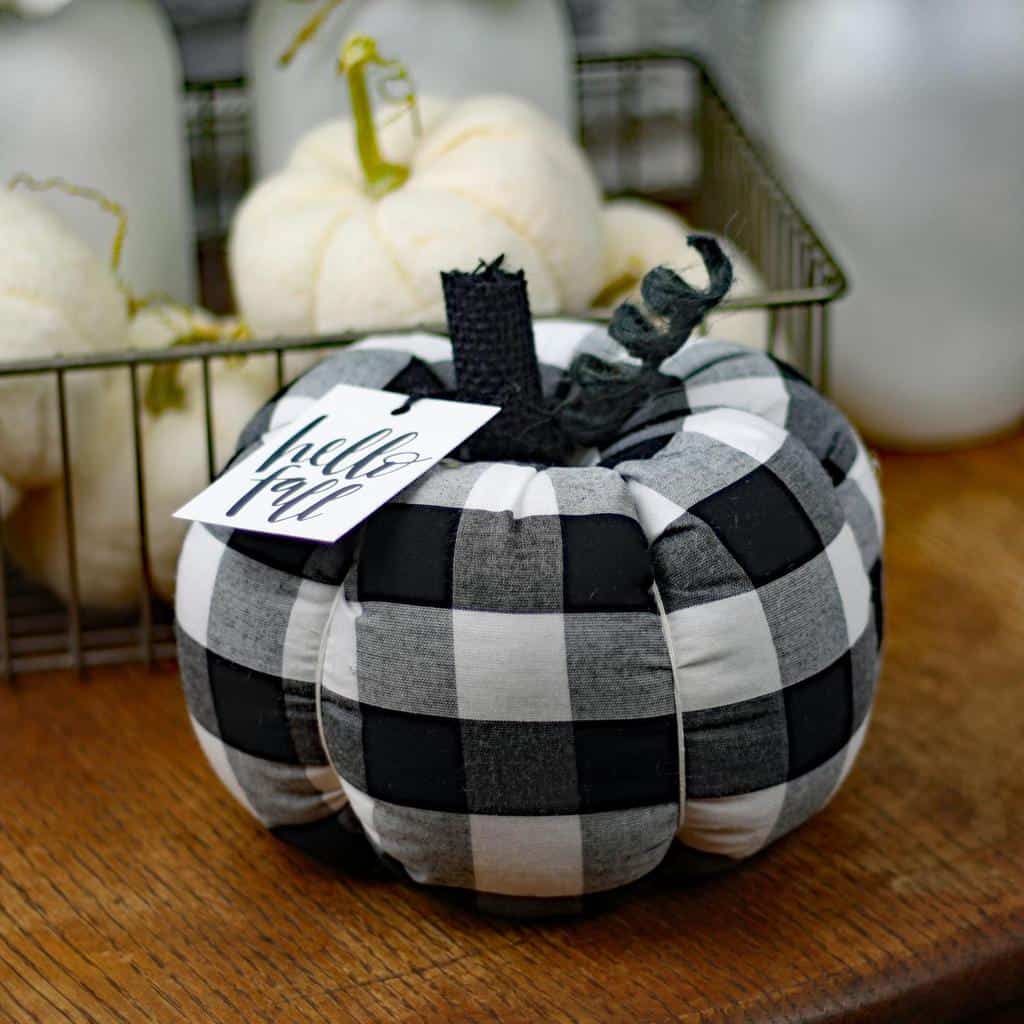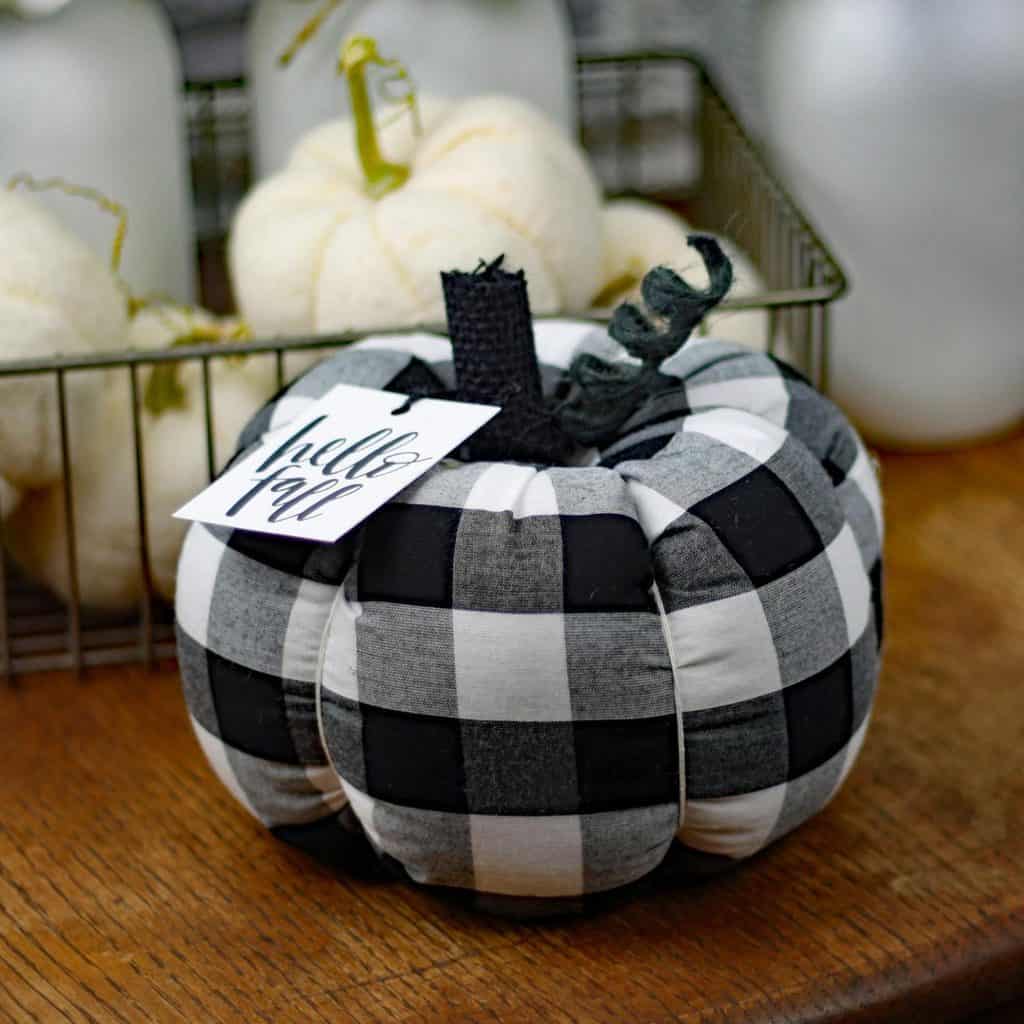 Black and White Buffalo Check Fabric Pumpkin Table Decor for Thanksgiving by Cotton Ridge Emporium
Another Black and white buffalo check fabric!!! I love this new trend! This pumpkin would be so simple with a black or white runner for Thanksgiving!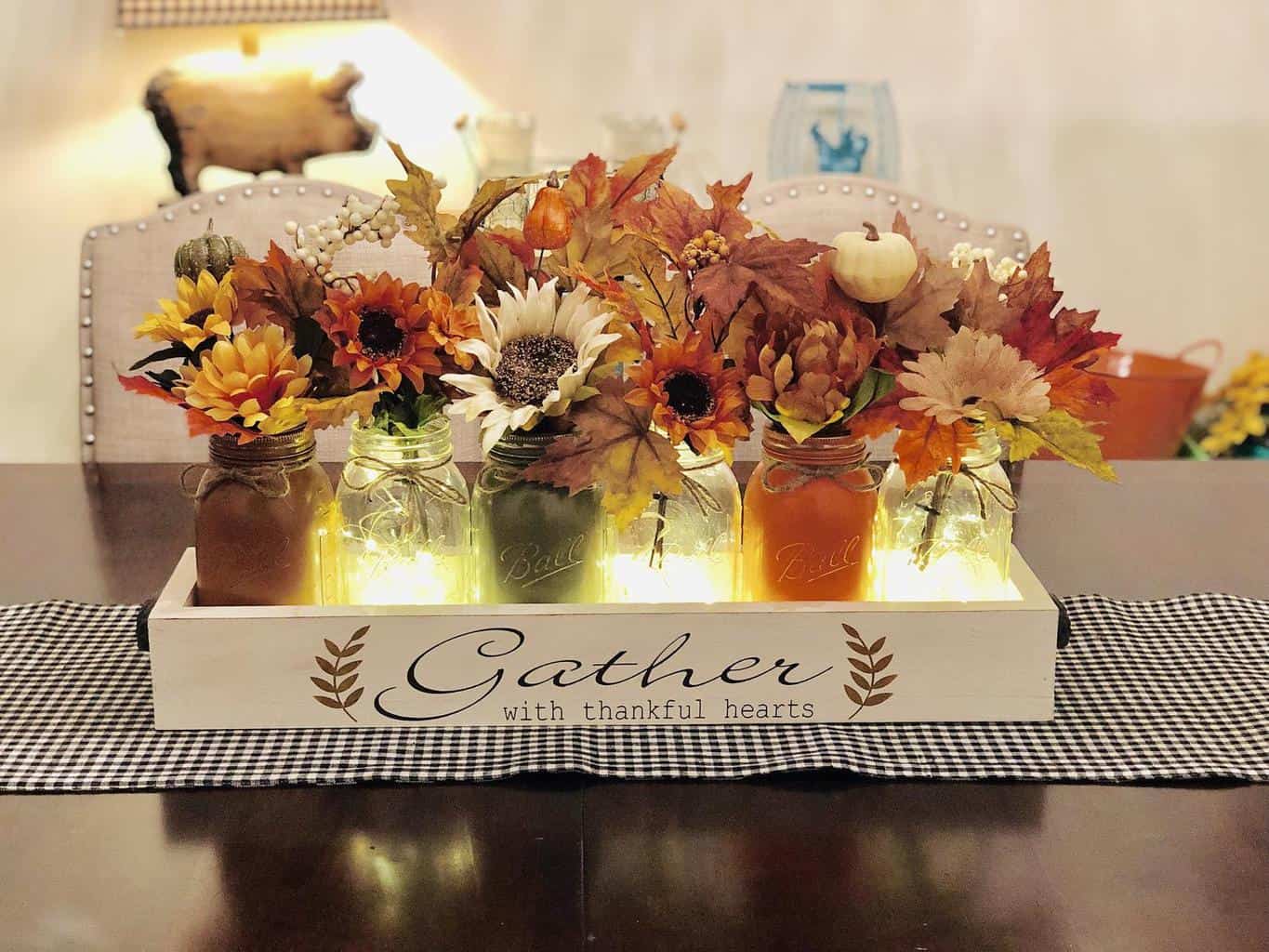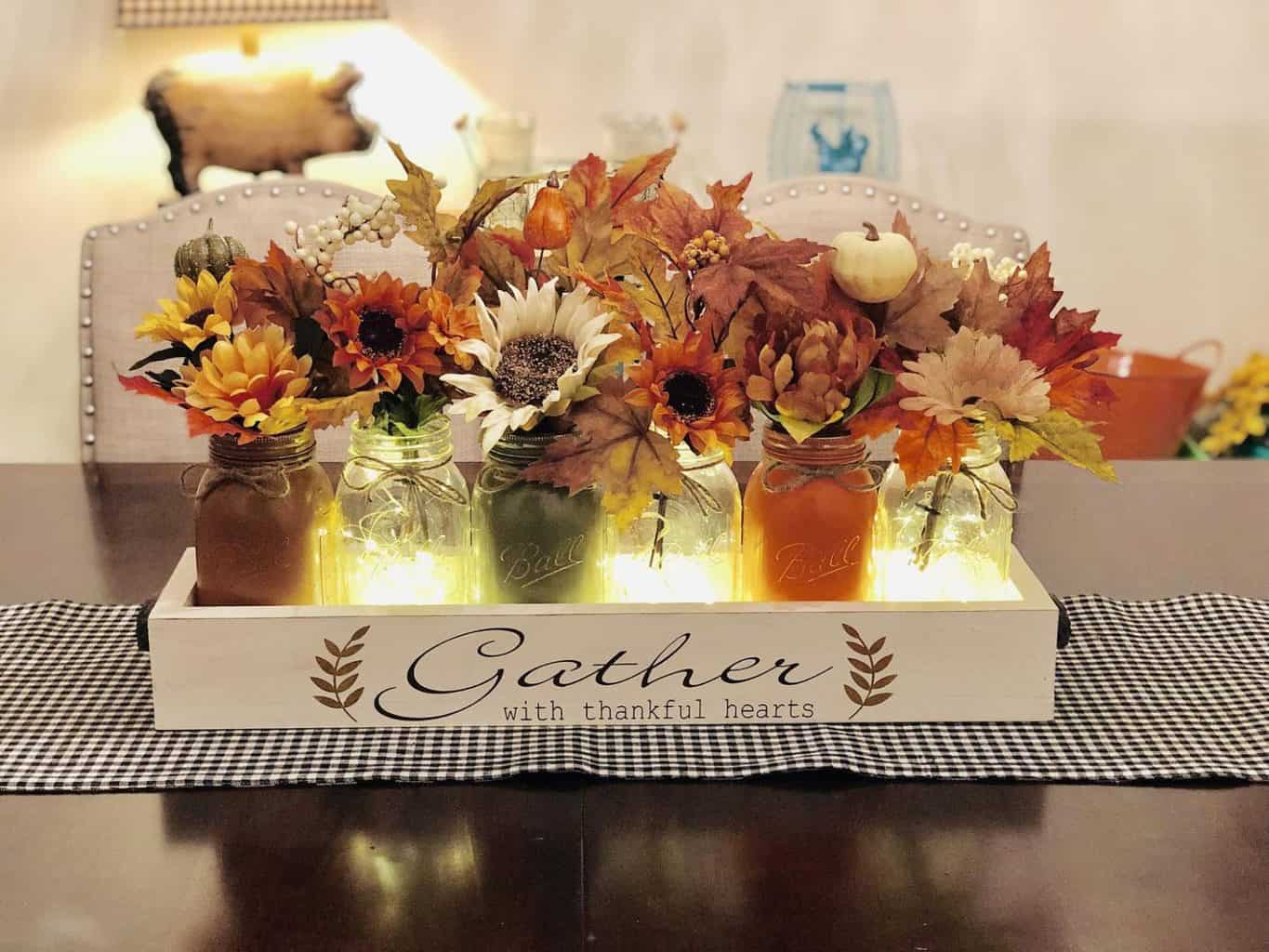 Fall Dining Room Table Centerpiece by The Little Witty Shop
The painted and the clear glass mason jars in this white panted box are gorgeous. And it is so large there is room to get creative and change it up for next year or later in the Fall Season.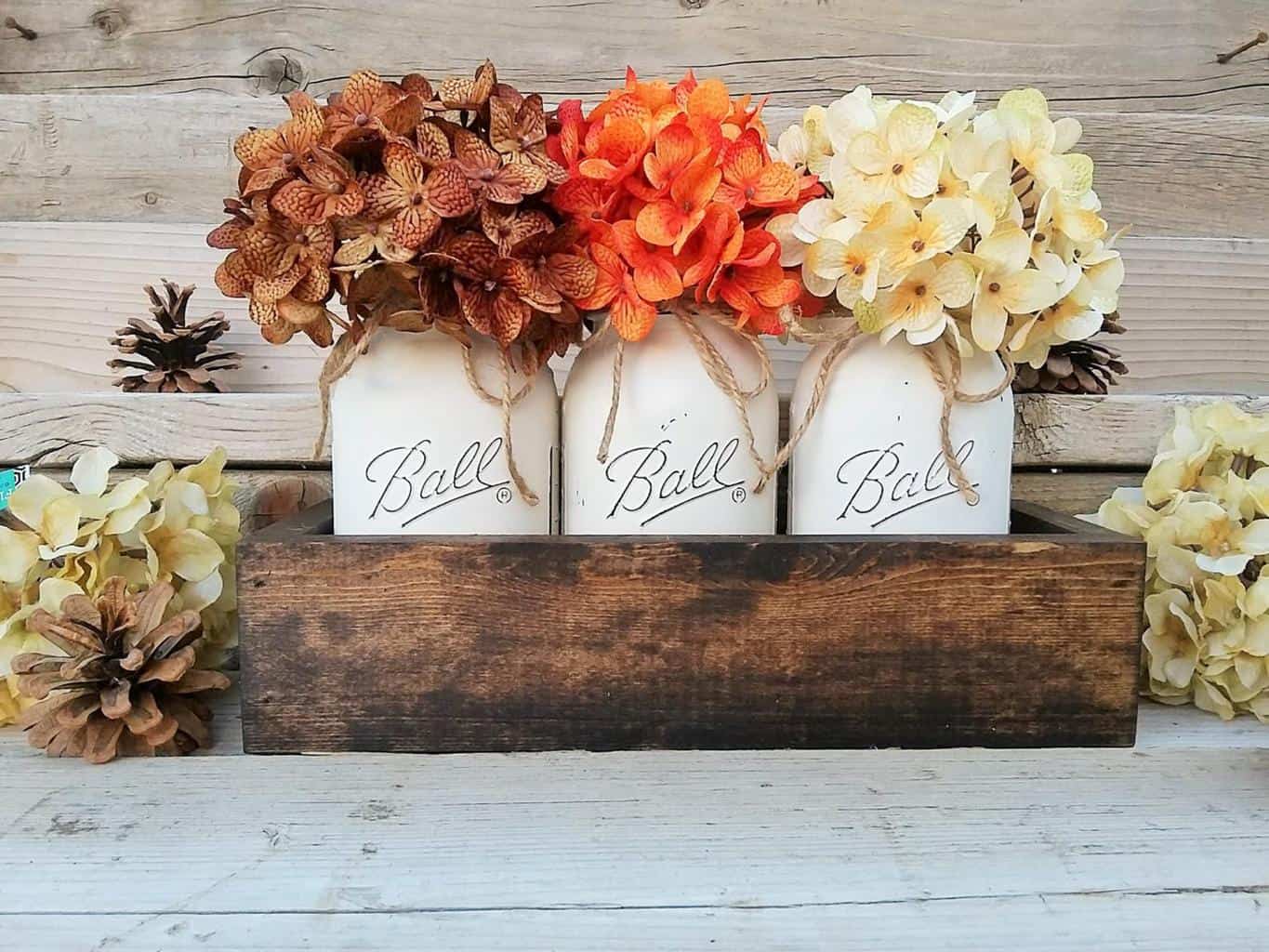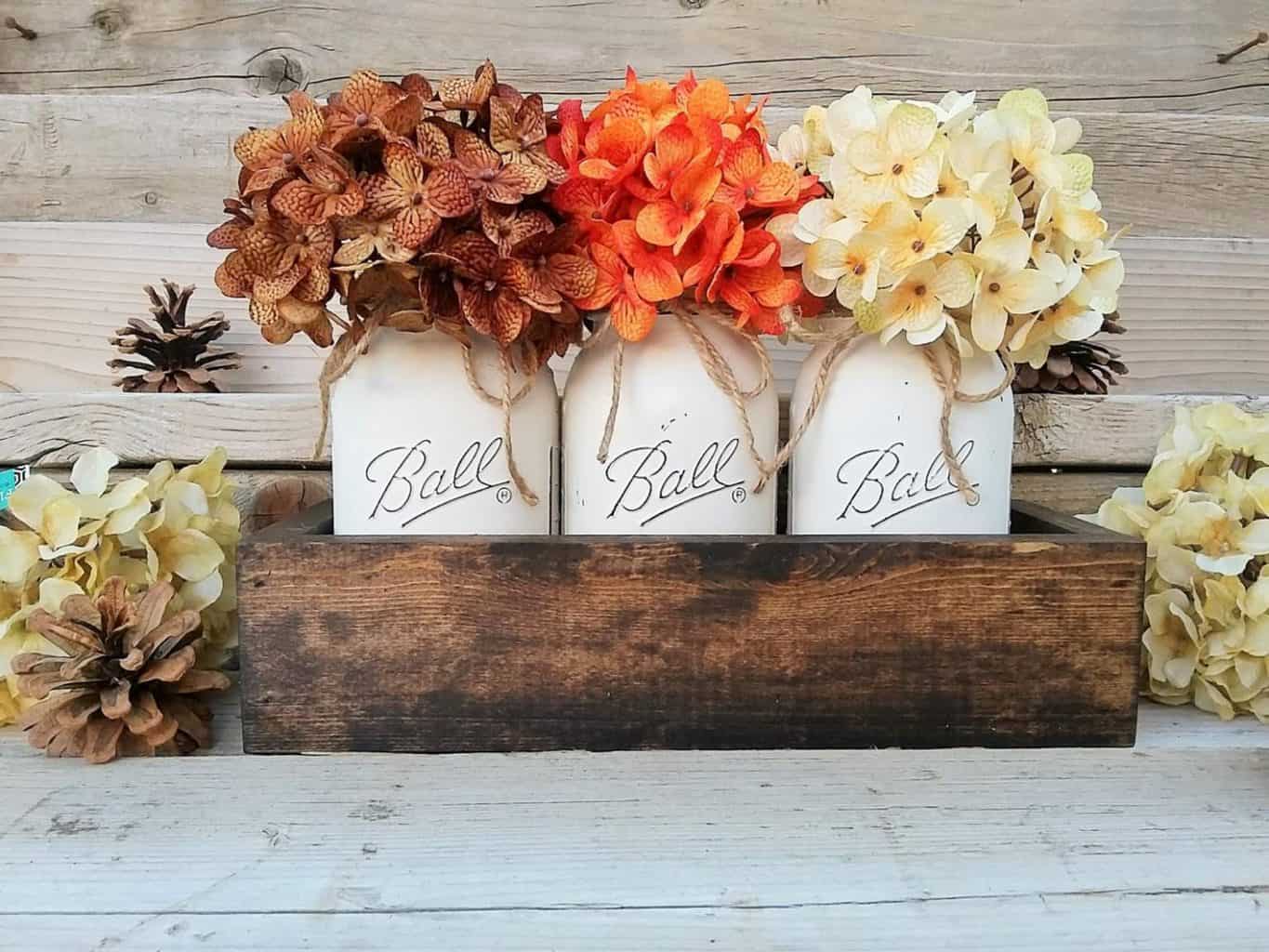 Fall Centerpiece Country box with Mason Jars by Country Home and Heart
I love that these are simple. and yet the colors are perfect and soft. This is the centerpiece for your Thanksgiving table.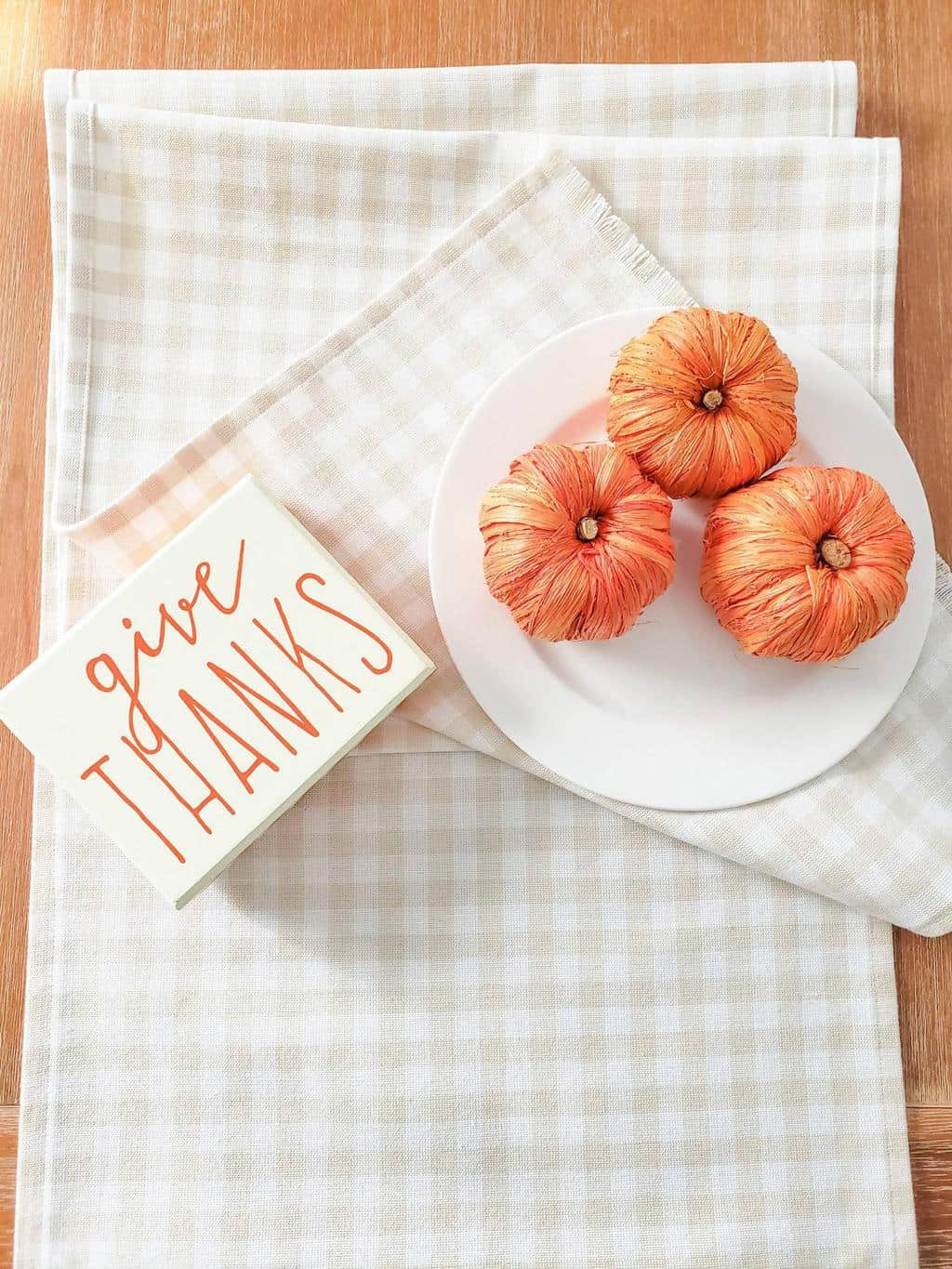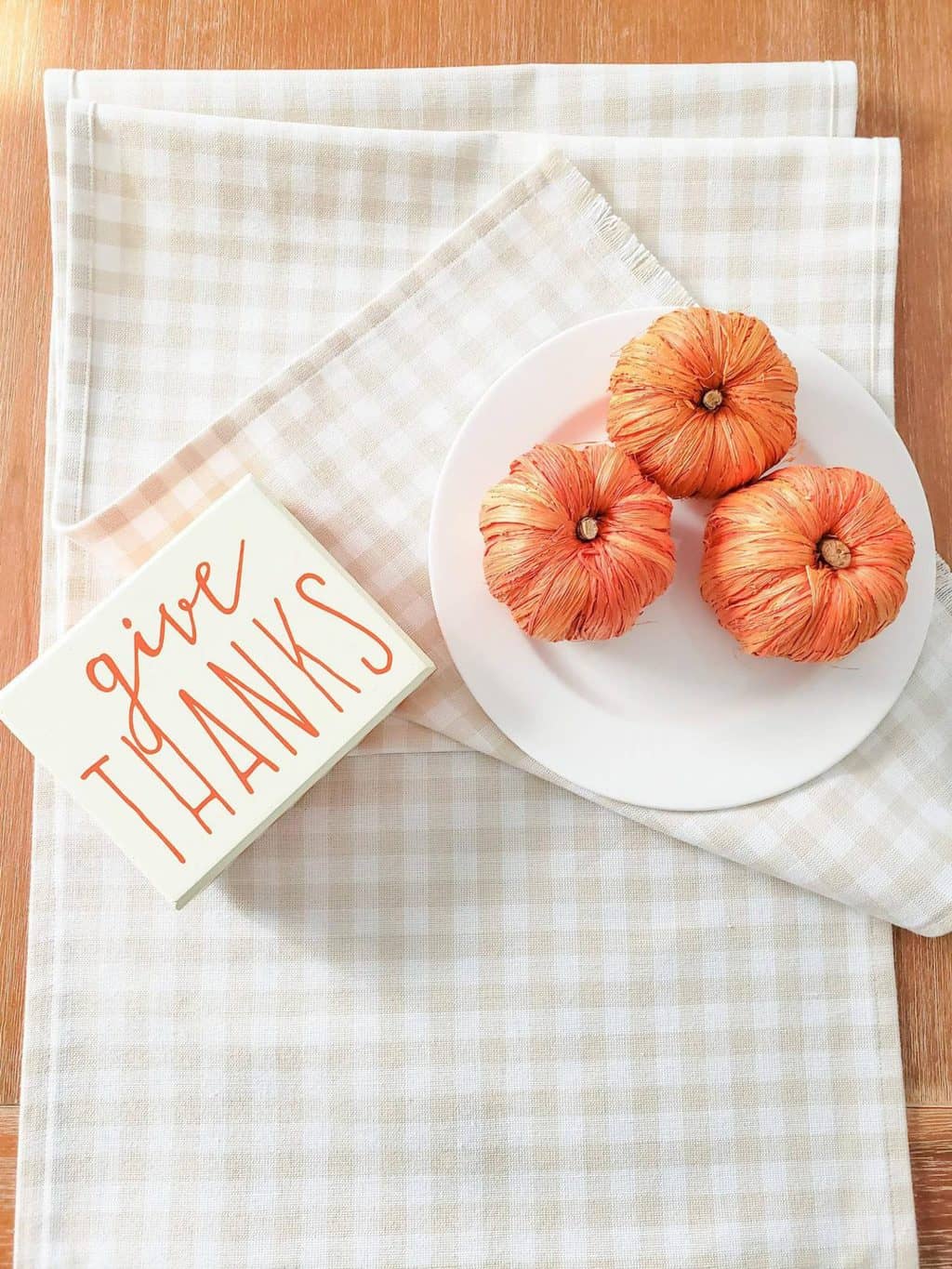 Fall Halloween Thanksgiving Table Runner by The Nutmeg Home
I love how this is all put together! The neuters with the pop of orange color is done just right! The sign, the pumpkins, the runner! I would love to have this on my table!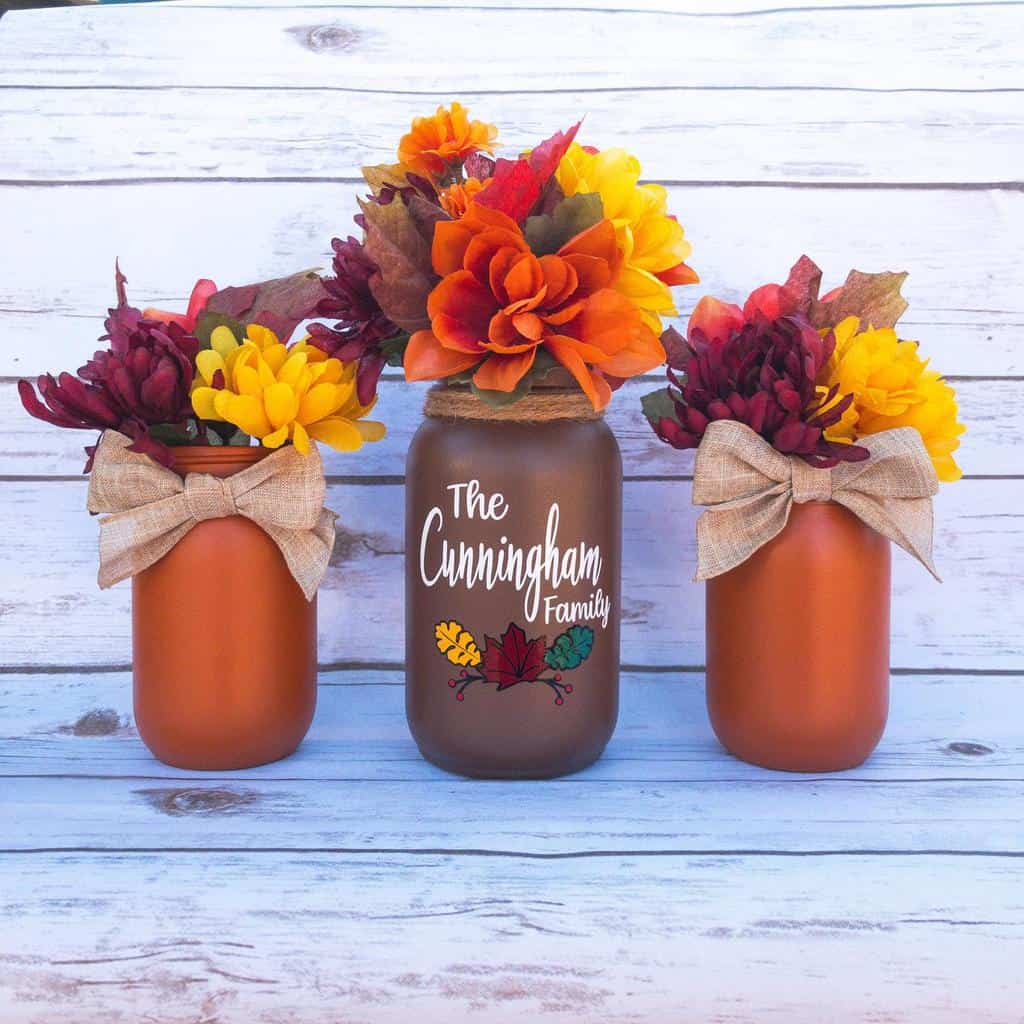 Custom Personalized Thanksgiving Centerpiece by Getting My Artsy On
What a great gift this would make! I love the personalization that makes it a great personalized gift.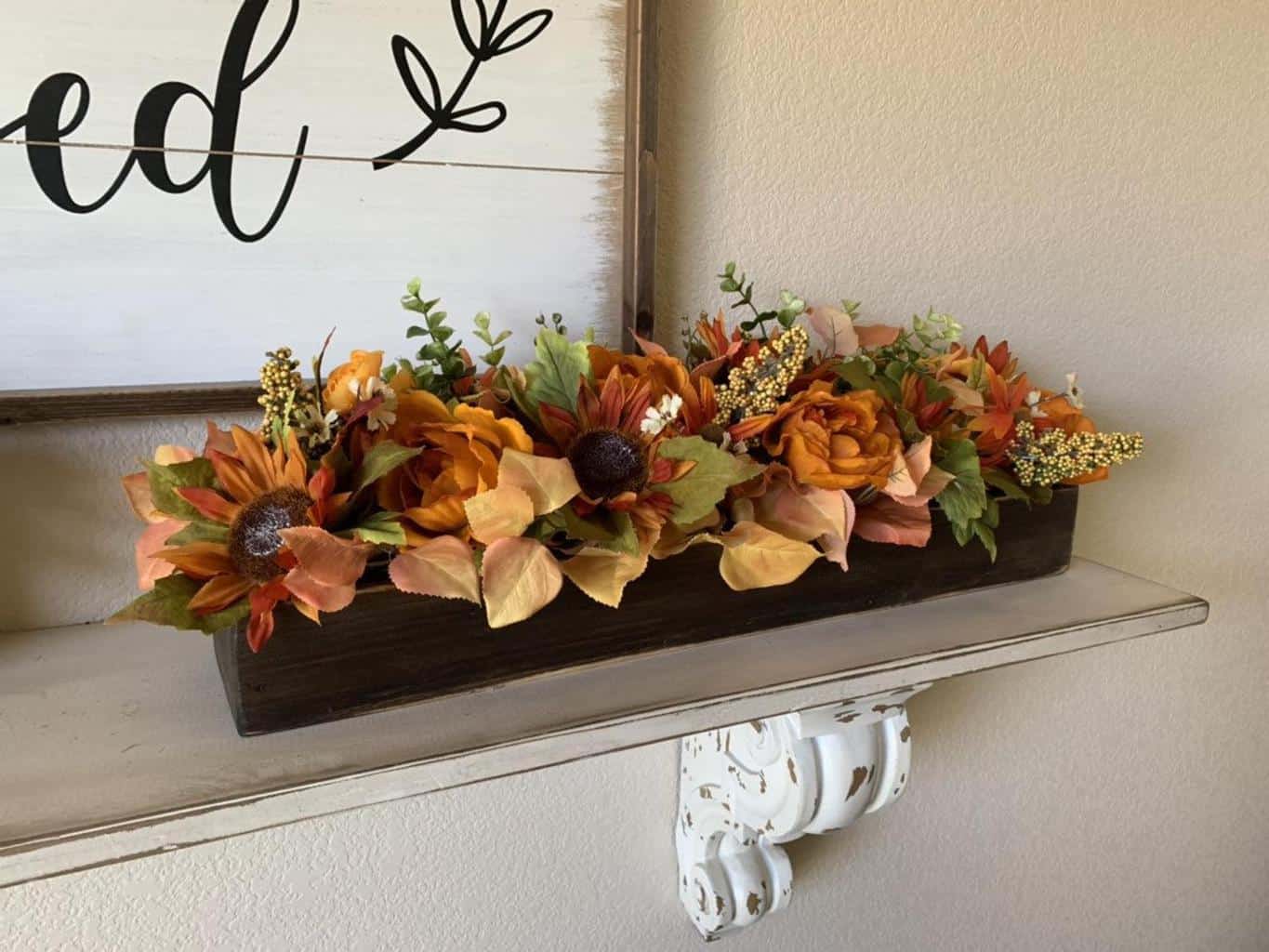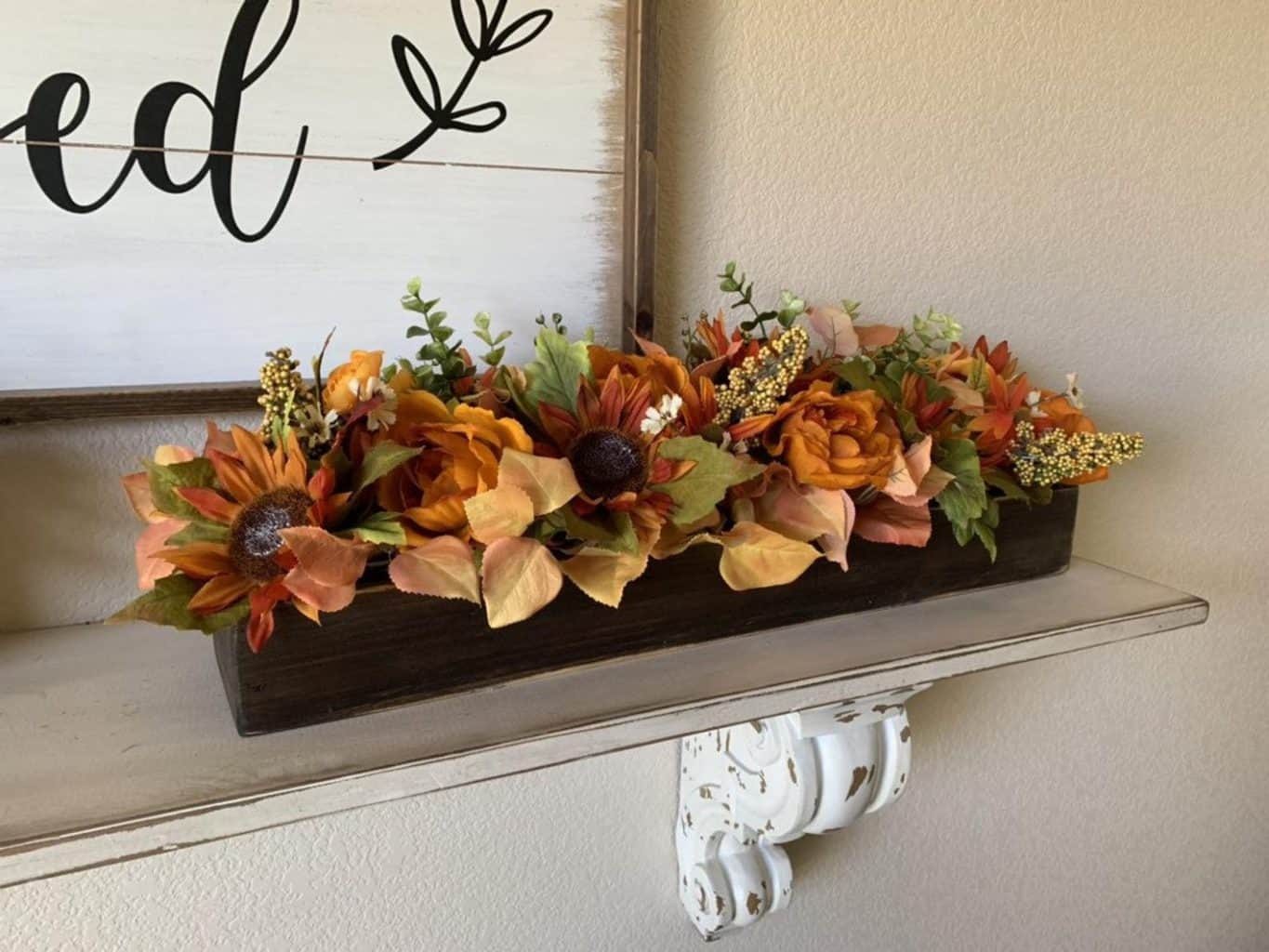 Fall Floral Arrangement for Thanksgiving Centerpiece by Country Home and Heart
These fall colors and this wooden box make this a traditional centerpiece that would be simple and easy to accessorize.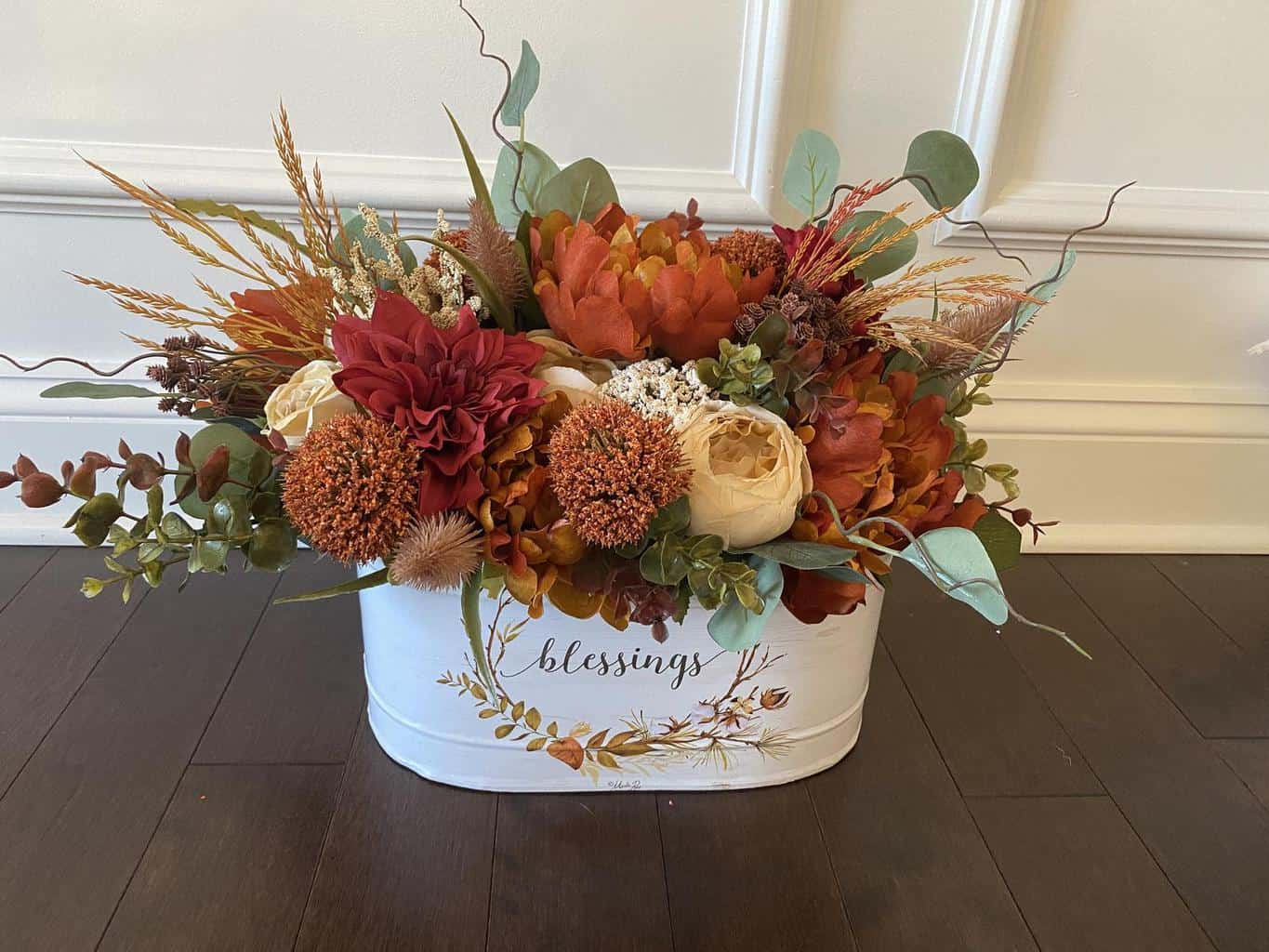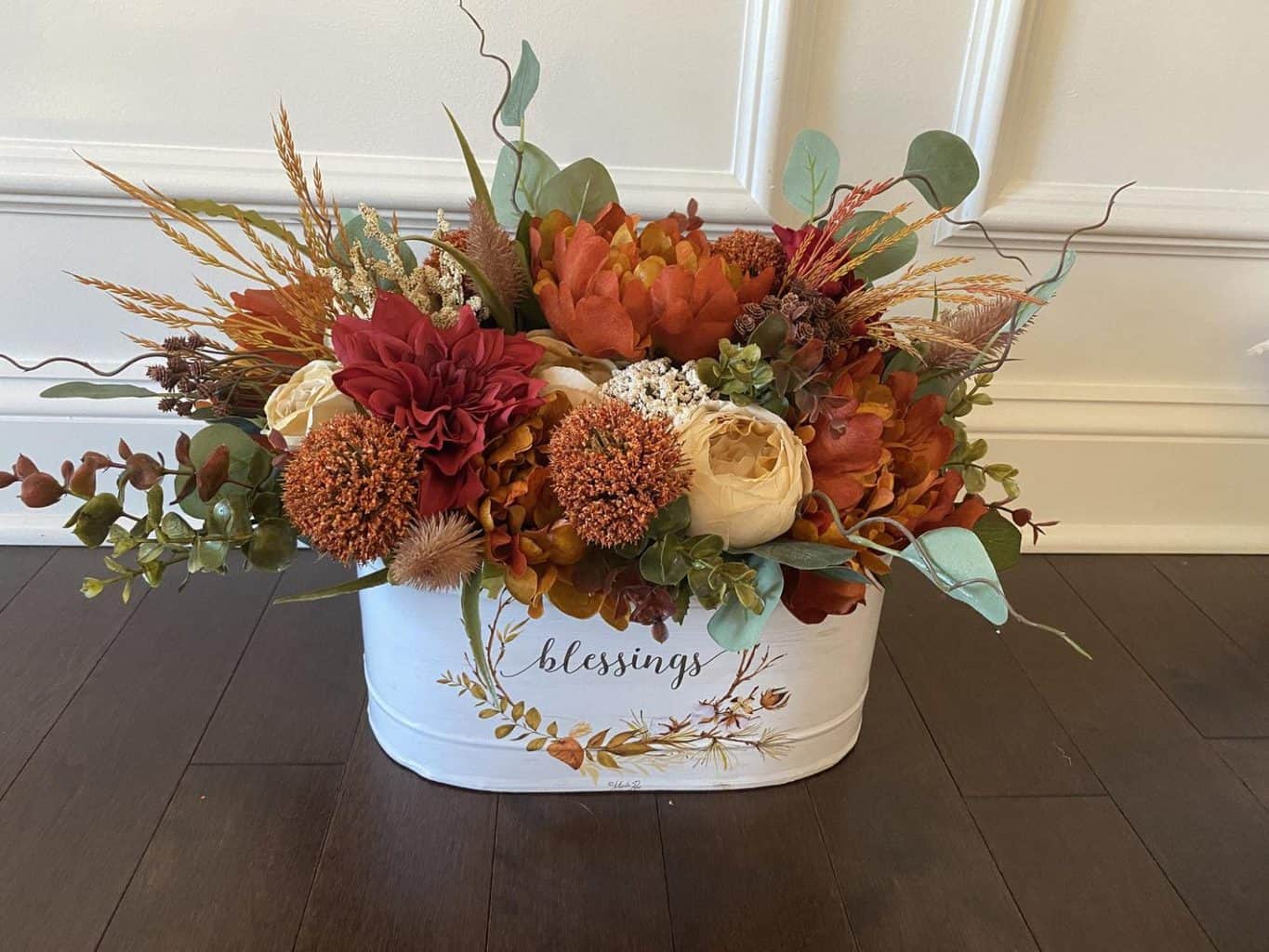 Harvest Decor for Fall Table by Branch N Bloom
This painted metal bin/wash tub is perfectly designed with the ingredients inside.
PIN TO YOUR THANKSGIVING BOARD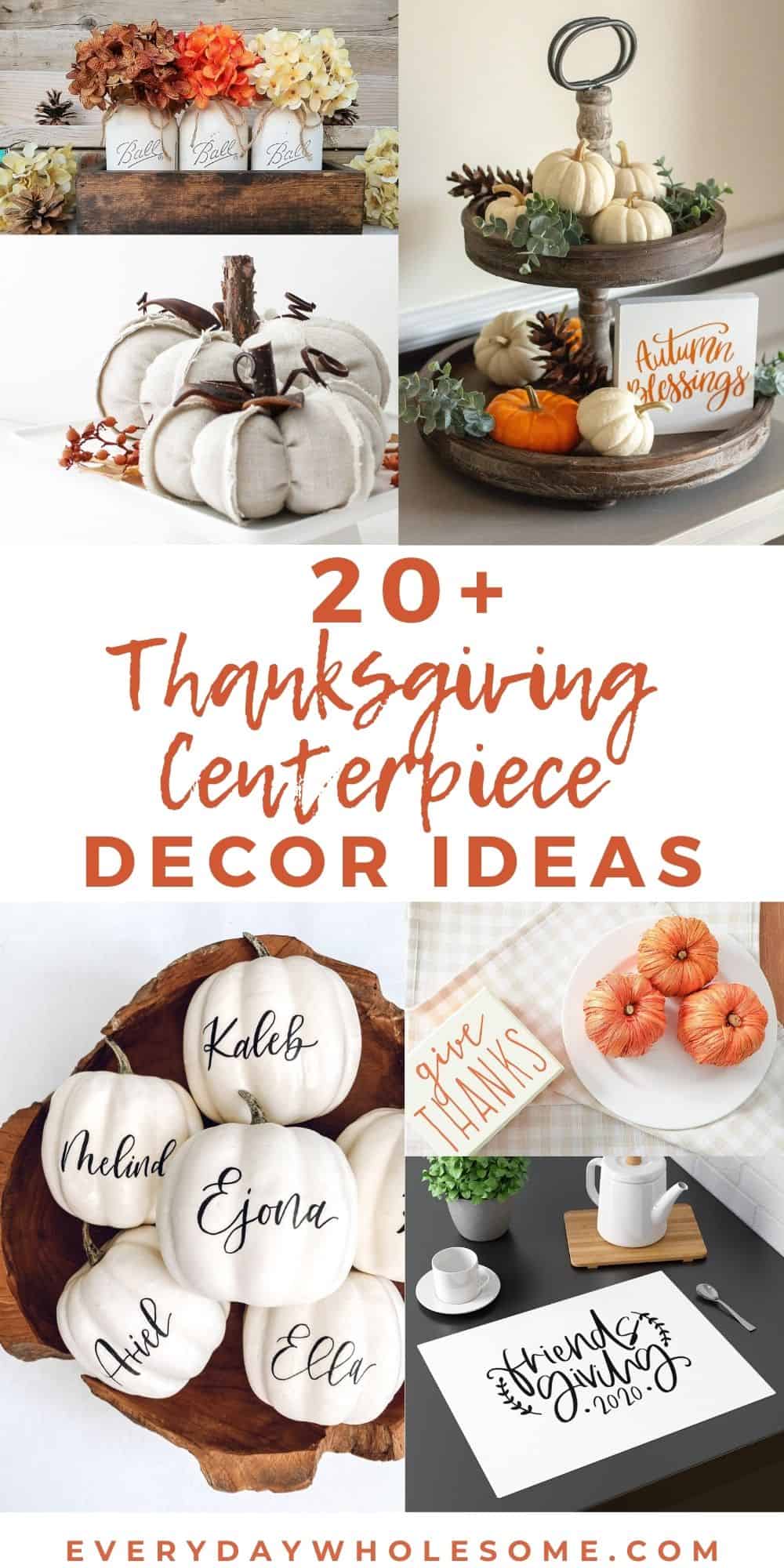 PIN TO THANKSGIVING TABLE DECOR & CENTERPIECES BOARD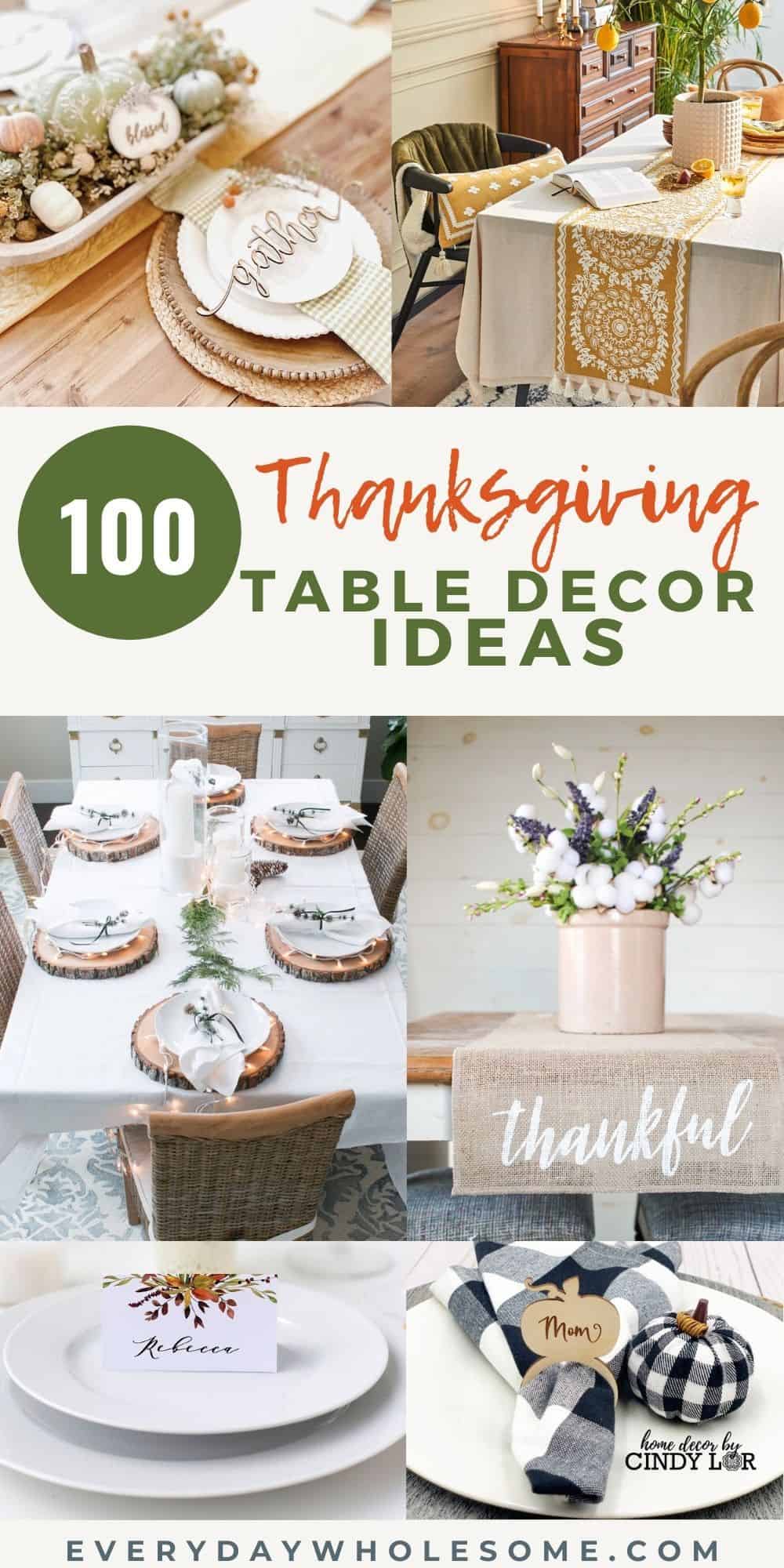 GRAB YOUR FREEBIE