Paperless Kitchen | How To
My favorite paperless kitchen tips and tricks to help eliminate paper waste and toxins.
WHAT IS A PAPERLESS KITCHEN?
I do not have a zero-waste kitchen. Basically my paperless kitchen eliminates paper napkins, paper towels, and paper plates (for the most part).
This post contains affiliate links, which means if you purchase a product using one of these links it will help support this blog, at no cost to you. Thank you for supporting this blog!
WHY DID I GO PAPERLESS?
A paperless kitchen just makes sense to me.
I don't really like paper towels or napkins.
I prefer towels to clean up spills and dry dishes.
I prefer the feel of a cloth napkin versus a paper, disposable one.
I like the colors of the cloth napkins and the neat stacks of clean towels.
And I am cheap and practical.
I prefer to save money and not buy disposable products over and over and over. I would rather save that money for the big purchases, the nice items that I truly love….versus a monthly $xx on paper towels & napkins.
THE FLIP SIDE. WHEN TO USE PAPER.

There are times that doing extra laundry seems impossible.
New baby. Husband deployed. Just moved.
Sometimes life is hard and during that season, give yourself a break.
Sometimes paper plates and paper towels will make the difference in your day.
No judgment here. And I try not to feel bad if I use paper for a bit and then when life settles down, I get back to my routine with my towels.
I love my towels and cloths and napkins.

MY FAVORITE PAPERLESS KITCHEN ITEMS
Anytime I look for a new item, I search for the best item…the item that will last the longest, work the best and also is the best deal. I've recently found the sweethome [now wirecutter] and I love them!!! Some people say they're wrong all the time, but I have liked the products they recommend.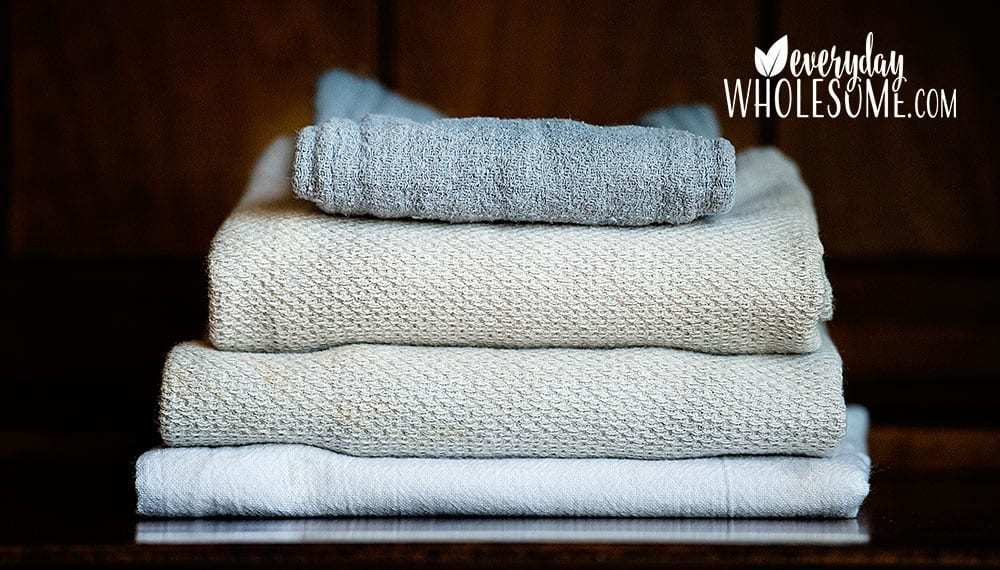 UPDATE 2018
I have simplified my life a lot this year. I had baby #3. I no longer use the towels above. I use ONE cotton towel. I use ONE cleaning cloth for the counter. I use ONE kind of napkin.
PAPERLESS KITCHEN ITEMS

3 PAPER ITEMS TO ELIMINATE FROM YOUR MONTHLY BUDGET TO SAVE MONEY
If you adopt these tips below, you'll no longer need to buy the three items below. Or, you can at least buy them less often.
paper towels.
paper napkins.
paper plates.
I no longer buy paper napkins or plates. (I buy paper plates if we're having a lot of family in town for a holiday and we decide we don't want to be in the kitchen as much for that season.) But I do buy paper towels.
I do buy paper towels but I buy them very seldom now. I probably buy them twice a year now instead of monthly. I only use them on raw meat, when guests come over and use them or when ALL of my kitchen towels are dirty! Gasp!
4 TIPS FOR A PAPERLESS KITCHEN
Have a plan for the dirties.

Where will the wet ones hang?
Where is the laundry room?
Will you have a "wet bag" under the kitchen counter and then transfer nightly? My laundry room is right off my kitchen so dirty kitchen towel laundry is pretty simple for me.

No more disposable dishes?

If you're in the habit of using disposable plates and bowls, you'll need to change your dish washing routine in order to keep up with the new amount of dishes!
A routine of loading and running the dishwasher every night and unloading it every evening or morning might help. Or hand washing some dishes as you use them.

Buy things you like.

If you like your dishes or towels or cloths. you'll be more apt to use them. If you like your towels and napkins, you'll be more likely to use them.

Buy things that are easy to maintain.

I choose Norwex when I can afford it because it requires less work in the wash for me.
I bought these Corelle tiny plates & Corelle lunch plates & Corelle tiny bowls because they are lighter and easier to wash and put away. They speed up my dish routine. And they take up less space in the sink, dishwasher and cabinet.
If you're interested in the towels pictured above that I no longer use, you can find them here: barmop towels. Williams Sonoma Kitchen Towels (I didn't love these like I thought I would.)
What are your tips for a paperless kitchen? Or is this just one step too far for you?
PIN IT ON PINTEREST….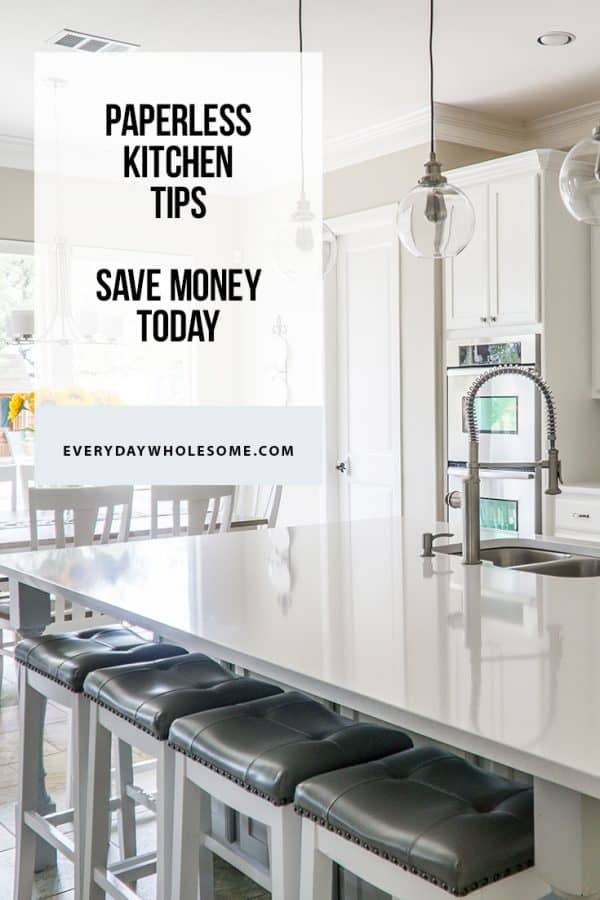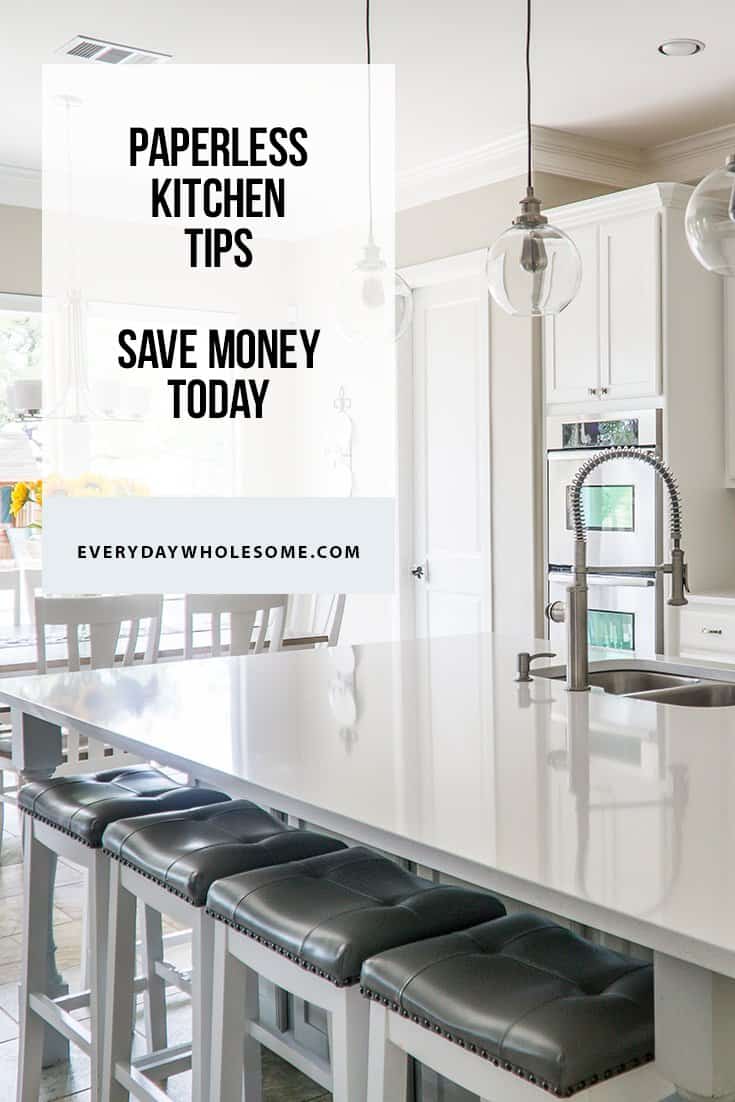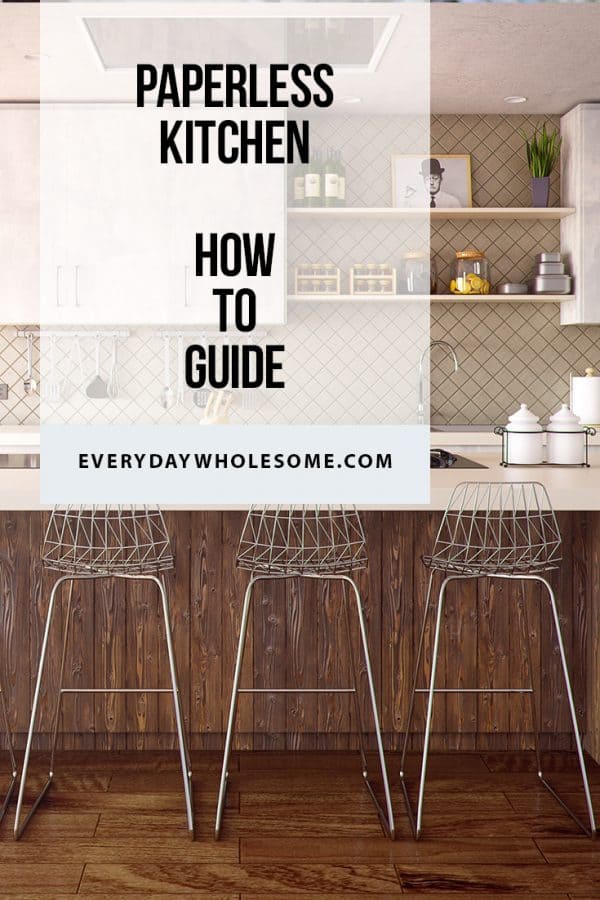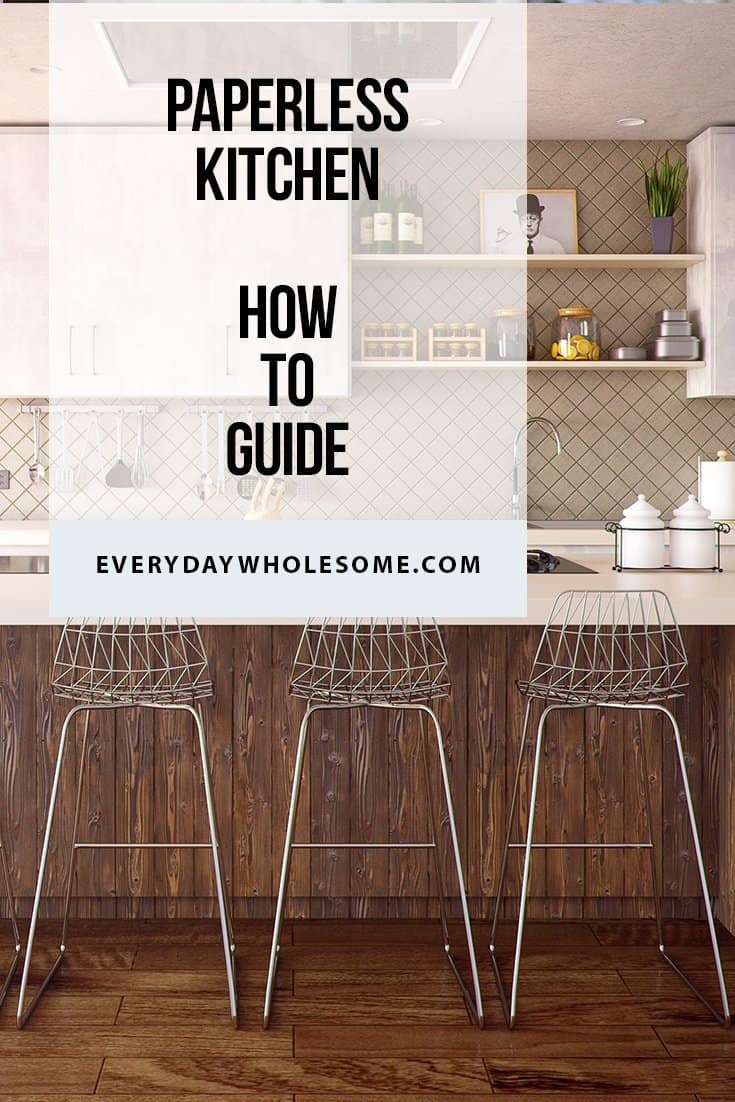 Save
Save
Save
Save
SaveSaveSaveSaveSaveSave
SaveSave
SaveSave
SaveSave
SaveSaveSaveSaveSaveSave
SaveSave
SaveSave
SaveSave
SaveSave
SaveSave
FREEBIE DOWNLOAD