This post should answer your questions about whether you can use Thieves Household Cleaner & Norwex cloths together! Because YES YOU CAN!
I CLEAN MY ENTIRE HOUSE WITH 1 BOTTLE & 2 CLOTHS

As I started researching cleaning and how to clean and cleaning faster and systems of cleaning in order to fire my cleaning lady, make cleaning easier and cheaper and safer, I found that having a system works. I read a bunch of "how to clean" books and they all had this caddy that you carry around with all of your tools and cleaning supplies. BUT I FOUND A MUCH SIMPLER WAY. All I needed was ONE BOTTLE OF 88 CENT CLEANER. AND TWO CLOTHS.
#1. ONE BOTTLE OF CLEANER.
All I need is ONE cleaner to clean ALL. THE. THINGS. Everything. Seriously. That's all. (And I use it as my stain remover too.) Can you believe it?
Thieves Household Cleaner or get Sal Suds and make a recipe like you can find here.
Thieves Household Cleaner is safe and nontoxic. It is plant-based. It smells great without the smells being dangerous chemical fragrance. It's fabulous. It's simple. And, it's cheap. And….it's all I use for everything.
Sal Suds smells like pine and is simply fabulous.
#2. TWO MICROFIBER CLOTHS.
Along with that bottle, I have my favorite microfiber cloths. I have #1 AN ENVIRO CLOTH and #2 A WINDOW (POLISHING) CLOTH. And that cleans 97% of my entire home. Just those and that's all. The Thieves Household Cleaner wets the surfaces and makes everything smell nice. The Enviro Cloth picks up dirt and grime. The window cloth polishes all surfaces but is especially for windows and mirrors and stainless steel.
That's all folks. It's really that simple.
WILL THIEVES ESSENTIAL OILS HURT MY NORWEX CLOTHS?
NOPE! I have done tons of research on this because I get the question all the time.
Thieves Household Cleaner is not a soap per say so it will not "gunk" up the cloths.
Essential Oils, in general, are also okay to use with Norwex.
I have been doing it for years and the only reason my cloths get gunky is my own fault if I don't rinse them out enough!
Some have mentioned they think it's a waste of Thieves Household Cleaner to spray it and then wipe it up. I disagree. I like to spray my surfaces and let them sit and then come back and wipe them. I also like the smell. It's under $1 a bottle for Thieves Household Cleaner so it's not a waste.
If you don't have anyone who has introduced you to Young Living Essential Oils, I would love for you to join our team and learn with us!
PIN THIS TO YOUR DIY, NORWEX OR ESSENTIAL OILS PINTEREST BOARDS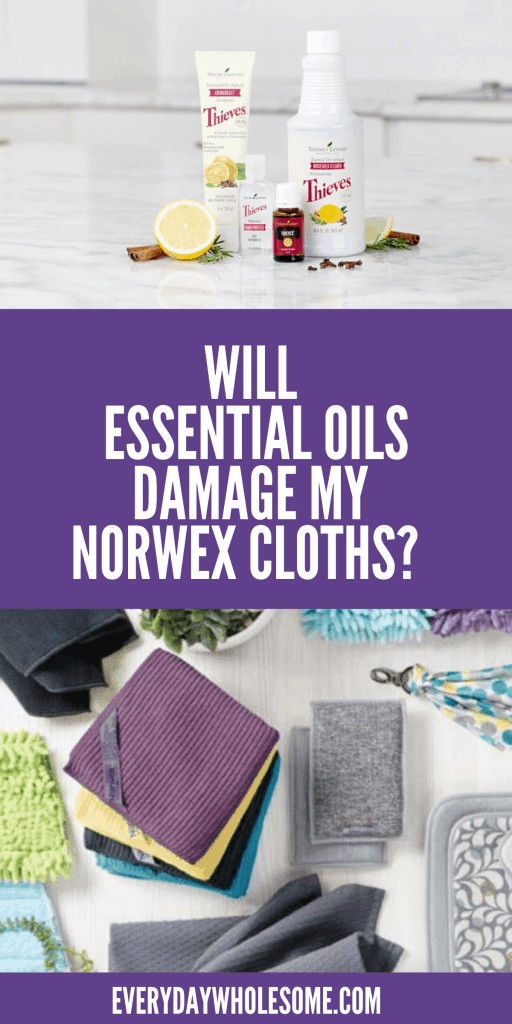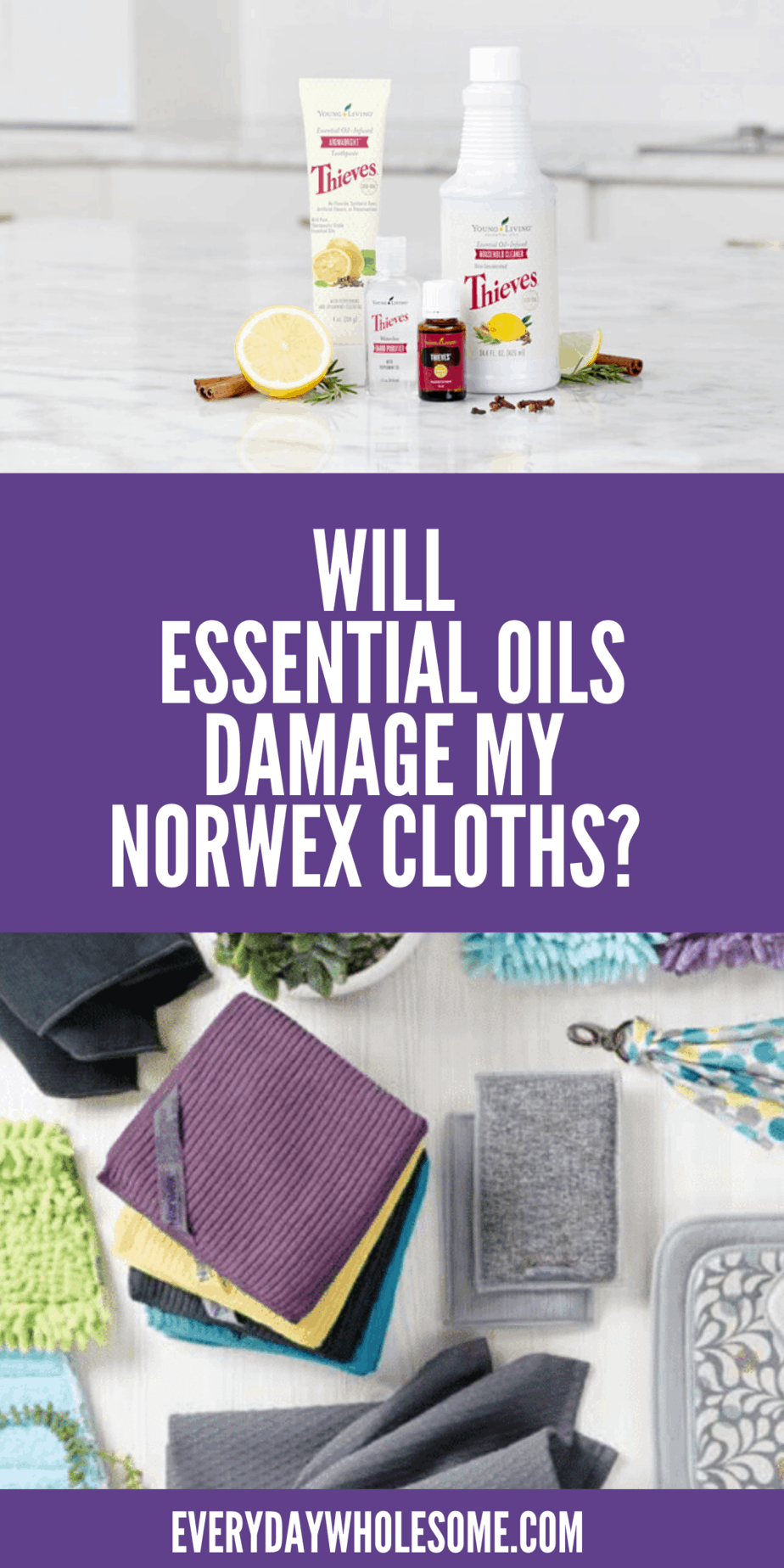 I FOUND NORWEX BEFORE ESSENTIAL OILS.
I started my first blog in 2008. People were always trying to get me to sell something and there was nothing that I felt like truly aligned with my "brand" and what I believe…until Norwex. Norwex is the first company I partnered with and I still love them. It's been about four years now and I still love them.
I still had chemicals in my house to clean before Norwex because I just didn't know another way.
I would spend hours reading on ewg.org and other natural blogs to make my own and buy cleaning products that were safe.
It was exhausting and it didn't work well. I didn't have a good system.
WHY CLEAN WITH NORWEX?
With Norwex you clean with only water. Yep! You heard that right! TWO cloths. One wet. One dry. And you're done.
I like to add my Thieves Household Cleaner because it fights more germs and it smells so nice!
I CLEAN 95% OF MY HOME WITH THESE 2 CLOTHS….
The Enviro Cloth (the cleans everything cloth because it really does clean everything.)
The Window Cloth (also called the "magic" cloth or the polishing cloth. it cleans windows spotlessly without chemicals)
WHAT IS NORWEX? WHAT MAKES NORWEX DIFFERENT?
IT IS SAFER. There are no chemicals. Just add water.
IT CLEANS BETTER. Because of the amount of fibers in Norwex Microfiber cloths it picks up MORE dirt into the cloth. It can actually be drying to skin because it is so efficient at removing oils.
IT'S FASTER. Gone are the days of toting around a huge container or cleaners and running back and forth to get more. Seriously. Two cloths. One wet. One dry. That is all. And you're done.
HOW DOES NORWEX MAKE MY HOME SAFER? HOW DOES NORWEX WORK?
I replaced my chemical cleaners with antibacterial cloths.
MY CHILDREN CAN HELP. I can let my children help me clean with Norwex. Nothing will spray in their eyes…not even a safe cleaner like alcohol or vinegar should be sprayed in the eyes. But I can give my toddler a spray bottle with water and a Norwex Enviro Cloth or Norwex Window Cloth and they will have a blast and clean the windows and doors and floors for me. The only risk I see is that they spray so much water they slip and fall. So we have to watch out for that on tile.
HOW DOES NORWEX WORK?
Norwex doesn't use any chemicals to clean.
Norwex enviro cloths are the best microfiber you can find so the tight weave picks up more of the dirt.
Then, because the cloths have silver in them, they are able to become antibacterial after each use when wet.
You can clean 95% or more of your home with TWO CLOTHS. That's it. TWO CLOTHS and WATER.
Because of the antibacterial qualities and the high quality of microfiber, they don't need to be washed as often as you would need to wash another cleaning cloth. Once a week washing recommended.
HOW TO USE NORWEX WINDOW CLOTH.
It's super simple. You just spray the window, mirror or surface. You can use a water bottle, your Thieves Spray Bottle, or a wet Enviro Cloth. Then, you use your DRY WINDOW CLOTH to dry off the surface. Your surface will be smoothe and clear!
IS NORWEX A SCAM? NORWEX VS. E-CLOTH.
Norwex is totally not a scam. I love Norwex. I bought some e-cloths to try and see if they were as good as Norwex. I did not like them as much at all! They were not the same. The window cloth was a different material and it was not the same to me at all. I always reach for and prefer my Norwex!

WHAT MADE ME BELIEVE IT ACTUALLY WORKS?
This video really sold me on the product actually being antibacterial and more than just another microfiber cloth….
RECAP…
NO CHEMICALS.
CLEANS BETTER.
ANTIBACTERIAL.
SIMPLE.

I talk a lot about simplicity and how simplifying routines & systems clears the mind for more important things.

SAVES TIME
SAVES MONEY
WORKS BETTER THAN COMMERCIAL, TOXIC CLEANERS.
I love this product. Love it. And use it. And I tell anyone I can about it. It's that great.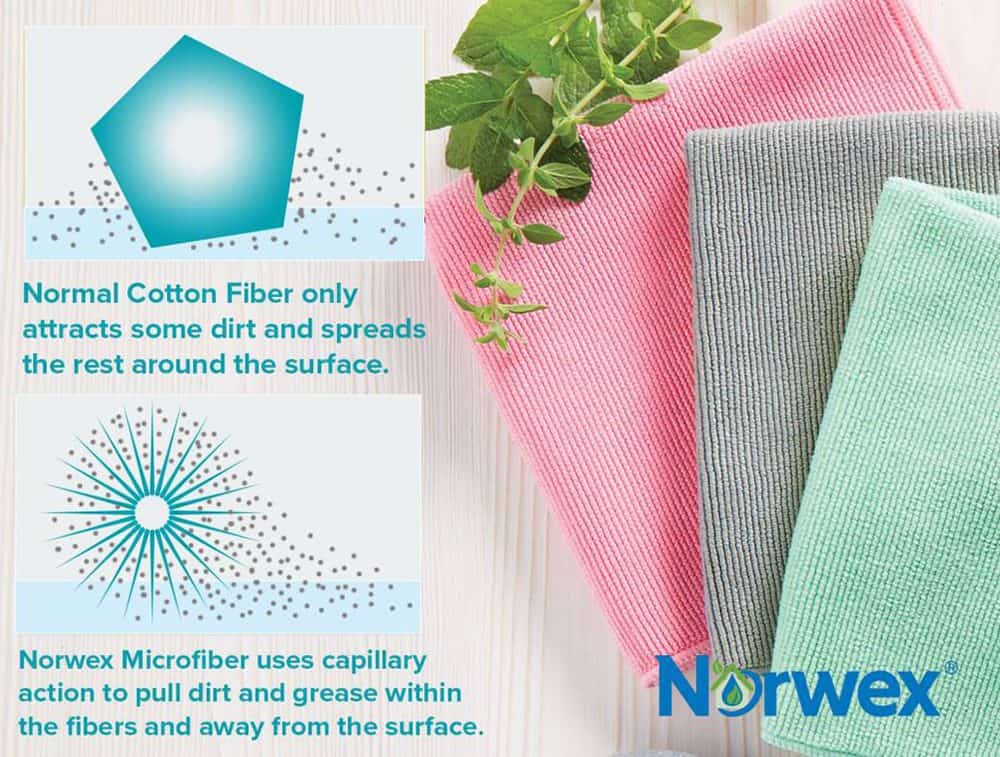 HOW TO CARE FOR YOUR NORWEX MICROFIBER.
WHAT ARE MY FAVORITE NORWEX PRODUCTS?
Norwex Window Cloth (start with these two. I added the dusting mitt with my first purchase and I started with the Household Package.)
Norwex Detergent to wash all your laundry. or just your cloths. or just your cloths and your whites. or just your cloths and take it with you on vacation and wash your clothes in the hotel sink. works like a miracle.
Norwex Body Cloths or Baby Cloths for my face instead of a washcloth.
Kitchen Towels. I love as hand towels in the bathroom. QUICK TIP. They work really well to quickly wipe down the mirror and the faucet and make it look really nice if you get an unexpected guest drop by or if you're just in a hurry for a quick clean and only have 10 seconds. I usually only have 10 seconds before someone starts crying and needs something 🙂
Norwex Descaler If you have a glass shower door with soap scum, you will thank me for this one.
Cleaning Paste. I mainly use this on kid tables to remove crayon and marker. I use it on baseboards to clean off dirt and scuffs. I use in on tile when a kid writes with marker on it. sigh.
Optic Scarf to clean my glasses and screens. New colors and more new colors.
Car Vent Clips for my Young Living Essential Oils. Makes me happy. Makes my car smell better.
New Counter Cloths are just the right (small size) to clean the tables and counters.
EnviroSponges are my new favorite.

I clean the dishes with the scratchier side and then flip it over and polish the sink with the Enviro side.
I use the scratchy side to scrub off the stuck on grime and then I flip it over and polish the counters.
This is my new favorite!

LOOK AROUND.

NORWEX PARTIES GIVE THE BEST FREE GIFTS .
This is the best company I have ever seen for giving away free things. My first few months with Norwex I got a few THOUSAND dollars in free items. Not kidding. That's the main reason I joined. I WANTED IT ALL. And I didn't want to buy it all. So I earned it all FREE! It's so great! I love friend/family/Facebook Norwex parties for getting free Norwex products.
YOUNG LIVING ESSENTIAL REWARDS GIVES THE BEST FREE GIFTS TOO.
I have been on Essential Rewards with Young Living for more than 5 years. I need to look up my anniversary date. It's awesome. I love the free gifts they give and the free points so I can buy pricier oils for free! I got a free bottle of Sandalwood this month with my points, after saving them up for a while! And, I earned a bottle of Rose oil, which is the most fabulous oil that Young Living carries, just for sharing oils and helping friends detox their homes. It doesn't get any better than that!
PIN THIS TO PINTEREST TO YOUR NORWEX, ESSENTIAL OILS OR DIY BOARDS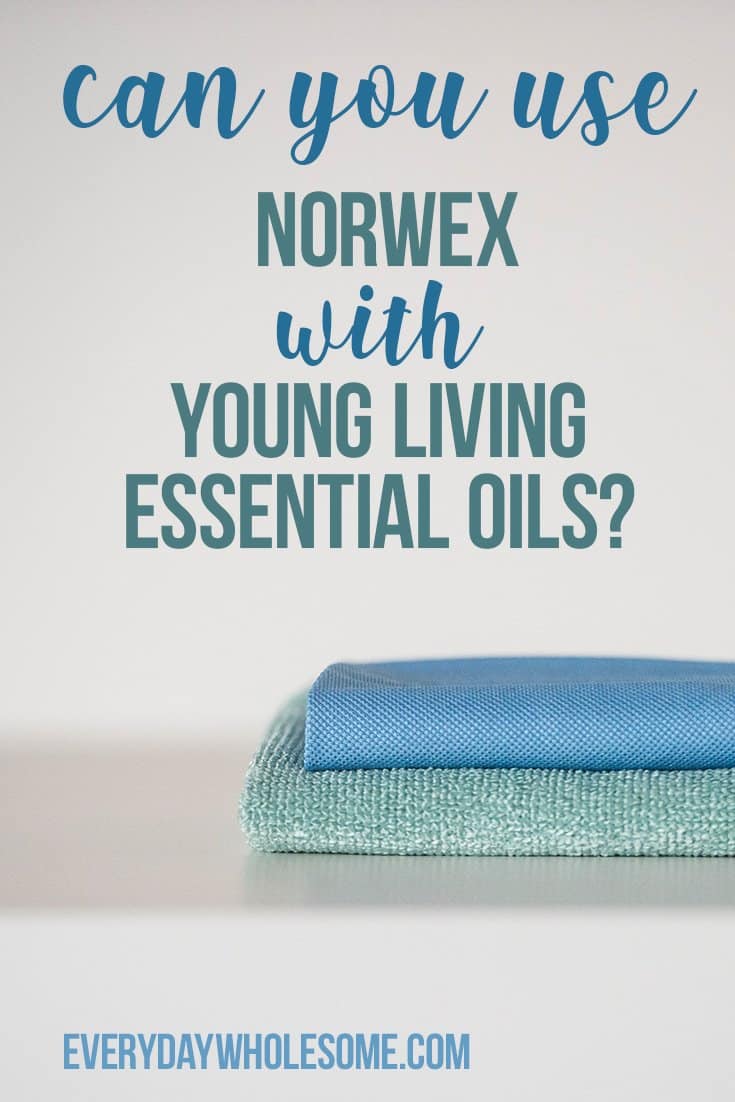 SaveSave
SaveSave
SaveSave
SaveSave
SaveSave
SaveSave
SaveSaveSaveSave