This post was updated on April 2nd, 2020.
This post may contain affiliate links.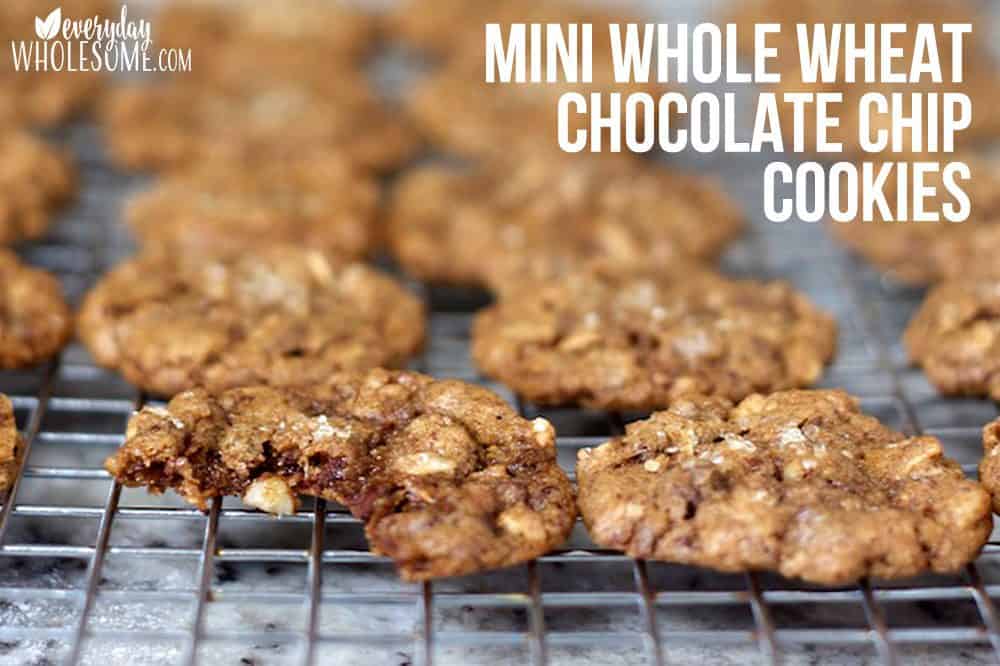 I found this mini chocolate chip, whole wheat cookie recipe on 101 cookbooks when I was looking for a healthy cookie recipe but I was stuck in the house with a swollen foot. It's a winner that we will surely make again. 
RECIPE ADAPTED FROM 101 COOKBOOKS BLOG 
If you haven't checked out 101 cookbooks yet, you should! Heidi is amazing. She had the idea in 2003 to start blogging the thousands of recipes she already had in her cookbooks! She is a photographer, which makes her blog amazing! She gives tips and tricks on photography, cooking and baking on her blog. She uses natural and whole foods in her ingredients! She is a great resource for recipes! These cookies are teeny. B
MINI WHOLE WHEAT CHOCOLATE CHIP COOKIE RECIPE
INGREDIENTS
5 ounces good-quality semi-sweet chocolate bar (70% cocoa or more) – go to health food store.
1 cup whole wheat pastry flour (I used WW flour)
1/2 teaspoon baking powder (use aluminum free baking powder)
1/2 teaspoon baking soda
1/2 teaspoon salt
1 cup old-fashioned rolled oats
1/2 cup walnuts, very, very finely chopped (by hand)
1/2 cup unsalted butter, at room temperature
scant 1 cup natural cane sugar (or brown sugar)
scant 1 tablespoon molasses
1 large egg
1 1/2 teaspoon vanilla extract
* I took the sugar topping out.
DIRECTIONS
Preheat your oven to 350F degrees, racks in top and bottom third. Line a couple baking sheets with parchment paper.
Finely chop the chocolate bar into 1/8-inch pieces, more like shavings really. Try to avoid big lumps and chunks, which make flattening out the cookie dough later more difficult.
In a mixing bowl, whisk together the flour, baking powder, baking soda, salt, oats, walnuts, and shaved chocolate. Set aside.
Using a mixer (or by hand) beat the butter until fluffy. Beat in the sugar and mix until it is also light and fluffy. Scrape down the sides of the bowl once or twice. Beat in the molasses, then the egg, mixing until both are well incorporated, scrape down the sides of the bowl once or twice. Beat in the vanilla. Add the flour mix and stir by hand until the ingredients barely come together into a uniform dough.
101 cookbooks likes these cookies even smaller (I think) than I made them. These were 2-3 bite cookies for me. Hers were about 1/2 teaspoon each! I used 1/2 Tablespoon each! Roll each into a ball shape. Use two fingers to flatten each dough ball into a thin, round patty with two fingers. (Optional: sprinkle the top of each cookie with a pinch of large-grain sugar….I didn't like this part of the recipe so I left it out).
Bake for 7 minutes or until cookies are golden and fragrant. Remove from oven, and cool on a wire rack.
Makes about 12 dozen tiny, bite-sized cookies.
source: 101 cookbooks
[This content has been modified from an article that originally appeared on FIToriBlog on September 19, 2010]
KEEP READING
FREEBIE DOWNLOAD
No tags for this post.